How to Spend 2 Days in Queenstown, New Zealand
Queenstown, New Zealand is dubbed "the adventure capital of the world" – and for good reason! While you can certainly spend a much longer amount of time in Queenstown than 2 days, you can still experience a ton of once-in-a-lifetime activities in just 2 days in Queenstown.
Transportation in Queenstown
Many of the activities and locations mentioned in this post are spread out. You can get by without a car in Queenstown if you book bus tours (this is what we did). However, if you're looking to take a more frugal route and go at your own pace, renting a car in Queenstown is a really good option (and New Zealand as a whole, really). Traffic in New Zealand is basically nonexistent, so you won't have issues there!
Where to Stay in Queenstown
My one and only hotel horror story happened in Queenstown! So, I can't recommend where we stayed. However, I have had friends recommend the Crowne Plaza Hotel. It's in a wonderful location (very centrally located and on the lake), has a buffet breakfast, nice staff, clean rooms and it's fairly budget-friendly.
Itinerary – How to Spend 2 Days in Queenstown, New Zealand
Day 1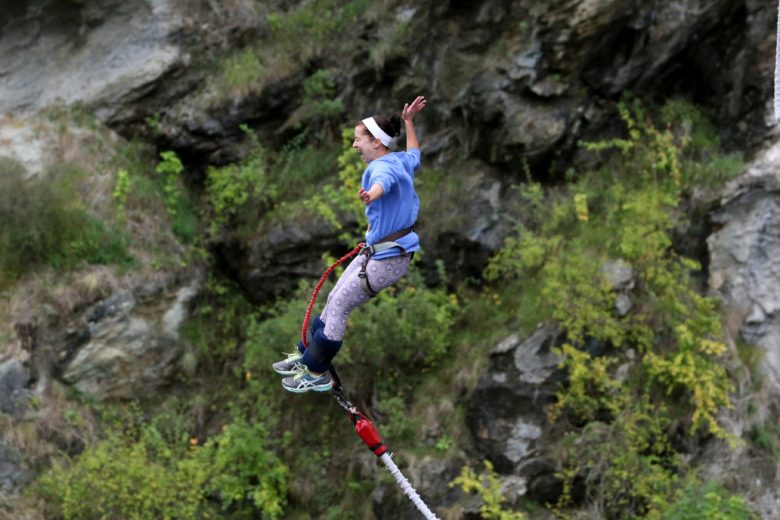 Morning – Go Bungy Jumping
Wake up bright and early and go bungy jumping! That's right, you can't come to the adventure capital of the world and not do at least one crazy and adrenaline-fueled activity. Queenstown is home to AJ Hackett Bungy Jumping and the bridge where they did the very first commercialized bungy jump. So, if you're only going to go bungy jumping once in your lifetime, you might as well do it where it all started. The Kawarau Bungy Bridge is just 43 meters off the ground, so it's great for beginners (like me).
If the little 43-meter bridge where bungy jumping got its start is just too easy for you, try the Nevis Bungy jump! This one is 134 meters off the ground and the highest in New Zealand! (That was entirely too terrifying for me, I enjoyed my 43-meter jump, thank you very much.)
Click here for more info.
Afternoon – Hike The Ben Lomond Trail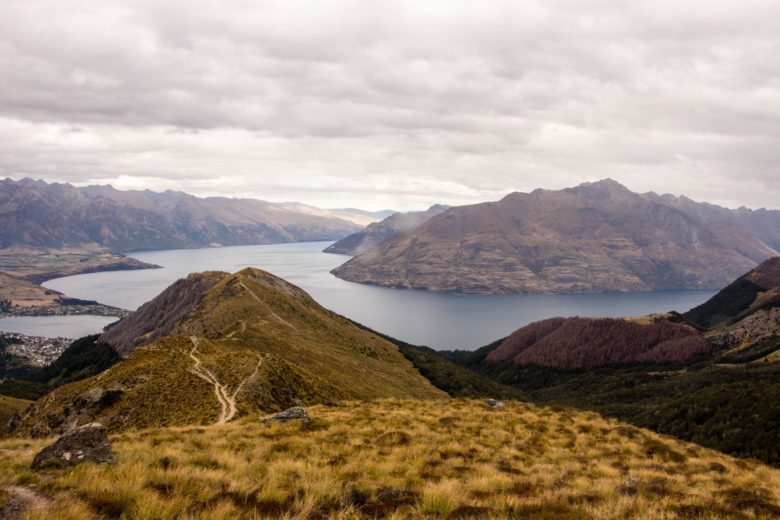 This is an out and back hike that can easily be done in an afternoon. You can also make this an all-day affair if you can't bring yourself to jump off a bridge. The views on this hike are out-of-this-world beautiful. It's also very well-marked and the trail is well-groomed, so there's no way you'll get lost.
Click here for more info.
Day 2
Morning & Afternoon – Drive to Milford Sound & Fiordland National Park
This will be an all-day affair, but it is an absolute MUST if you're coming to Queenstown. It's honestly one of the most incredible travel memories I have.
And distance-wise, Fiordland National Park & Milford Sound are not that far from Queenstown. However, the roads are quite curvy and windy so it'll take a while to get there. I would advise leaving Queenstown by 7 am.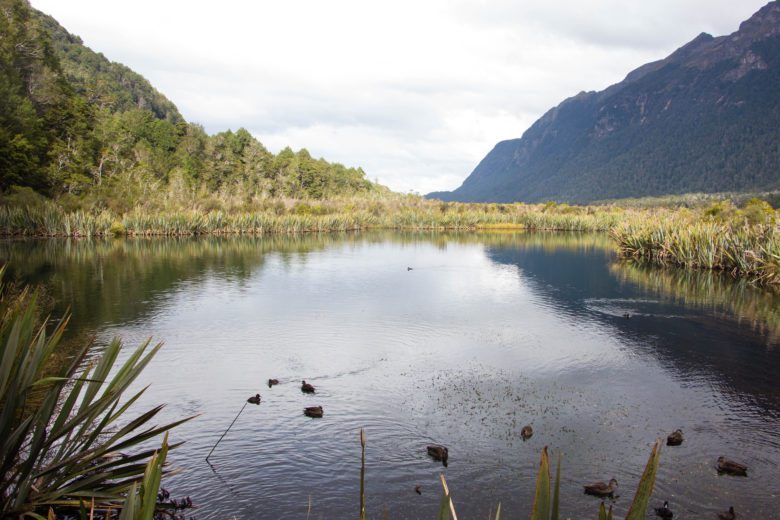 It is absolutely worth the drive, though!! Fiordland National Park & Milford Sound are home to some of the most dramatic and beautiful landscapes I have ever seen in my life. It's no wonder scenes from Lord of the Rings were filmed in these locations.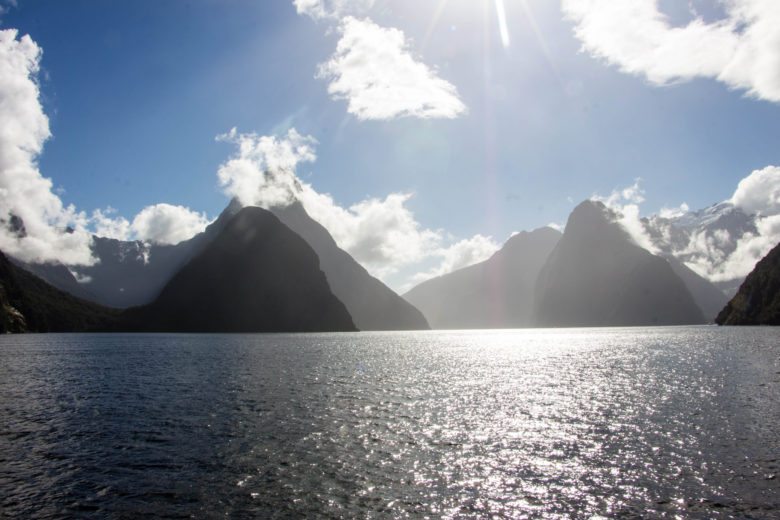 Click here for more info on Fiordland National Park & Milford Sound.
*Bonus Mention
Depending on when you are coming into/ leaving Queenstown, you could also squeak in a skydive! It takes roughly 3 hours and depending on the time of year, skydives can start as early as 6 am (summer) or 7 am (winter) and it goes until 4 pm (summer) or 3 pm (winter). We did the 6 am jump and had plenty of time to catch our early afternoon flight out of Queenstown – because, you are in the adventure capital of the world, after all!
Click here for more info on skydiving in Queenstown.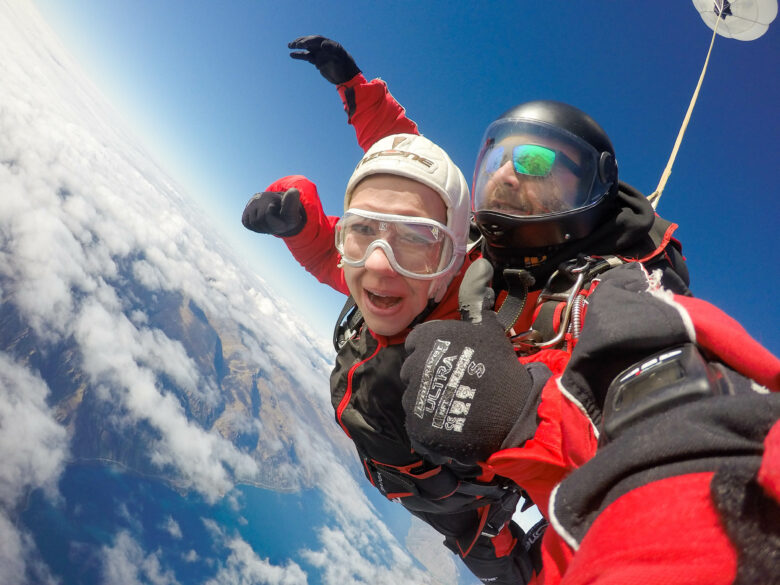 How would you spend 2 days in Queenstown, New Zealand? And which part of this itinerary would be your favorite? Let me know in the comments!
*Disclosure: some of these links are affiliate links. Meaning, if you click a link and make a purchase, Have Clothes, Will Travel gets a very small commission at no extra cost to you. Thank you for supporting the brands that make this blog possible! I am also a participant in the Amazon Services LLC Associates Program, an affiliate advertising program designed to provide a means for us to earn fees by linking to Amazon.com and affiliated sites.
*Thank you to Discover Car Hire for partnering with me for this post.