How to Spend 3 Days in Uluru, Australia (Ayers Rock)
If you're debating whether or not traveling to Australia's famous sandstone monolith, Uluru, (a.k.a. Ayer's Rock) is worth the journey/cost…it most definitely is. Uluru was my favorite memory of our time in Australia. The area is literally in the middle of nowhere in Australia, but for me, that was the best part. It was a wonderful way to connect with the world around you (sans cell phone reception) and learn about a very sacred area in the Australian Outback.
Uluru, or Ayers Rock, is in Australia's "Red Centre". Uluru is sacred to indigenous Australians and is thought to have started forming around 550 million years ago (but its age varies wildly depending on who you ask). Uluru is also most certainly not the only thing worth seeing in the Red Centre, but more on that in a moment.
Now, the next step is to figure out how much time to spend here. This is really going to come down to your time/priorities. But I must say, the big rock is not the only thing to see in this area. I would suggest AT LEAST 3 days here. I was satisfied with our 3-day journey here, but we also missed out on Alice Springs (which I've heard nothing but good things about as well).
So, what do you do with your 3 days here? You watch the sunrise and sunset every single day! Your entire trip will be based on sunrises and sunsets, so be prepared for this!
How to Spend 3 Days in Uluru, Australia (Ayers Rock)
*Day 1 – Day Trip to Kings Canyon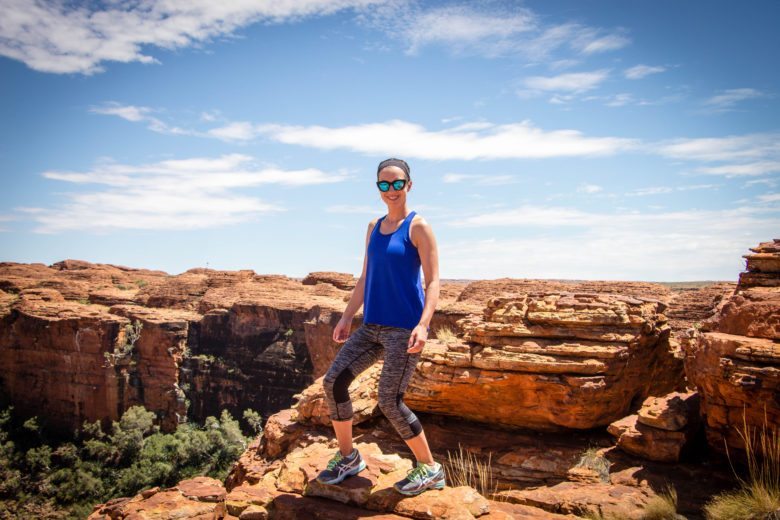 I know, I know, I know you're probably thinking…why would I suggest going to Kings Canyon on Day 1? I want to see Uluru…the big rock! And the reason I suggest doing this portion first is because Kings Canyon was the most physically demanding part of our trip to Australia's Outback.
This hike was tiring, it was hot and quite hard at times…but it was so worth it. The views were spectacular and the guide service was amazing as well. You're going to be getting up before dawn every day you're here, so I would suggest doing this on Day 1 while you're still bright-eyed and bushy-tailed!
Click here for more information on a day exploring Kings Canyon.
*Day 2 – Sunrise Tour of Uluru + Sunset Dinner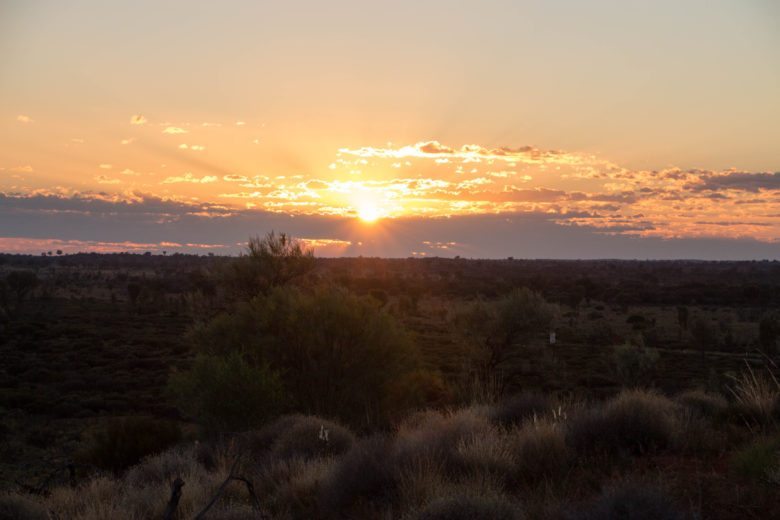 Sunrise
You're getting up before sunrise, once again! But it's so worth it. I'm not a morning person, but I could watch the sunrise here in the desert every day and not get tired of it. It's so beautiful. You can simply watch the sunrise from a viewing platform with snacks and coffee/tea or you can watch the sunrise and then walk around the base of Uluru . FYI – climbing Uluru is now against the law.
Sunset
It's worth your time (and money) to do a dinner in the middle of the desert while watching the sunset over Uluru. This was one of my favorite memories of Uluru…and the night we did our dinner was even cloudy. So, the sunset wasn't that impressive, but it was still a fantastic experience. Depending on your budget, preferences and the time of year you go, there are several different options. We did the "Night at a Field of Lights" because that was available at the time of year we went (November). You click here to read about that. And click here for the tour.)
*Day 3 – Sunrise Hike Through Kata Tjuta + Sunset Camel Ride
Sunrise
Within Uluru-Kata Tjuta National Park, there's an entire rock formation even LARGER than Uluru (Ayer's Rock), that you can hike and enjoy – Kata Tjuta. I would argue that Kata Tjuta is even more impressive than Uluru. However, it's not well-known by us international tourists. I was actually told only 17% of the people who come to Uluru-Kata Tjuta National Park even visit Kata Tjuta – what a shame! I highly recommend seeing it if you're making the journey to Uluru.
Click here to read more about Kata Tjuta.
Sunset
CAMELS. Need I say more? Haha. The sunset camel ride was so much fun! And the camels were such characters. It was a very unique way to watch the sunset over Uluru. Once we were done with the ride, we returned to the ranch to have snacks and drink all kinds of yummy craft beers. It was really perfect night!
Click here to read more about the sunset camel ride.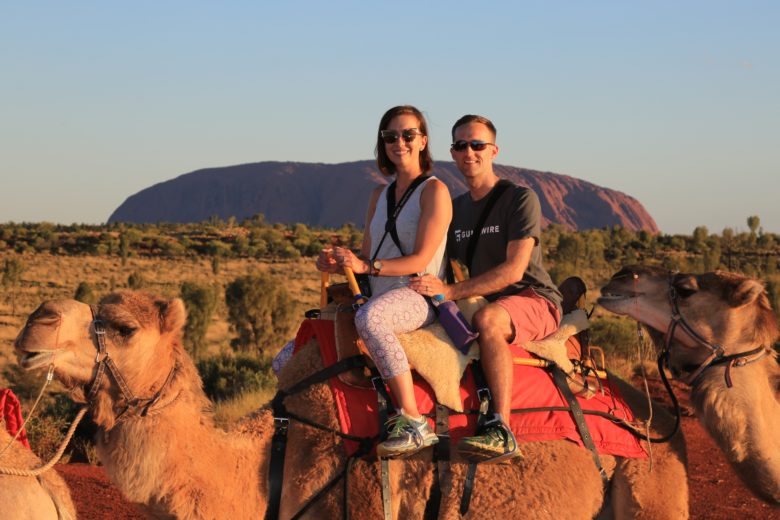 Where We Stayed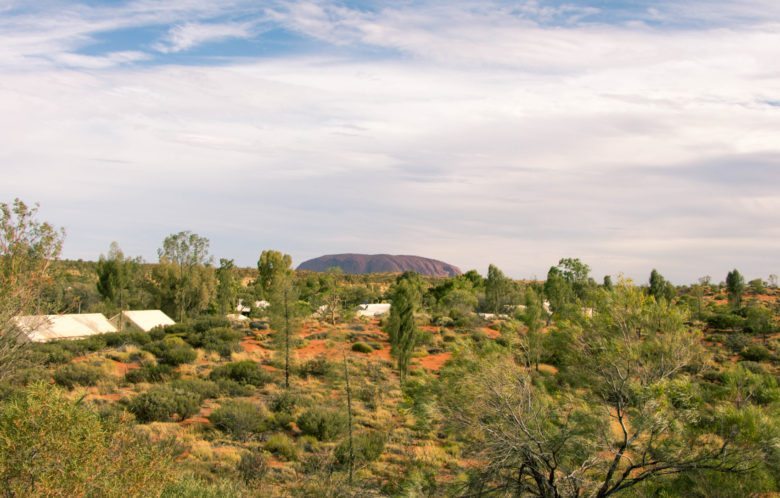 There aren't a ton of options for hotels in Uluru and they're all quite pricey. Outback Pioneer was the cheapest one that was a hotel and not camping. (There is a campground in Uluru.) I was more than happy with our stay here. The room was a simple room, no-frills or anything, but it was clean and quiet. And the restaurant had decent food and it's the only hotel that actually has a bar. So, that's a win! Haha. Uluru is a dry town, and this is the one place that actually serves alcohol.
The Outback Pioneer also has a pool (which you will use, as there is downtime between your sunrises and sunsets). You also have a nice viewing area of Uluru, pictured below..great for outfit photos (haha). I highly recommend staying here if you don't want to spend boatloads of money at the other hotels.

Click here to check out the current prices for Outback Pioneer hotel.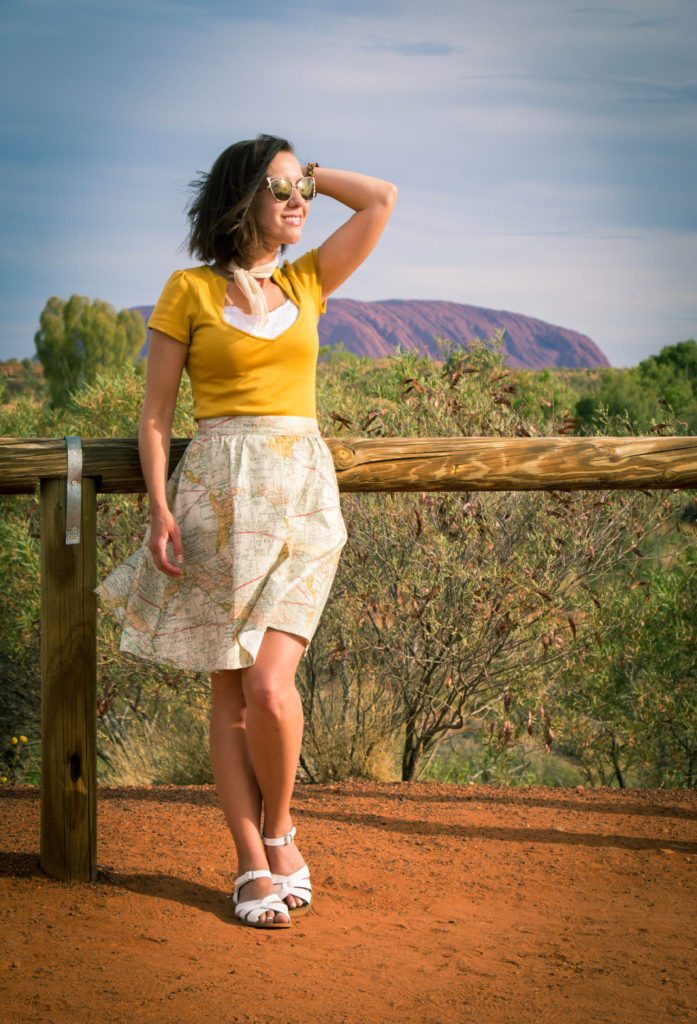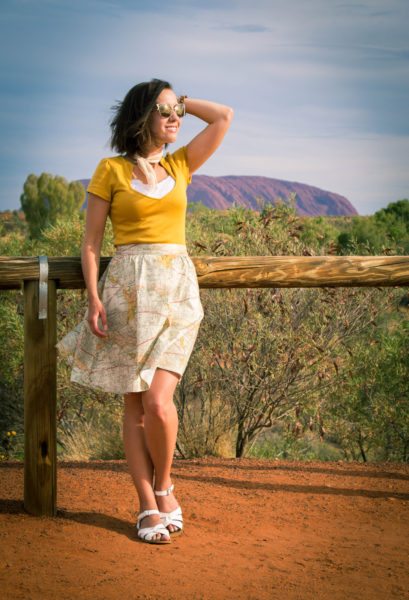 Click here for the outfit post.
Which part of the itinerary looks the most interesting to you? And would you make any changes to this itinerary? I'd love to hear your thoughts in the comments!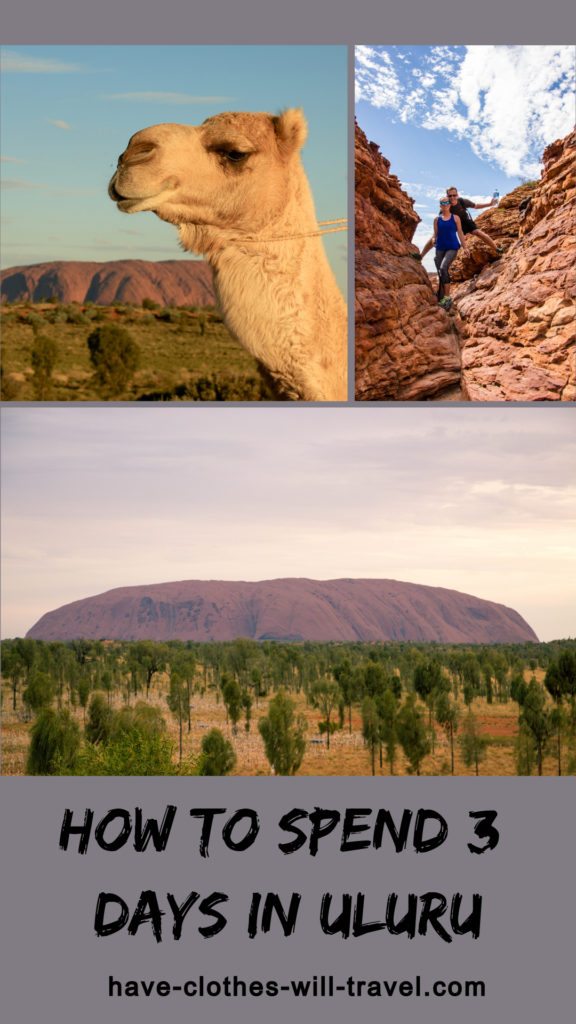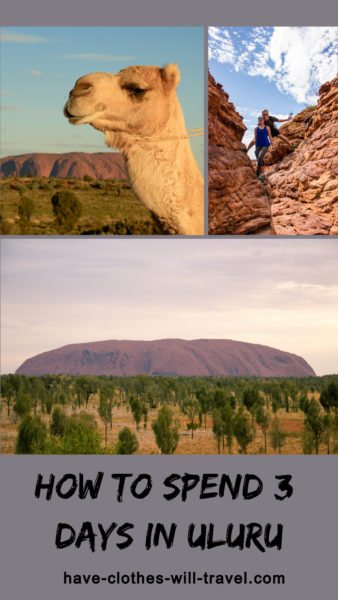 Links à la Mode, February 1st, 2018
*Disclosure: some of these links are affiliate links. Meaning, if you click a link and make a purchase, Have Clothes, Will Travel gets a very small commission at no extra cost to you. Thank you for supporting the brands that make this blog possible! I am also a participant in the Amazon Services LLC Associates Program, an affiliate advertising program designed to provide a means for us to earn fees by linking to Amazon.com and affiliated sites.