20 Stores Like Ann Taylor for a Polished Look
Searching for stores like Ann Taylor with a chic timeless aesthetic that is perfect for any occasion? This post has you covered with all the top places to shop with a similar style to Ann Taylor.
Confidence is one thing, but staying chic and unruffled throughout the day is another. Ever wonder why some people look polished without exerting too much effort? It appears they've mastered the art of minimalist Parisian glamour in a pair of trousers, coat, or cotton dress.
When it comes to personal style, a polished and refined look is a fool-proof fashion aesthetic and way of life to many. Good grooming, good posture, and the perfect fit can only take you so far, but sometimes, a polished wardrobe can speak volumes, too.
Even the simplest jacket or blazer can turn a whole outfit around. Knowing a brand that specializes in a polished style is one way to get started, and brands like Ann Taylor help you achieve this under any circumstance.
*Disclosure: some of these links are affiliate links. Meaning, if you click a link and make a purchase, Have Clothes, Will Travel gets a very small commission at no extra cost to you. Thank you for supporting the brands that make this blog possible!
The Ann Taylor Quality and Design
Founded in 1954 by Richard Liebeskind, Ann Taylor is a popular clothing retail chain offering classic tailored-style suits, accessories, shoes, and dresses. For decades, the brand helped in power-dressing American women for work with sharp suits, wide selections of crisp button-downs, as well as chic trousers and pants. Up to now, Ann Taylor still has the mainstay ready-to-work and ready-for-anything clothing and is the go-to brand for classic women's apparel.
In terms of quality, Ann Taylor's attention to detail can be seen in its flattering cuts, high-quality fabrics, and intricate embellishments that can easily transition from one season to the next. Stocking up on classic staples and basics like a well-tailored blazer, trench coat, a good pair of jeans, leather jacket, and cashmere sweater from the brand forms a chic foundation of a versatile wardrobe and is something you'll thank yourself 10 or 20 years from now fashion-wise.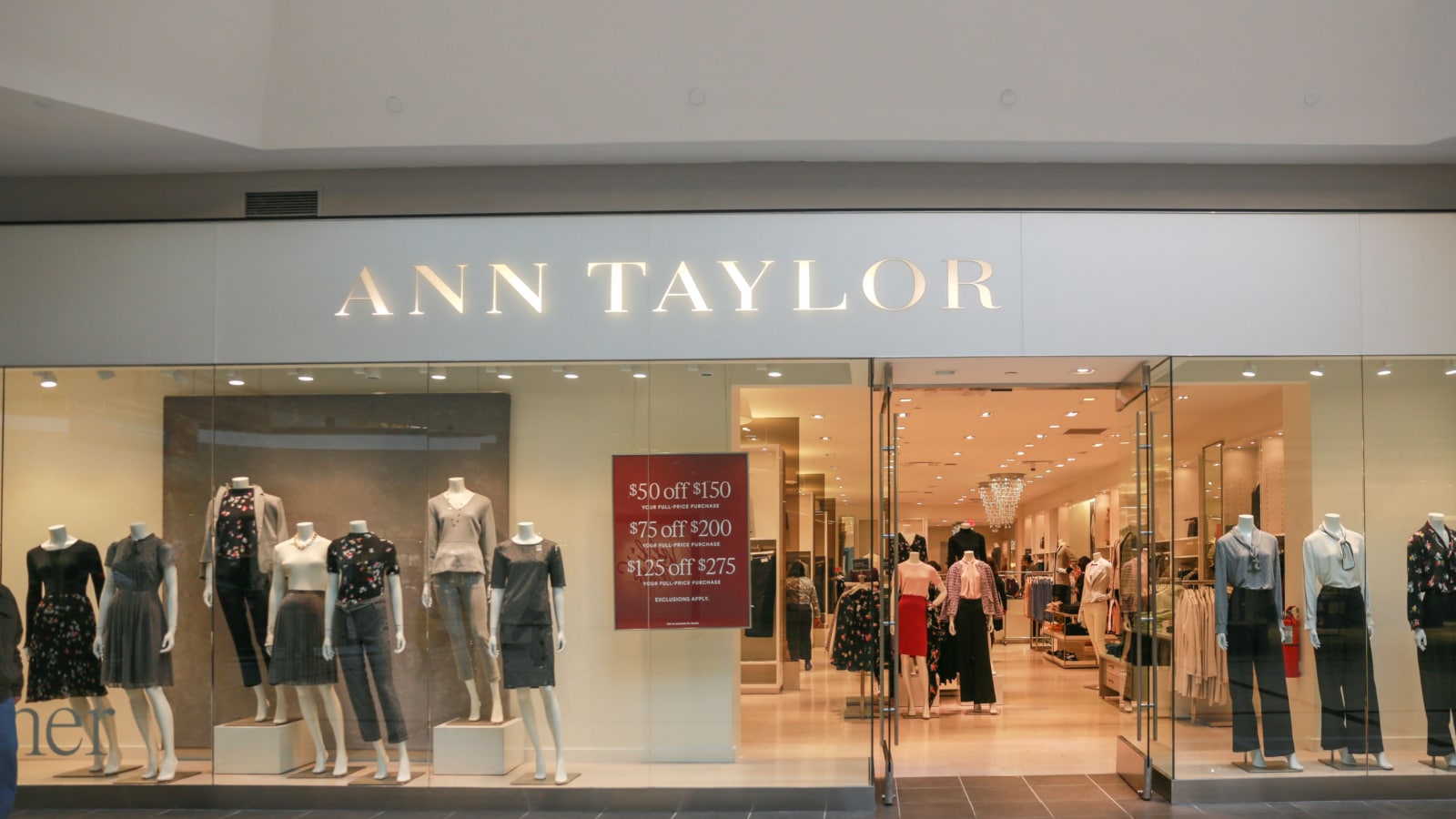 Different Retailers Similar to Ann Taylor
Ann Taylor shares the same classic style and quality with other popular brands, one of which is J. Crew with a focus on preppy and classic designs; another is Banana Republic offering a similar aesthetic but with a modern twist and a trendy element to its style.
Talbots is also included in the list of stores similar to Ann Taylor offering classic workwear and casual pieces, while White House Black Market is known for its sophisticated and feminine dresses and separates, however, if you're going for a more vintage Ann Taylor look, Poshmark has wide selections of new and preloved vintage items to suit your taste.
What to Look for When Shopping at Similar Stores
Ann Taylor's signature aesthetic is the polished and sophisticated style with a focus on impeccable tailoring and quality materials, so when looking for shops like Ann Taylor, you will want to look for quality pieces that hold up to frequent wear and will stand the test of time.
Another thing to consider is the proper fit and tailoring, as well as the clothing's versatility so it can work well with other pieces, whether you're dressed up or down. Finally, get a feel of the brand's overall aesthetic and find pieces that match your personal style whether it's preppy, classic, or modern. With that in mind, here are more brands worth checking out that are similar to Ann Taylor: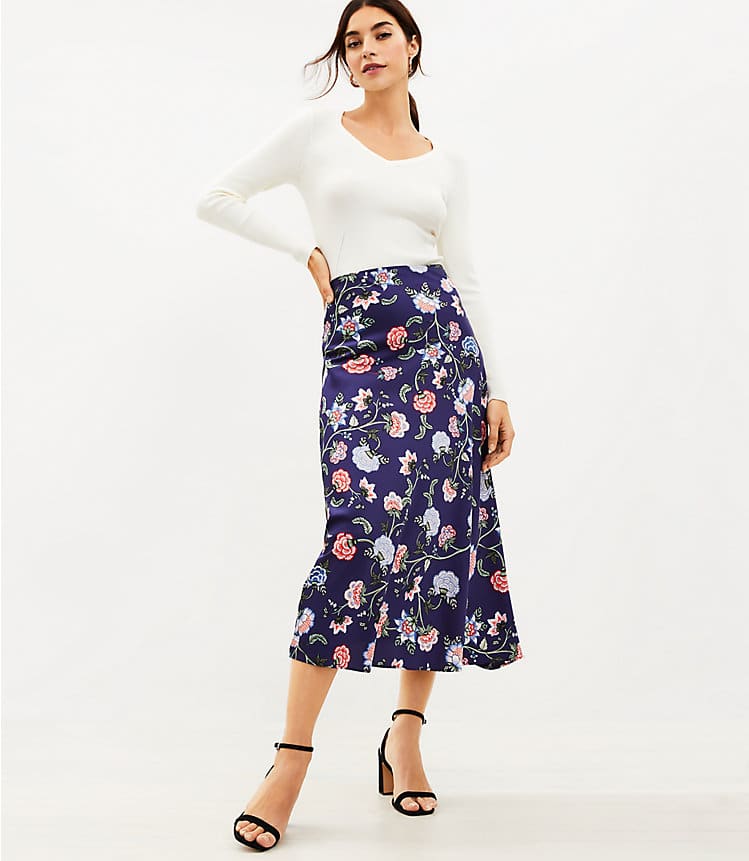 Loft
Loft was established in 1998 as an extension of the Ann Taylor brand and was originally known as Ann Taylor Loft. It is now operating as a sub-brand of Ascena Retail Group in an effort to expand the company's customer demographic.
This is a store like Ann Taylor that also features career wear, dresses, accessories, separates, maternity wear, and clothing for work and home that are moderately priced. While similar to Ann Taylor's casual style, Loft serves as a more relaxed and trendy aesthetic lifestyle brand for the younger crowd.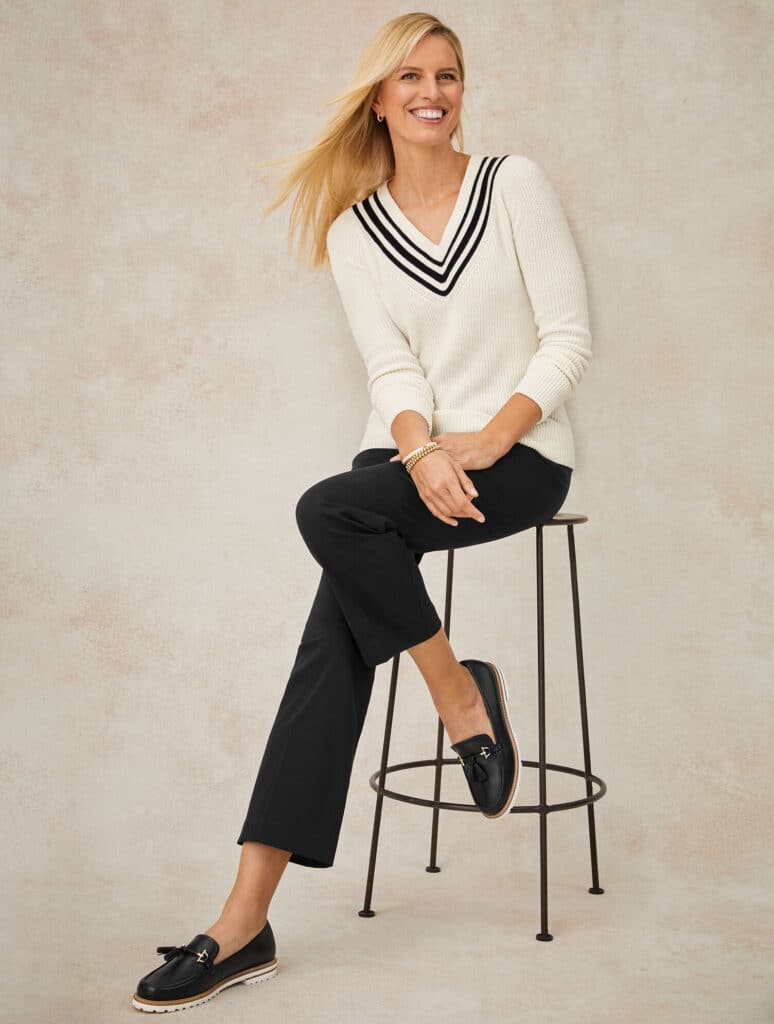 Talbots
Dubbed as the original New England lifestyle brand established in 1947 for women, Talbots offers classic and timeless clothing for women of all ages and sizes and has somewhat garnered cult status when it comes to career wear.
If you love the summer preppy aesthetic and a Hamptons-kind of vibe, Talbots' wide range of clothing, accessories, shoes, and jewelry are sure to deliver. Their wide selection of clothing and apparel are designed to be both stylish and comfortable with designs catered towards petite and plus size—smile-worthy options that can be incredibly styled with ease.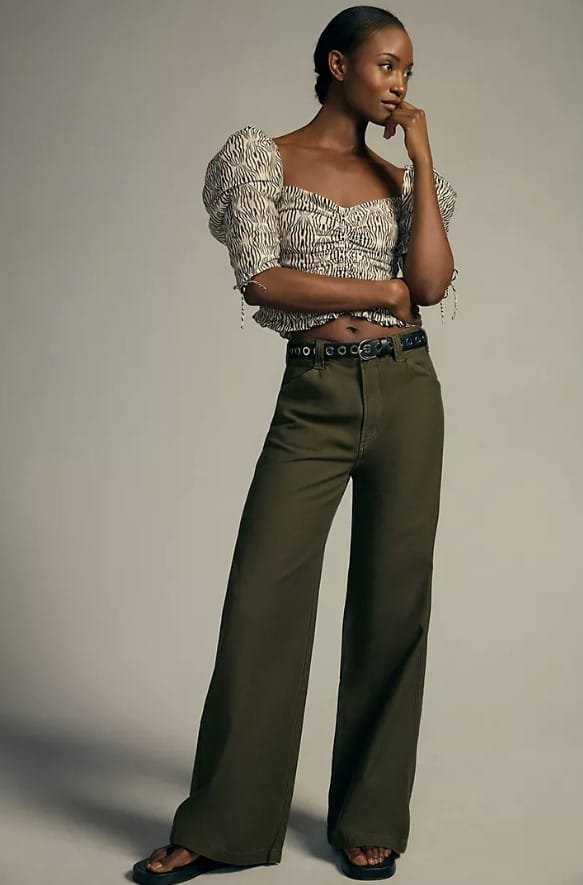 Anthropologie
A popular URBN brand known for its plethora of bohemian, free-spirited clothing for women. Most of the brand's modern take on dresses and coats can double as business wear similar to clothes like Ann Taylor.
Anthropologie's wide selection of clothing can add a boho-chic element to your outfit while still maintaining a professional and put-together look. Should you want to make a subtle but chic statement, the brand's floral-printed linen boyfriend blazer or wide-leg chino pants are designed to be versatile and easy to match with other classic pieces.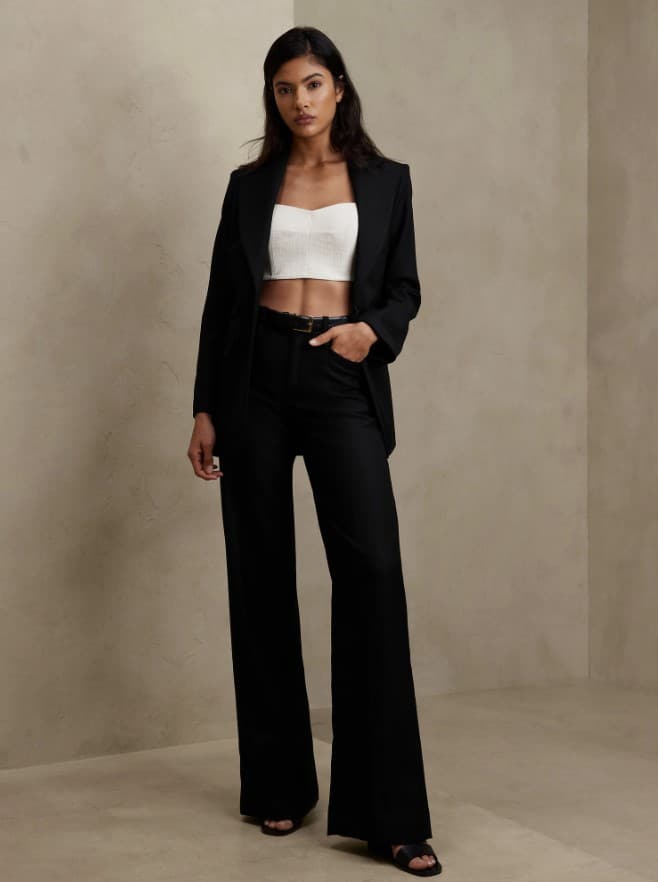 Banana Republic
A popular travel-themed clothing store known for its safari-inspired clothing, eyewear, and accessories, however, Banana Republic evolved into a go-to brand for utilitarian and preppy styles, as well to match the polished aesthetic of Ann Taylor. If you want to incorporate earthy tones, khaki fabrics, and an overall vintage travel feel to your everyday look, Banana Republic's sophisticated and elegant clothing selection will elevate your whole ensemble—be it for special occasions or if you're simply running errands for the day.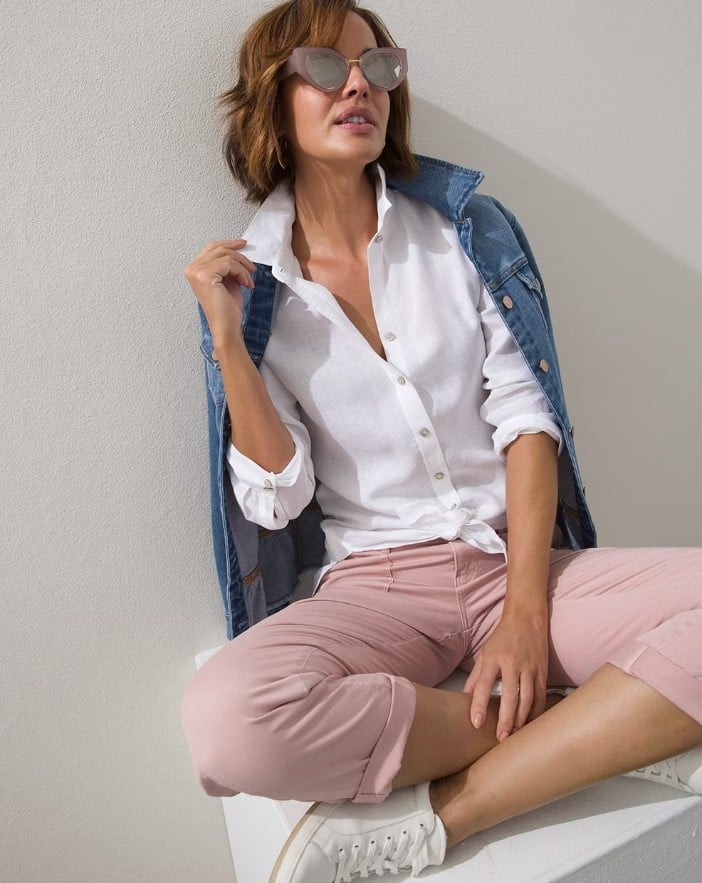 Chico's
Established in 1983, Chico's mantra is about embracing one's style and individuality and feeling confident. Chico's aesthetic is characterized as relaxed and effortless featuring flowy fabrics, loose silhouettes, and a mix of neutral and bold colors.
It's all about comfort when it comes to the brand's stylish selections of clothing that can be dressed up or down for any occasion. As a hidden gem in fashion with a loyal customer base, Chico's is also known for its creative and unique accessories that include scarves, statement jewelry, and handbags that can complete a whole outfit.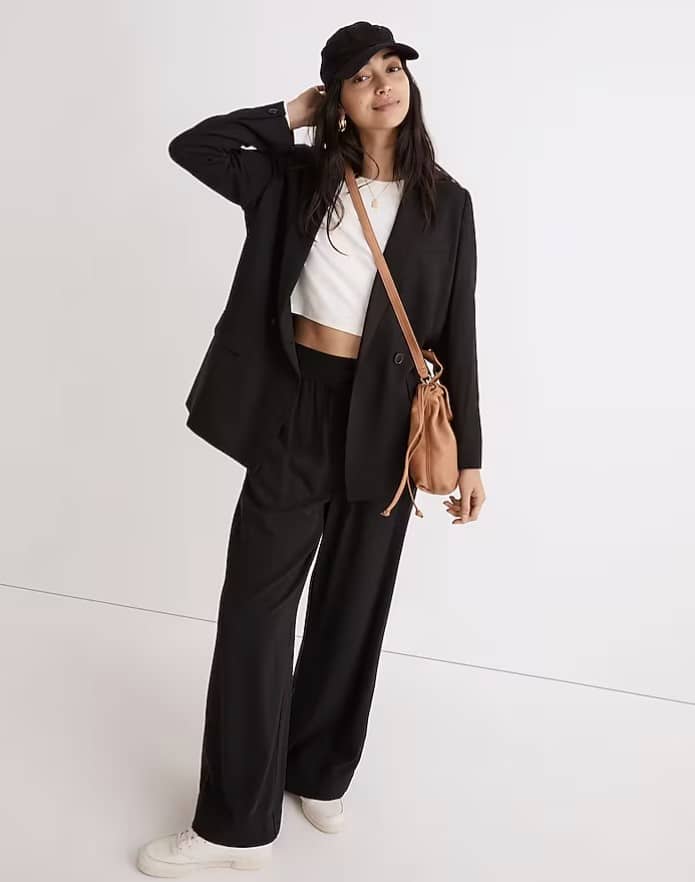 Madewell
Madewell's comfort and simplicity in its clothing make it a sartorial winner to the younger crowd. The brand's style is a mix of classic and modern designs that are always casual and on-trend.
Madewell perfects the minimalist, oversize silhouette that's the epitome of casual cool comfort; it's also known for its high-quality denim and essential pieces that feature a mix of feminine and masculine elements (androgynous) without sacrificing overall comfort and functionality.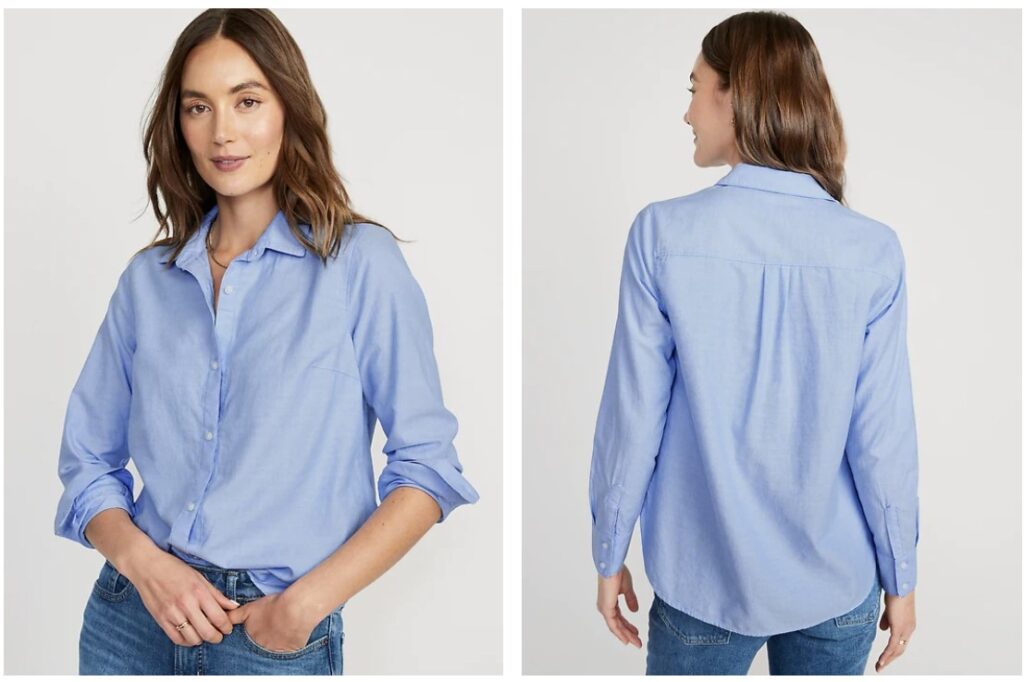 Old Navy
A popular American apparel brand that offers affordable and comfortable clothing for men, women, and children. Their collection is family-friendly and appropriate, especially on days when you want to dress down while looking put together—the brand's iconic fleece jacket and denim jeans collection can be easily paired with your existing pieces for professional wear.
Like Ann Taylor, Old Navy style is also about effortless and casual dressing, whether you're shopping for a cozy sweater during the cold season or a flirty and flowy cotton dress for a summer picnic.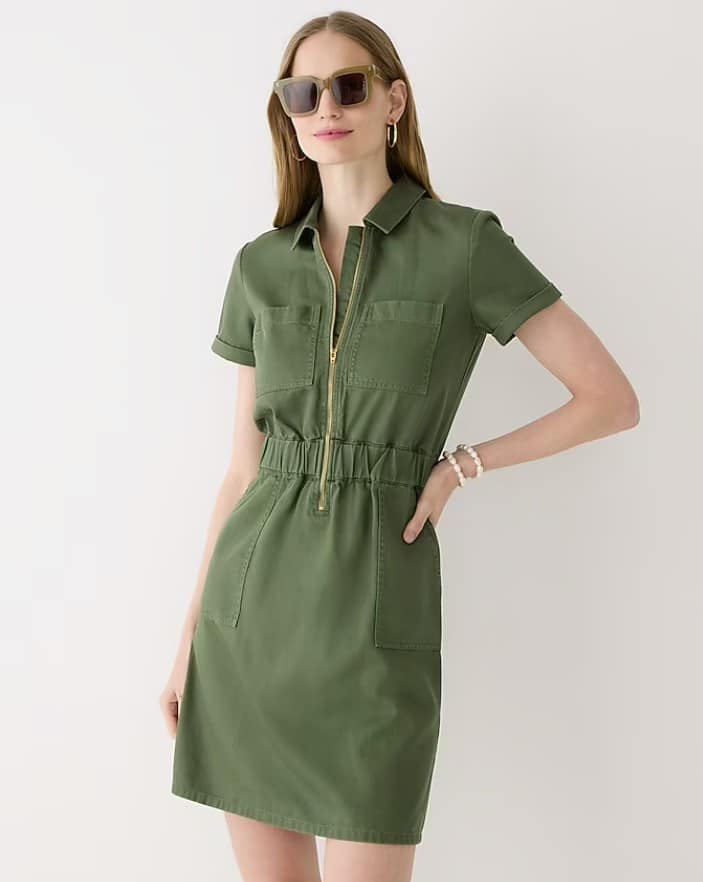 J. Crew
One of the secrets to being better dressed and polished without spending a fortune is J. Crew. The brand specializes in safe and presentable styles for American everyday wear with a focus on effortless elegance and refined simplicity. Among the brand's perennial classics are the fit and flattering mechanic jacket, oxford, chambray, linen, and madra shirts, chinos and jeans, sweaters, suits, and sports coats.
H&M
A popular Swedish clothing brand that doesn't just offer on-trend and affordable styles but also a range of polished and professional clothing. H&M has tailored blazers, sophisticated dresses, the classic pencil skirt, and sleek trousers for the office and formal occasions. The brand features clean lines, neutral colors, and minimalistic details to create a chic and sophisticated look without spending a fortune.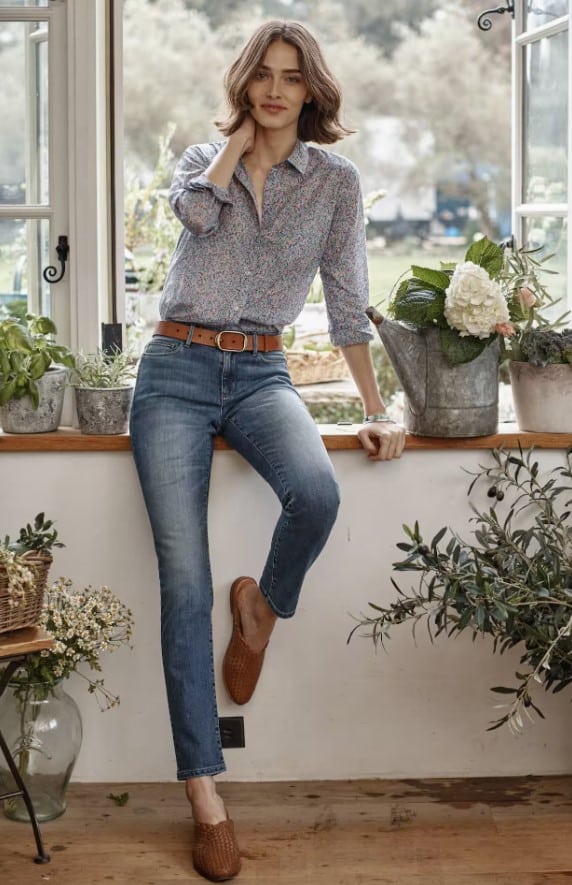 J. Jill
Established in 1959 as a specialty store of women's clothing, J. Jill designs and sells clothing, apparel, footwear, and accessories. The brand's comfortable and elegant pieces are made from quality fabrics that perfectly fit and flow as polished wardrobe should. J. Jill features collections ranging from knit tops and tees, tanks and camisoles, jackets and coats, and sleepwear.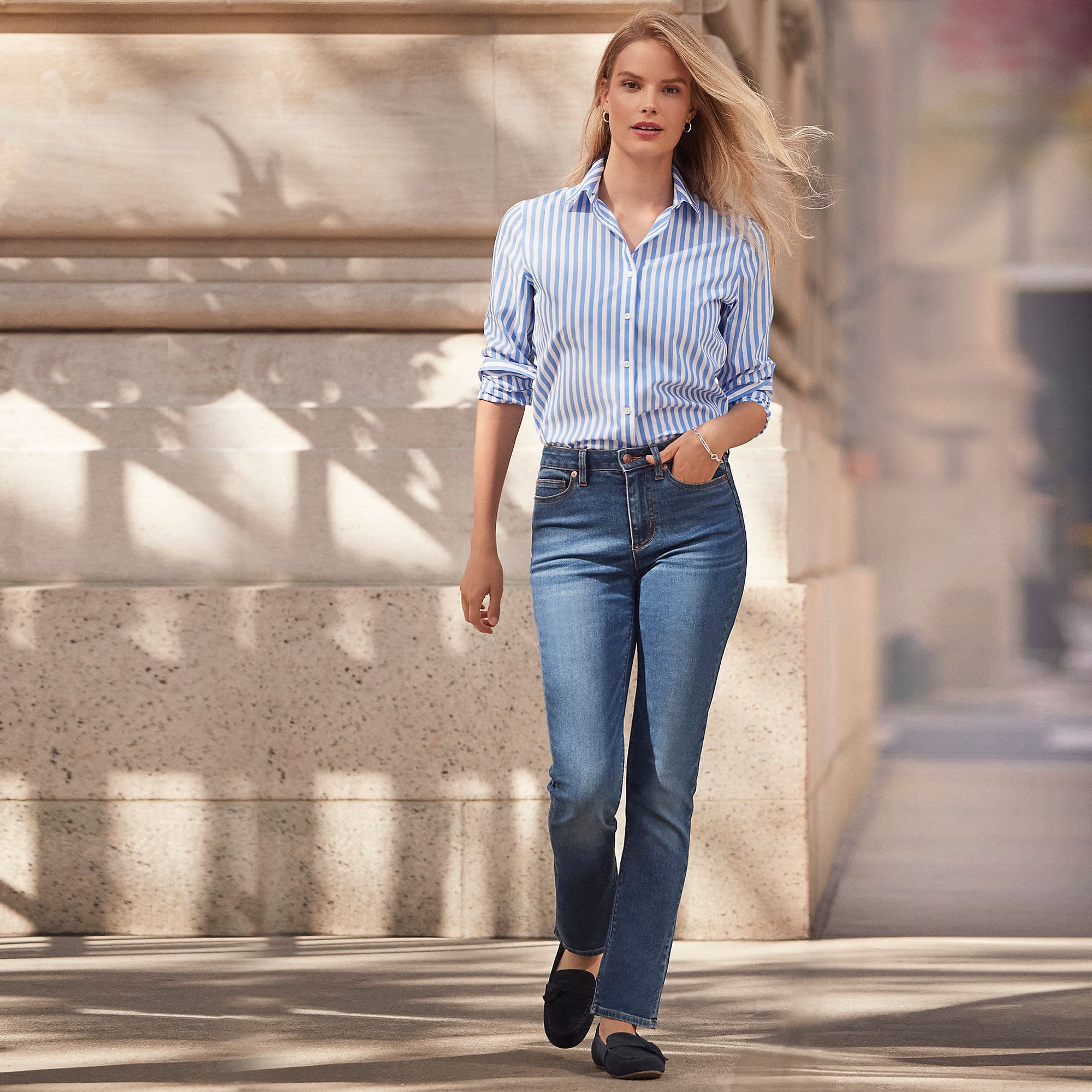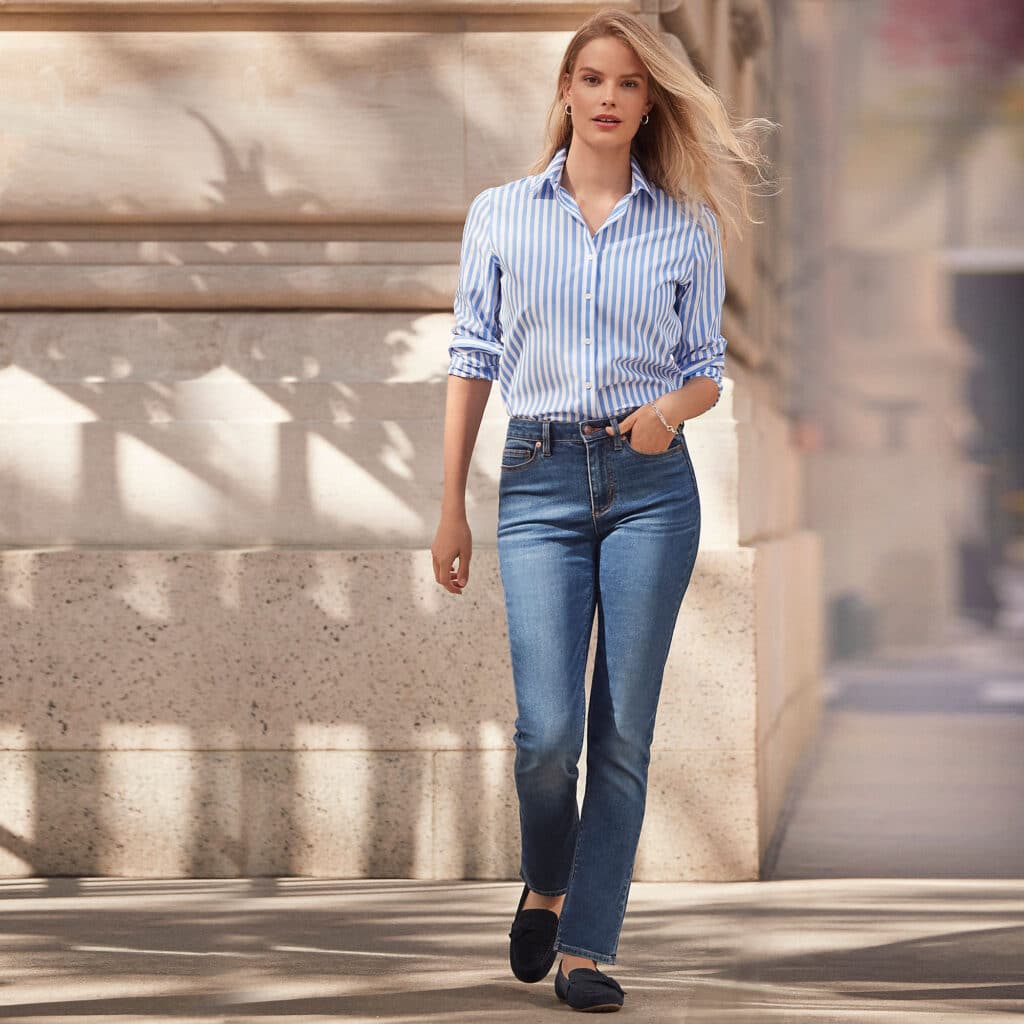 Land's End
While aimed towards an older demographic, Land's End has stylish pieces that are versatile, durable, and functional. It's also the go-to brand to shop for business-wear basics like tidy dresses, skirts, neat button-down shirts, blouses, slacks, polo shirts, jeans, as well as dark and neutral-colored suits and ties. Besides apparel and casual clothing, Land's End also offers home décor, luggage, and furnishings.
White House Black Market
White House and Black Market, which were previously two separate stores that exclusively sold items in their respective colors, merged to establish a formidable fashion brand. The brand centers around the enduring contrast of these opposing colors which is ideal for those who like basics and tend to shy away from colors. The best pieces from White House and Black Market are solid tops that can act as a base layer for cold-weather ensembles, the trusted Little Black Dresses, and dark trousers you can dress up or down with sandals or heels.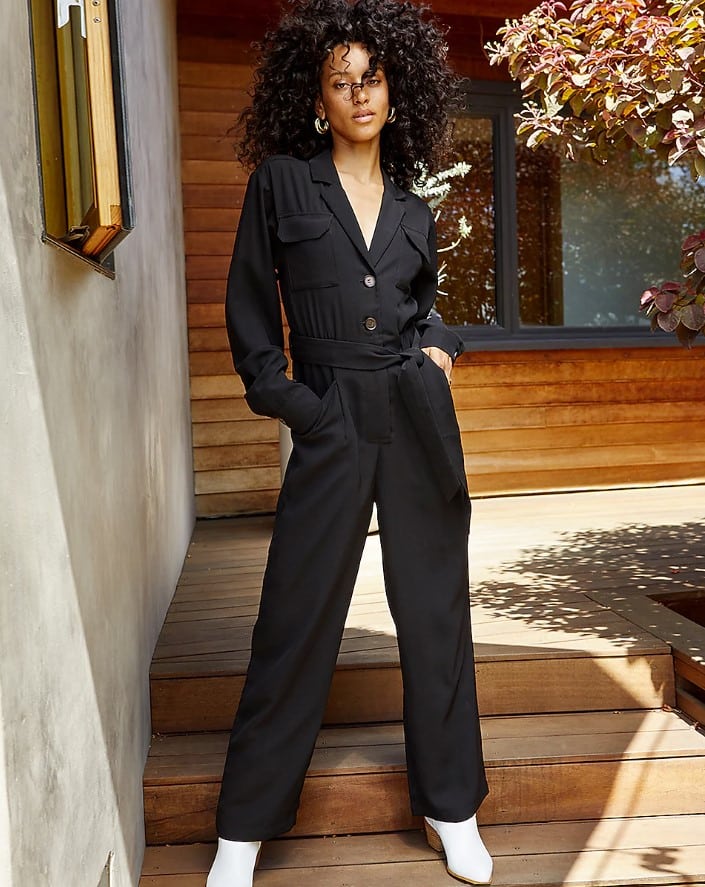 Express
For those seeking a versatile wardrobe, Express is an excellent choice. The brand offers a variety of contemporary and youthful designs—from professional blazers to night-out needs. If you need to elevate your polished style game at work or brunch, Express' selection of dressy tops, suits, jumpsuits, rompers, and dark wash jeans are must-haves.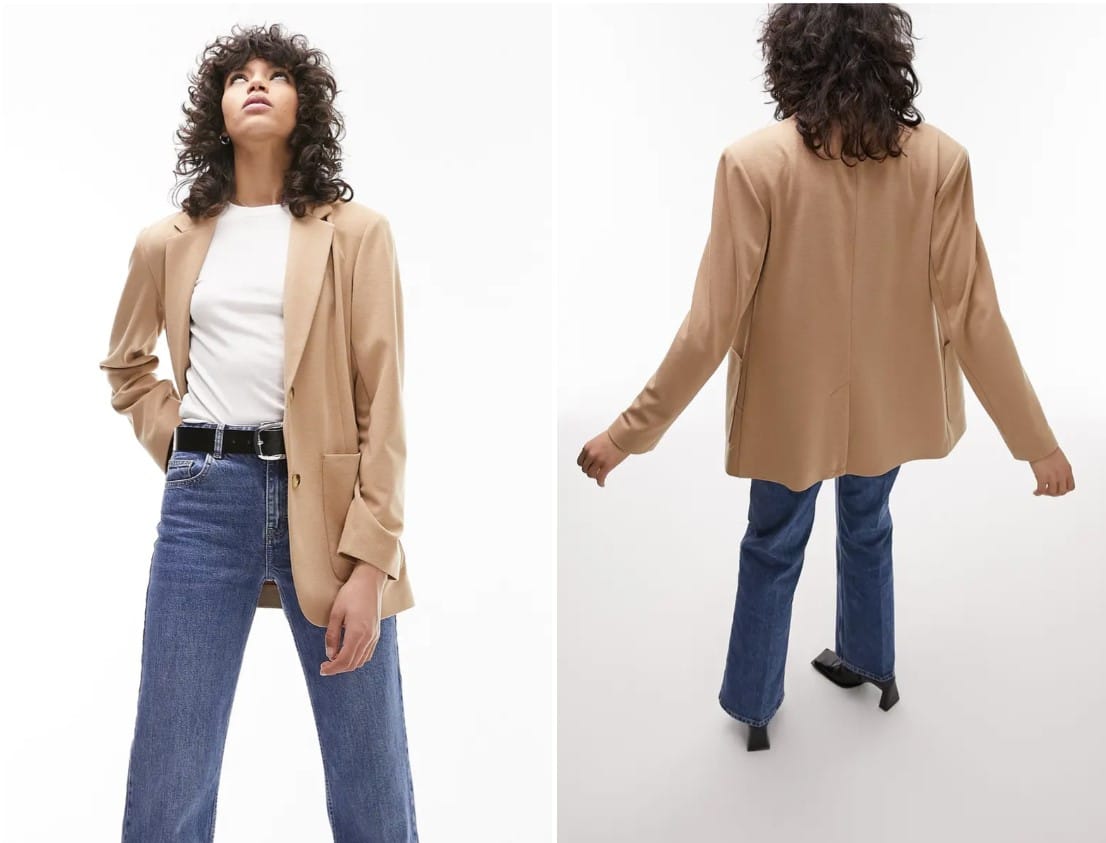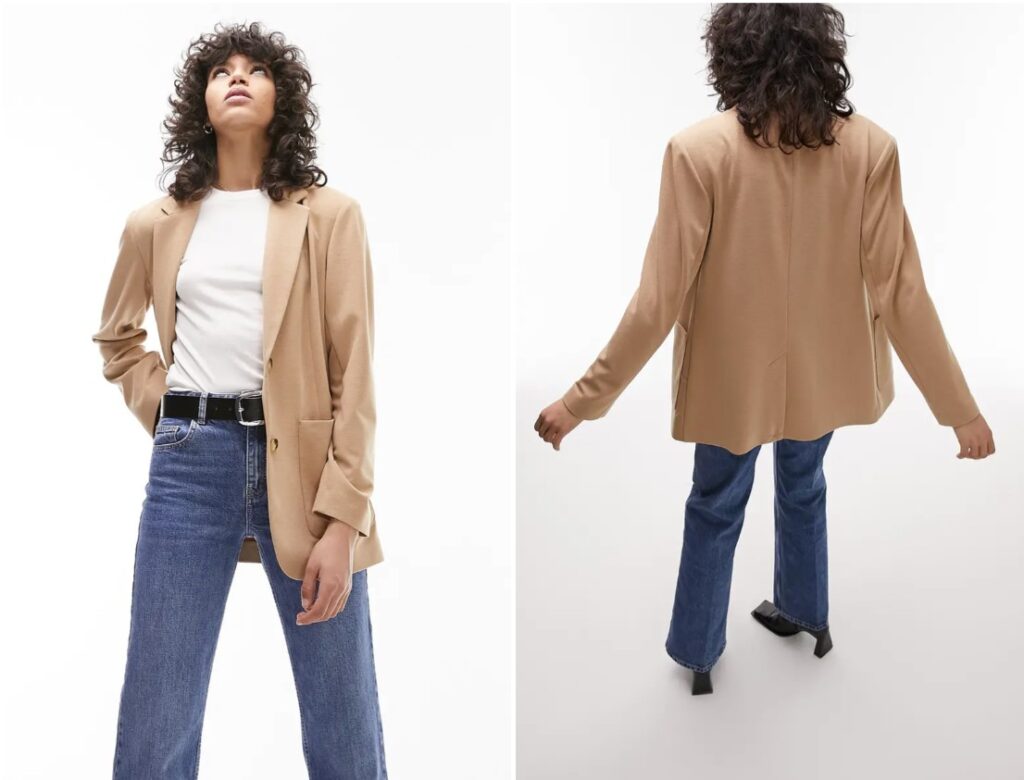 Nordstrom
When it comes to polished, sophisticated clothing, Nordstrom is mecca. While a little bit on the pricey side, the brand's understated luxury is translated in its sleek dresses, tailored suits, and blazers are worth the investment.
Nordstrom is unparalleled when it comes to separates and dresses with a feminine and polished appeal that's often made with rich textured fabrics (suede, leather, and silk), as well as premium denim pieces, tailored blazers, and wide-leg jumpsuits.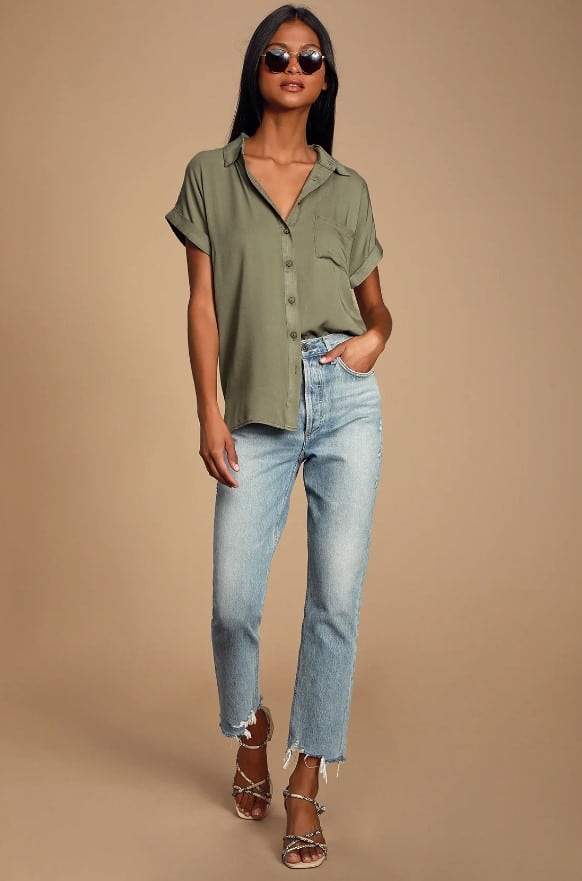 Lulu's
If you want to add a bit of fun and flirty pieces in bright colors and bold prints to your polished ensemble, Lulu's has you covered. The brand also has affordable pieces that allow fashionistas to experiment with various looks without sacrificing their personal styles.
Lulu's clothing includes cute sundresses, statement jackets, and sophisticated dress pants that can be mixed and matched with other existing wardrobe and accessories for a casual day out or night on the town.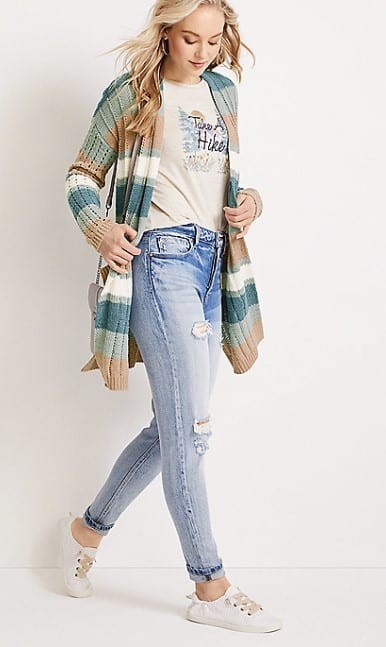 Maurices
A popular women's clothing brand featuring feminine and relaxed silhouettes in a variety of styles. Maurices' collection can take you from morning work meetings to a fun night out with the gals, all while looking fresh, fabulous, and put together. They have everyday basics like tank tops, tees, jeans, and leggings as well as professional wear like trendy blouses, double-breasted blazers, and tapered-fit jeans and slacks.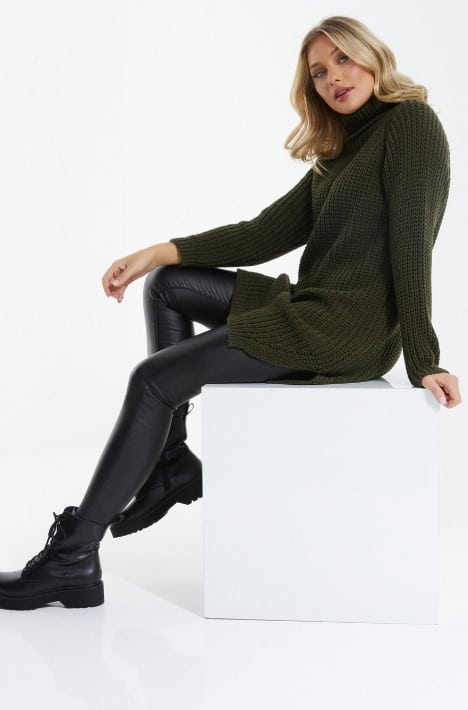 Quiz Clothing
A British fashion brand founded in 1993 that offers glamorous and trendy clothing in eye-catching prints, bold colors, and figure-flattering fits. Key styles from Quiz Clothing include midi dresses, maxi dresses, wide leg pants, blazers, playsuits, and occasion-wear. Quiz Clothing's super glam styles are also available in a range of sizes from petite to plus-size clothing for any event.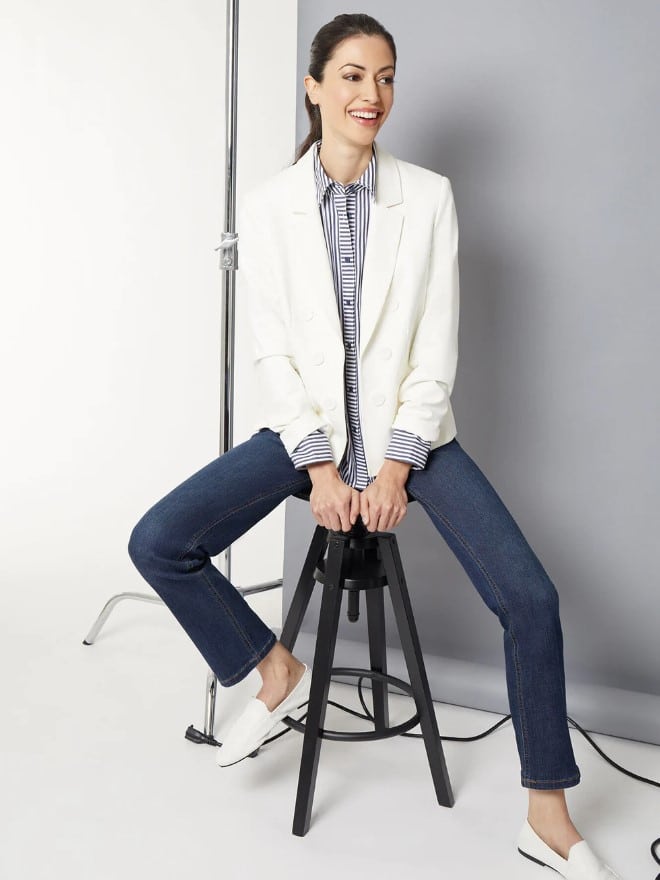 Jones New York
An underrated American clothing brand that features modern, timeless, and flattering pieces impeccably designed to impress, Jones New York is the embodiment of the city in which the brand is based and is ideal for those who are always on the go but want to look polished before heading out. The brand's popular featured styles are business casual, professional suiting, and casual everyday style in refreshing palettes f effortless and sophisticated looks.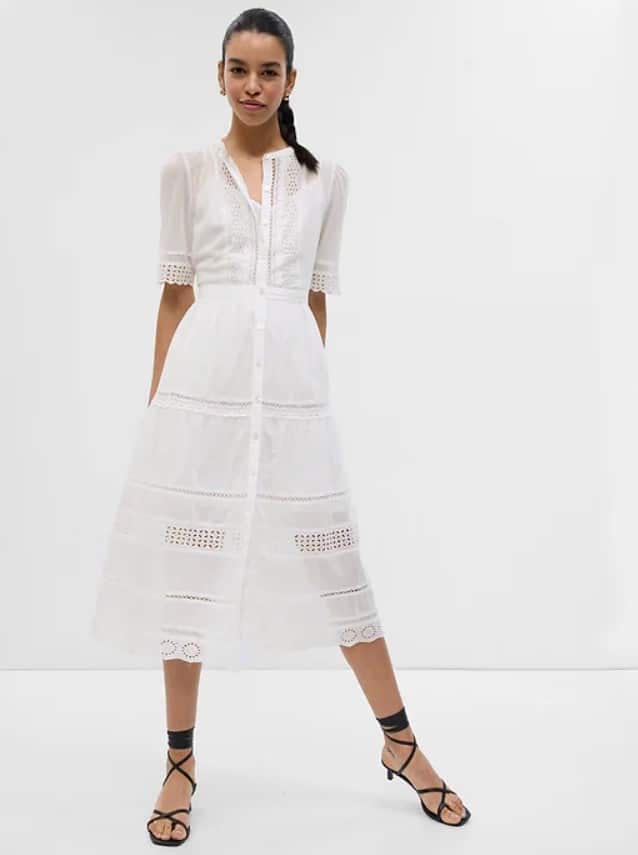 Gap
A well-known clothing retail company for men, women, and children offering casual yet stylish looks. Gap is a favorite among all age groups for its simple yet relaxed designs in classic colors and comfortable fabrics.
Gap offers a variety of dress styles that can be dressed up or down, including midi dresses and shirt dresses, making them suitable for both casual and formal occasions, while their outerwear collection includes warm sweaters, cardigans, and jackets that can be layered to create a stylish and practical look.
New York & Company
Another underrated brand for workwear essentials is New York & Company that's also well-regarded for its sweet deals on cardigans, sweaters, and dressy tops for $20 or less. Whatever style you need—a comfortable sweater, striking new top, well-tailored blazer, and figure-flattering pants, New York & Company's lineup of clothes can help you transition from cubicle to a fun night out fabulously.
Which of these stores like Ann Taylor is your favorite? Let us know in the comments!