50 Best Online Shopping Sites for Women's Clothing & Accessories
As someone who does ALL of their shopping online (since before it was the norm), I've finally rounded up my list of the best online shopping sites for women's clothing, shoes, bags, jewelry, and makeup for 2023.
These are the sites I go to for everything and swear by! Some of them are budget-friendly, while others are more luxe in their selections. I'll go into detail about all 50 of them.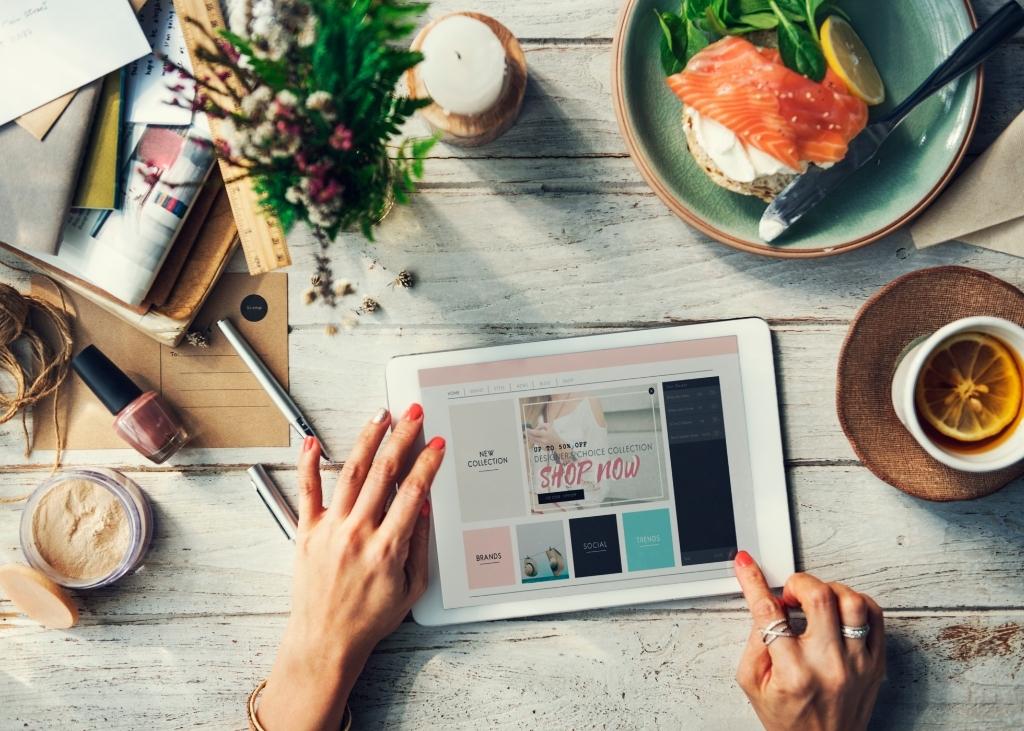 However, if you're in a hurry, please find my quick list of the top 10 online shopping sites for women's clothing and accessories below:
Top 10 online clothing & accessories stores for women in 2023
Now, if you have a little more time, please find my complete list of the top 50 online stores for women's clothing & accessories, below!
*Disclosure: Have Clothes, Will Travel uses affiliate links. Meaning, if you click a link and make a purchase, Have Clothes, Will Travel gets a very small commission at no extra cost to you. Thank you for supporting the brands that make this blog possible!
50 Best Online Shopping Sites for Women's Clothing & Accessories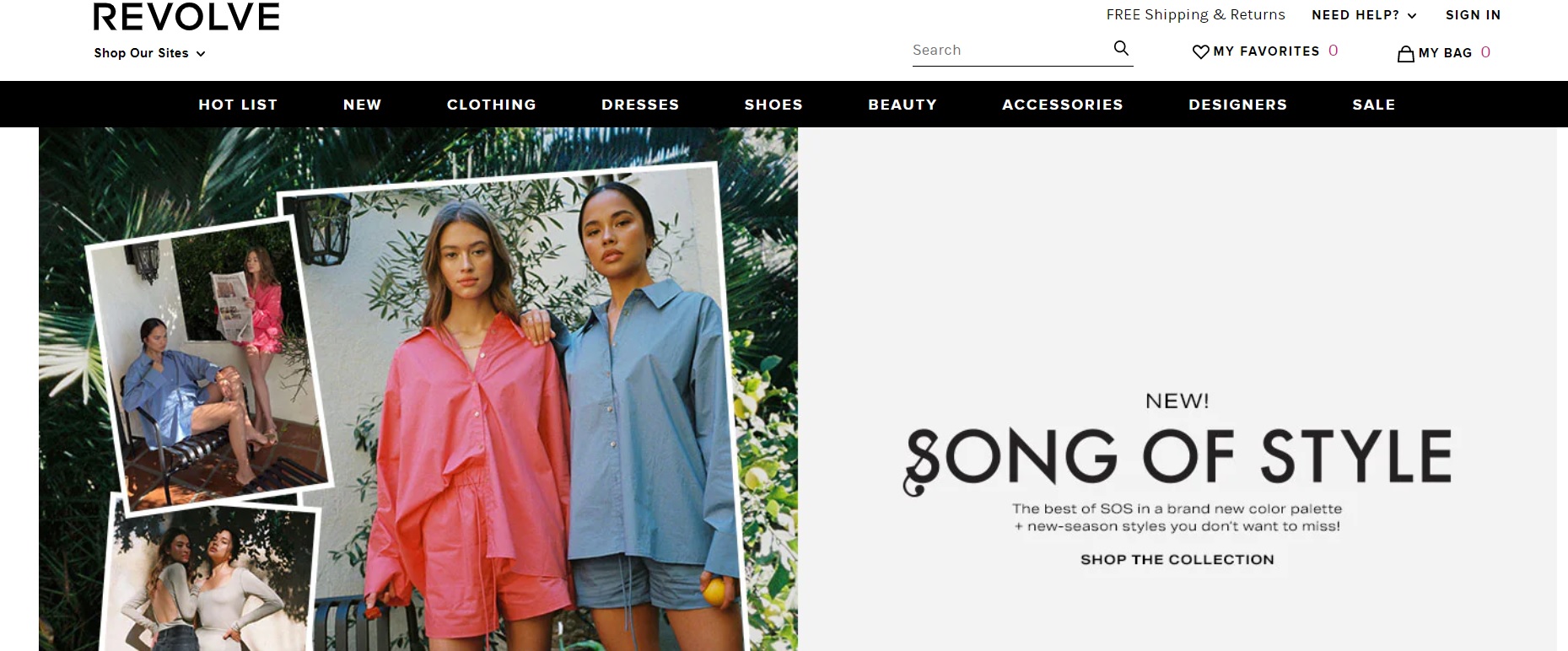 Revolve ($$-$$$$)
REVOLVE is an AMAZING online shopping site for women. They offer over 49,000 apparel, footwear, accessories, and beauty style options at a variety of price points. They are THE site for on-trend apparel, and I personally love shopping on Revolve for dresses and swimwear. Revolve also has super speedy shipping and easy returns.
Read next: 25+ Stores Like REVOLVE for Fashionable Clothing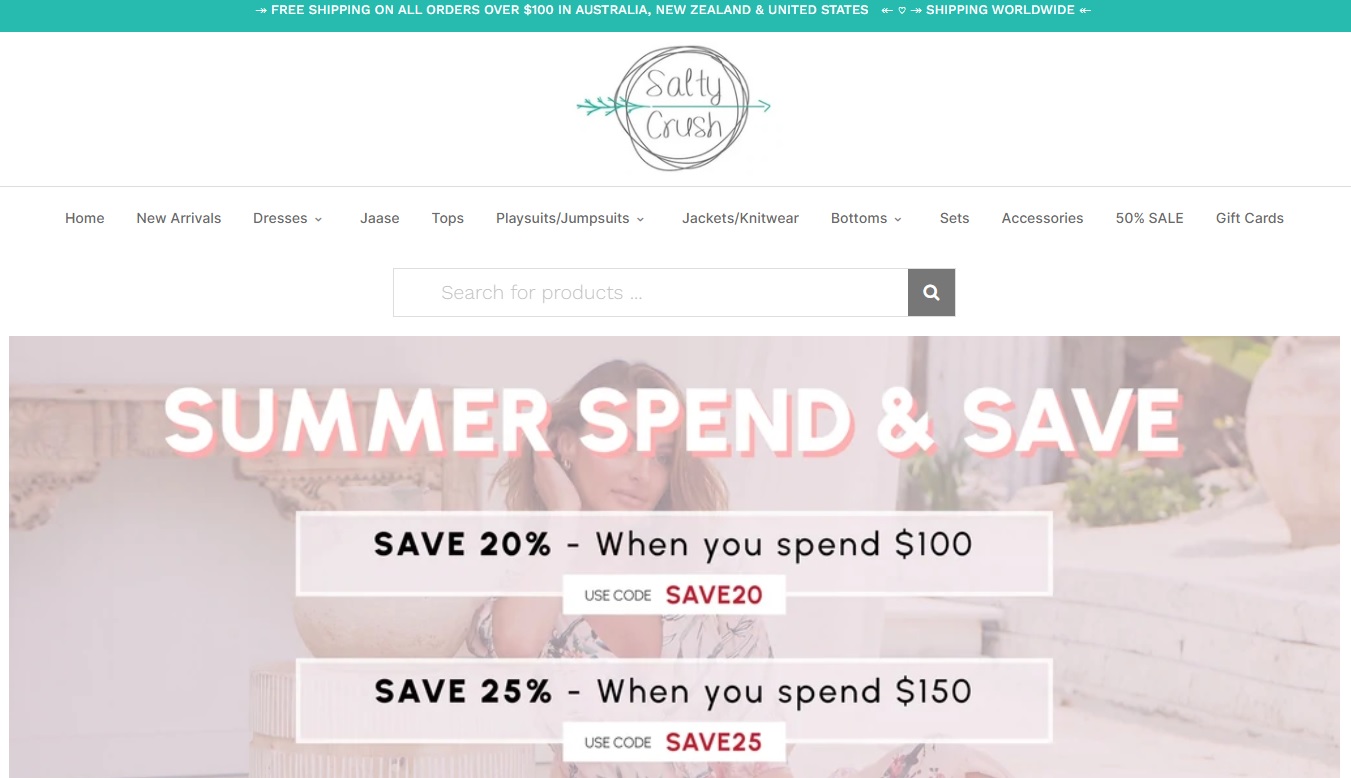 Salty Crush ($$)
Salty Crush is a new favorite clothing site of mine. I've been ordering from them for a couple of years now. They're based in Sydney, Australia but their international shipping is great. (My orders to the US take about a week to reach me.) They feature a fantastic selection of modern boho pieces at an affordable price point. I am obsessed with their dresses and cardigans.
Read next: 25+ Best Sites for Shopping Boho Clothing Online (& Accessories!)
Shopbop ($$$)
Shopbop is a global online store that offers a curated selection of ready-to-wear & accessories from over 1,000 established and emerging designers. They have fantastic customer service, FREE/fast shipping worldwide, and free returns for the US and Canada. (Fun fact: they're owned by Amazon.) I LOVE their selection of dresses and shoes.
Read next: Is Shopbop Legit? My Honest Shopbop Review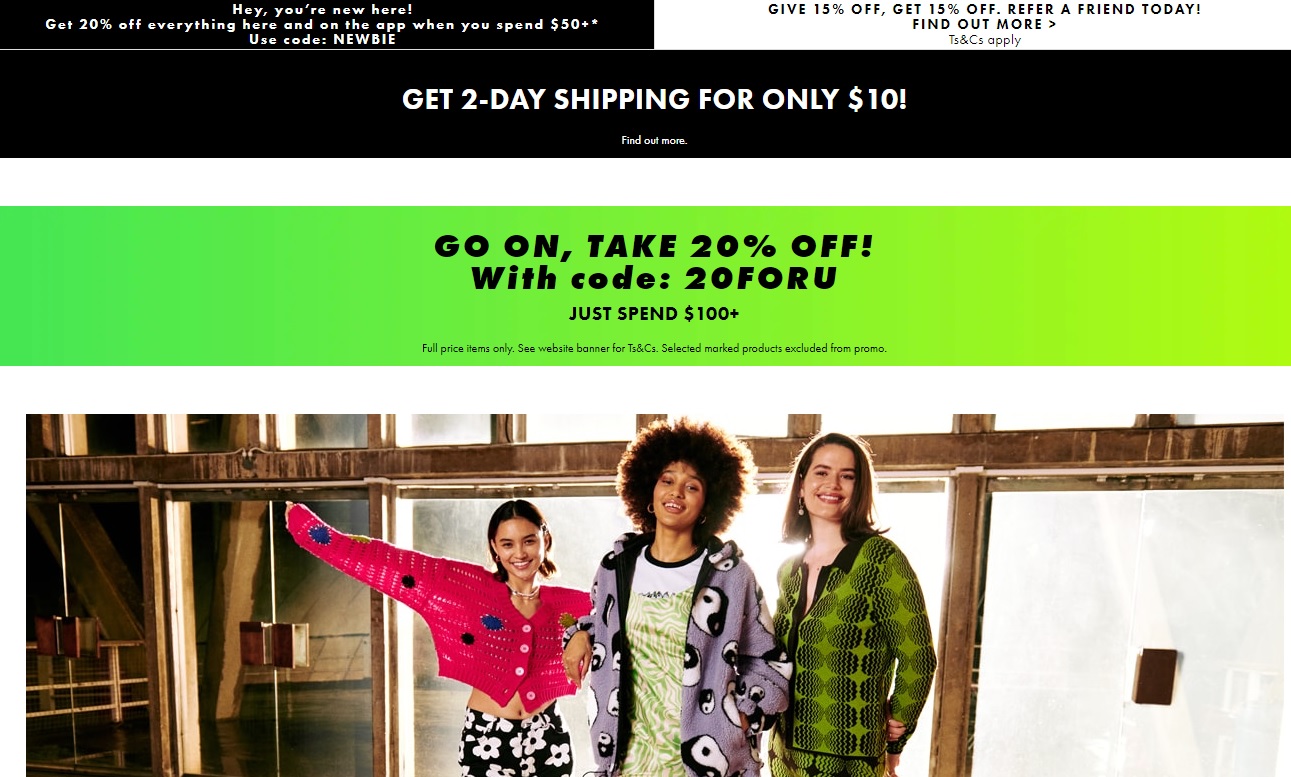 ASOS ($$-$$$)
ASOS is similar to Shopbop in the sense they carry a wide variety of clothing options for women (and also men). It's a British-based retailer that sells over 850 brands as well as its own namesake label of clothing and accessories. I actually first started shopping on ASOS, too, thanks to their selection of cosmetics. They have wonderfully affordable and quick international shipping as well. (Or shipping is FREE if you spend over $49.99.)
Read next: 20+ Amazing Clothing Stores Like ASOS That Are All Available Online
AllSaints ($$-$$$)
AllSaints is also a British-based brand that has its headquarters in London. If you're shopping for edgy-looking clothing that's a little goth – you'll love AllSaints. They make fantastic leather jackets and biker boots. I also, personally, love their dresses.
Read next: 14+ Brands Like AllSaints for Edgy & Fashionable Clothing
Nasty Gal ($)
Nasty Gal is a clothing website for women that is based in the USA. They're an inexpensive fashion retailer that carries a wide variety of women's clothing and accessories that are almost all less than $50. I've had the best luck ordering their dresses and blouses.
Read next: Is Nasty Gal Legit? Honest Nasty Gal Review
prAna ($$)
prAna is a sustainable clothing site that specializes in clothing made for outdoor adventures and travel, as well as yoga. I also love wearing their clothing when I'm working from home – it's SO comfortable and breathable. My favorite items (that I'm wearing as I write this post) are their Halle Pants & their Munra Wrap.
Read next: 9 Awesome Sustainable Travel Clothing Brands for Women & Men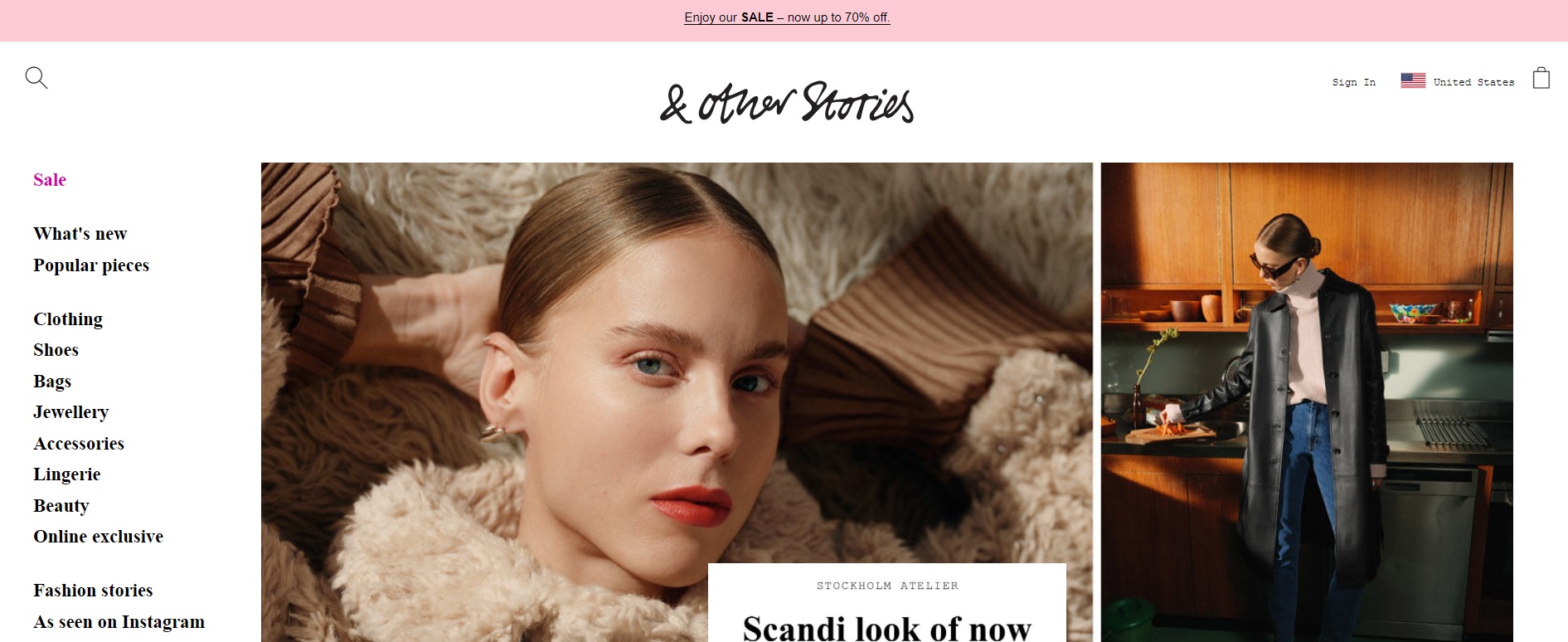 & Other Stories ($$)
& Other Stories is a one-stop styling destination that features modern and feminine wardrobe treasures designed in Paris, Stockholm, and Los Angeles. They create classic wardrobe staples that will be in style for years to come.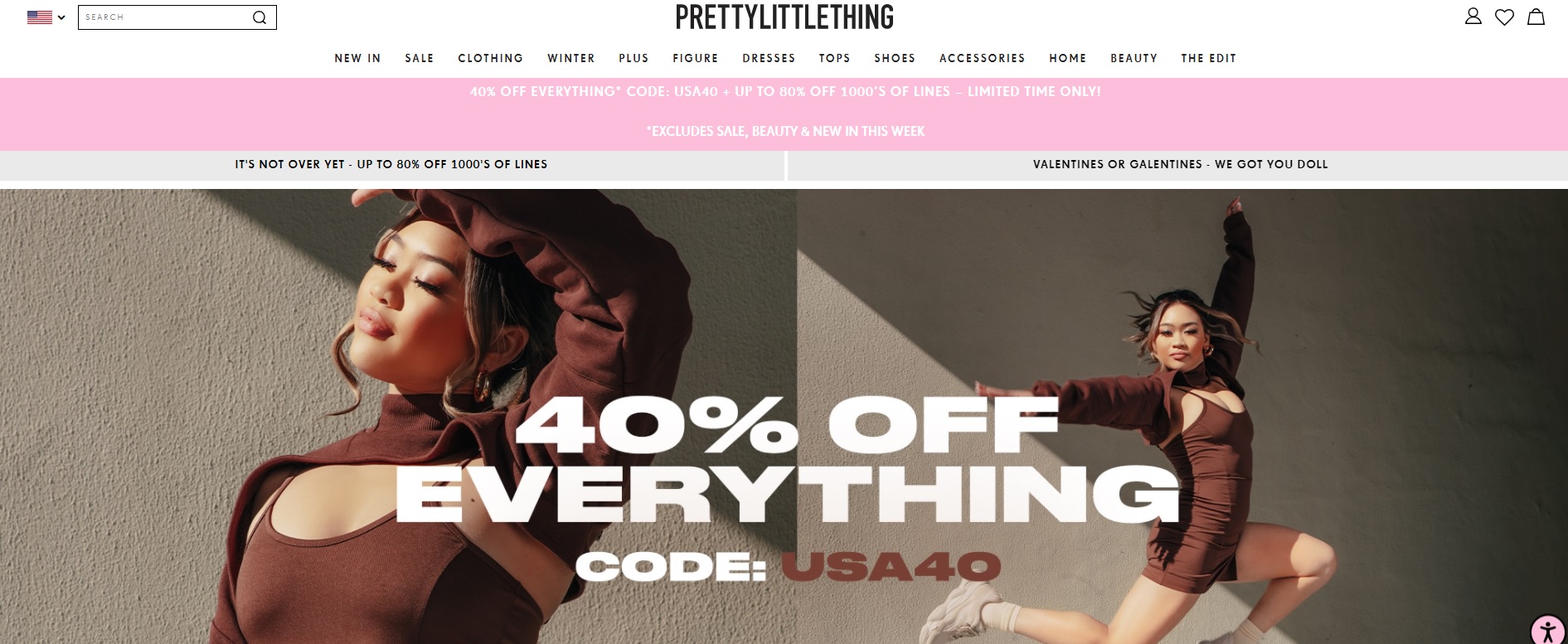 PrettyLittleThing ($)
PrettlyLittleThing is a UK-based fashion retailer, aimed at 16-42-year-old women. They feature affordable clothing, accessories, and makeup – with just about everything on the site coming in at less than $50. They specialize in rather sexy apparel and loungewear.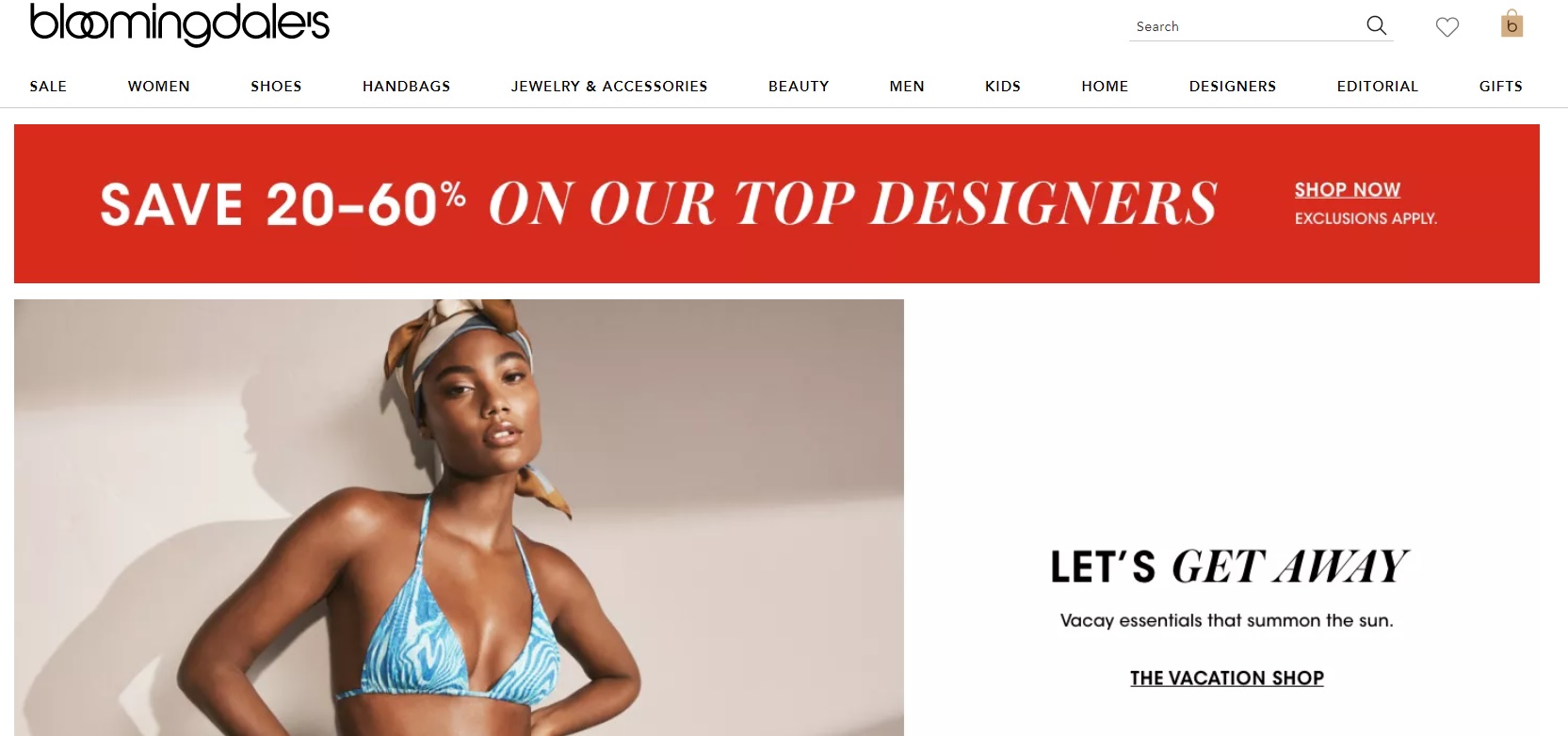 Bloomingdale's ($$-$$$$)
Bloomingdale's is an American luxury department store, founded in New York City that now features a fantastic online store. You'll find all the top brands for clothing, handbags, shoes, beauty, and also home decor!

Lulus ($$)
Lulus is dubbed an affordable luxury brand for women. They're based in California but serve customers worldwide. Lulus delivers chic, head-turning styles that'll have you looking great and feeling confident, no matter the occasion. They feature everything from cute loungewear to glamorous dresses (even affordable wedding dresses) to stylish swimwear – and everything in between!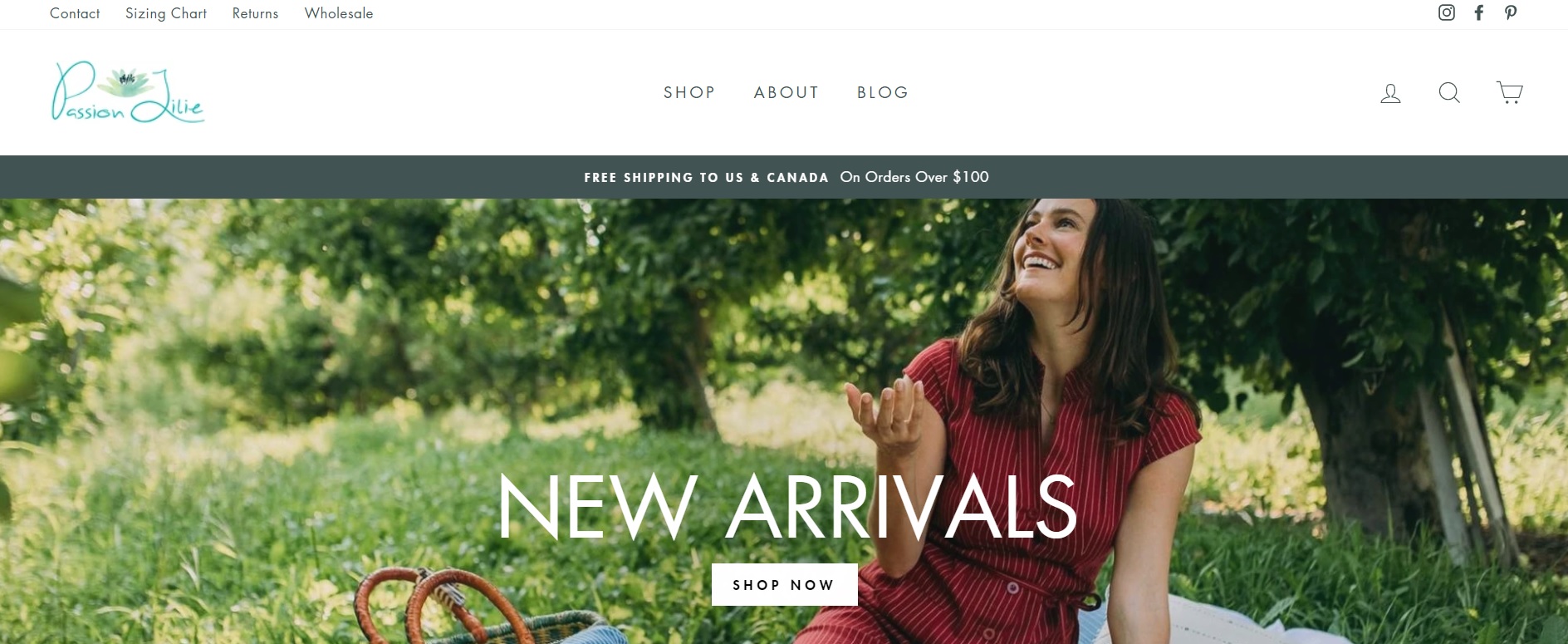 Passion Lilie ($$)
Passion Lilie is a fair trade fashion brand that is based in New Orleans and also has a fantastic online shopping site. They blend classic silhouettes with playful block prints to create pieces that are both timeless and effortless. Their clothing is designed with comfort in mind, plus each item is ethically handmade in small batches by craftspeople who are dedicated to preserving heritage techniques. I LOVE Passion Lilie dresses.
Read next: Honest Review of Passion Lilie's Fair Trade & Sustainable Dresses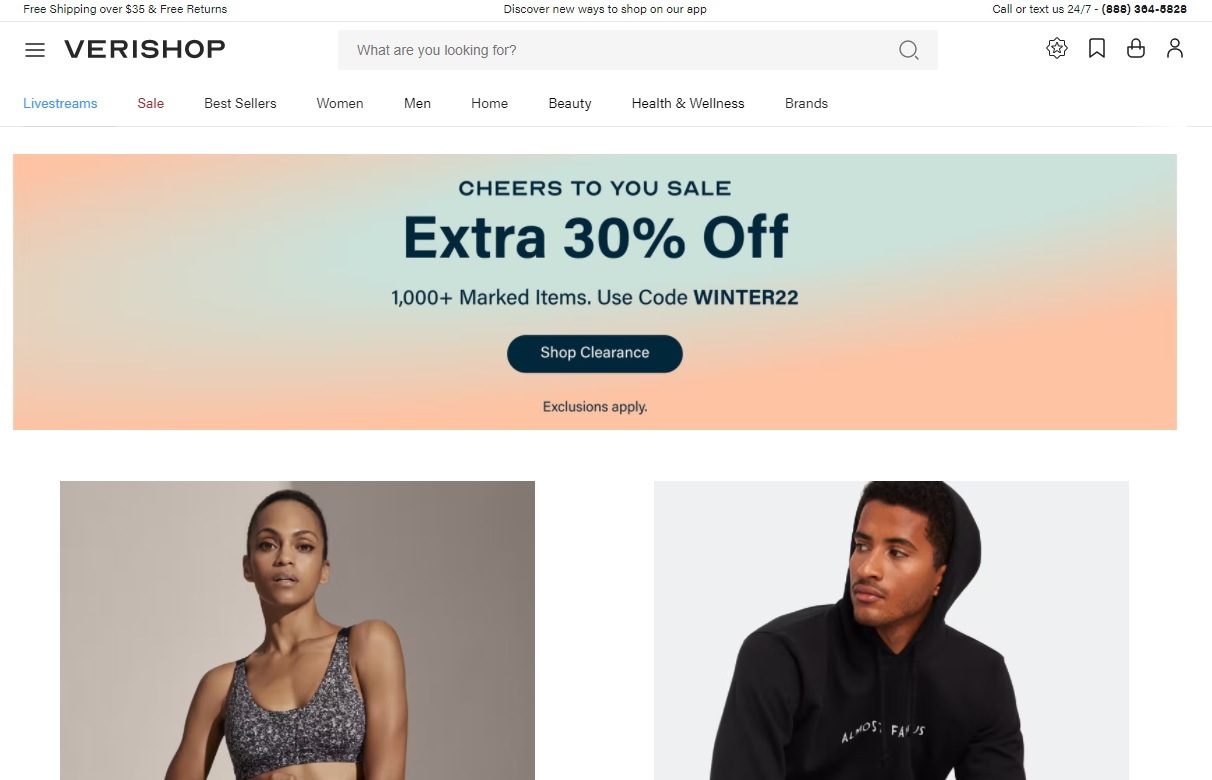 Verishop ($$-$$$)
Verishop is a relatively new e-commerce site that features top fashion brands for women (and men) as well as all the trusted beauty favorites. This is also a great place to go to discover unique and relatively unknown designers and brands. They have fantastic customer service. Plus, shipping is free for orders over $35 and they offer free returns.
Read next: Is Verishop Legit? My Honest Verishop Review + Photos of My Purchases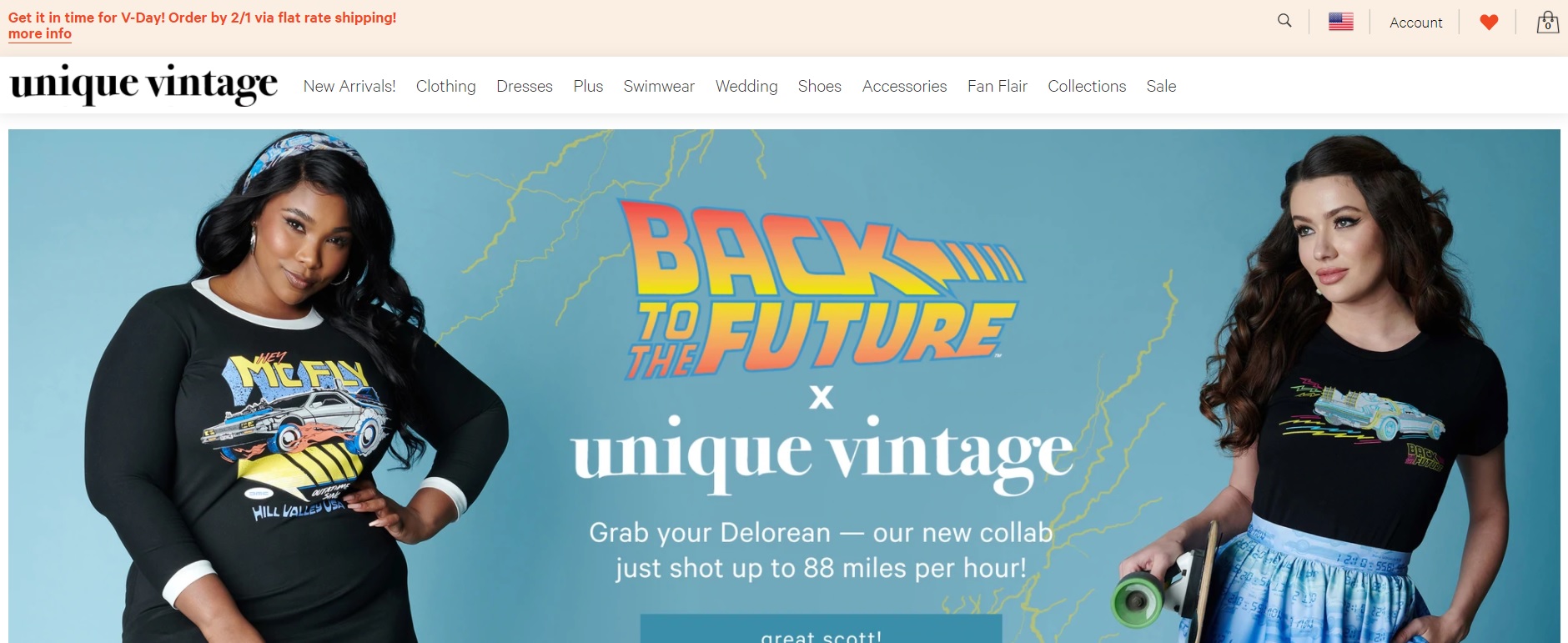 Unique Vintage ($$)
Unique Vintage is an aptly named clothing website for women that has a wonderful selection of unique, vintage-inspired dresses, skirts, swimwear, shoes, and more. I swear by this website for retro clothing!
Read next: Trying Out a Unique Vintage "Catch of the Day" Dress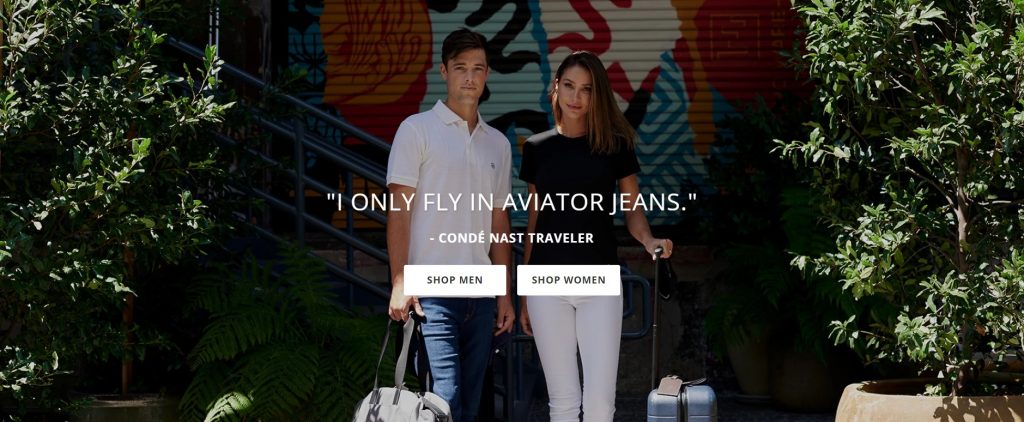 Aviator Jeans ($$)
When it comes to websites for jeans – Aviator Jeans is a site like no other! They are a USA-based site that specializes in jeans specifically designed for travel – meaning COMFORTABLE and usable pockets. These are rare qualities when it comes to women's jeans. They are also beginning to produce a line of tops made of Merino Wool that are great!
Read next: Aviator Slim Skinny Fit Travel Jeans Review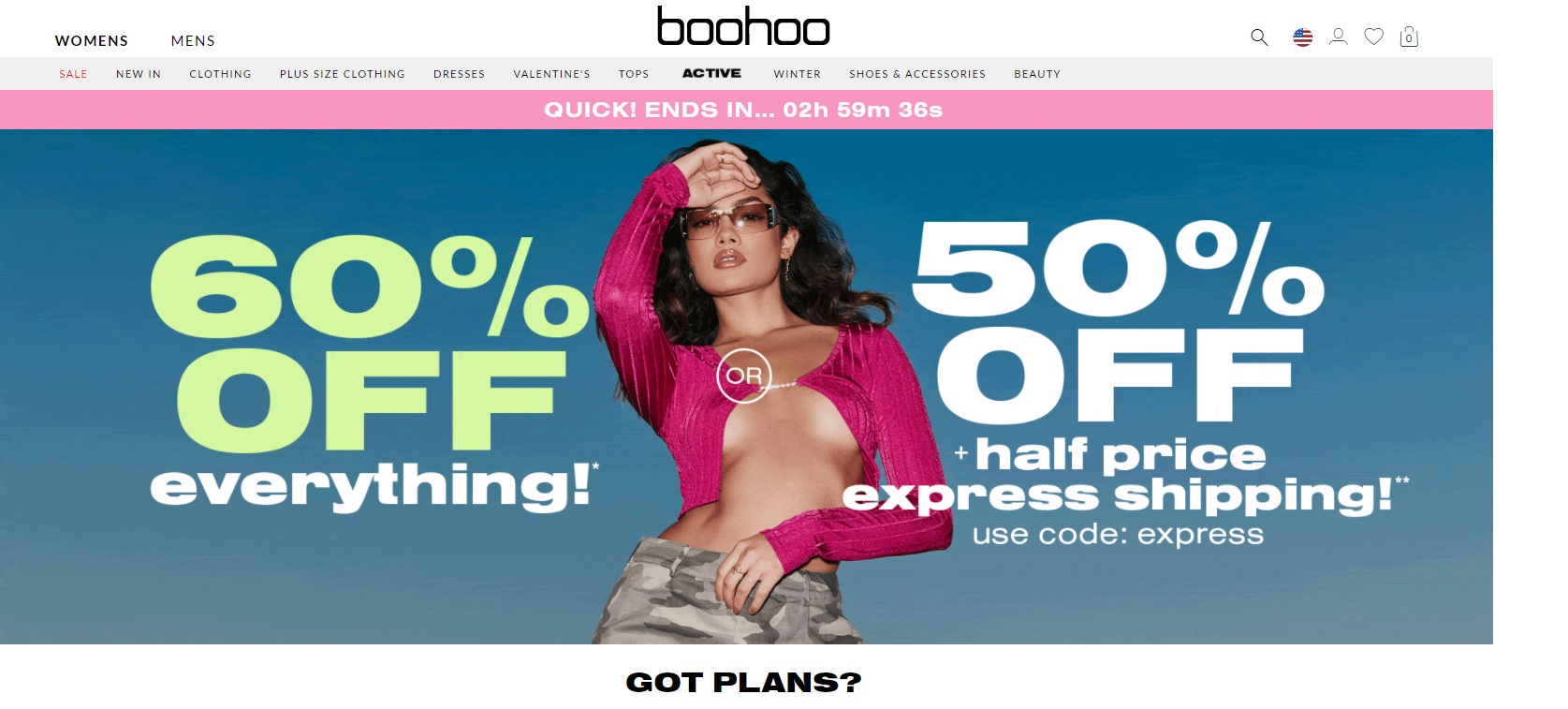 Boohoo ($)
Boohoo is another British-based retailer that is aimed at younger ladies in terms of style. Their prices are super cheap, with most items being less than $30. They're also very size-inclusive and have sections for plus-size clothing, petite clothing, tall clothing, and maternity clothing.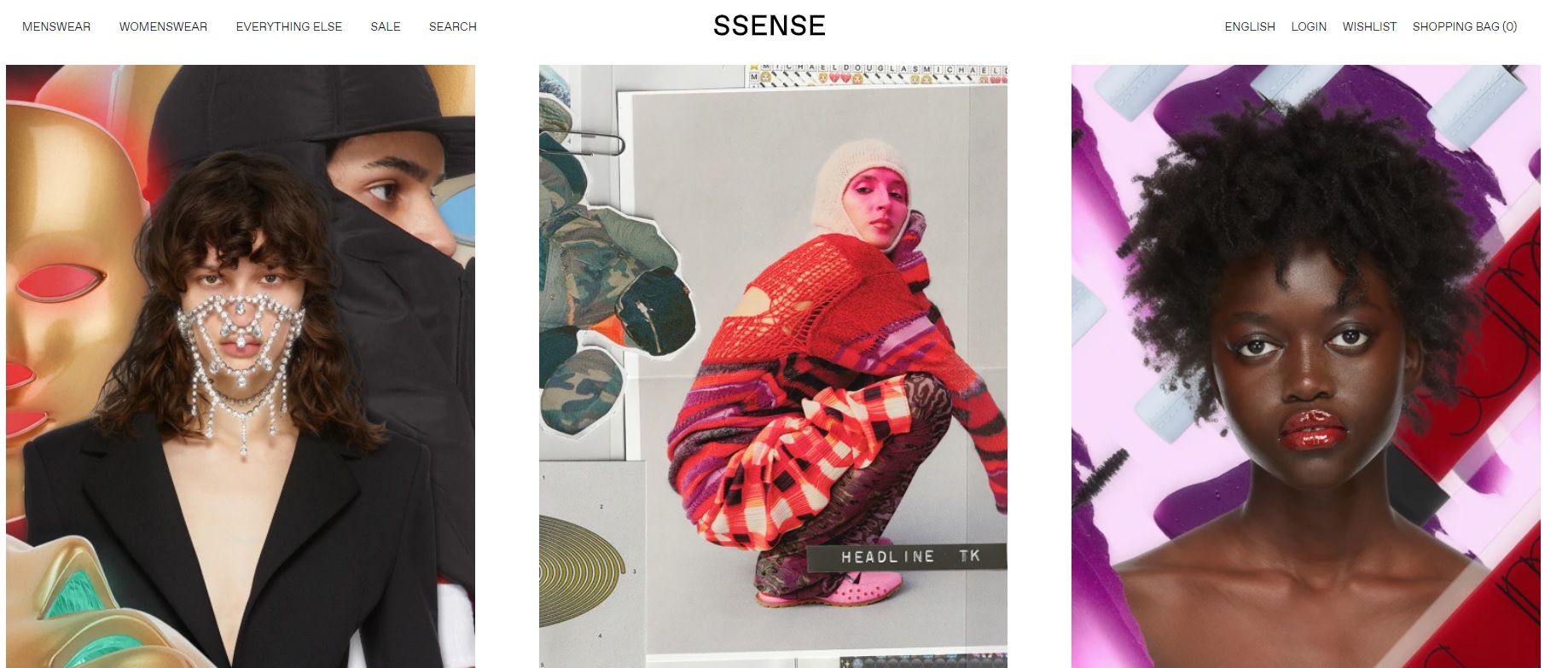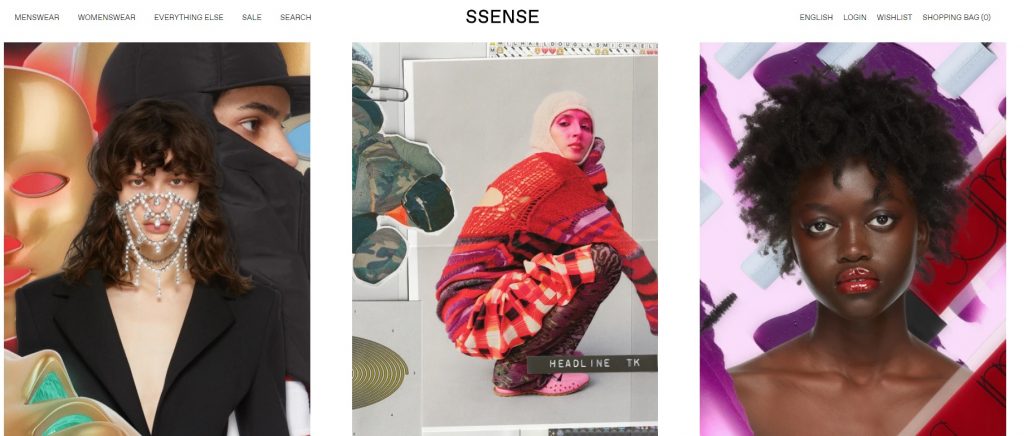 SSENSE ($$$$)
SSENSE is based in Montreal, Canada, and is the BEST site for high-end streetwear for both women and men. They feature more than 500 different labels from emerging designers, and they ship globally.
Read next: Is SSENSE Legit? My Honest SSENSE Review + Photos of My Purchases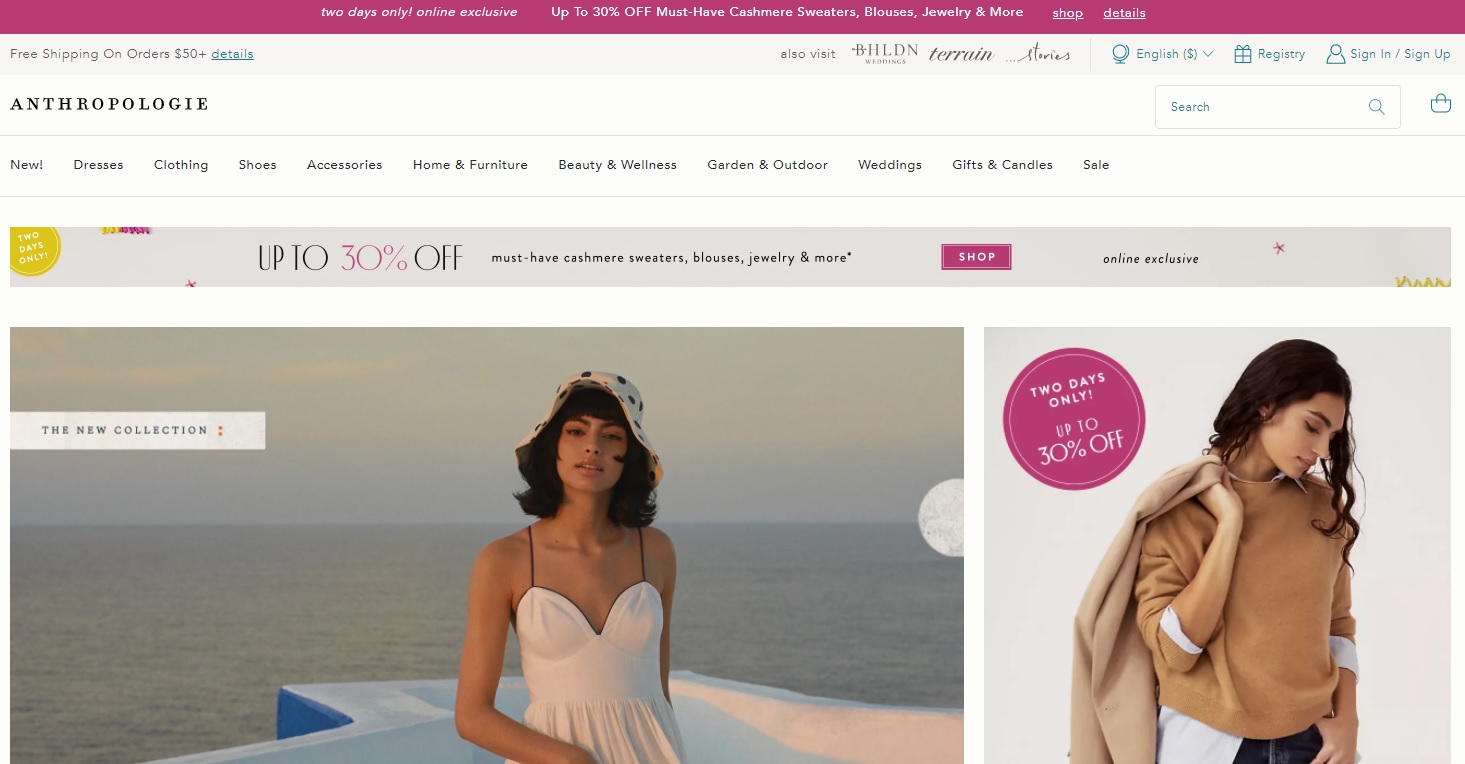 Anthropologie ($$$)
Anthropologie is a site I try not to go on too frequently because I end up buying WAY too much every time I do. They feature clothing and home decor that is best described as boho chic yet classic. I'm obsessed and also put together a post featuring the top tips for shopping on Anthropologie.
Read next: 30+ Stores Like Anthropologie for Boho Clothing You NEED to Try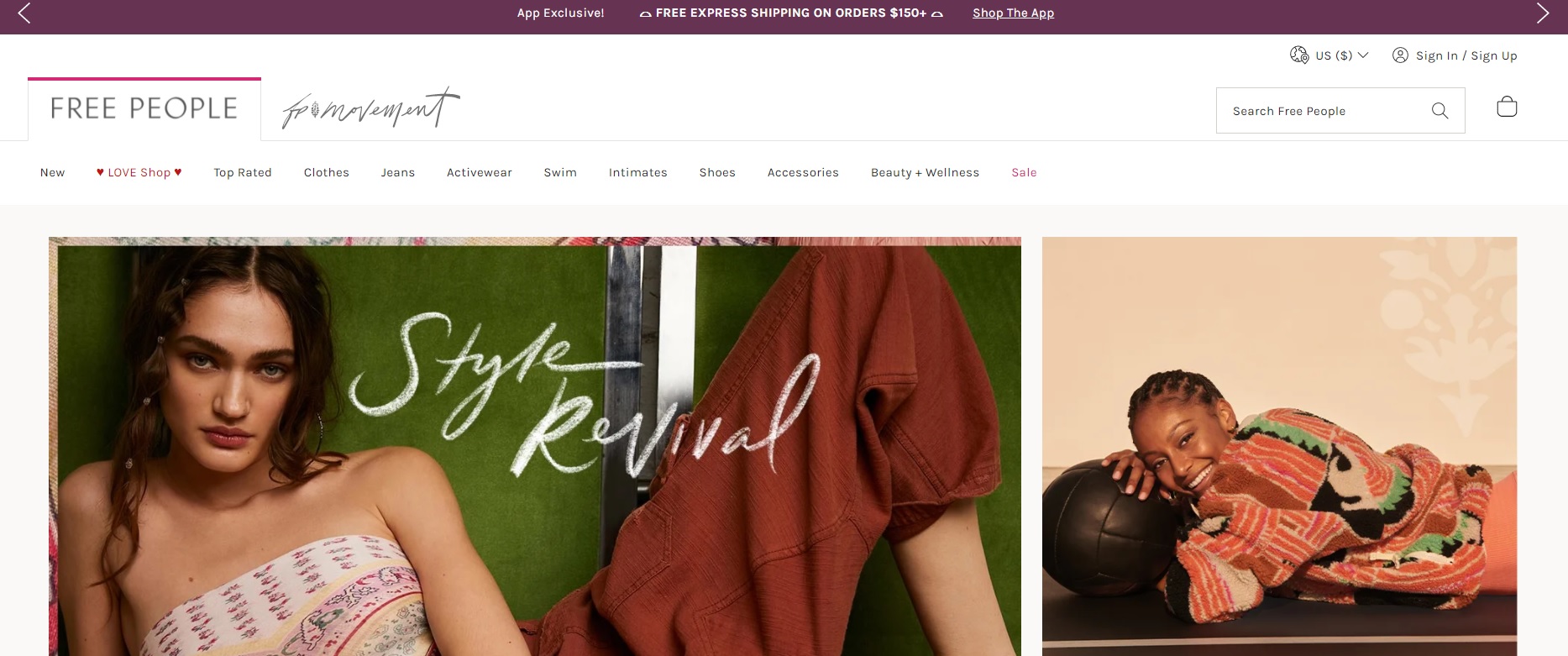 Free People ($$$)
Free People is actually owned by the same company as Anthropologie. Although I prefer shopping on Anthro, that's not to say Free People doesn't deserve a spot on this list! Free People is very bohemian in style and has an incredible selection of maxi dresses.
Read next: 25+ Stores Like Free People for Boho Clothing You NEED to Try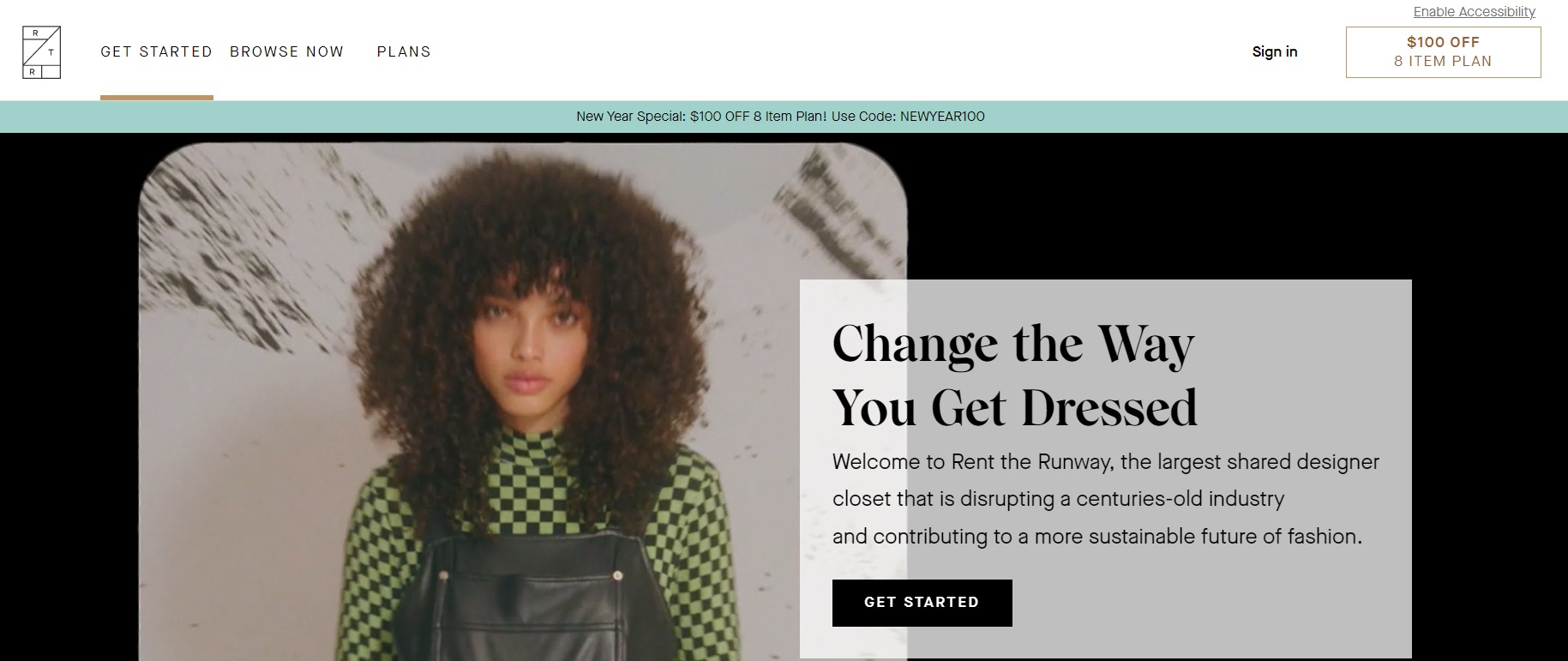 Rent the Runway ($$-$$$)
This site is a little different from the rest on this list. Rent the Runway allows customers to rent, get monthly subscription boxes, or buy designer apparel. This is a fantastic site to rent clothing for a special occasion or to get a wardrobe refresh!
Christy Dawn ($$$)
Christy Dawn is a fashion designer of dresses and accessories inspired by vintage clothing. They only use sustainably sourced deadstock fabric and their dresses are ethically sewn in Los Angeles. They are so beautiful and ethereal! They really nail the popular cottagecore look that is taking the world by storm right now.
Read next: 32 STUNNING Cottagecore Dresses + Fashion Brands You Can Shop Online
Carry Courage ($$)
Speaking of sustainability, Carry Courage is an online shop that specializes in beautiful, vegan, sustainable bags. Their signature line is made of cork (which I love)! They also recently introduced a vegan leather line.
Read next: Honest Review of Carry Courage – Sustainable Travel Bags & Luggage Tags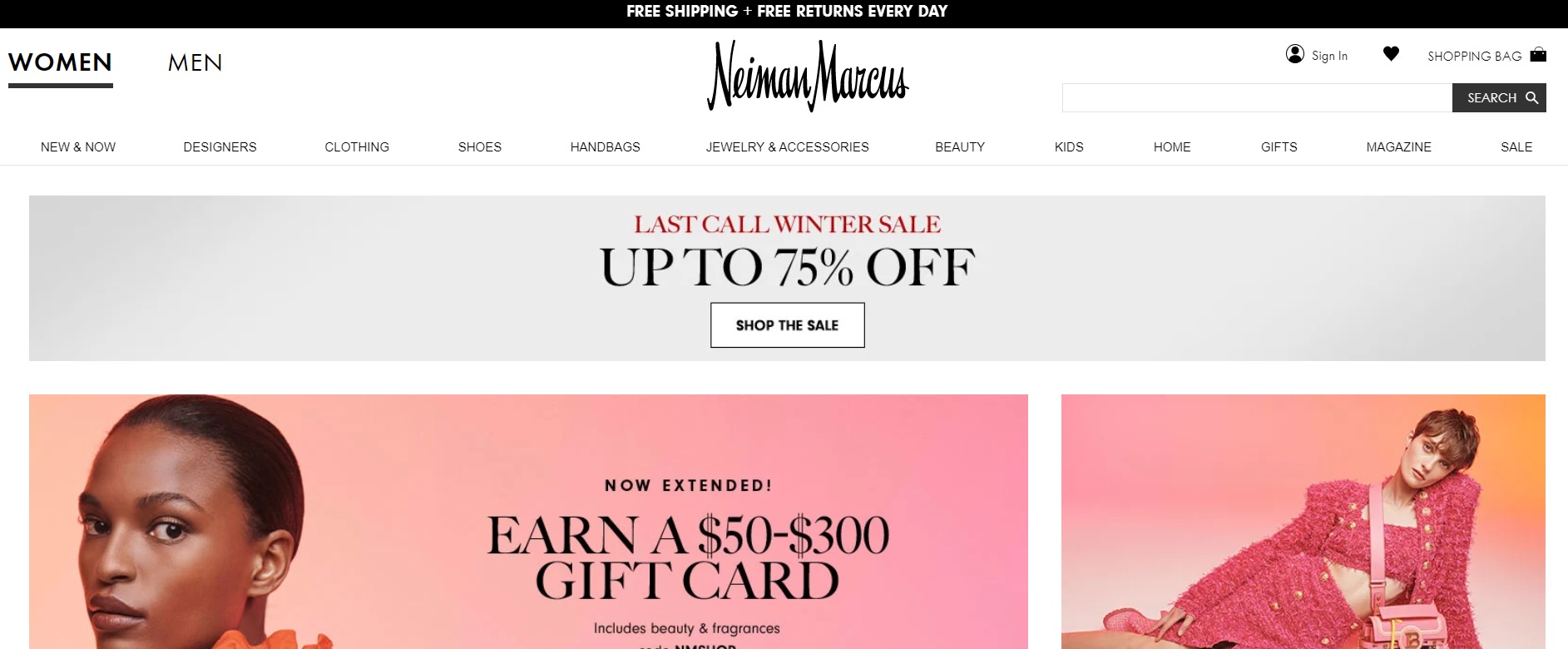 Neiman Marcus ($$$-$$$$)
This is another American luxury department store that has embraced e-commerce and now has a great online store that features all the latest styles from the world's top designers. I especially love their handbag selection and recently bought my YSL Loulou from here!
Read next: Best Designer Shoes to Shop From Neiman Marcus Right Now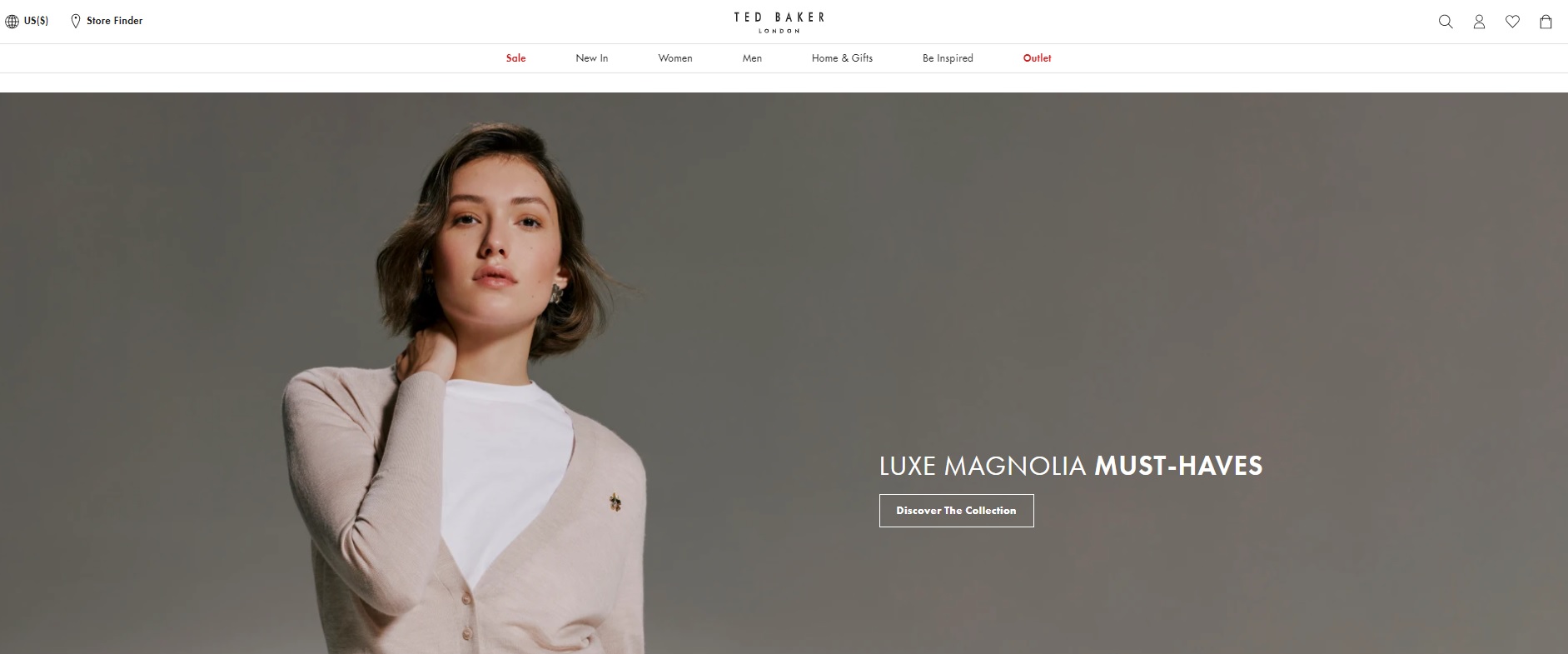 Ted Baker ($$-$$$)
Ted Baker is a British luxury retailer that features contemporary designer staples and reinvented classics. Every time I go on the Ted Baker site I find a new dress, skirt, or pair of shoes I want to buy – it's dangerous! However, they're worth splurging on… as Ted Baker is a designer that withstands time. I love every piece I have from Ted Baker.
United by Blue ($$-$$$)
United by Blue is one of the best online shopping sites for sustainable outdoor clothing. They also remove 1 pound of trash from the ocean for every 1 product purchased on their site. I'm especially a fan of their outerwear – I've had their Bison Jacket for several years, and it is the best coat I own in terms of quality, warmth, and style. (I spend my winters in Wisconsin, so quality winter coats are a big deal for me!)
Read next: 9 Awesome Sustainable Travel Clothing Brands for Women & Men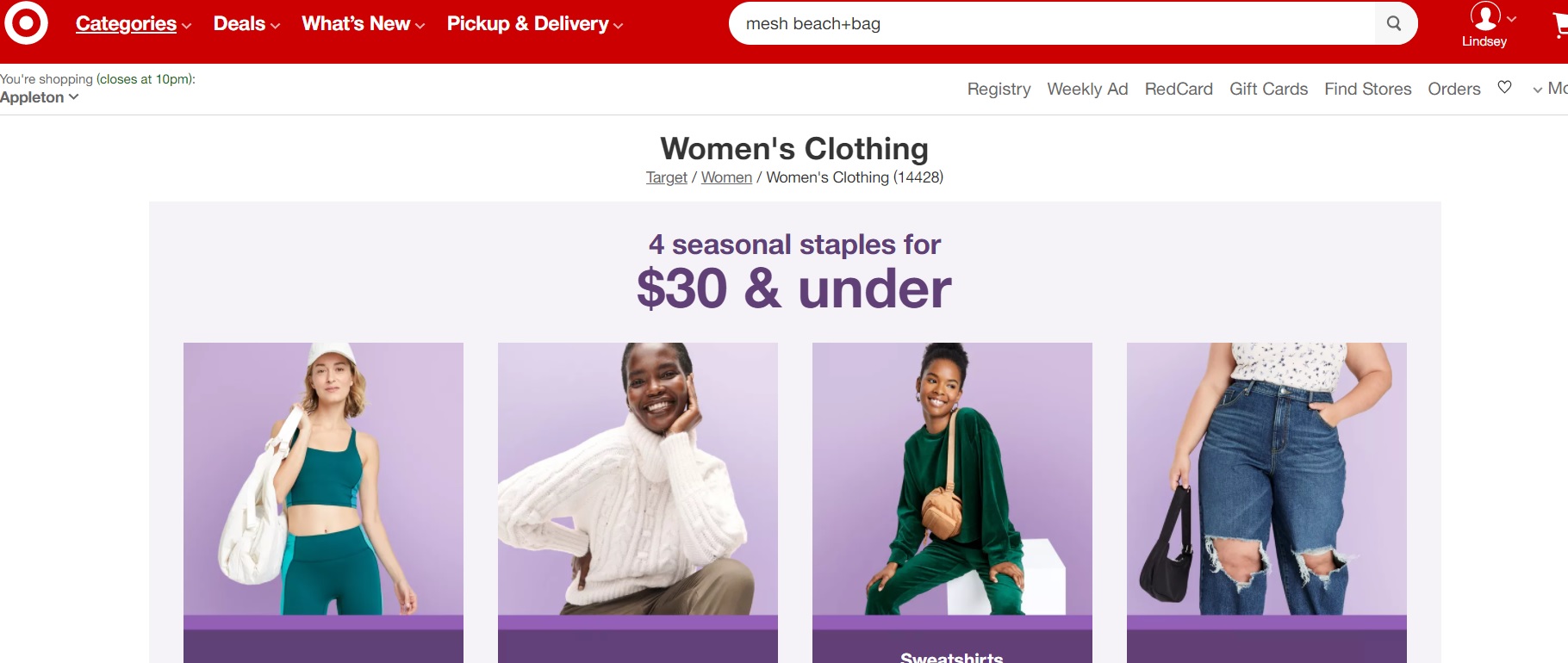 Target ($-$$)
I can't write a list of the best online shopping sites for women's clothing and NOT mention Target. I, personally, prefer shopping at Target in person… but that doesn't mean their website isn't wonderful either. They're also getting some super speedy shipping options – ranging from same-day delivery to free 2-day shipping. Learn more here.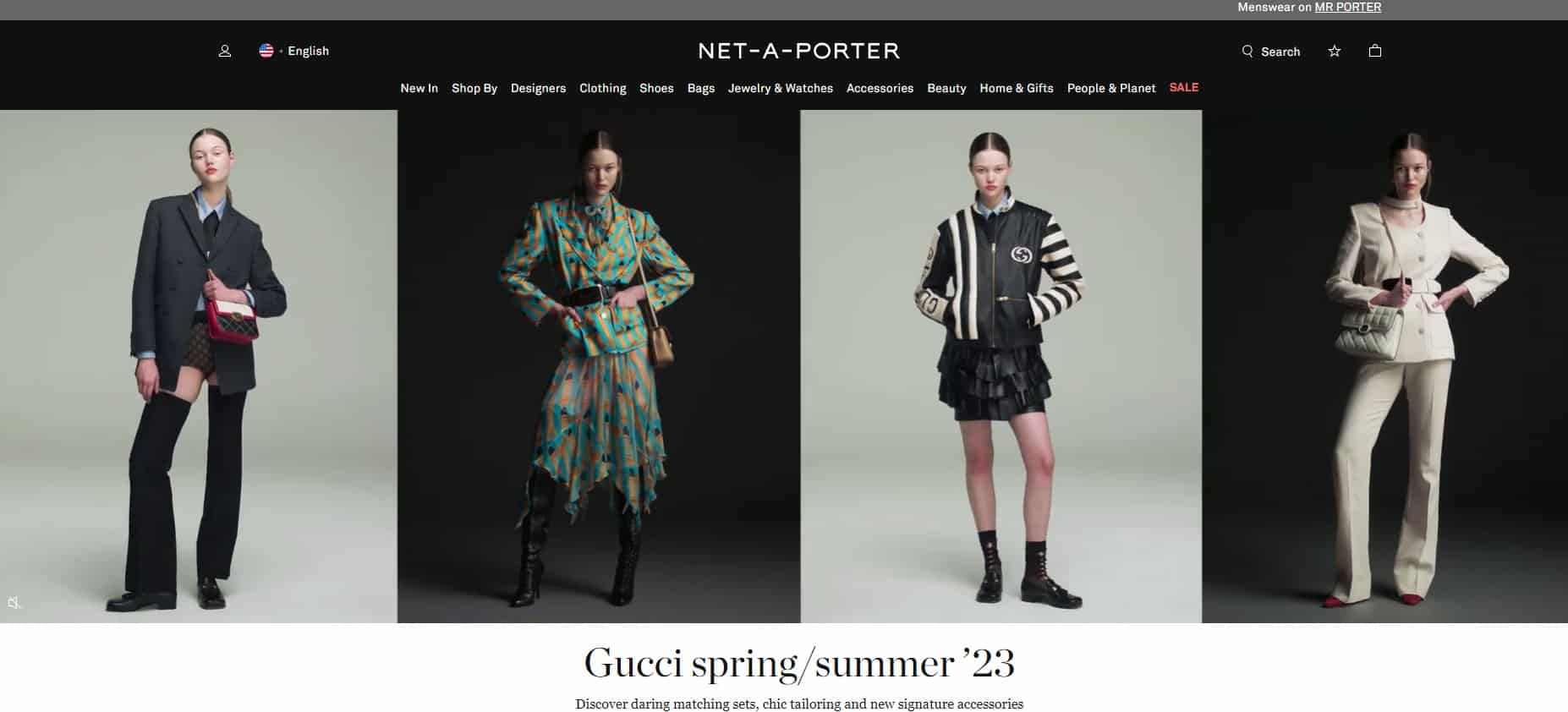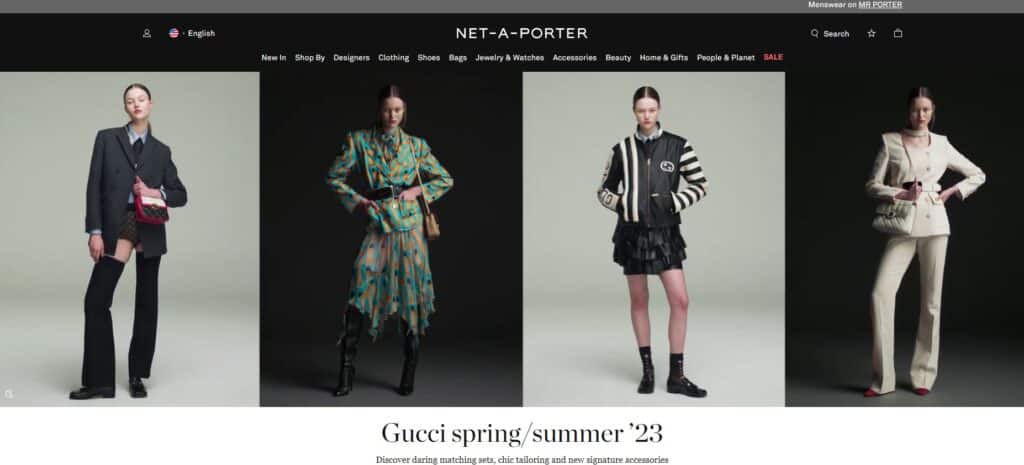 Net-a-Porter ($$$$)
Net-a-porter is an online luxury fashion store that is based in London with shipping worldwide. They feature a wide variety of fabulous designer clothing, shoes, handbags, and jewelry for women. Their returns are free and they have wonderful customer service!
Read next: Is Net-a-Porter Legit? My HONEST Net-a-Porter Review (With Video + Photos)
Madewell ($$-$$$)
Madewell has mastered the art of making quality, women's jeans. However, they also carry all the complements to these wonderful jeans, such as tees, bags, jewelry, and shoes. They also have some GORGEOUS dresses.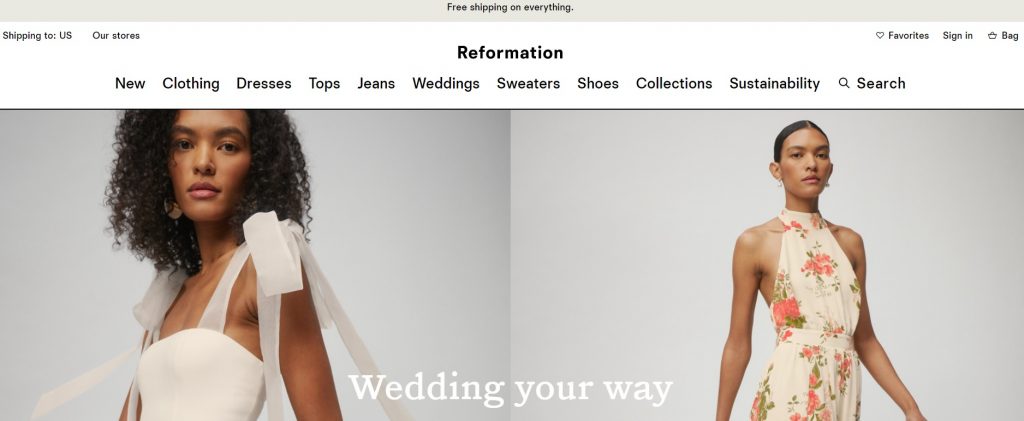 Reformation ($$$)
Reformation is a site known for its effortless silhouettes that celebrate the feminine figure and its fantastic sustainability practices. Reformation is a favorite among celebrities like Taylor Swift, too.
24S ($$$$)
24S features a selection of more than 300 fashion and beauty brands, from the finest luxury houses to emerging designers. They are also the exclusive online partner of Louis Vuitton, Dior, Celine, and Moynat globally. 24S has AWESOME shipping too. They offer express shipping to over 100 countries, with 24-hour delivery to New York, London, and Milan, as well as same-day delivery within Paris.
Farm Rio ($$$)
A brand from Rio de Janeiro, Brazil, Farm Rio is a site where you'll find some of the world's best bohemian dresses and designs. Featuring bright colors and exotic prints, Farm Rio is a brand that's both fashion-forward and vintage-inspired. They are also committed to sustainability.
Lilysilk ($$$)
Lilysilk is THE place to order silk clothing and bedding from. They've been making silk clothing for over 12 years and also offer tailoring and embroidery services for most of their items as well (for an extra fee). I love their silk blouses and pillowcases.
Celebrities such as Gwenyth Paltrow and Anne Hathaway are also fans of their clothing. Plus, they have also been recommended by publications such as Vogue, Reader's Digest, Allure, Glamour, and Town & Country… just to name a few.
Read next: Is LILYSILK Legit? Honest Review of LILYSILK Clothing & Pillowcases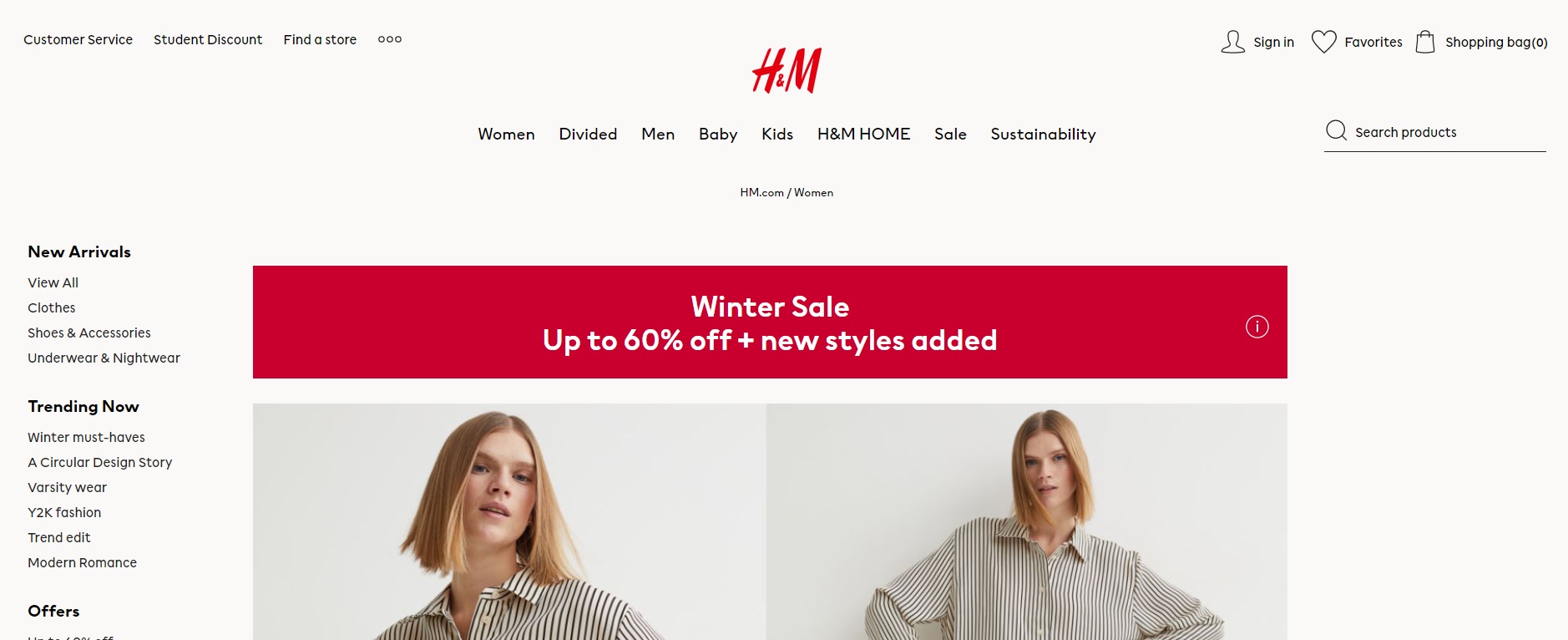 H&M ($-$$)
H&M is one of those sites that it's hard to go on and not find something you like. They have a wide variety of clothing styles to choose from at relatively affordable prices.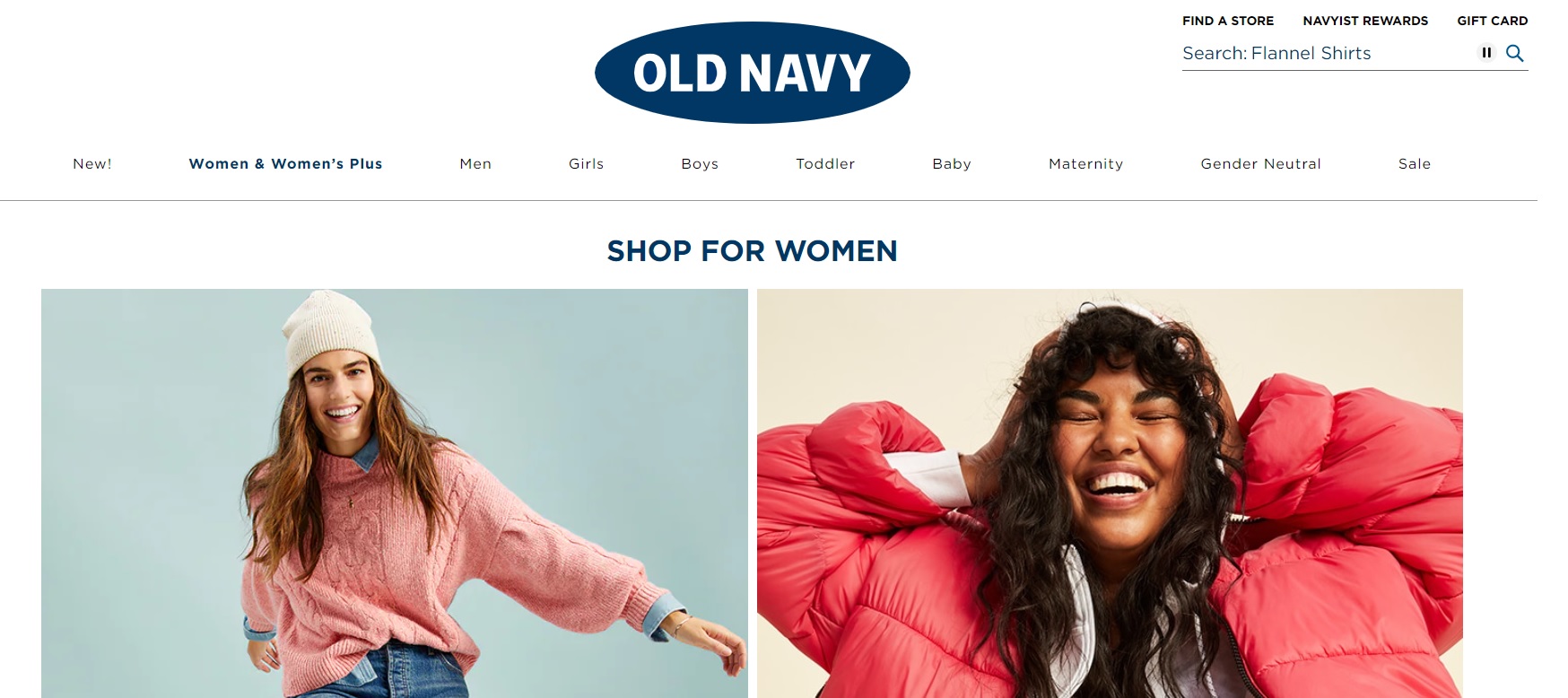 Old Navy ($)
Old Navy is always a good go-to for affordable women's clothing and accessories. I do a lot of my Old Navy shopping in person, but they do have a great online store too. I especially love Old Navy PJs, fleeces, and flip flips.
Backcountry ($$-$$$)
Backcountry is an online specialty retailer that sells both clothing and gear for hiking, camping, biking, trail running, kayaking, and more. I just recently started ordering from Backcountry, as these last couple of years, I've gotten into outdoor activities a lot more. I love their speedy shipping and selection of premium outdoor brands.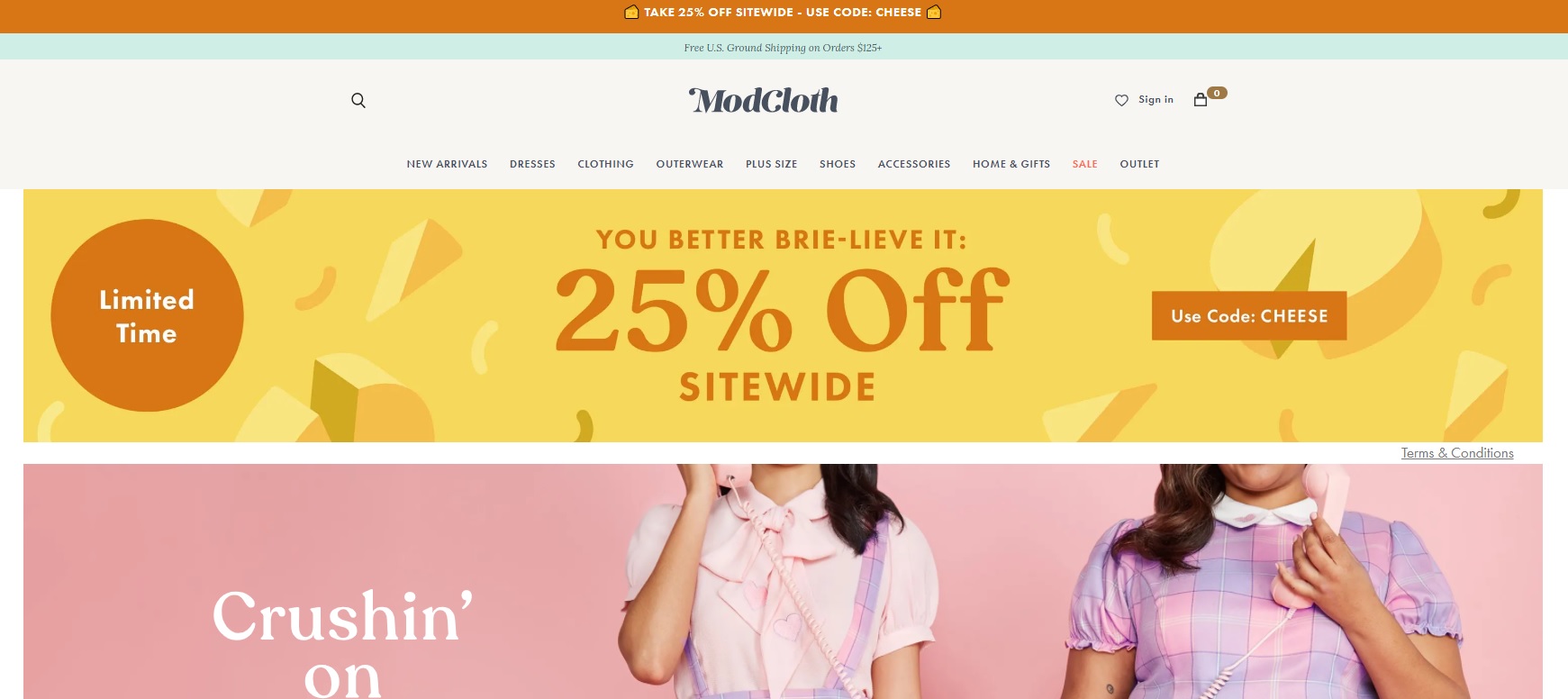 ModCloth ($$)
Ah, ModCloth. My shopping addiction to this quirky women's clothing site actually helped motivate me to start this blog! The support I received from this brand when I first started blogging was amazing. While they've undergone quite a few changes over the years, I'll always be loyal to them for their wonderful selection of unique clothing and accessories.
Read next: 25+ Stores Like ModCloth With Vintage-Inspired & Quirky Clothing You'll Love!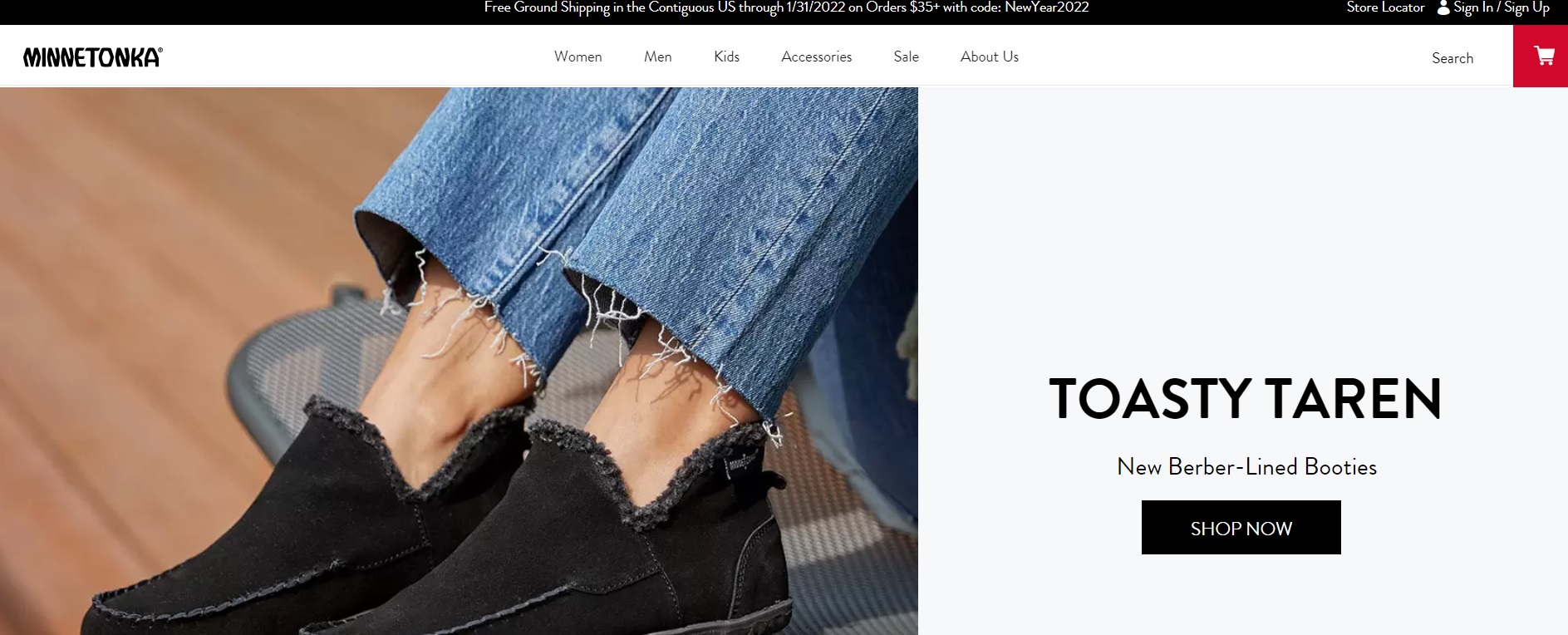 Minnetonka Moccasins ($$)
When it comes to comfy footwear, Minnetonka Moccasins can't be beaten. I'm wearing Minnetonka slippers as I write this post – they're seriously the best. Although, they are most known for their signature moccasins.
Read next: Styling Minnetonka Moccasins from Daily Wear to a Travel Outfit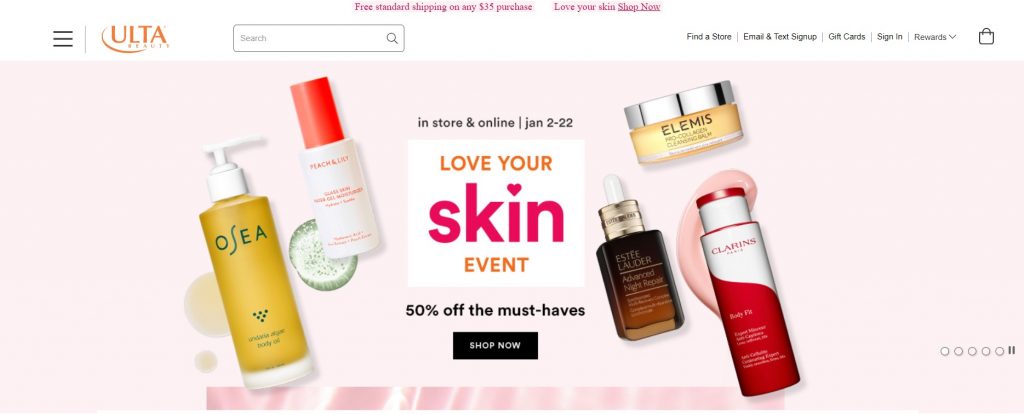 Ulta ($$)
Ulta is a beauty store that also has a great online shopping site. They carry everything from cosmetics to fragrance to nail products and bath products. However, I especially love shopping on Ulta for their selection of haircare products and beauty tools. They also have a great rewards program! For every $1 you spend at Ulta you earn 1 point and the membership is free. You can then redeem these points for discounts on products and services!
TopVintage ($$)
TopVintage is another site I love shopping on for retro and vintage-inspired fashion. They're based in the Netherlands, but they do ship to the US. They have an even better selection than ModCloth for retro dresses, shoes, cardigans, coats, and more.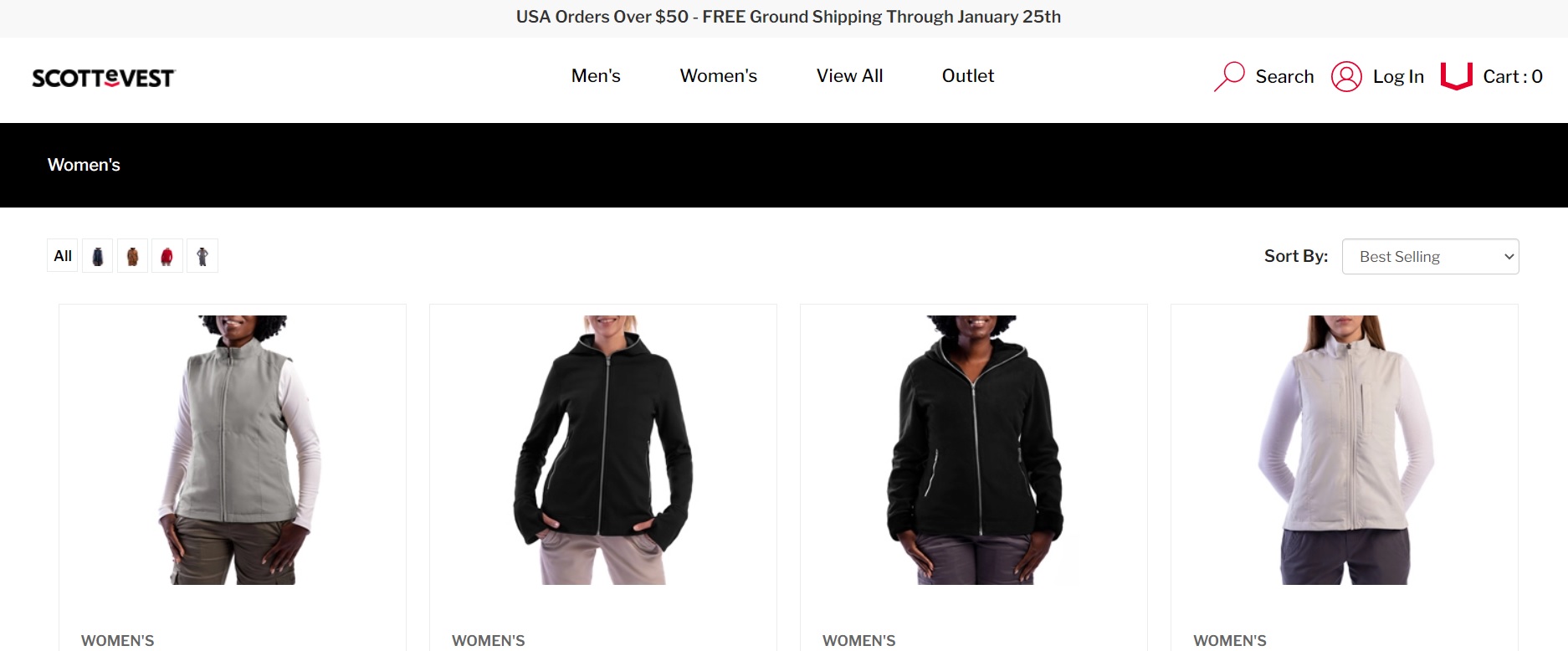 SCOTTeVEST ($$-$$$)
If you've been following my blog for a bit, this isn't the first time I've mentioned SCOTTeVEST. I love, love, love their travel clothing. When I was in Kenya and Peru, I almost exclusively packed SCOTTeVEST clothing. They feature innovative products that feature a ton of functional pockets! I'm especially a fan of their Dorothy dress and Featherweight vest.
Use code HCWT for 15% off your order
Shein ($)
Shein is taking the world by storm. This fashion app actually beat out Amazon as the most downloaded shopping app last year. Shein is a fast-fashion company out of China that features a wide variety of clothing and accessories at dirt cheap prices. I have written A LOT about Shein. I'll link to the posts below.
Chicwish ($$)
Chicwish is an affordable women's clothing site that I recently became obsessed with. Their clothing is beautiful, well-made, and feminine. They have fantastic outerwear, tops, and dresses. Shipping can take a couple of weeks to reach the US, though. (They're based in China.) To speed this up, check out their Amazon shop.
Read next: Is Chicwish Legit? Honest Chicwish Review After $600 in Orders (With Photos)
Saks Fifth Avenue ($$$$)
When it comes to luxury retailers, Saks Fifth Avenue cannot be beat, in my opinion. They feature the best designer clothing and the latest trends in handbags, shoes, and apparel. I also can't get enough of their designer beauty products!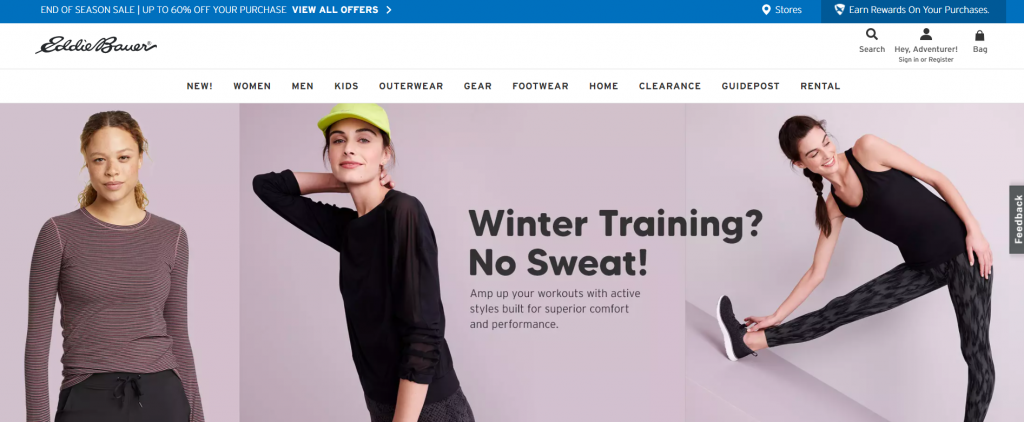 Eddie Bauer ($$)
When it comes to outdoor clothing that can also be used for daily wear – Eddie Bauer is my absolute favorite. I live in their clothing and I've had most of my items for well over 5 years, and they still look like new. Eddie Bauer is quality clothing at affordable prices.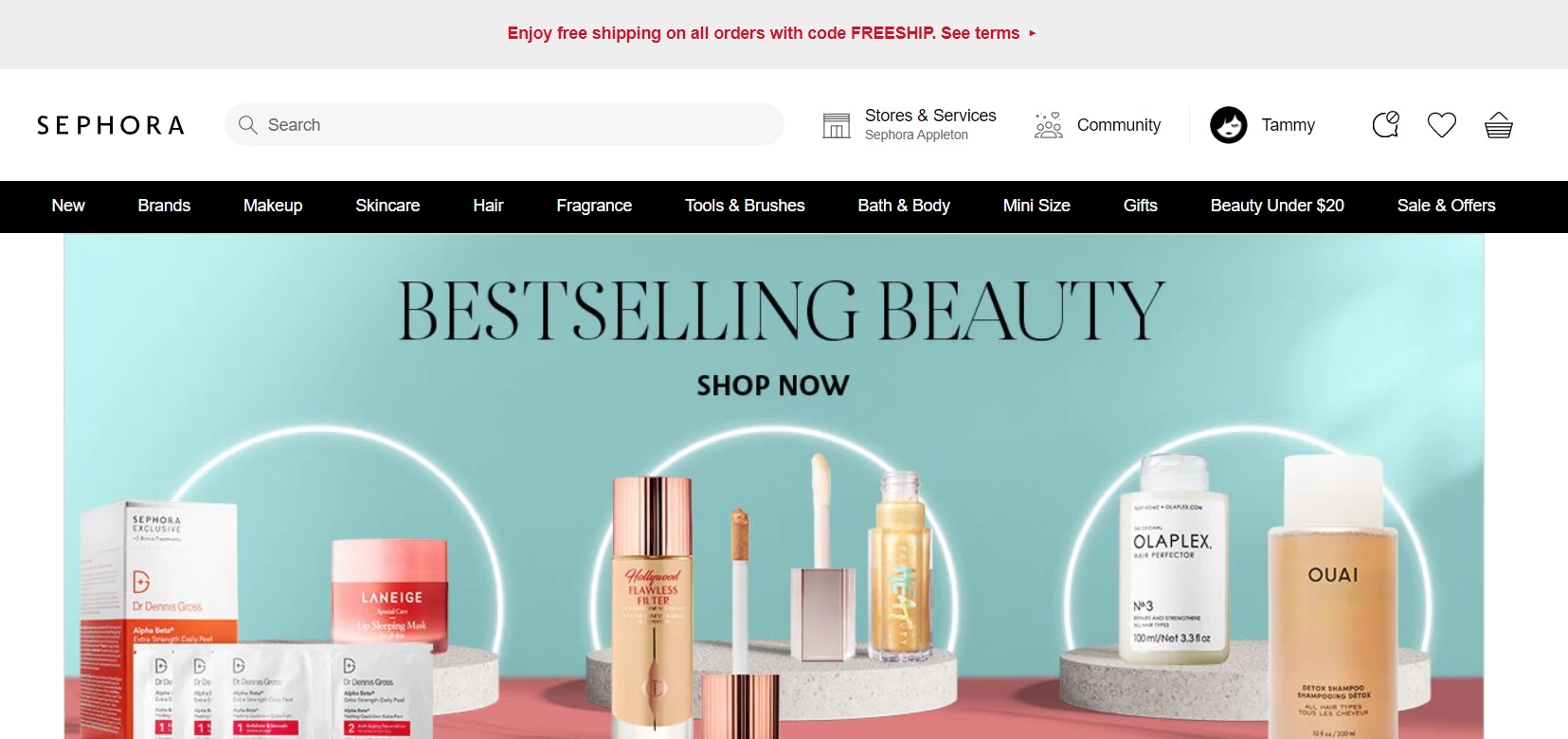 Sephora ($$)
Sephora is my go-to for all things makeup and beauty. There are very few products that I use that I can't order from Sephora! They feature more than 3,000 brands, along with their own private label.
Etsy ($-$$$$)
Etsy is a global online marketplace, where people come together to make, sell, buy, and collect unique items. It's amazing. I order a wide variety of products from Etsy, but accessories (specifically jewelry) are what I especially love shopping on Etsy for. This is also the best site for buying gifts, in my opinion.
The RealReal ($$-$$$$)
The RealReal is my absolute favorite site for online secondhand clothing. The RealReal is both an online and brick-and-mortar marketplace for authenticated luxury consignment. They sell consigned clothing, fine jewelry, watches, fine art, and home decor. I'm personally addicted to buying dresses from The RealReal – ranging from Diane Von Furstenberg to Gucci.
Read next: 28 Online Thrift Shops for the Best Vintage & Secondhand Clothing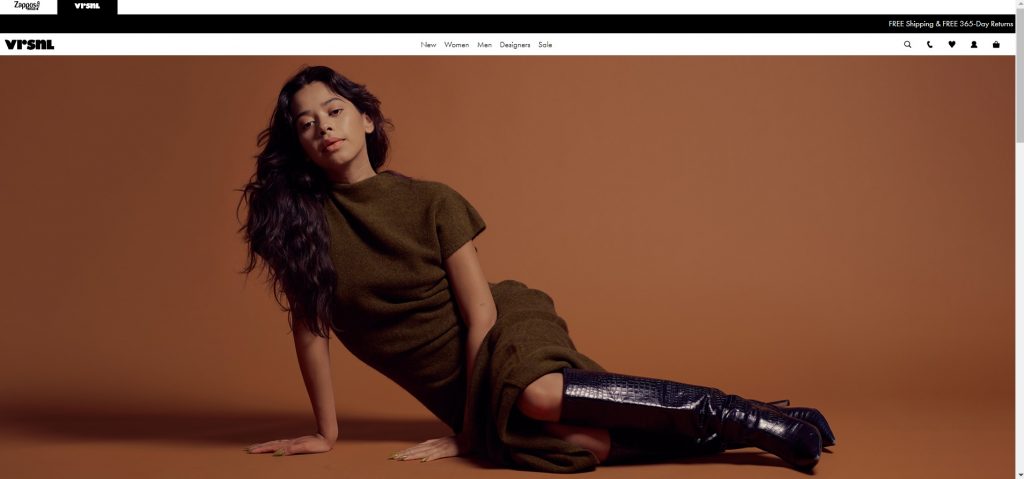 Zappos ($$-$$$$)
Zappos is my go-to for shoes. They have the best selection on the internet and their customer service is the best I've ever experienced. Their shipping is speedy and reliable (they're owned by Amazon, which helps with this). However, Zappos also carries a wide variety of clothing – ranging from affordable activewear to high-end brands, such as Balmain and Lanvin.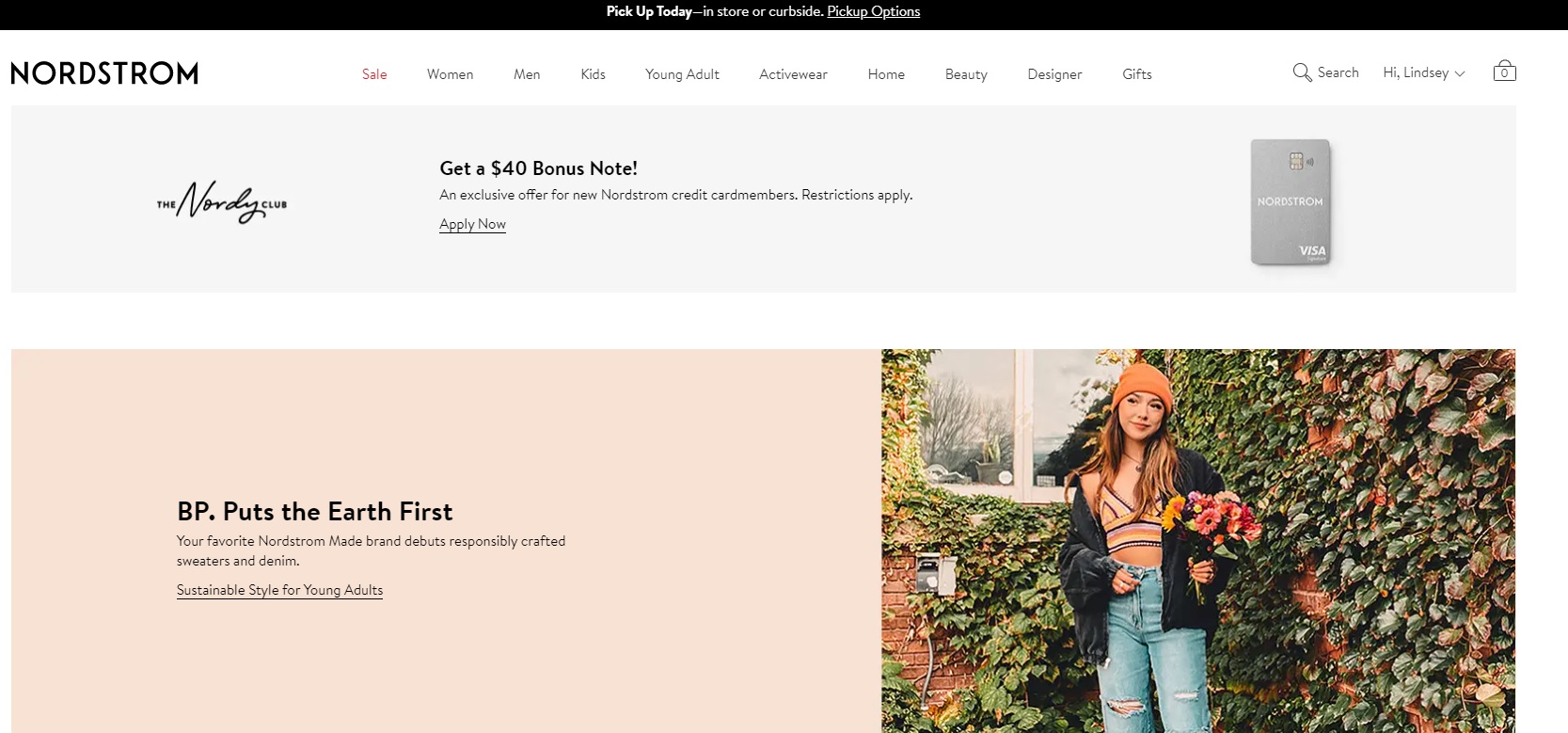 Nordstrom ($$-$$$$)
Nordstrom has been my most-shopped-at online clothing store of the last 3 years. They have everything in terms of quality clothing and makeup/beauty products. Plus, Nordstrom's return policy is AMAZING. They handle each return on a case-by-case basis. I had a pair of sandals that started ripping on me after 6 months of use, and they promptly exchanged them – with no issue whatsoever. They also have their annual Nordstrom Anniversary Sale, which offers fantastic discounts and is the one sale I look forward to all year long.
Read next: Why the Nordstrom Anniversary Sale is a Big Deal + My Top Picks

Amazon ($-$$$$)
I mean, Amazon. I can't NOT include this site can I? They were basically the pioneers of online shopping. They literally have everything, and that includes a fantastic selection of clothing and accessories with millions of reviews to help you make your purchasing decision.
Now, I'm curious, what are some of your favorite online shopping sites for women's clothing & accessories? Let me know in the comments!