30+ Stores Like Anthropologie for Boho Clothing You NEED to Try
Are you in love with Anthropologie's timeless, boho-chic style and wondering what other stores out there carry a similar style of clothing? This post is sharing the best stores like Anthropologie that carry beautiful bohemian clothing & accessories.
Anthropologie is a store that I have fallen in love with over the years. From their whimsical and unique dresses to their soft and luxurious sweaters, I could seriously buy the whole store. (If I had the money!)
What style of clothing is Anthropologie?
Anthropologie clothing is best described as boho chic in style. They feature a lot of flowy, beautiful maxi dresses, linen tops, and peasant blouses. Of course, this isn't the only style you'll find on Anthro. They also feature a wide range of women's activewear, stunning formal wear, leather jackets, and more.
I also love how elegant and classic the majority of items are at Anthropologie. So, you don't have to worry about your clothing "being out of style" by the next season. For the most part, these are clothes that will withstand the test of time.
Read next: 7 Anthropologie Shopping Tips That Will Save You Money
But, if you're like me, and also like to keep your options open and not shop at the same store over and over… then, this is the post for you! Below, you'll find 30+ stores like Anthropologie that are all available online! Enjoy!
*Disclosure: some of these links are affiliate links. Meaning, if you click a link and make a purchase, Have Clothes, Will Travel gets a very small commission at no extra cost to you. Thank you for supporting the brands that make this blog possible!
The Best Online Sites Similar to Anthropologie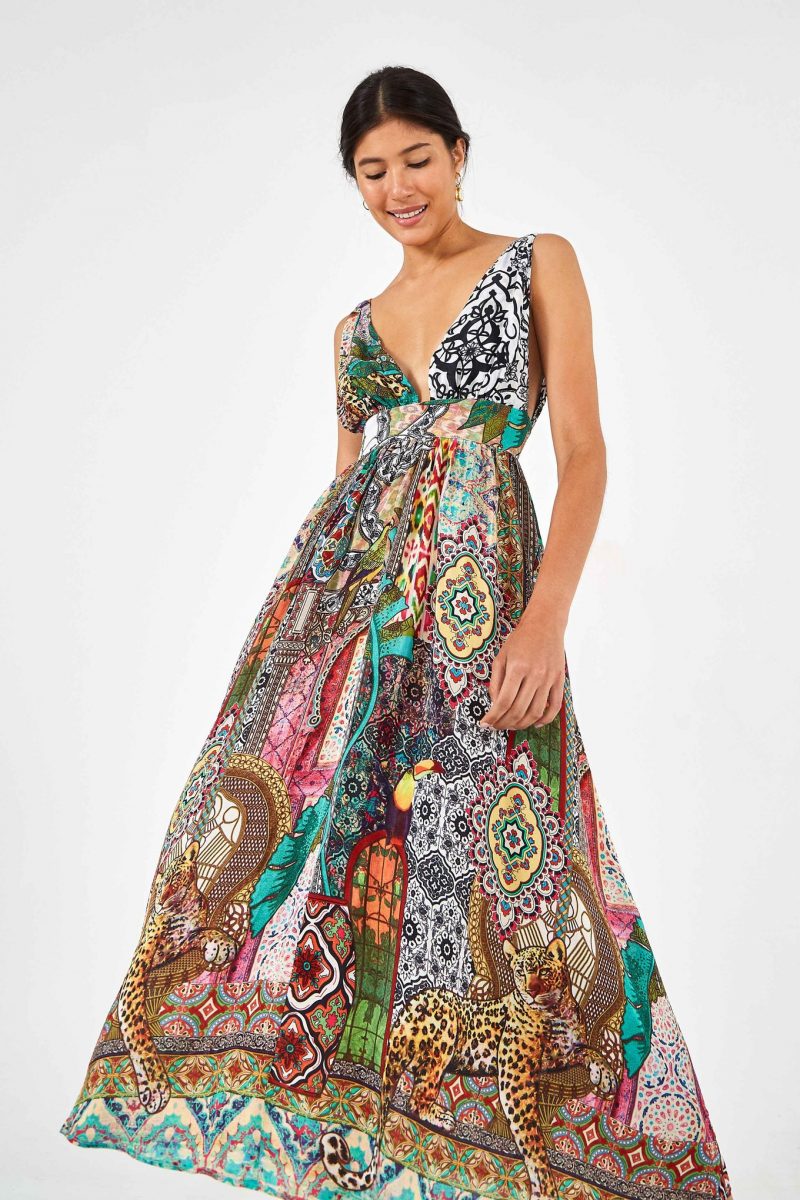 1.) Farm Rio
Farm Rio is a brand that Anthropologie carries on their website. However, Farm Rio has their own site that is brimming with beautiful designs! This brand is based out of Brazil and features bright clothing with unique prints. And for each item sold on their site, they plant a tree in the Amazon Rainforest.
2.) Free People
If you love Anthropologie, then you'll definitely love Free People! Their style and pricepoint are very similar to Anthro… but with a bit more boho and vintage flair. (They're actually owned by the same company as Anthro.) Free People is the place to go for stunning boho dresses!
Read next: 25+ Best Sites for Shopping Boho Clothing Online (& Accessories!)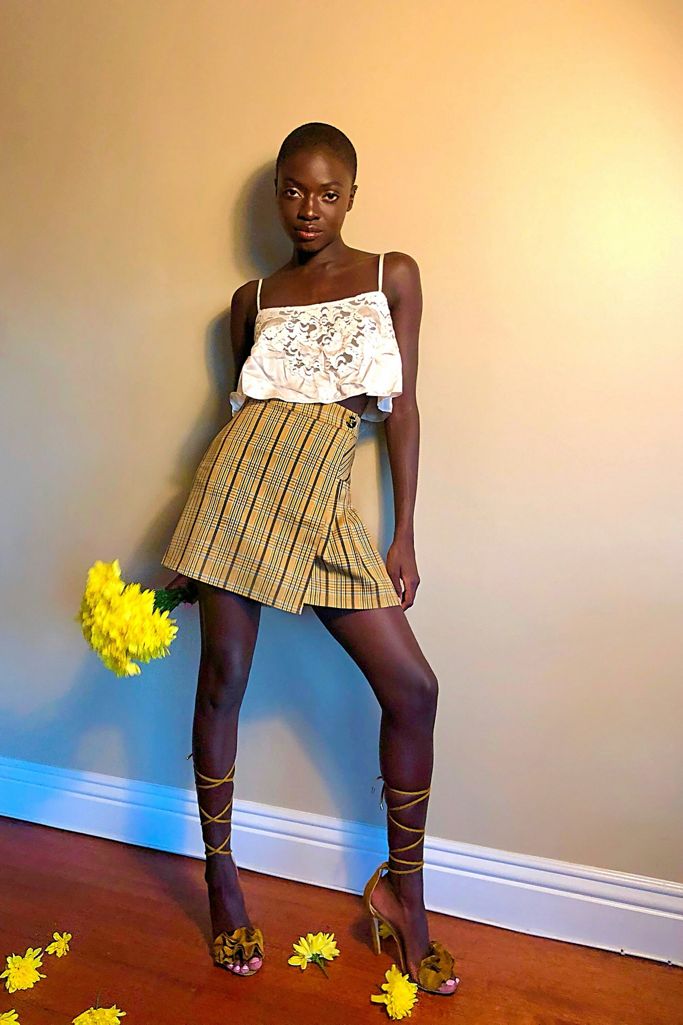 3.) Urban Outfitters
And likewise, Urban Outfitters is also part of the Anthropologie and Free People family. The creator of Anthropologie is actually the current URBN chairman and president! (Urban Outfitters also has a super cute home decor section.) Urban Outfitters is typically cheaper than Anthropologie too. Their style is slightly trendier than Anthro, though, and is geared more toward college/high school ages.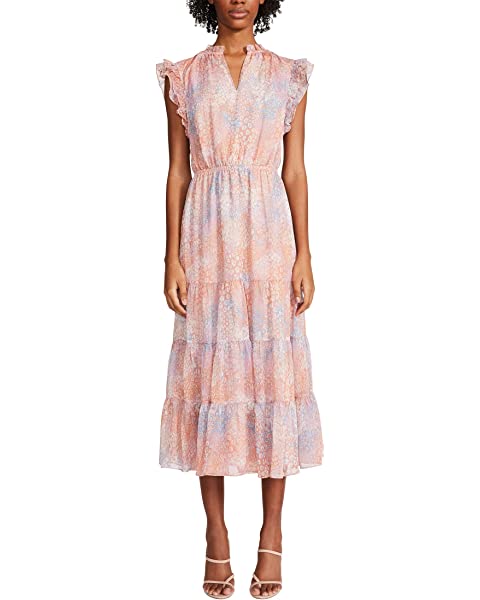 4.) Zappos – The Style Room
Zappos is most known for its incredible selection of shoes and impeccable customer service. However, they also have a great selection of clothing and accessories… their curated selection of clothing on their "Style Room" is something Anthro fans will especially love!
Many of the brands mentioned in this post can also be found on Zappos The Style Room + they offer free shipping and free returns. You can also link your Prime membership to your Zappos account to get exclusive benefits, like free upgraded shipping! (Seriously, some orders arrive in less than 24 hours.)
5.) Chicwish
I LOVE Chicwish! Chicwish features whimsical, feminine styles, and they have THE cutest skirts and dresses out there, in my opinion. They have a very similar aesthetic to Anthropologie but are quite a bit cheaper. Despite the lower prices, though, Chicwish produces quality items.
Read next: Is Chicwish Legit? Honest Chicwish Review After $600 in Orders
6.) Reformation
Reformation has a slightly more contemporary vibe than Anthro, but I think Anthro fans will especially enjoy Reformation's dresses. Reformation is a mover and a shaker in the fashion industry, and they've even been dubbed, "the cool girl's" clothing company by Business Insider.
They carry a wide range of fashionable and feminine, sustainable clothing… and they even make sustainable wedding dresses and bridesmaid dresses! I love that they also include sustainability stats for each garment under its description.
Read next: How to Shop for Sustainable Fashion
7.) Amour Vert
Amour Vert is a brand that is made in California with zero waste. They make sustainable women's clothing with bold femininity. While I would say their overall style is a little more casual than Anthropologie, I do think Anthro fans will appreciate their timeless style options – especially their pants!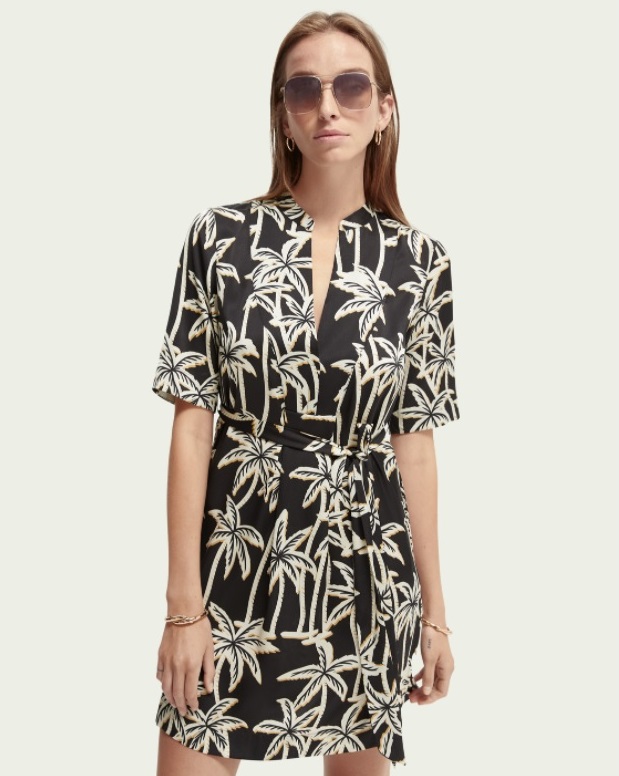 8.) Scotch + Soda
Scotch & Soda is an Amersterdam-based brand that mixes classic and contemporary, color and print, and texture on texture to deliver an authentic aesthetic. Anthro also features this brand on their website!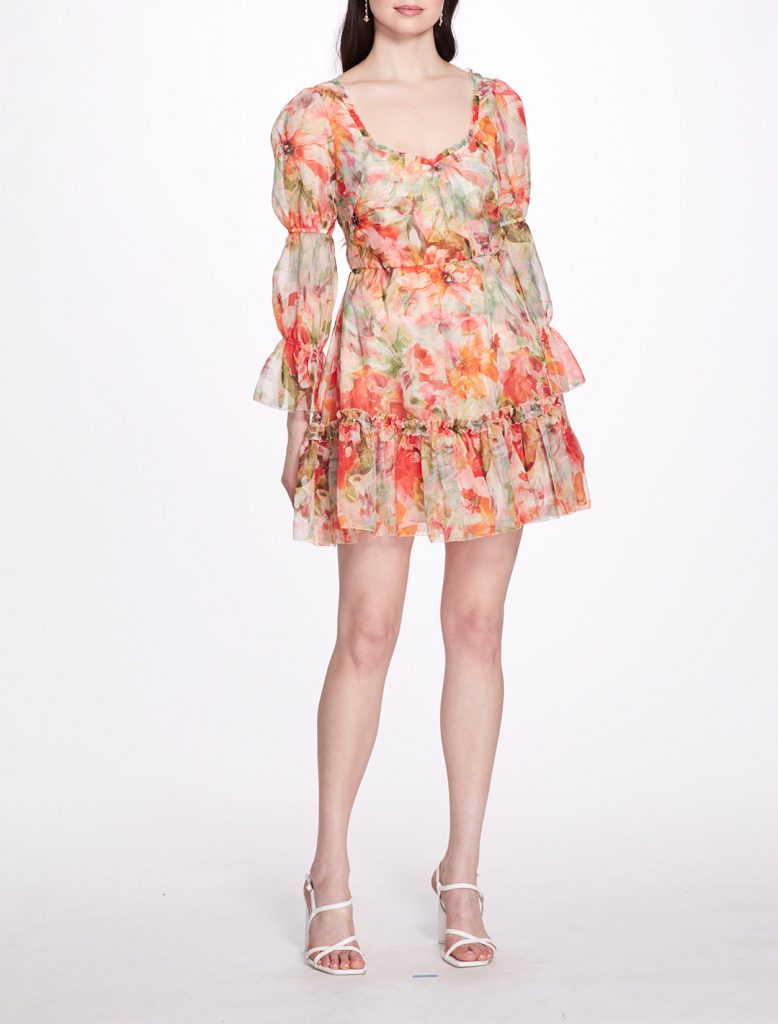 9.) Marchesa
Marchesa is a luxury brand based out of New York that features the most stunning dresses. (Celebs like Scarlett Johansson, Cate Blanchett, and Anne Hathaway are known for rocking their dresses.) If you love the cocktail and party dresses from Anthropologie, you'll love Marchesa. I have the midi version of the dress pictured above, and it's my favorite dress in my closet!
Use CODE "CLOTHES" for 10% off your order + free shipping!
10.) Spell
Spell is a modern-bohemian fashion brand out of Australia. It was started by two very talented sisters out of Byron Bay. All of their clothing is proudly designed and sampled in Byron Bay and ethically produced in factories throughout the world. Anthro fans will love their selection of dresses!
11.) Verishop
Verishop is a relatively new site that sells luxury women's and men's fashion, home goods, and beauty products. They have free one-day shipping (with no minimum) across most of the site, as well as free returns and 24/7 customer service. Verishop has a great selection of boho-chic clothing options that Anthro fans will love!
Read next: Is Verishop Legit? My Honest Verishop Review + Photos of My Purchases
12.) & Other Stories
& Other Stories carries BEAUTIFUL and timeless clothing with a hint of boho flair. They're a "one-stop styling destination bringing you modern and feminine wardrobe treasures designed in Paris, Stockholm and Los Angeles." Their price point is slightly lower than Anthro's on average too.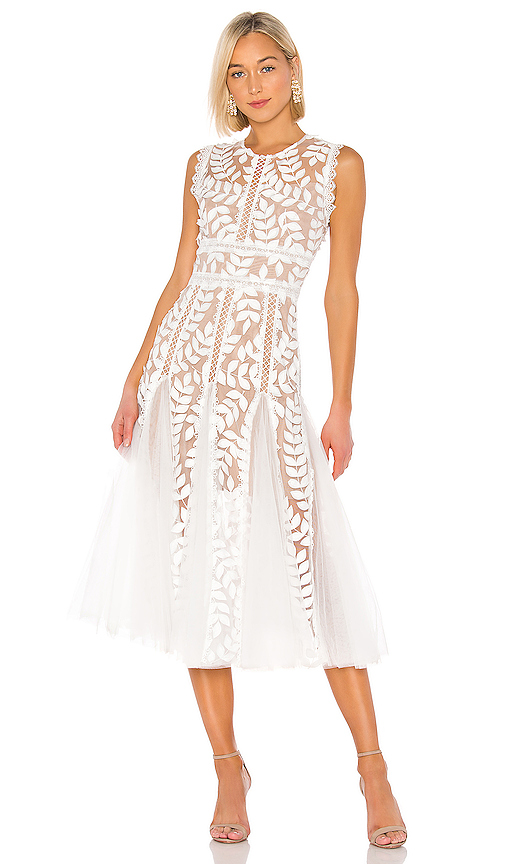 13.) Revolve
Revolve carries a great selection of boho-chic dresses and rompers from more than 500 different brands! This ranges from Free People to Hemant and Nandita. Their price point is similar to Anthro's too, and they have super fast shipping as well as easy returns.
Read next: 25+ Stores Like REVOLVE for Fashionable Clothing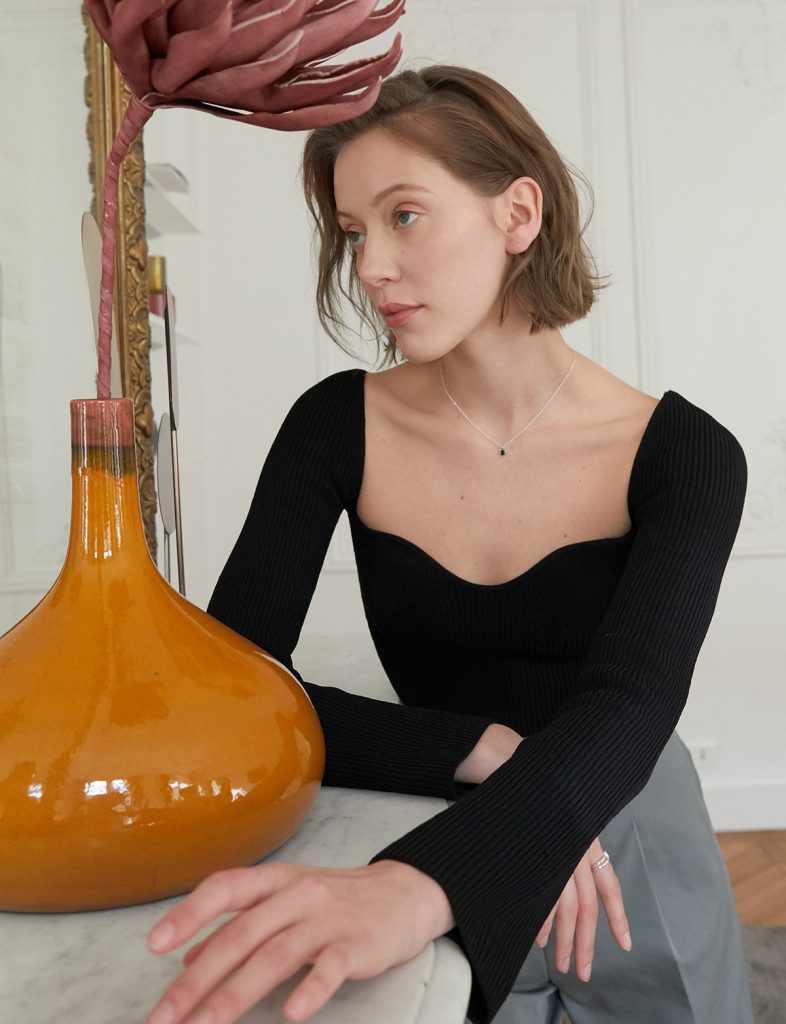 14.) Pixie Market
Pixie Market was founded in NYC in 2006 by Magda Pietrobellie. Pixie Market describes their style as – "Trending styles that have a timeless appeal and can become your uniform to wear-on-repeat." They are an American company that manufactures their designs in Seoul, South Korea and Los Angeles, California with prices that are on average about the same as Anthro. (I think Anthro fans will especially like their collection of sweaters and knitwear.)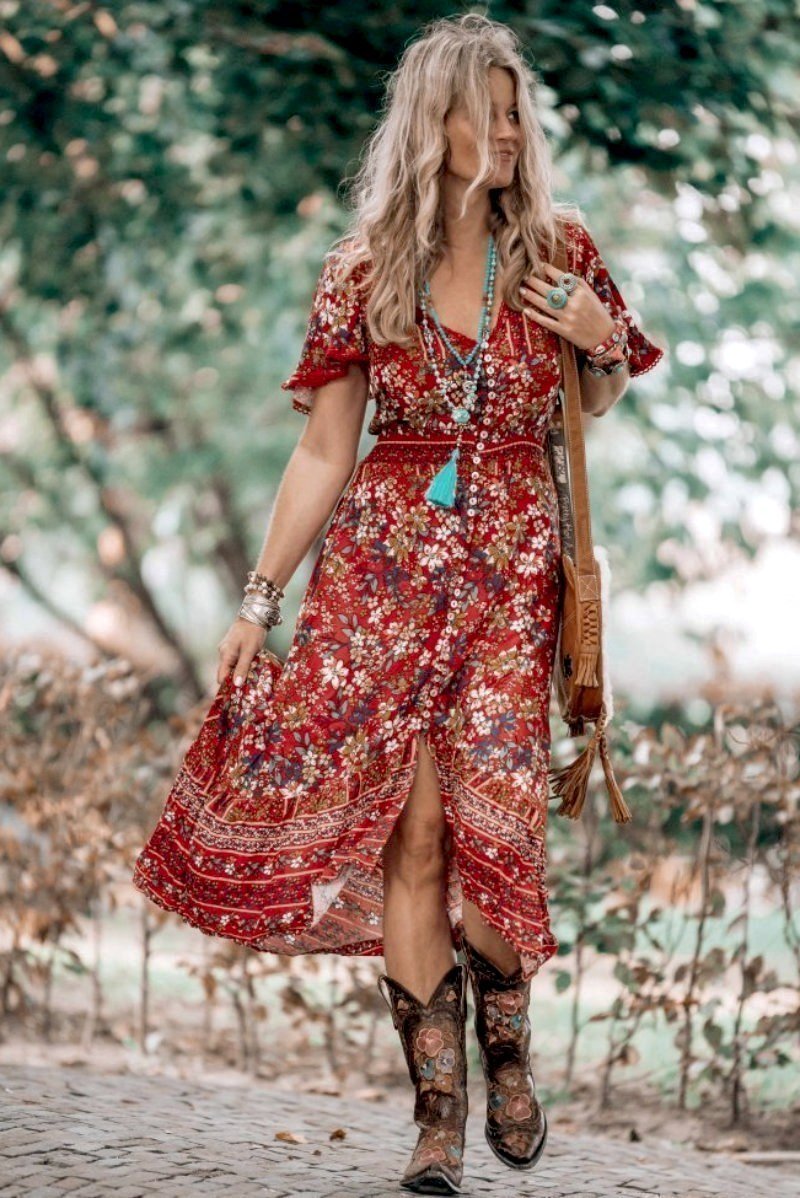 15.) Salty Crush
Salty Crush is a new favorite of mine! I now have 10 of their dresses and 6 of their cardigans. They're based out of Sydney, Australia but have speedy international shipping. (My orders coming to the US took only about a week to reach me.) They feature a great selection of modern boho chic items in vibrant colors and at a price point that is typically lower than Anthropologie. (Note: their sizes run large. I'm usually a size medium but am an XS in many dresses. Be sure to double-check the size chart before you buy!)
16.) Kelley Hollis
If you're looking for a unique and beautiful piece of vintage jewelry to complete your Anthro outfit – look no further! Kelley Hollis Jewelry breathes new life into vintage jewelry by expertly restoring pieces by hand and repurposing them with the modern wearer in mind. Kelley's talents don't end there, though. She also creates her own limited edition designs in 18 ct and 22 ct gold. I wrote an entire review post on Kelley's designs.
Use code "LINDSEYPULS" for 10% off your order.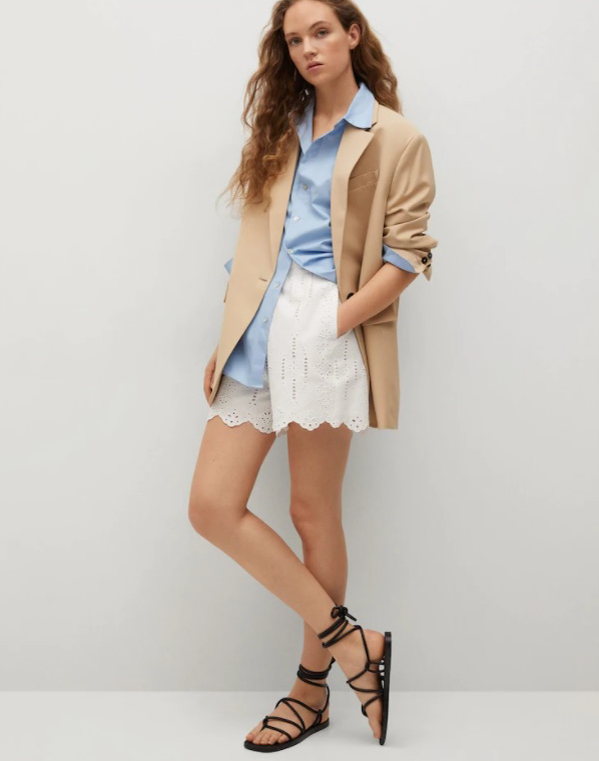 17.) Mango
Mango is quickly becoming a favorite of mine, thanks to their classic, effortless ensembles that are similar to Anthropologie. Anthro fans will especially like their selection of casual yet cool dresses. They are less expensive than Anthropologie as well!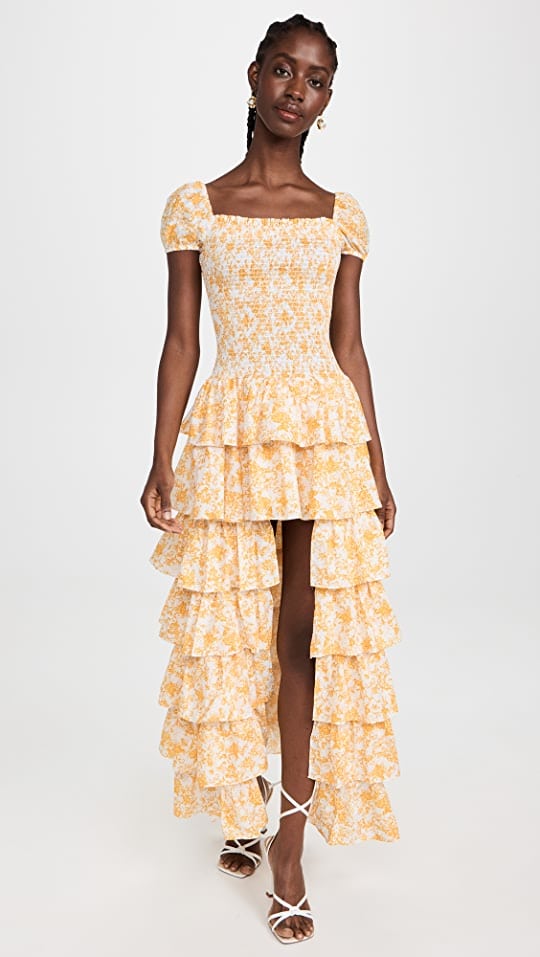 18.) Shopbop
Shopbop is a US-based online shop that features a great selection of clothing and accessories from more than 1,000 established and emerging designers. They have a ton of clothing that Anthro-lovers will appreciate! They also have great customer service, free shipping worldwide, and free returns in the U.S. and Canada. (Shopbop is also owned by Amazon.)
Read next: Is Shopbop Legit? My Honest Shopbop Review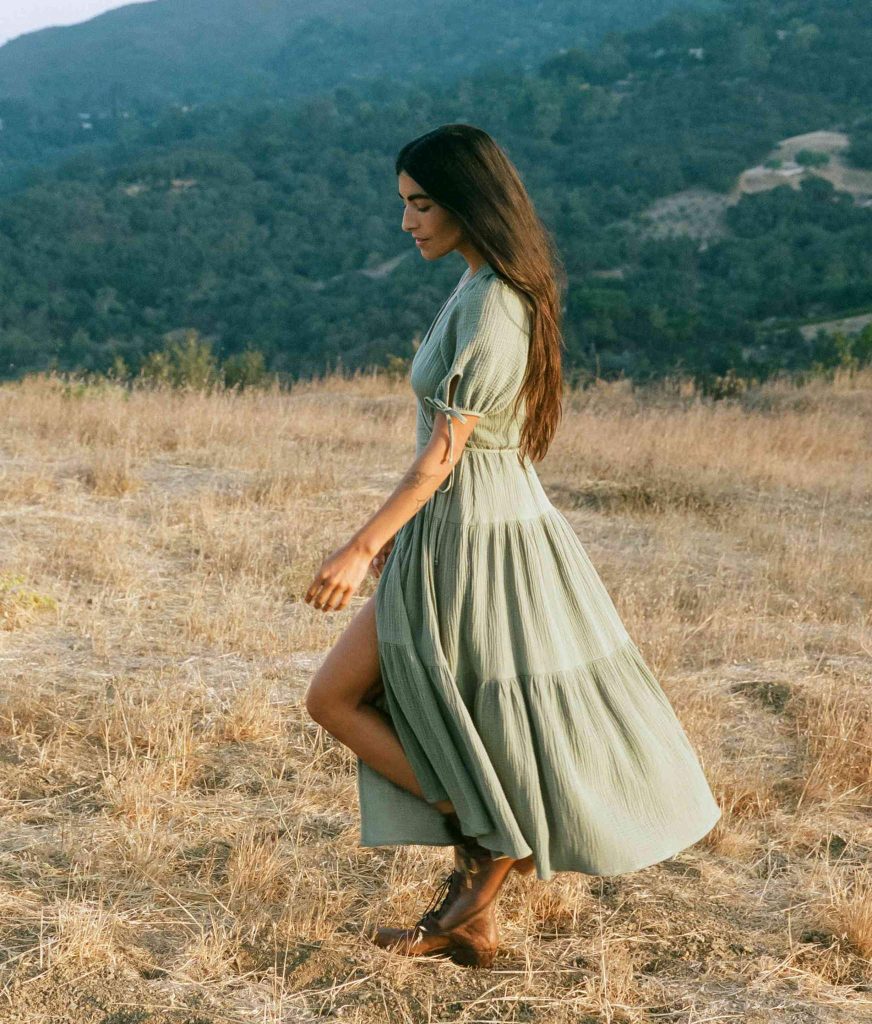 19.) Christy Dawn
Anthro fans will swoon over Christy Dawn's selection of timeless, versatile dresses! Christy Dawn is a clothing company that uses sustainably upcycled fabrics, organic cotton, or regeneratively grown cotton fabric for their clothing. Their style is timeless and bohemian, and their prices are pretty similar to Anthro's.
20.) Mata Traders
Mata Traders is an ethical fashion company that creates fabulous vintage-inspired and boho dresses in a fun array of prints. I am especially a fan of their fit and flare dresses! And best of all, many of these dresses have pockets. Who doesn't love a cute, versatile dress with pockets?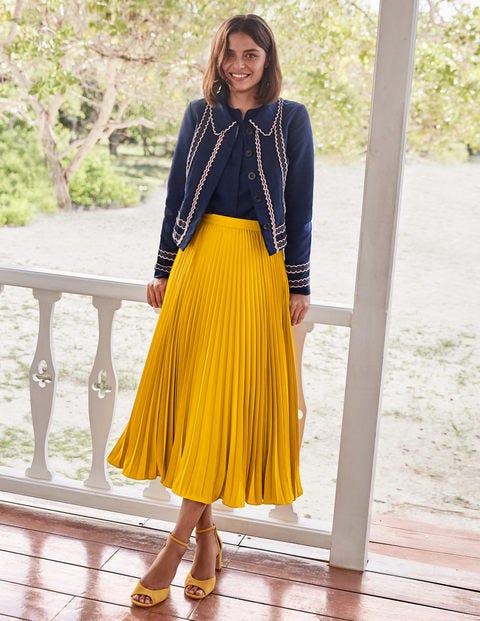 21.) Boden
Boden clothing can best be described as timeless and classic… plus, they have classic clothes for the whole family (even infants)! While this British-based store has a wider variety of clothing than Anthropologie, I think Anthro fans will appreciate their great selection of versatile and classic styles (which have similar price points to Anthropologie).
Read next: 20+ Stores Like Boden For Stylish Clothing
23.) ASOS
ASOS features a wide variety of beautiful, boho styles and brands on their site. Anthro-lovers will have a hard time shopping on ASOS and NOT finding something they love. And even though ASOS is a British-based company, their international shipping rates are very reasonable and fast to the US.
24.) French Connection
French Connection is a clothing brand that has been around since 1972 and has a VERY similar style to Anthropologie. Although, I would say French Connection features a bit more loungewear and daily wear clothing than Anthro. They are a British-based brand that prides themselves on creating timeless and affordable fashion.
25.) Faithfull The Brand
If you are looking for a one-stop shop to fill your wardrobe with summery romantic clothes then the Indonesian brand Faithfull might be the place for you. Swimsuits, shorts sets, cover-ups, bold and beautiful dresses, simple romantic dresses, pants suits, linen wear, and accessories all in one place with an eye on sustainability. Prices are also comparable to Anthropologie.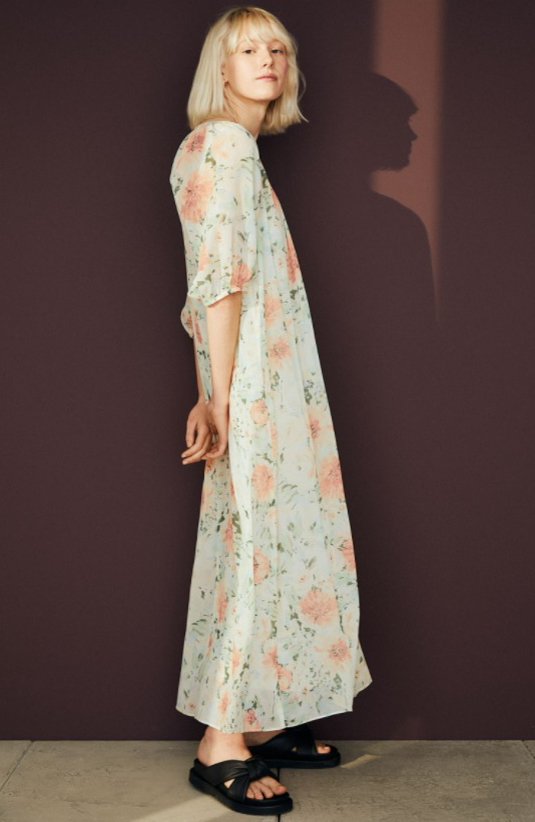 26.) H&M
H&M maintains an affordable price point, but with many high-quality pieces. While some of their items are more on the trendy end of the style spectrum, they do have quite the selection of classic and boho-chic clothing as well!
27.) Bohemian Mama
Bohemian Mama features independent, handmade and female-owned brands that are not mass-produced. They feature brands like Lack of Color, Free People, Kivari, Agolde, Mate the Label, Sancia, Beach Riot and more. These also have a fantastic kids section! They carry Rylee & Cru, Quincy Mae, Jamie Kay, Wild Wawa, Finn & Vince, Conscious Soles and more for babies and toddlers.
28.) Madewell
Madewell is most known for their great jeans. However, they also make some fabulous dresses, skirts and tops! They are more on the casual and comfortable end of the style spectrum (but still absolutely gorgeous). If you love Anthropologie's more casual looks and their denim…you'll love Madewell.
29.) Zimmermann
Zimmermann is an Australian label most known for their luxe swimwear and bohemian beachwear. However, in my opinion, it's their dresses that steal the show! Their designs are absolutely exquisite. (But note: these pieces are far more expensive than what you'll find at Anthro! So worth it, though!)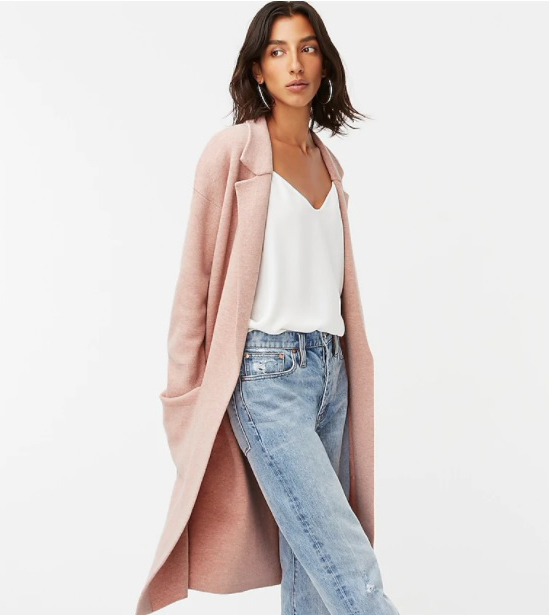 30.) J.Crew
J.Crew's clothing can best be described as "timeless." Their clothes will last you a lifetime and never be out of style. J.Crew also has clothing for the entire family – not just women!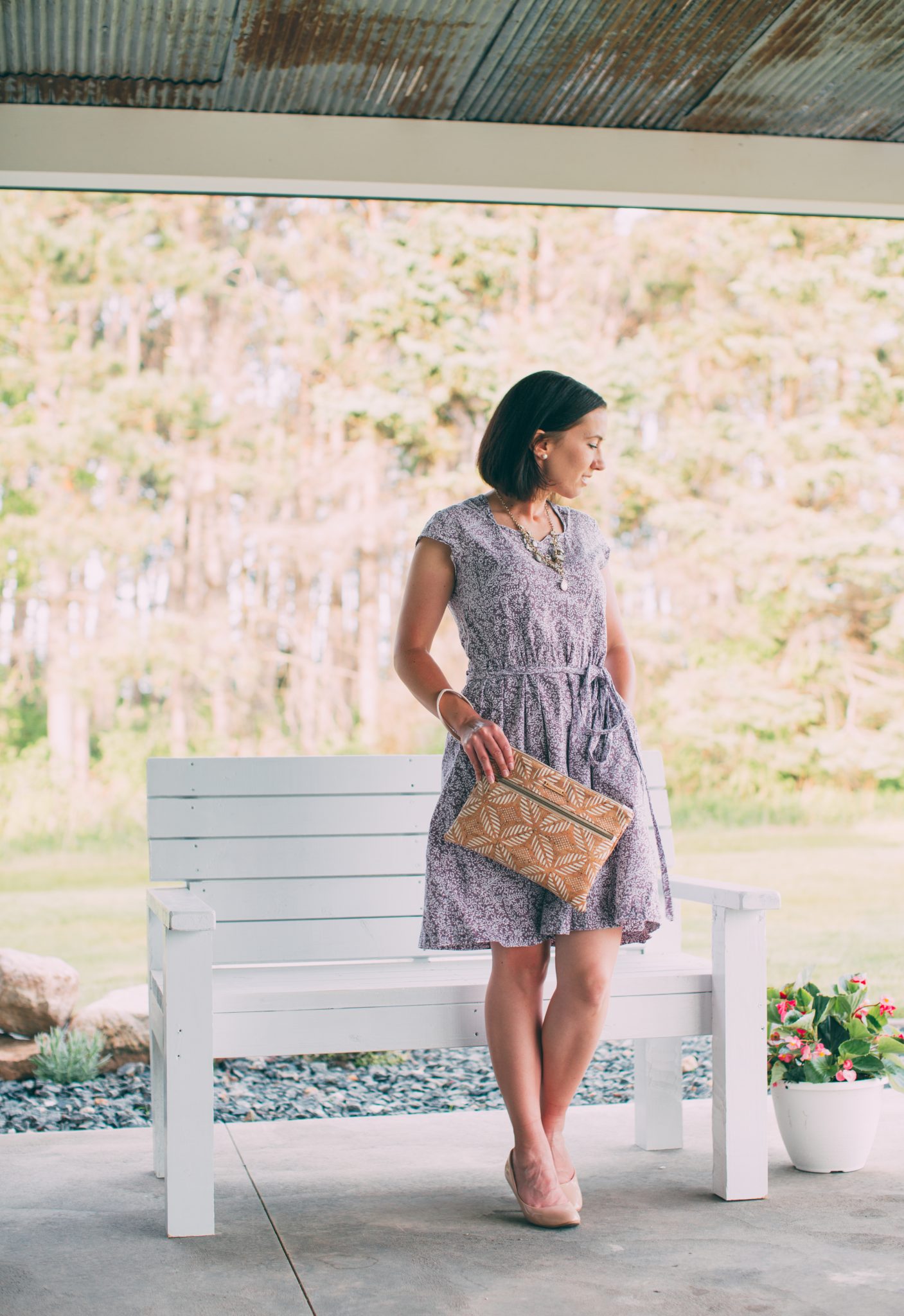 31.) Carry Courage
Carry Courage is a small US-based company that creates sustainable clutches & travel bags made from vegan materials, such as cork fabric and linen. All of their products are hand-sewn in their Portland, Oregon studio too – so you know you aren't receiving a mass-produced item when you order from them. They pair really well with Anthropologie-style clothing! (I wrote a full review of their products, here.)
Read next: Honest Review of Carry Courage Bags & Luggage Tags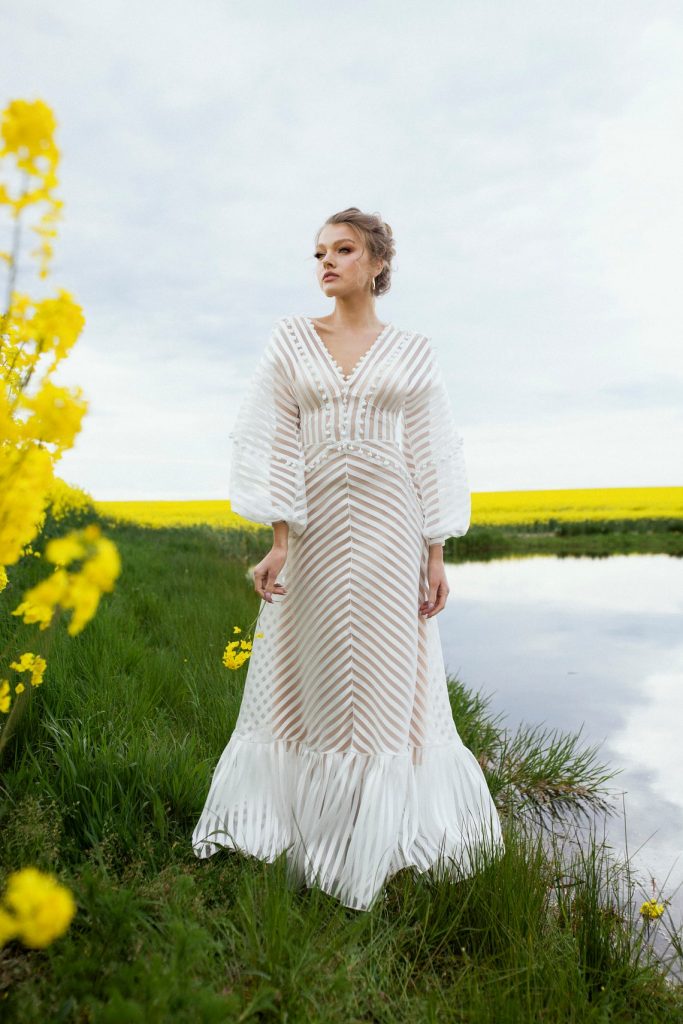 Bonus: Kuraje Wedding Dresses
If your boho-loving heart is in search of a wedding dress or even just a lovely white playsuit or jumpsuit, you'll want to check out Kuraje Wedding Dresses! They are so beautiful and exquisitely made.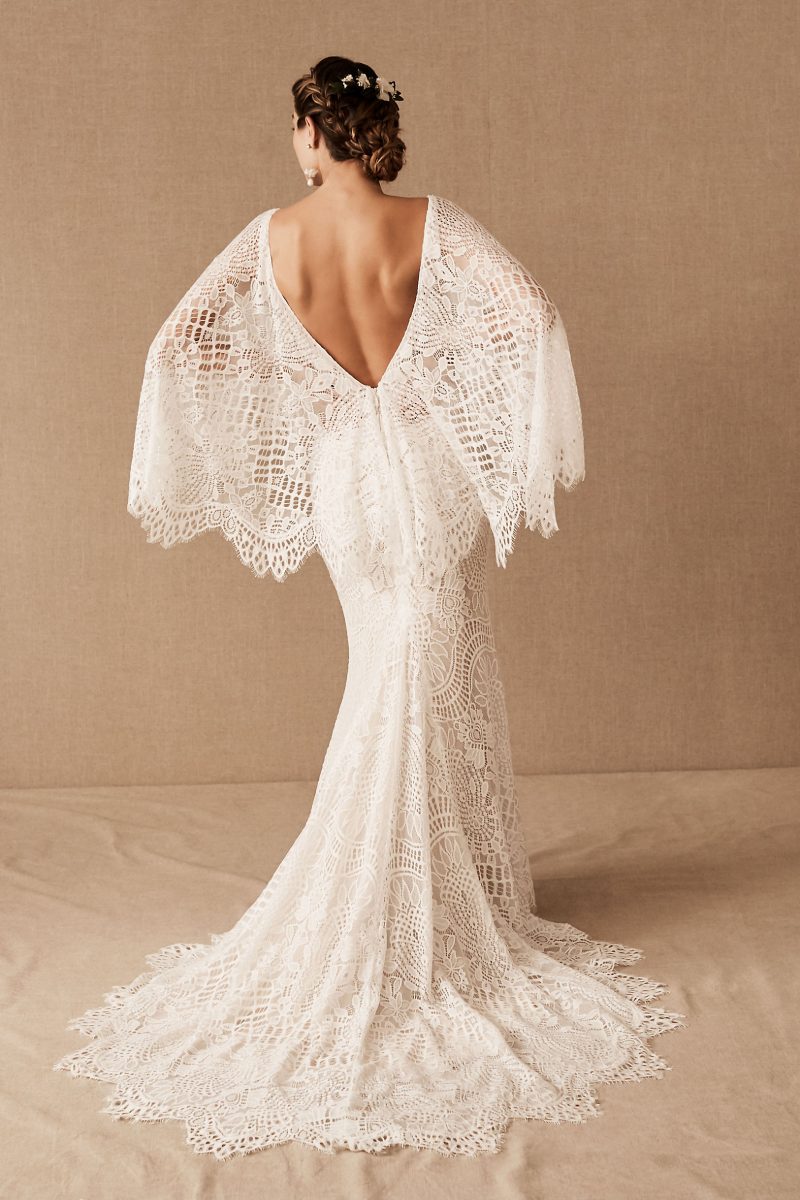 Bonus: BHLDN Wedding Dresses
While we're on the subject of wedding dresses… did you know Anthropologie has a bridal store? It's called BHLDN and is a thoughtfully curated wedding shop for all things bridal and occasion. Their dresses are SO dreamy.
Stores Like Anthropologie But Cheaper
Which stores like Anthropologie would you add to this list? Let me know in the comments!
I am a participant in the Amazon services LLC Associates Program, an affiliate advertising program designed to provide a means for us to earn fees by linking to Amazon.com and affiliated sites.