12 Comfy & Cute Boho Dresses That Are Available Online (UPDATED for 2023)
Lately, when I wear a dress, I've been reaching for comfortable dresses that are loose-fitting and flowy. This means that the cute boho dresses in my closet are getting far more use lately!
I know I'll be wearing more boho dresses this summer as I've really gotten used to how comfy they are compared to my more fitted selection of dresses. (I also bought quite a few dresses like this for my trips to Jordan and Egypt.)
So, for today's post, I'm sharing 12 comfy and cute boho dresses that are all available online! Some of these dresses I do own myself, and others are dresses I'm looking to add to my wardrobe. I hope you enjoy this post, and if you're looking for more boho dress shopping options online – check out this blog post that features 20+ amazing online stores that carry boho-chic clothing.
*Disclosure: some of these links are affiliate links. Meaning, if you click a link and make a purchase, Have Clothes, Will Travel gets a very small commission at no extra cost to you. Thank you for supporting the brands that make this blog possible!
12 Comfy & Cute Boho Dresses That Are Available Online
1.) Tie Maxi Dress
This gorgeous boho dress is made by Bohemian Mama – which is a site that features independent, handmade, and female-owned brands that are not mass-produced! In addition to their in-house label, they feature other great brands like Lack of Color, Free People, Agolde, Mate the Label, Sancia, Beach Riot, and more.
2.) Moon River One Shoulder Dress
This Moon River dress is set apart by an elegant one-shoulder neckline and a kaleidoscopic print. The formfitting bodice and free-flowing skirt give this silhouette a nice blend of proportions. I also love the color combo.
3.) Milumia Boho Maxi Dress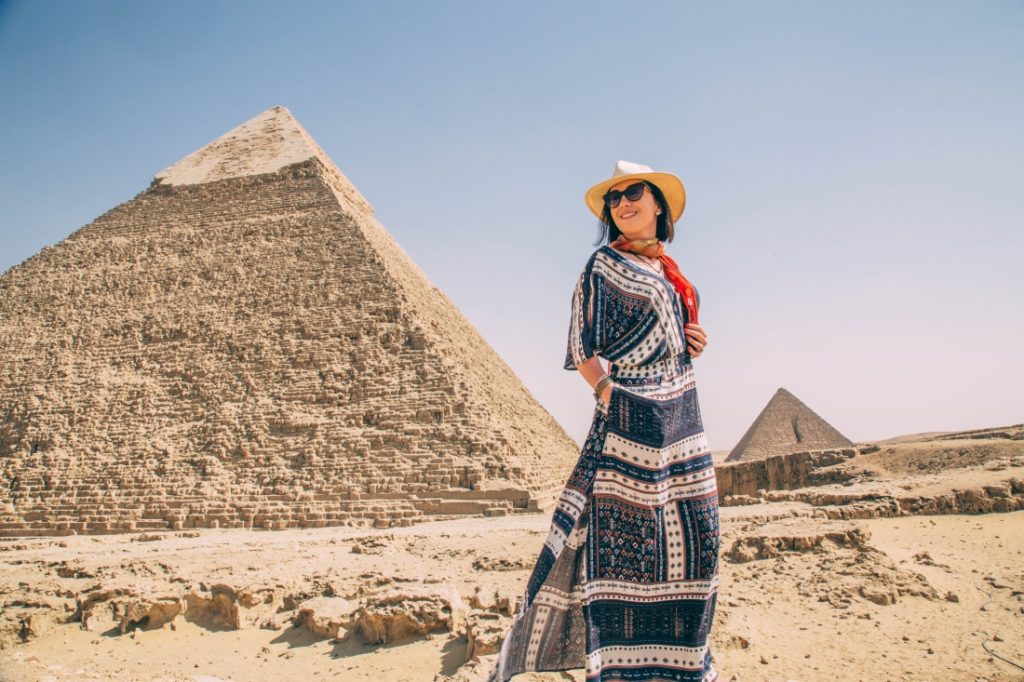 I liked this boho maxi dress by Milumia so well, I ended up ordering it in 2 more colors! These dresses were perfect for traveling through Egypt and Jordan, and now, they're super comfy for wearing around home. (I am looking forward to wearing them on a hot summer day again!)
Please note with these dresses, though, that the sizing varies depending on the color/pattern you order. I have 3 of these dresses and their size medium fits me completely differently in each of them! (I didn't double-check the size chart before I ordered them – whoops.) Just look at the size chart before ordering and you will be fine.
4.) Salty Crush Lizzie Mini Dress
This stunning bohemian mini dress from Salty Crush features a relaxed style with an elasticized waist for maximum comfort. The perfect boho dress for any occasion. Dress up with some stunning gold accessories and a pair of tan heels or down with a cropped jacket and sneakers.
Salty Crush is based out of Sydney, Australia but has speedy international shipping. (My orders coming to the US have taken only about a week to reach me.) They feature a great selection of modern boho chic items in vibrant colors and at a reasonable price point.
5.) Sundrenched Printed Maxi Dress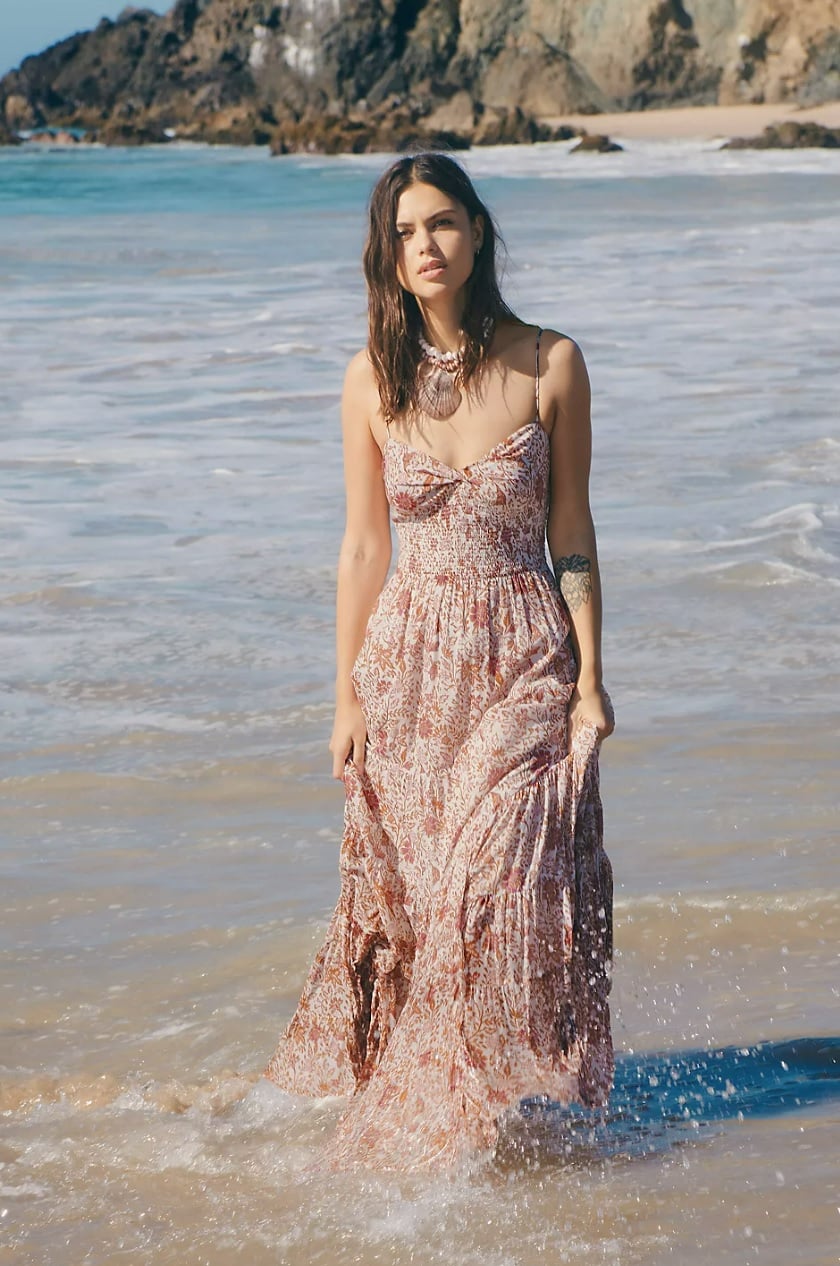 This feminine and floral maxi dress is magical! This maxi dress features a twist-adorned neckline, smocking at the bodice, and a slightly dropped waist for added shape.
6.) Kris – Mahony Midi Dress
The perfect combination of a gorgeous black and brown color and polka dot vibes. This flirty midi is perfect for pairing with your favorite sandals and a jute bag for a chic boho vibe this season.
7.) Farm Rio Pink Leaves Cut-Out Maxi Dress
Farm Rio is a Brazilian-based brand that makes the most incredible boho pieces! This maxi dress features a nature-inspired print in a cozy fit to make a bold impression, whatever the plan.
8.) UO Rooney Deep V-Neck Mini Dress
This super cute dress from UO comes with a deep v-neckline and ruching at the bust and shoulders. Cut with an empire waist and a flowy a-line mini skirt. Finished with a dipped v-shaped back that has an adjustable tie. Perfect for summer!
9.) HEMANT AND NANDITA Teien Caftan




Hemant and Nandita are the makers of this beautiful boho dress that is featured on Revolve. Revolve has so many gorgeous boho dresses like this one to choose from…and I think they have prettier boho Free People dresses than Free People's website does.
10.) The Somerset Maxi Dress
Remember the sisterhood of the traveling pants? This is that, in the form of a dress for grown-ups. It's insanely flattering, on everyone. Extremely versatile, for every style. It also comes in 4 other colors if this isn't your fave color combo.
11.) Reformation Twilight dress
The print on this dress is so fun and beautiful. I also love the adjustable tie straps – it's the perfect dress for summer!
12.) DOVE LACE STRAPPY DRESS

The Dove Lace Strapp Dress is effortlessly chic. It's true to size, features adjustable straps, and has a shell button down front for different styling opportunities. Pair with a strappy heel and fine jewels for a rooftop soiree or unbutton through the leg and wear with thigh-high boots for a festival fit to die for.
This dress is by the Australian brand "Spell." I couldn't write this list and not include them – they have the best boho dresses online, in my opinion!
Bonus.) Milumia Floral Print Flowy Maxi Dress
Last, but certainly not least, is another of my favorite boho maxi dresses by Milumia. This dress is so comfortable and breathable. I've had it for 5 years now and have styled it for summer, spring, fall, and winter! I've worn it on adventures in Argentina, Egypt, Russia, and Turkey. It's super affordable as well!
I'd love to hear which is your favorite dress in the comments! And I'm curious, where do you like to shop for cute boho dresses online? Let me know in the comments too!
I am a participant in the Amazon Services LLC Associates Program, an affiliate advertising program designed to provide a means for us to earn fees by linking to Amazon.com and affiliated sites.