32 STUNNING Cottagecore Dresses + Fashion Brands You Can Shop Online
Searching for the perfect cottagecore dresses to add to your wardrobe? Look no further! I've found some of the best dresses that you can buy online for this post!
Cottagecore is a movement that is taking the world by storm. You've likely seen cottagecore images popping up on your Instagram feed more and more (even if you didn't realize it had its own term). I, personally, love it and have slowly been adding more cottagecore dresses to my wardrobe. But, before I share my favorite cottagecore dresses and fashion brands…let's explain what in the world cottagecore even is…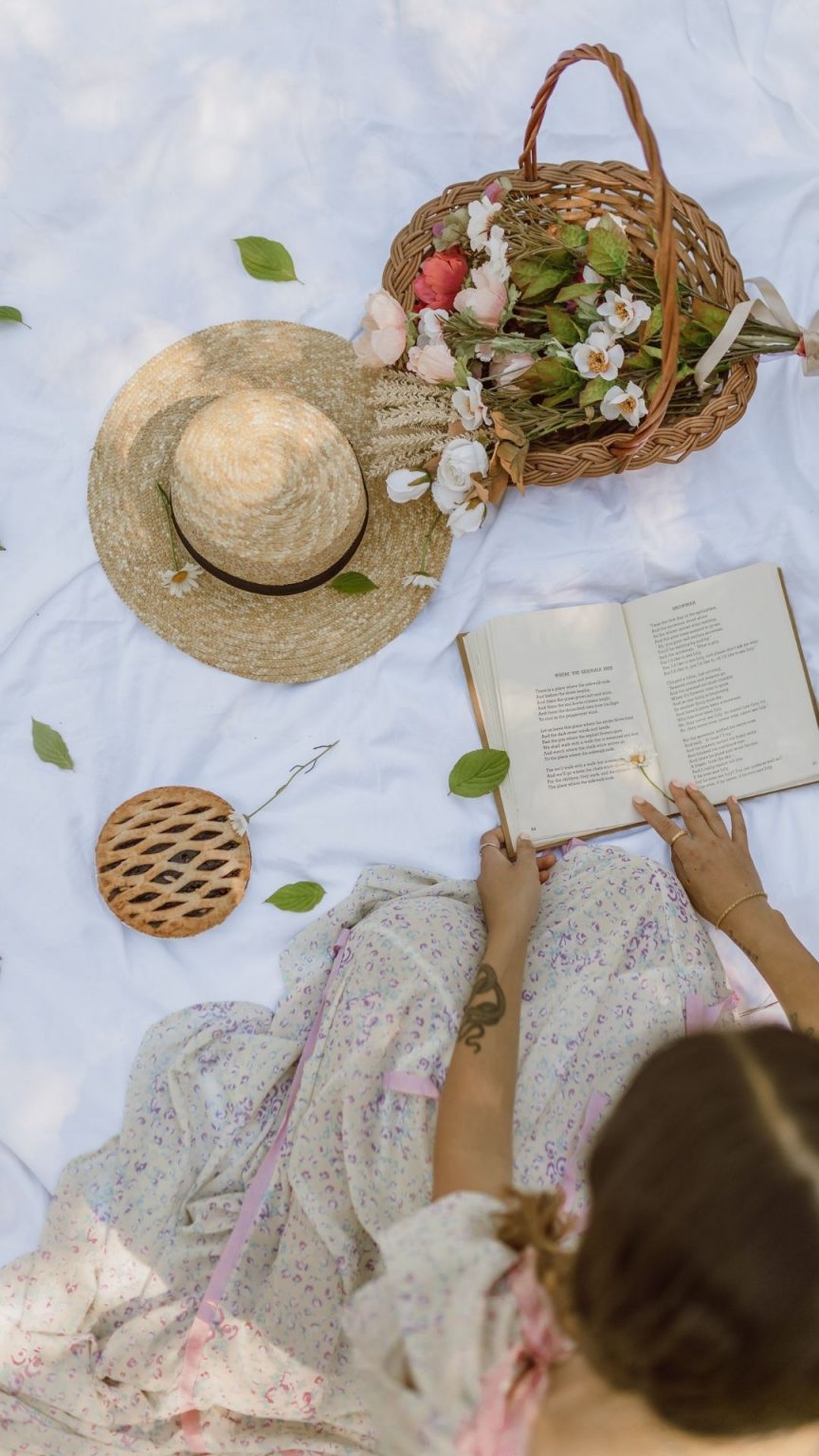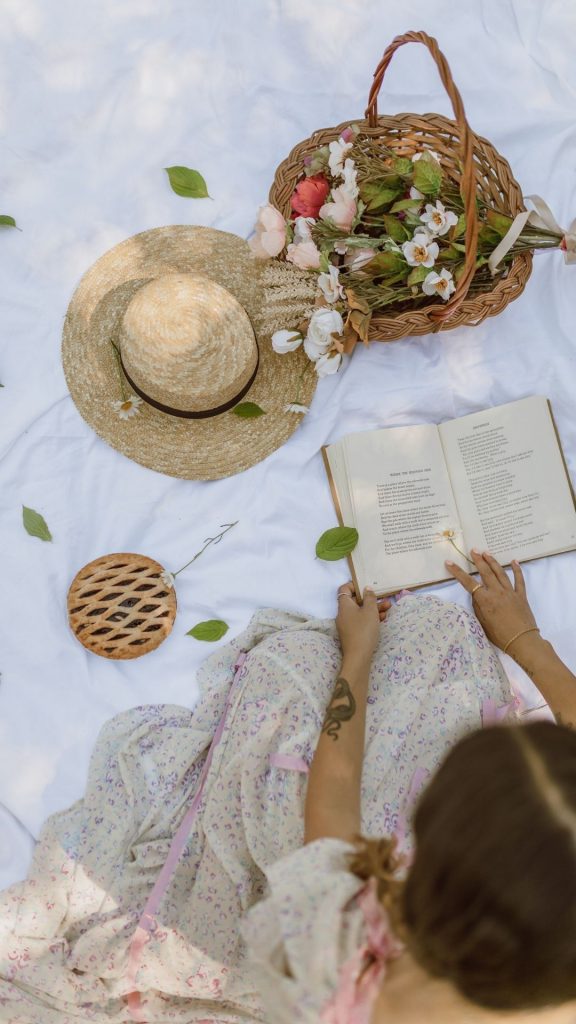 What is Cottagecore?
Cottagecore is a trend that goes beyond just fashion choices, it centers around romanticizing a simpler time and life. This usually entails DIY crafting, gardening, raising farm animals (goats, chickens, etc.), baking homegrown goods, and taking the most picturesque picnics.
This trend had been growing in popularity on Tumblr for years, but it wasn't until COVID hit (and the rise of TikTok) did cottagecore explode! I think we were all looking for ways to make our time at a home a little more fairytale-like. (I know I sure was!)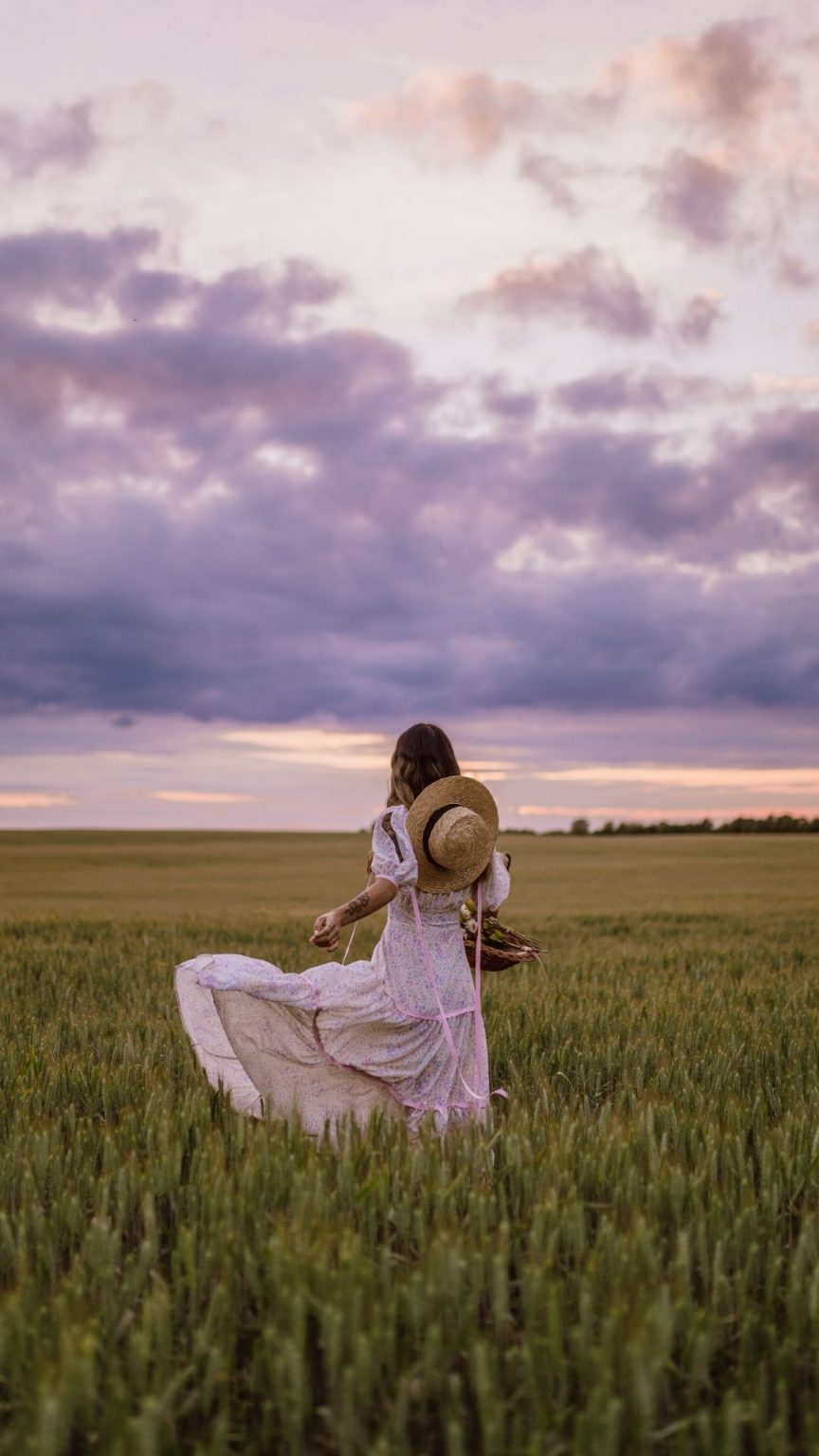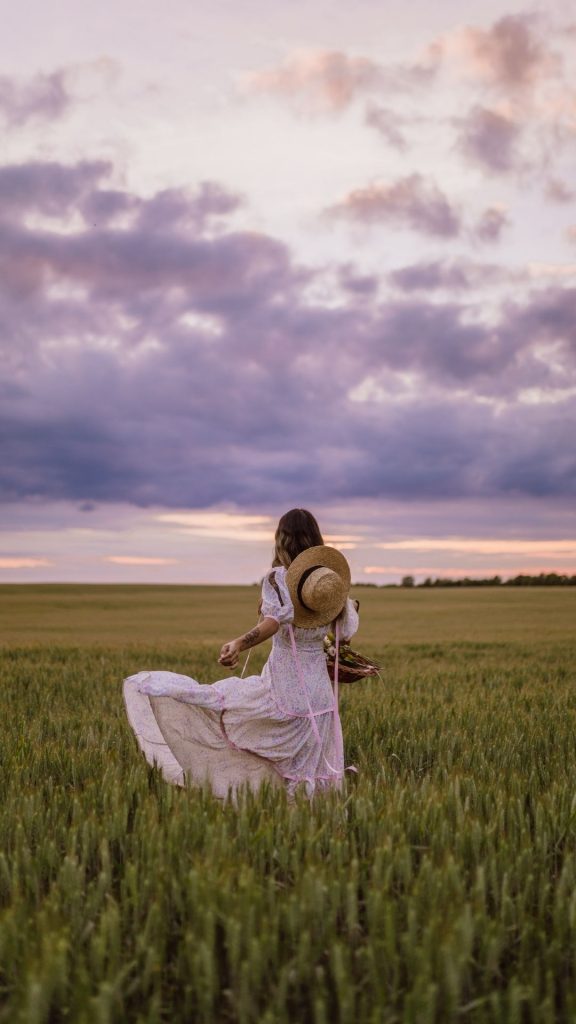 Now, when it comes to cottagecore dresses, they are typically midi or maxi length and have short or 3/4 length sleeves. They also will likely have a bit of lace and feature a lovely floral print or pastel shade. Basically, picture the perfect dress for frolicking through fields (see above).
Cottagecore typically embraces sustainable living and fashion, too. I am also all for sustainable clothing brands, but that also means many cottagecore dresses are rather pricey. I will be including affordable cottagecore dresses (I'll have some for less than $100 and less than $50) at the end of this post. I also encourage you to check out secondhand sites, like Vestaire Collective, for used/vintage cottagecore dresses!
I'll also feature 1-3 of my favorite cottage dresses from a clothing site, but the sites and brands featured in this post will likely have many more cottagecore dresses to choose from – so, don't be afraid to poke around some more on their sites. Enjoy!
*Disclosure: some of these links are affiliate links. Meaning, if you click a link and make a purchase, Have Clothes, Will Travel gets a very small commission at no extra cost to you. Thank you for supporting the brands that make this blog possible!
Where to Buy Cottagecore Dresses + The Best Cottagecore Fashion Brands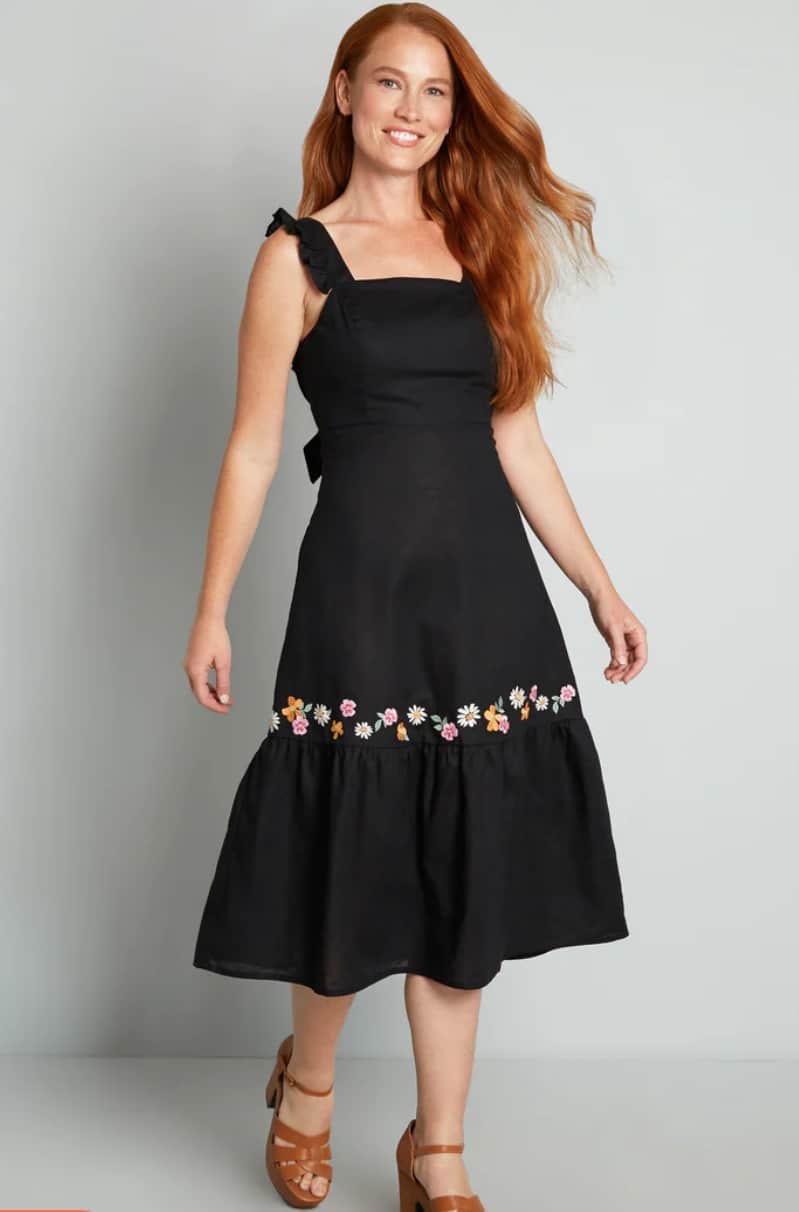 Fancy A Frolic? Embroidered Midi Dress via ModCloth
So, ModCloth has an entire section on their website dedicated to cottagecore fashion. ModCloth has been one of my favorite sites to shop for clothing since well before I started this blog over 8 years ago. (See my bazillion ModCloth posts, here.)
This cute dress was meant to be worn while frolicking in fields collecting flowers under the spring and summer sun.
Christy Dawn The Katrina Dress
When it comes to cottagecore dresses, Christy Dawn is where it's at. Christy Dawn is a sustainable clothing company based in Los Angeles. Their dresses have an understated timeless aesthetic with classic silhouettes.
The Katrina Dress is the perfect everyday cottagecore dress for your wardrobe, and it comes in 2 other colors.
Christy Dawn The Brooklyn Dress
I love the full, tiered skirt the Brooklyn Dress has, as well as its delicate floral pattern. The perfect dress for running through fields or picking flowers!
Christy Dawn The Scarlett Dress
Last Christy Dawn dress, I promise! (They're just too good – I could include the whole site in this post!) The tailored bodice is what drew me to this one. I also love that this could easily be paired with boots in winter or sandals in summer.
Reformation Belgium Linen Dress
Reformation is also a sustainable LA-based brand. They make all of their dresses from low-impact materials, rescued deadstock fabrics, and repurposed vintage clothing. I love the silhouette of this linen dress.
Reformation Johnny Dress
Another beautiful dress by Reformation that would be great to wear in winter, thanks to its darker colors and long sleeves… just pair with boots and tights.
Verishop Bellevue The Label Bianca Fit Flare Dress
Verishop is a fairly new site that features a wide variety of brands for both clothing and home decor. They have free 2-day shipping across most of the site, as well as free returns and 24/7 customer service. Most importantly, though, they have a great selection cottagecore dresses, like the Bellevue The Label dress, pictured above.
Read next: Is Verishop Legit? My Honest Verishop Review + Photos of My Purchases
Verishop VALANI Vanna Hemp Handkerchief Dress
This dress is described as best used for running through flower fields just to feel the cool breeze. The Vanna dress would be easy to dress up with heels and lipstick for a nighttime look or sandals for a day of running errands… or barefoot running through flower fields.
SHOPBOP English Factory Floral Back Tiered Midi Dress
SHOPBOP features a wide variety of high-end dresses, clothes and accessories. They also have a great selection of cottagecore-style dresses. (They offer free returns + worldwide shipping too.) This English Factory dress has the perfect romantic feel for summer.
Read next: Is Shopbop Legit? My Honest Shopbop Review (With Video & Photos)
STAUD Mini Faye Dress
Elaborate pleats and romantic proportions add to the timelessly lovely look of this STAUD mini dress – I love it!
Boden Broderie Flutter Maxi Dress
Boden is a British brand that has quite a fabulous selection of dresses. I love how effortlessly romantic this dress is. It's crafted from cool linen fabric and features a smocked bodice, plus gathering at the waist for bonus points when it comes to flattering fits.
Read next: 20+ Stores Like Boden for Stylish Clothing That Are All Available Online
MARANT ETOILE Eina floral cotton maxi dress from Mytheresa
Mytheresa features a fantastic selection of designers on their site. They're based in Germany but have SUPER speedy shipping all over the world and easy/free returns. (I recently ordered from them and can attest to the fast shipping and easy returns!) If designer cottagecore is what you desire, Mytheresa has you covered.
Read next: Is Mytheresa Legit? My Honest Review of Mytheresa With Photos + Video
Moda Operandi Bird & Knoll Bowie Printed Cotton-Voile Maxi Dress
Moda Operandi carries hundreds of brands and designers and ships to over 125 countries worldwide. They don't have a ton of cottagecore style dresses, but certain brands and designers can fit the bill. I especially like their selection of dresses from Bird & Knoll (above) and The Vampire's Wife (below).
The Vampire's Wife The Mini Cate Floral Cotton Dress
This dress is inspired by the American prairie dress, 'The Cate' dress has a slender-fitting silhouette made from floral-printed cotton framed with ruffled lace. It is one of my favorites on this list!
Net-a-Porter SEA Renee embroidered broderie anglaise organic cotton midi dress
Net-a-Porter is similar to Moda Operandi and features more than 800 brands and designers on its site. Some of my favorites for cottagecore are SEA (above) and Ulla Johnson (below). I've also had great luck ordering from Net-a-Porter in general. They have super speedy shipping and easy returns.
Read next: Is Net-a-Porter Legit? My HONEST Net-a-Porter Review (With Video + Photos)
ULLA JOHNSON Louise ribbed-knit and poplin midi dress
Ulla Johnson's 'Louise' dress is cut from poplin with a ribbed-knit bodice that creates the illusion of a tucked-in top and skirt. Designed in a warm 'Auburn' hue, it has waist-cinching ties and ruffled cap sleeves.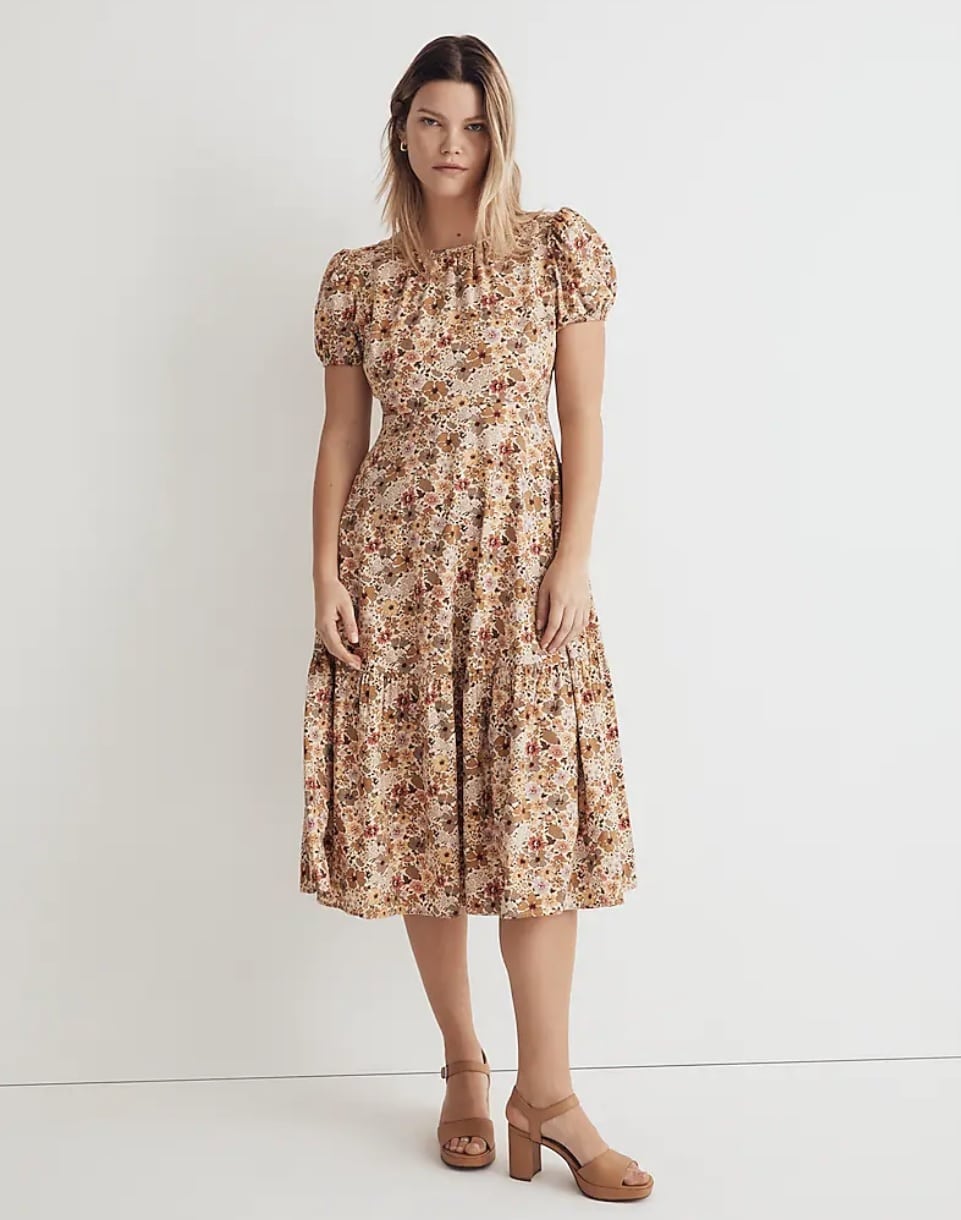 Madewell Puff-Sleeve Open-Back Midi Dress in Flora Field
Madewell is most known for their killer jeans, but they also have a great selection of dresses. Their smocked midi dresses and maxi dresses are sure to be a hit with cottagecore fans!
Sister Jane DREAM Chamomile Ditsy Scallop Dress
Sister Jane is a London-based womenswear label that features vintage-inspired designs with a high-end look & feel. Their designs can be a bit more dramatic than typical cottagecore fashion brands, but I still think they deserve a spot on this list!
Miss Patina Tasha Garden Dress
Miss Patina is another London-based brand that features vintage-inspired designs. However, Miss Patina is a site you'll have a hard time not finding the perfect cottagecore dress on. Their style just screams "cottagecore."

Xiaolizi Cottagecore Dress
This linen dress is made by Xiaolizi, a VERY popular Etsy shop for cottagecore designs. This color is perfect for fall. Plus, they also take custom orders!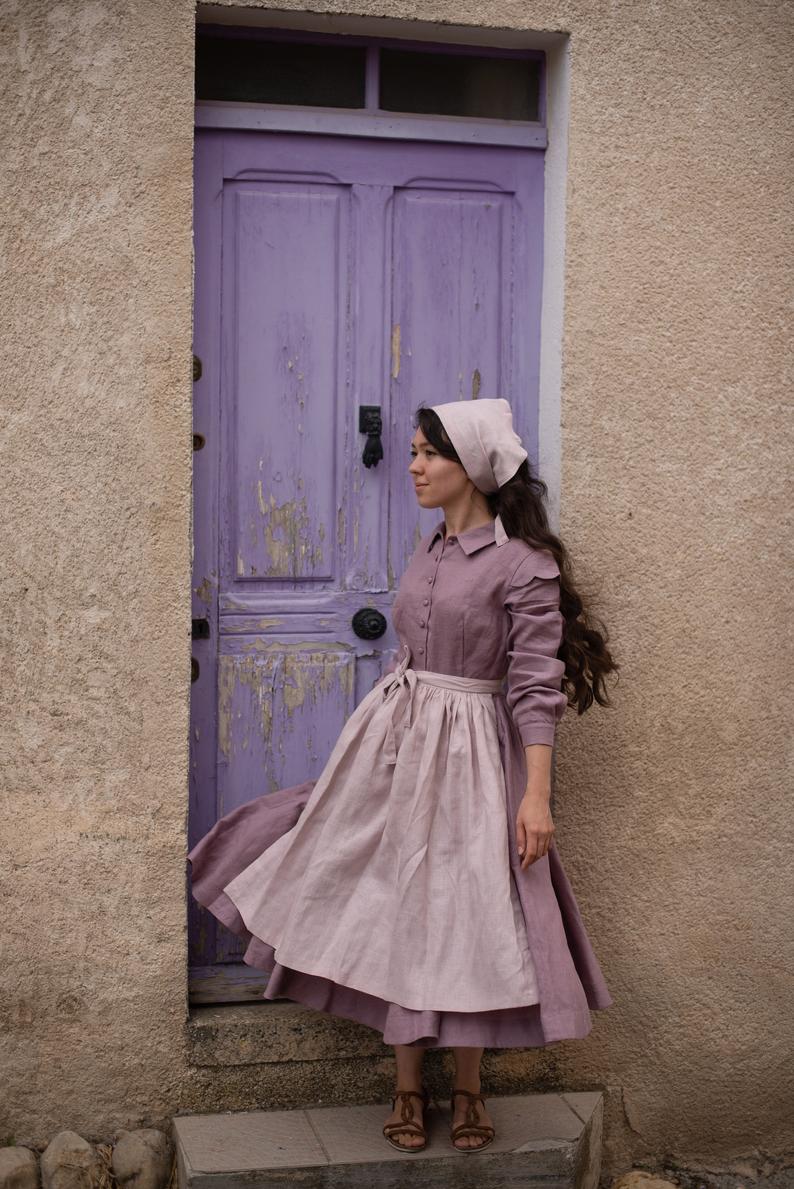 Little Women Atelier Jo Dress
Little Women Atelier was the first cottagecore brand I started following on Instagram. I was initially drawn to them because they are based in Russia, and after having lived in Russia, I'm always intrigued by Russian designers. (Don't worry, they ship worldwide, and have free shipping to the US!) They have SO many amazing cottagecore dresses it was hard to only pick a couple for this post! They also carry the best aprons and pinafores to complete your cottagecore look.
SORRY – because this shop is located in Russia, they are unable to sell their items on Etsy right now.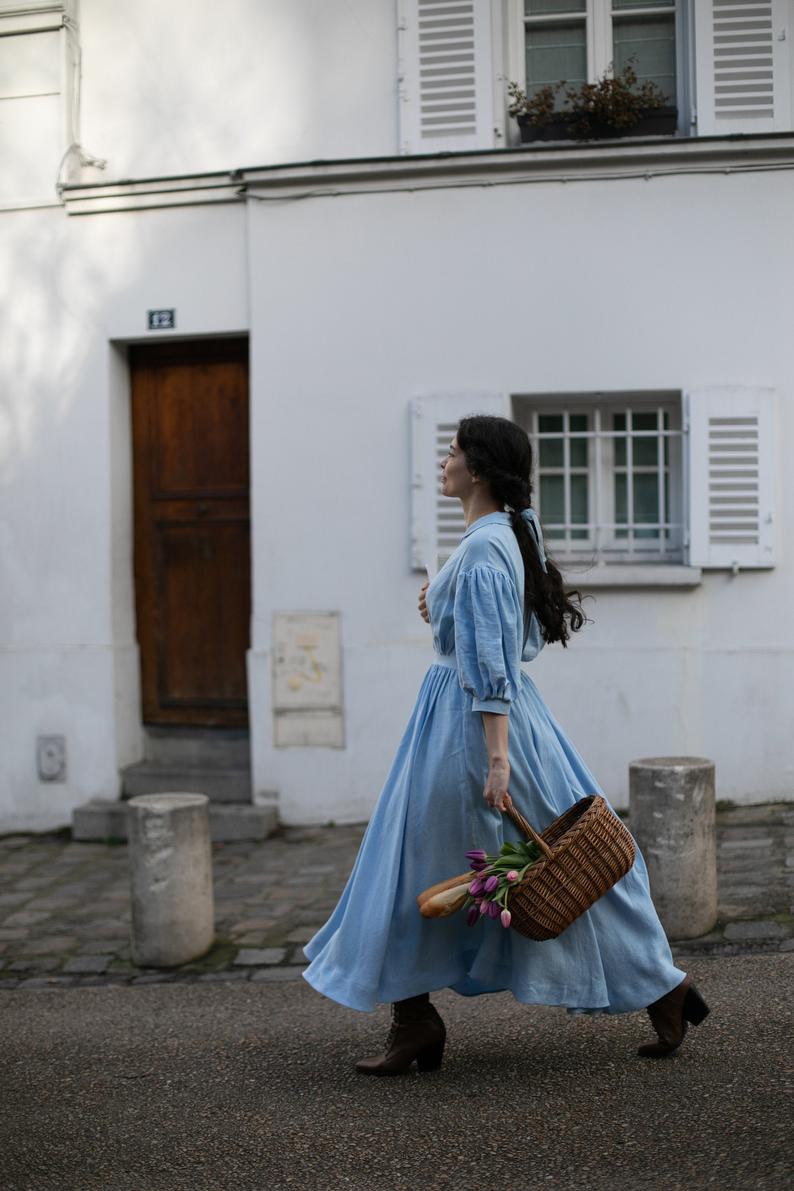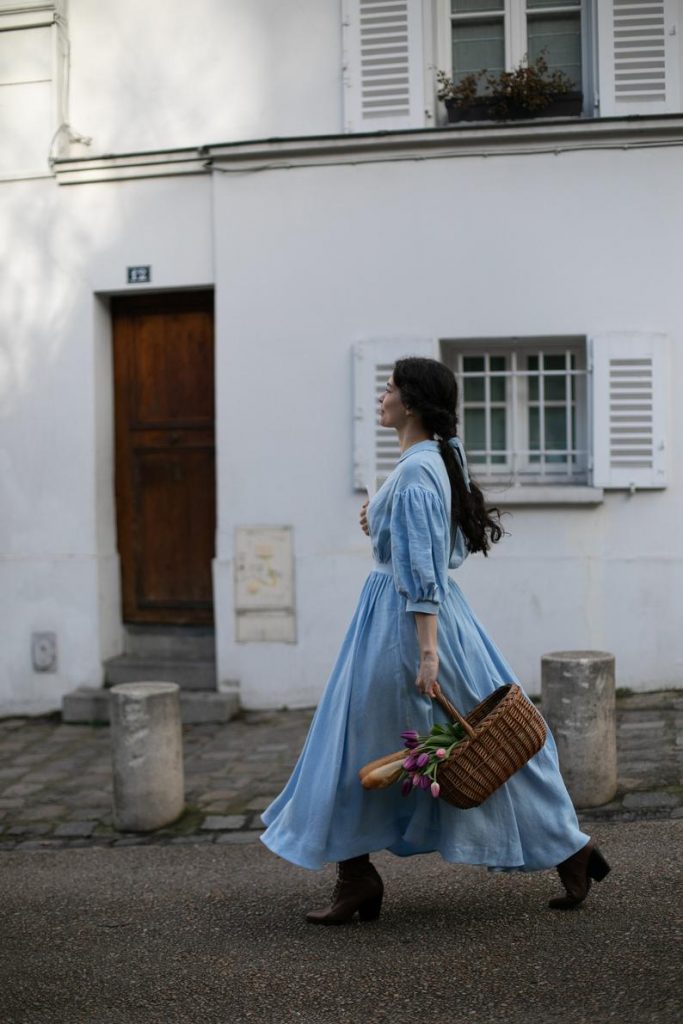 Little Women Atelier Linen Meg Dress
Had to include the Meg dress too because I love its Peterpan collar and its dramatic sleeves. Little Women Atelier's dresses are seriously everything that is cottagecore.
SORRY – because Little Women Atelier is located in Russia, they are unable to sell their items on Etsy right now.
Affordable Cottagecore Dresses (Less than $100)
Salty Crush Maryanne Maxi Dress – Tan
Salty Crush is one of my favorite dress brands. (I now have 5 of their dresses and several cardigans.) They're based out of Sydney, Australia but have speedy international shipping. (My orders coming to the US have taken only about a week to reach me.)
While they are more bohemian in style than cottagecore, I think there can be a bit of overlap with these styles. Cottagecore-lovers will find affordable dresses they appreciate as well on Salty Crush – like the dress above!
ModCloth Spring At The Chance Babydoll Dress by Princess Highway
ModCloth is making another appearance on this list but under the affordable cottagecore dress section this time! ModCloth's dresses can get a bit pricey, but for they are constantly running sales, so it's not too hard to find dresses for less than $100 or less than $50. This cottagecore dress is designed by Princess Highway, which is another awesome Aussie brand.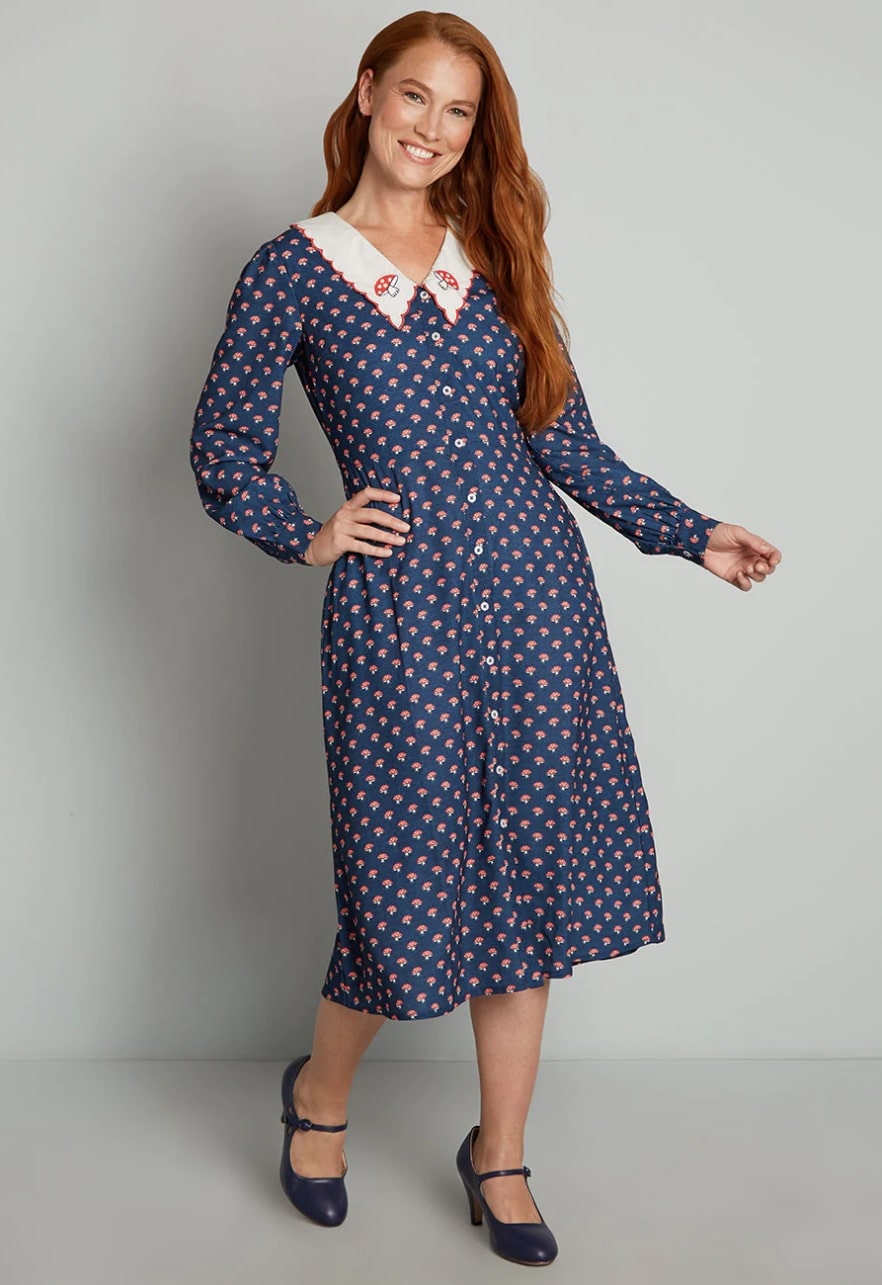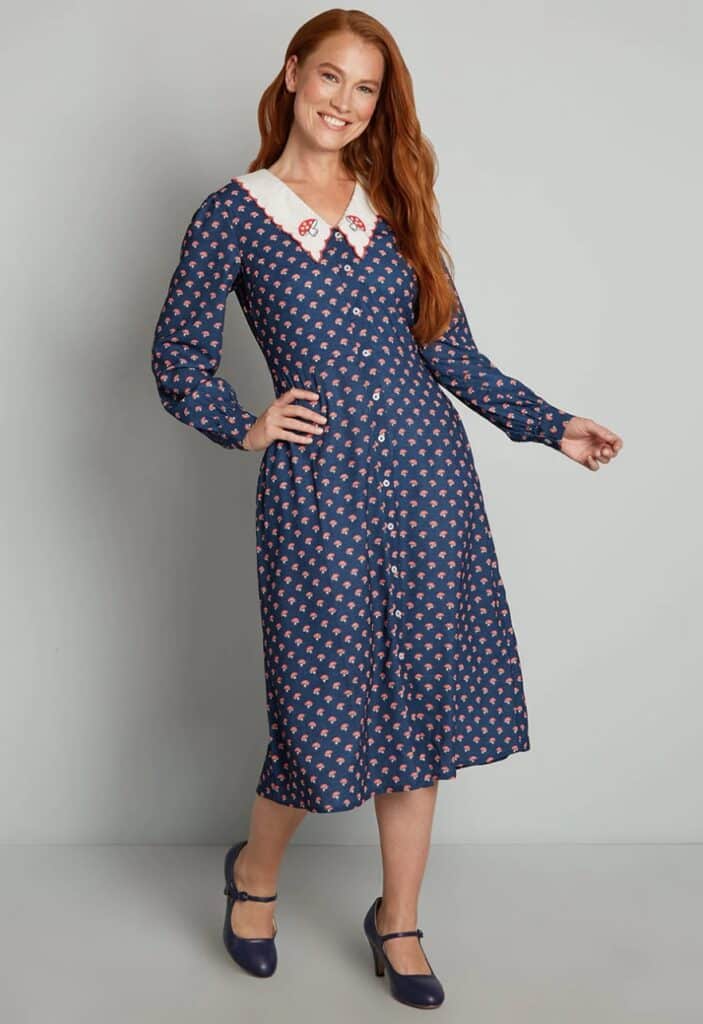 ModCloth Sprouts With Clout Midi Dress By Timeless London
With a subtle cottagecore charm, this retro-inspired midi dress from UK brand Timeless London will have compliments sprouting up all around you! I am in love with the mushroom embroidered on the lapels of this adorable dress.
Lulus Flirting in Florence White Striped Tie-Strap Midi Dress
Lulus has a great selection of cottagecore dresses that are less than $100! This white tie-strap dress is simply stunning.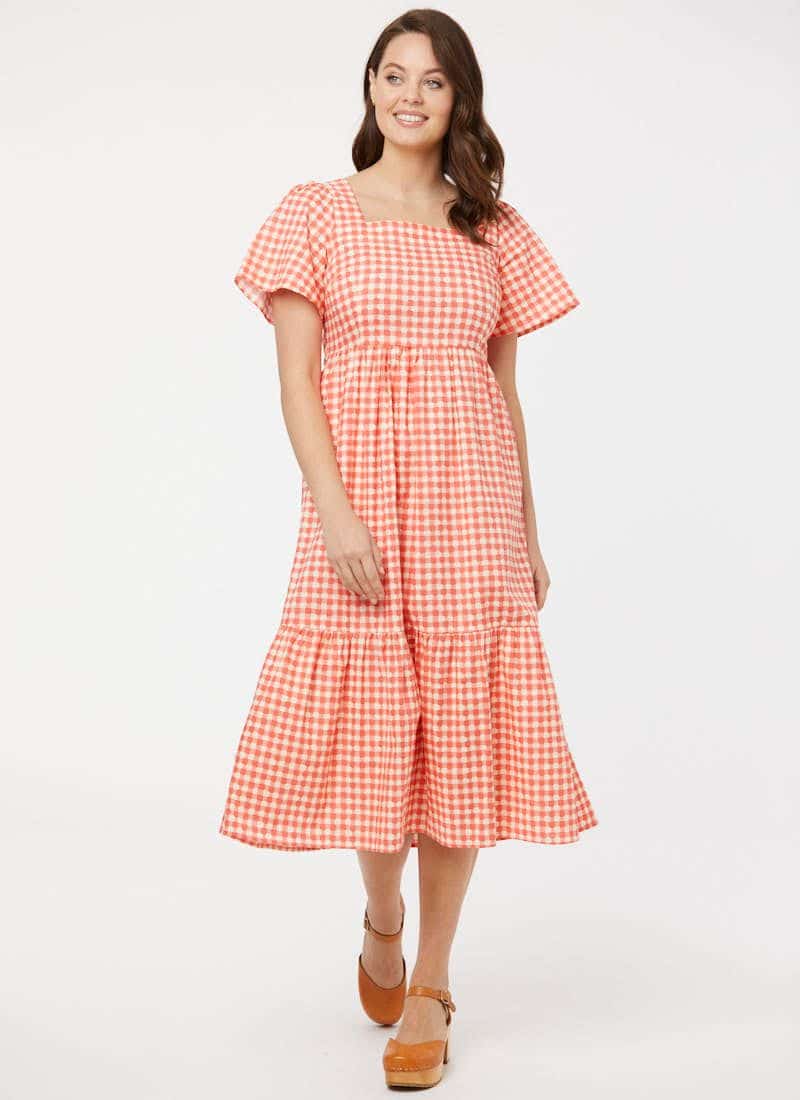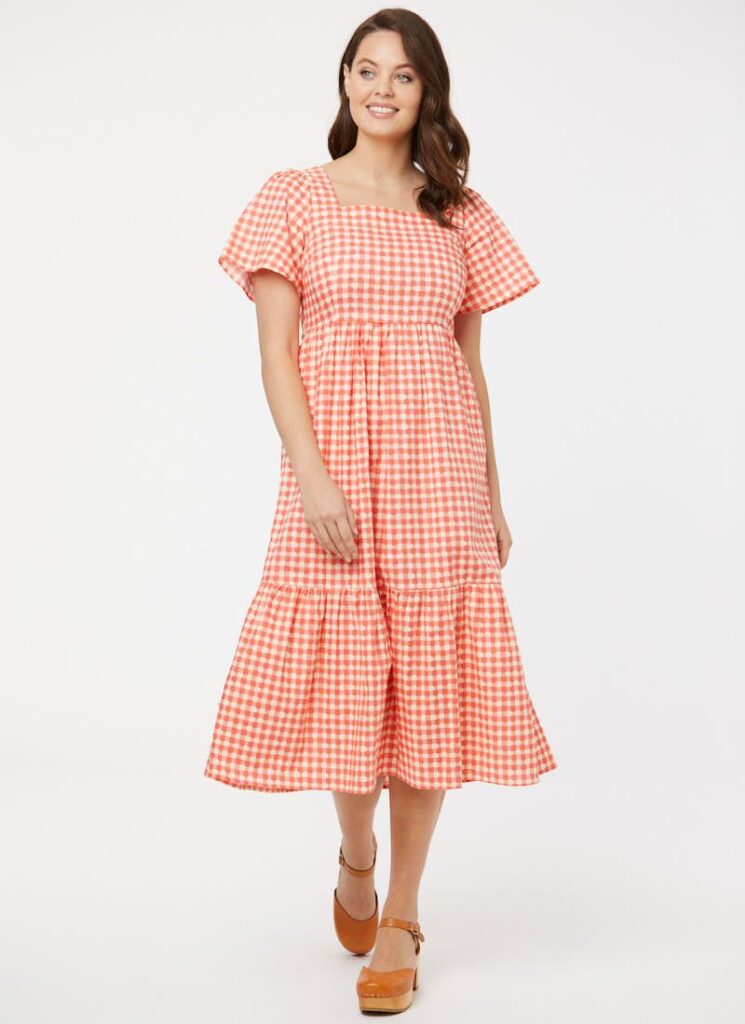 Joanie Georgia Gingham Square Neck Dress – Coral
Joanie is a UK-based, vintage-style womenswear clothing brand featuring a great selection of sizes. They also recently added an entire cottagecore style section to their site!
Nasty Gal Sweetheart Neckline Animal Print Puff Sleeve Midi Dress
I did not expect Nasty Gal to have such a good selection of affordable cottagecore dresses! I always associate this site with edgy, sexy clothing. But I'm pleasantly surprised by their variety – like the cute puff sleeve dress above…which you can also see in my Nasty Gal YouTube video.
Read next: Is Nasty Gal Legit? Honest Nasty Gal Review of Clothing, Shoes, & Accessories
& Other Stories Puff Sleeve Linen Midi Dress
& Other Stories has design ateliers in Paris, Stockholm and Los Angeles. The brand's collections fit into any aesthetic – including cottagecore.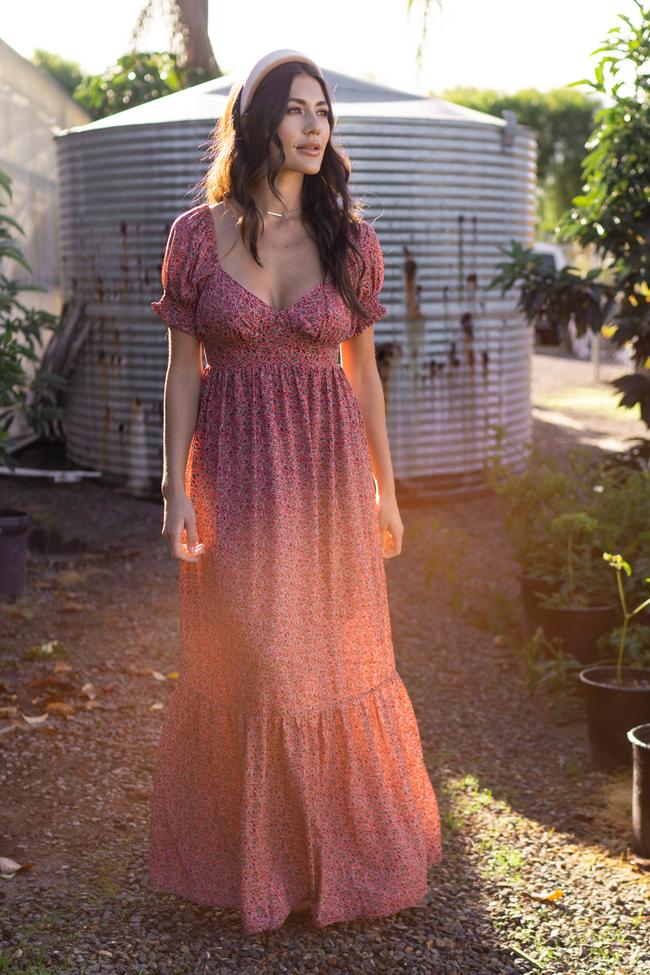 Pink Blush Floral Puff Sleeve Maternity Maxi Dress
So, Pink Blush specializes in maternity dresses. However, they do have plenty of dresses that can be worn whether you are pregnant or not! I have a midi dress from here and have never been pregnant, so I promise you don't have to be afraid of these dresses just because they say "maternity." (This dress is even labeled "post-bump friendly" on their site!)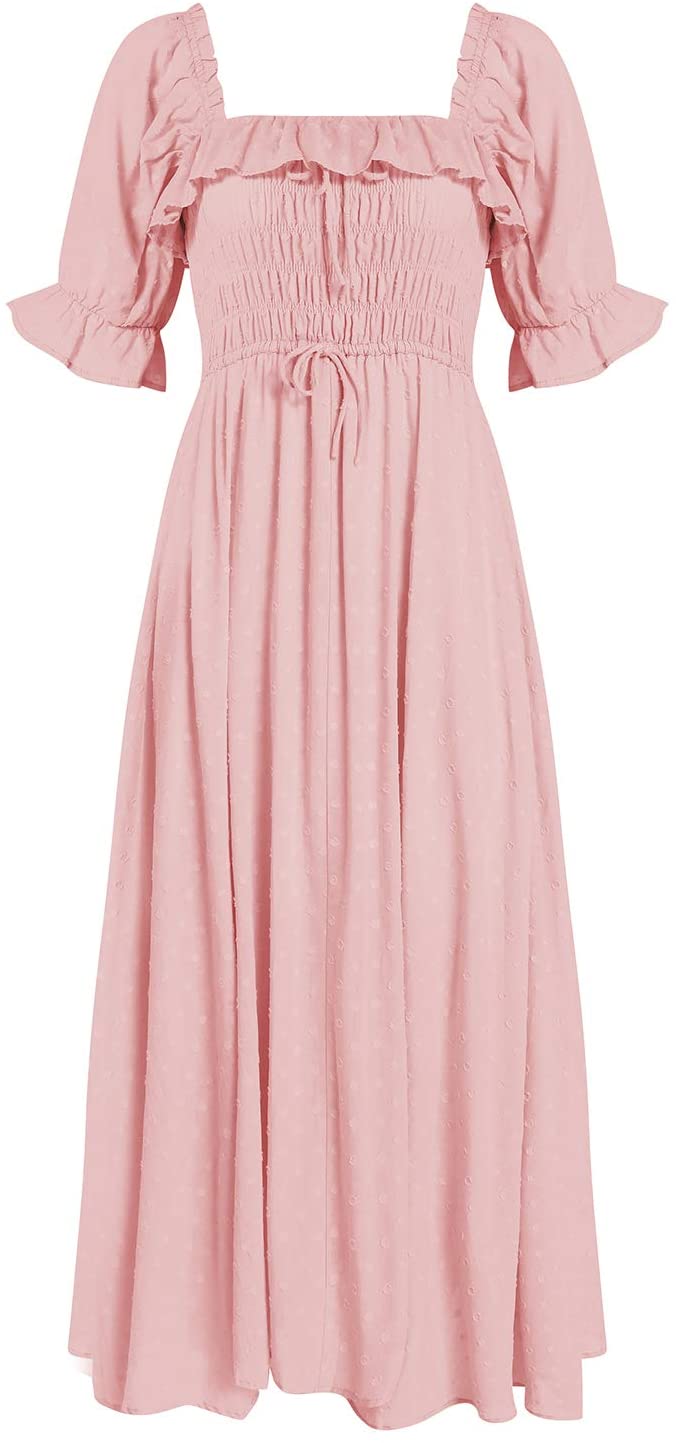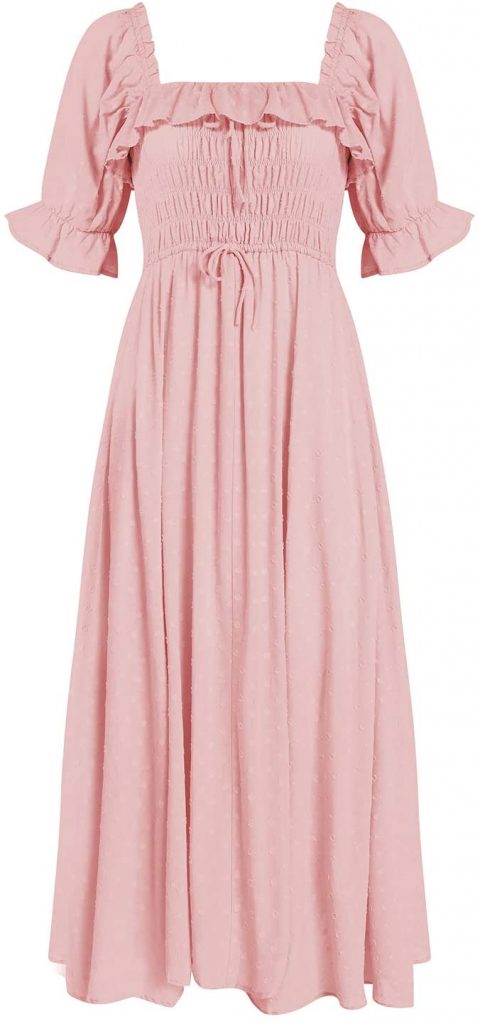 Amazon R.YIposha Vintage Square Neck Maxi Dress
Amazon has everything, including cottagecore dresses! Now, I wouldn't say Amazon is the best place to find cottagecore dresses, they do, however, have some affordable options. Just be sure to double-check reviews, as the quality can be a bit spotty on some of these. This R.YIposha maxi dress is highly rated, though!
Lulus Happiest With You White Lace-Up Button-Front Midi Dress
The perfect affordable cottagecore dress coming in at just $20! Woven cotton, with Swiss dots throughout, shapes this cute summer dress with a square neckline and three-quarter sleeves with elastic at the cuffs and shoulders.
Honorable mentions
Where do you like to shop for cottagecore dresses? Let me know in the comments!