Colonia del Sacramento, Uruguay – How to Do the Best Day Trip From Buenos Aires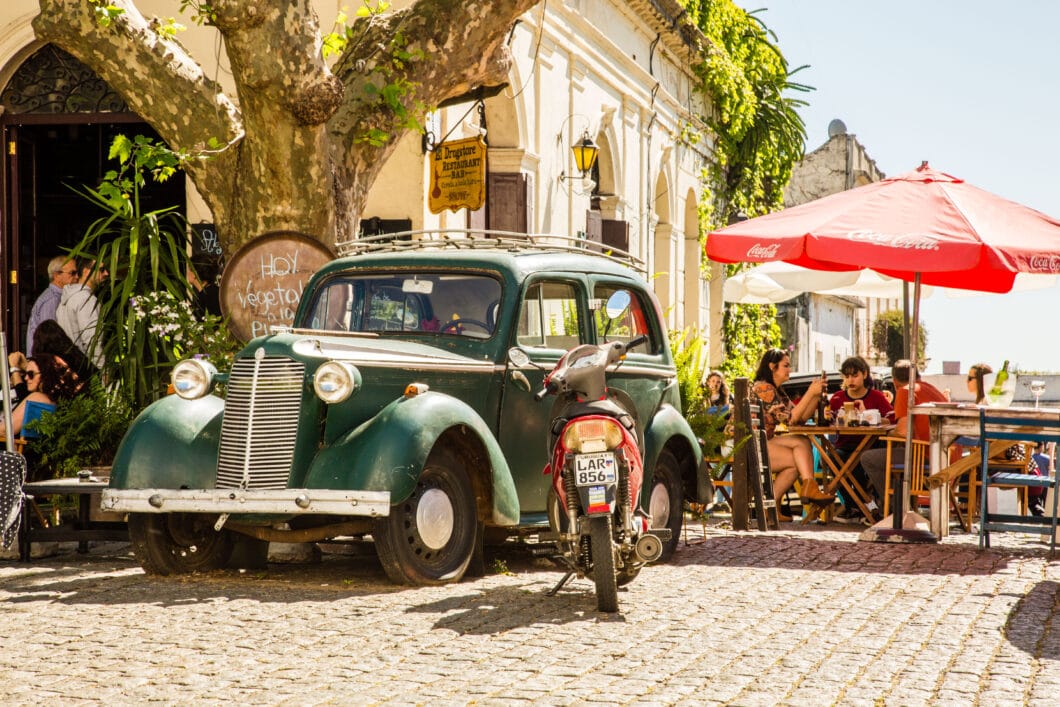 For anyone planning a trip to Buenos Aires, I can't recommend a day trip to Colonia del Sacramento enough! It's very easy to get to (only an hour ferry ride away). And the Barrio Histórico (historic quarter) section of Colonia del Sacramento is a designated World Heritage Site by UNESCO. It is SO beautiful and relaxing. You can even rent golf carts and sand buggies to scoot around the city with. It's a really laid back place to visit.
For this post, I'll break down how exactly to get to Colonia del Sacramento from Buenos Aires, a few points of interest and what I would do differently if I could go back. Enjoy!
Getting Your Ferry Tickets
Taking a ferry from Buenos Aires is the best way to get to Colonia. However, getting ferry tickets is a really frustrating experience if you're trying to book in advance online. We visited Colonia del Sacramento on an Argentine holiday and tickets were selling out fast. So, I made sure to book my tickets before we left for our trip. Generally, though, it would not be necessary to book in advance online. You could buy tickets at any of the ferry offices in Buenos Aires.
The 3 Ferry Companies
1.) Seacat Colonia
2.) Colonia Express
3.) Buquebus
All of those websites are absolutely terrible. You're seriously going to want to smash your computer by the time you're done trying to buy these ferry tickets! Buguebus was probably the least terrible website, but they were sold out of tickets for the times I wanted. So, the winner ended up being Seacat Colonia for me. (I could not get Colonia Express to work to save my life.) Seacat Colonia's website is entirely in Spanish, though – FYI. And it also took me 3 tries of entering in all of my information before the website accepted it. Patience is key when getting your ferry tickets!
For 2 roundtrip ferry tickets, I paid $2,420 pesos (October 2017). This came out to roughly $135 USD at the time.
*Another option, if buying your tickets through some frustrating websites does not sound appealing, is to book a private tour. They'll pick you up from your hotel, take care of your ferry tickets for you and give you a private tour of the city. Click here for more info on the tour. (As of July 2020, this option is actually more affordable too!)
What Do in Colonia del Sacramento
The historical section of the city was built by the Portuguese in the 17th century and is within walking distance of the ferry terminal. It has cobblestone streets and Portuguese-style houses that are super cute. (We didn't leave the historical section for the entire day we were here.)
*Portón de Campo – the City Gate and wooden drawbridge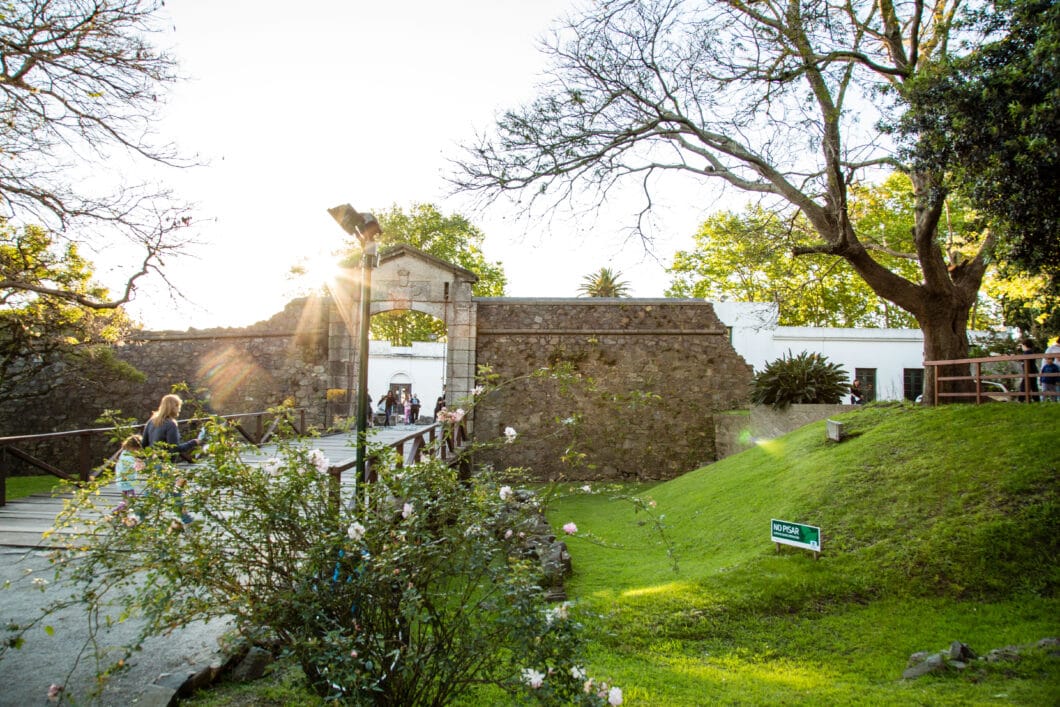 *Lighthouse and convent ruins of the 17th-century Convent of San Francisco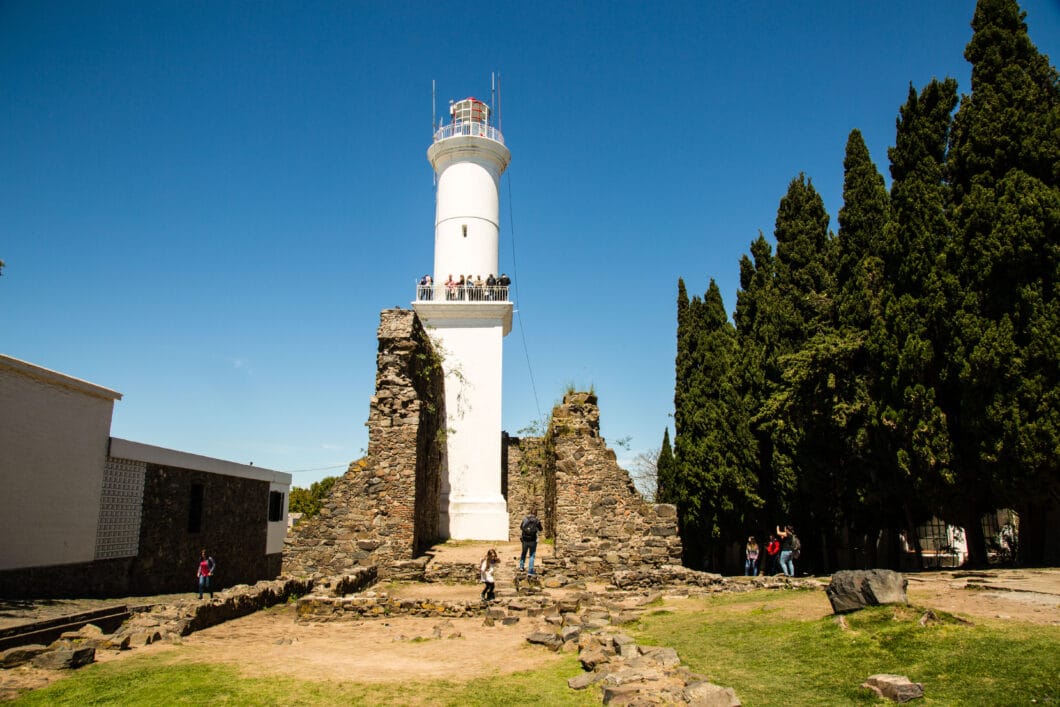 *Basílica del Santísimo Sacramento – the Basilica of the Holy Sacrament, built of stone by the Portuguese in 1808
*Museo Municipal Dr. Bautista Rebuffo (Outside pictured, below)
*Check out the Old Cars – you'll see them throughout the city. Some are still in use, and some are parked with fun little displays inside. One car had a fish driving it (outside the aquarium), and my favorite had plants growing out of it.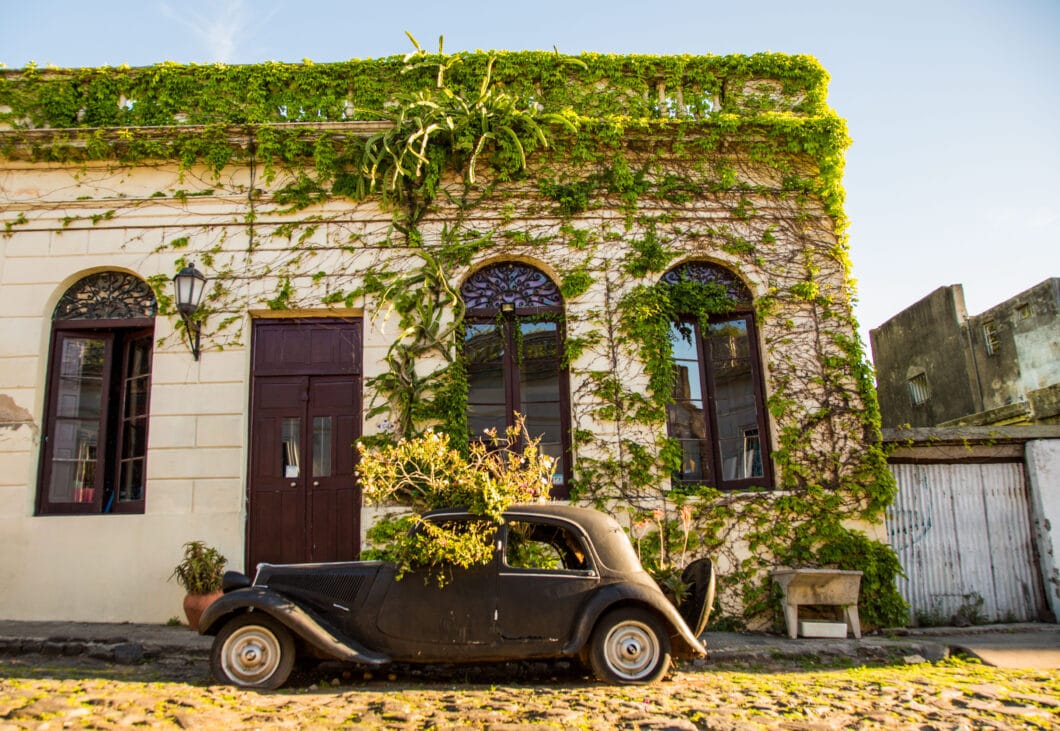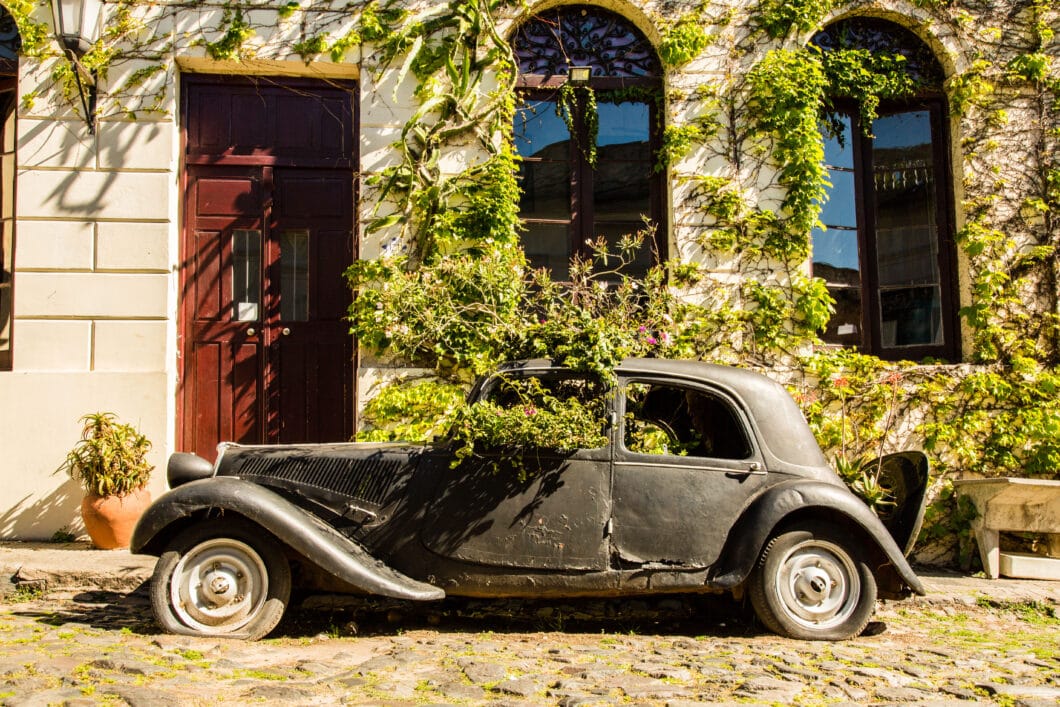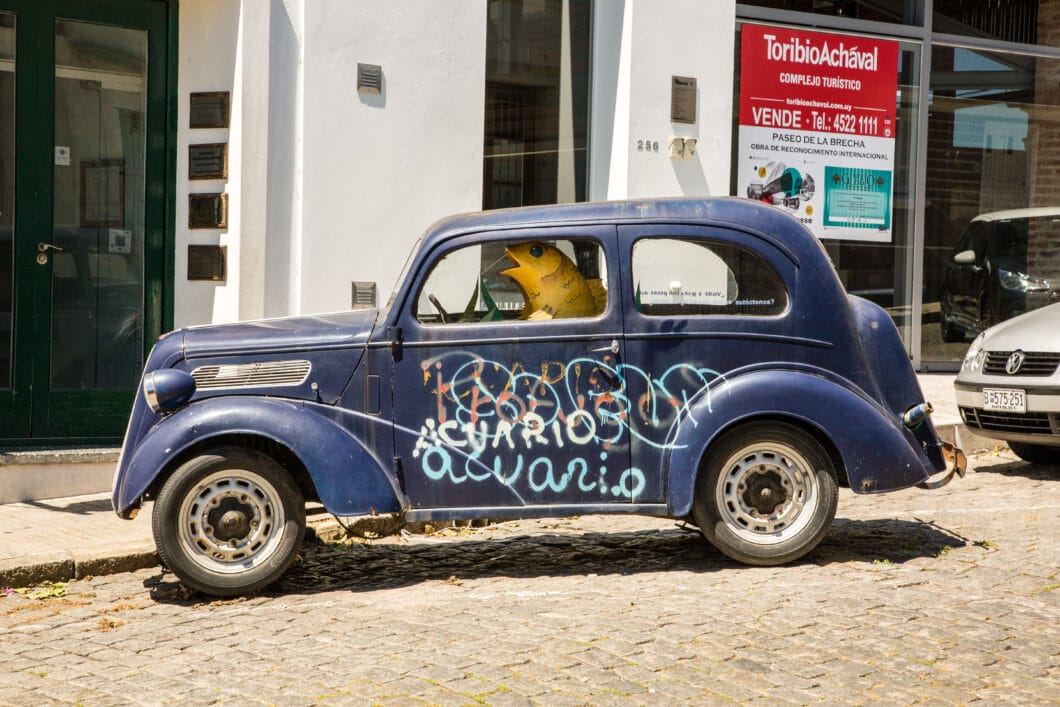 *The Main Square – Plaza Mayor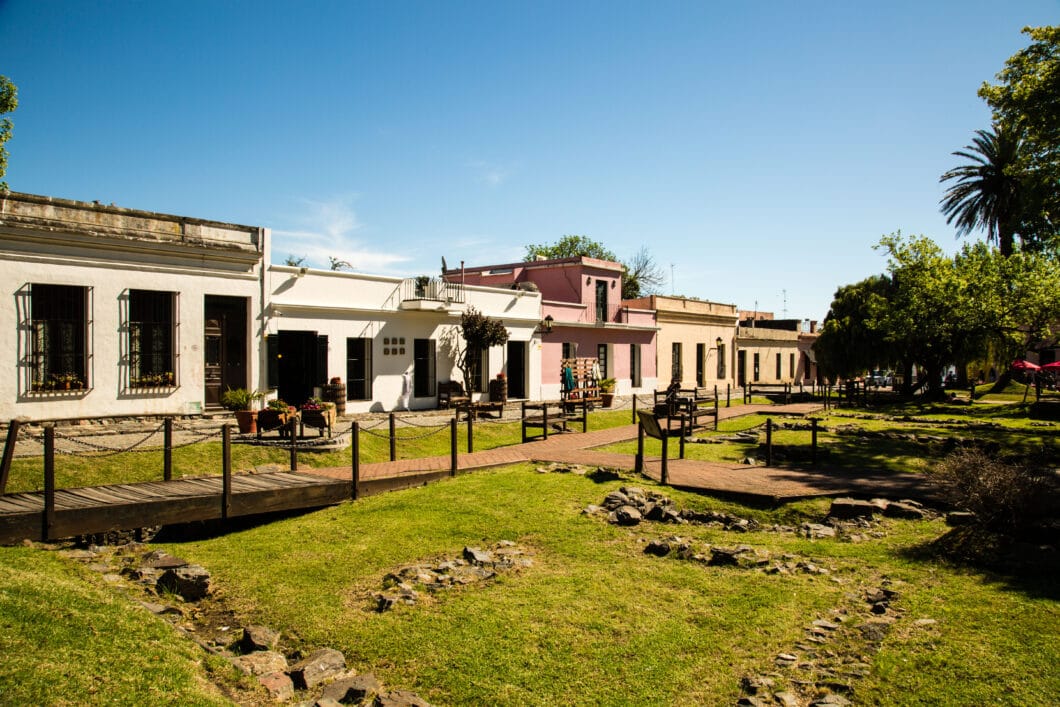 The Restaurants, Bars & Cafes
The best part of Colonia del Sacramento, though, is the incredible amount of quaint restaurants, bars and cafes it has. And nearly all of them have beautiful outdoor dining too. I was seriously in heaven and tried to eat and drink at as many of them as I could, haha. My biggest recommendation would be to just try as many restaurants, bars and cafes as you can…stop at whichever one has the most appealing atmosphere to you and you won't be disappointed.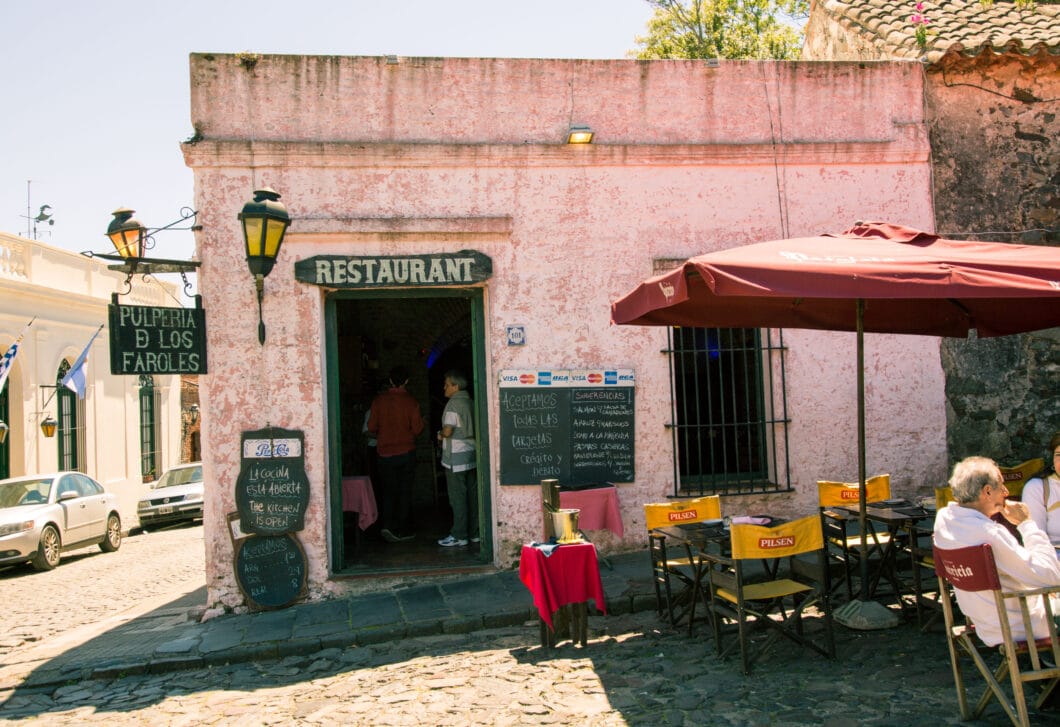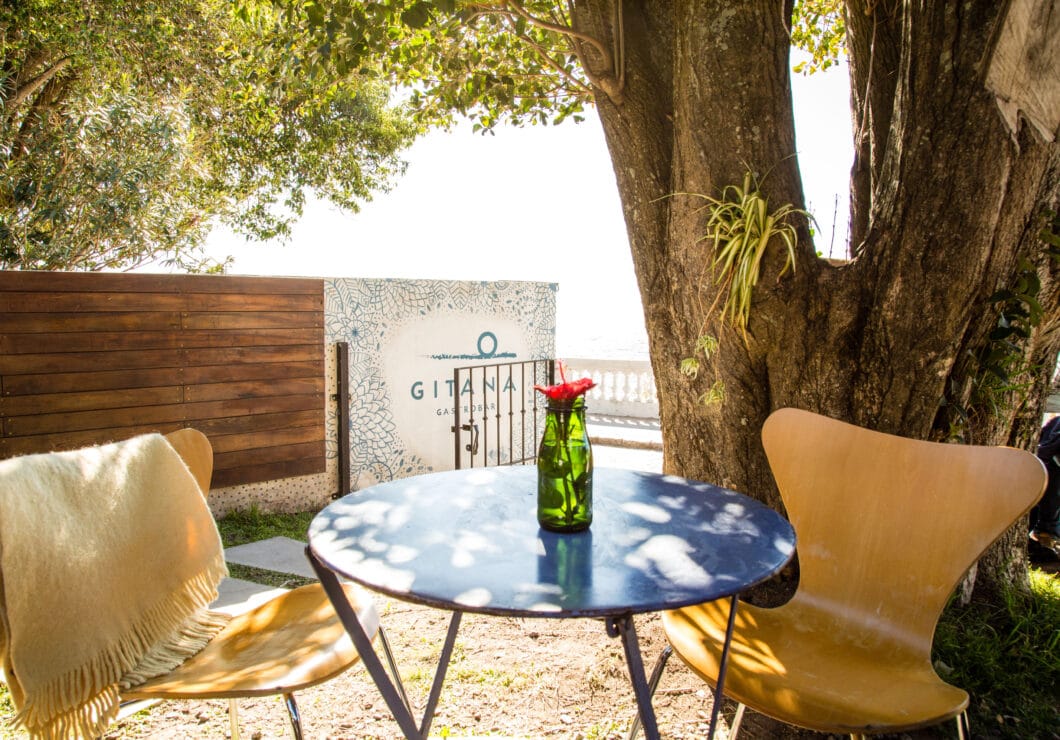 What I Would Do Differently If We Went Back
1.) I would spend the night – or heck the whole weekend. Colonia del Sacramento is so relaxing and beautiful, and it also has some spectacular sunsets…which we, unfortunately, had to watch from the ferry terminal. (And this hotel even has a nice relaxing swimming area.)
2.) My husband has made it very clear that he would rent a golf cart. Haha. I wanted to walk, but the thing to do is to rent an interesting mode of transportation to get around the city. So, if we go back, that's high on the priority list.
3.) Eat at more restaurants, cafes and bars! Haha. I feel as though I could've maximized my restaurants, cafe and bar time even better.
Hopefully, I've convinced you to at least set aside one day to enjoy Colonia del Sacramento if you're in Buenos Aires! And if not, please enjoy the photos below (feel free to click on them to make them full-sized and to read any captions).
Had you heard of Colonia del Sacramento before this post? And would you be interested in visiting it? Let me know in the comments!
*If you like this post, it is now available as a self-guided walking tour via GPSmyCITY. Click here to download it.
Travel Insurance
It's a good idea, no matter where your adventure takes you, to have travel insurance. You never know what might happen! Whether you get sick before your trip and can't go, or you become sick or injured while on your adventure – being covered with travel insurance is a must. Some credit card companies do provide this service (check with yours), or you can get a quote from companies such as Squaremouth to find the best plan for you and your adventure. (This is the company I, personally, use. They are even recommended by Forbes!) To get a free quote, click here.
Want to Learn Spanish Before Your Trip?
Knowing some basics in Spanish can be helpful for your time in Argentina. Try a free 3 day trial of Rosetta Stone (the best way to learn a foreign language) by clicking here.
If you liked it, Pin it!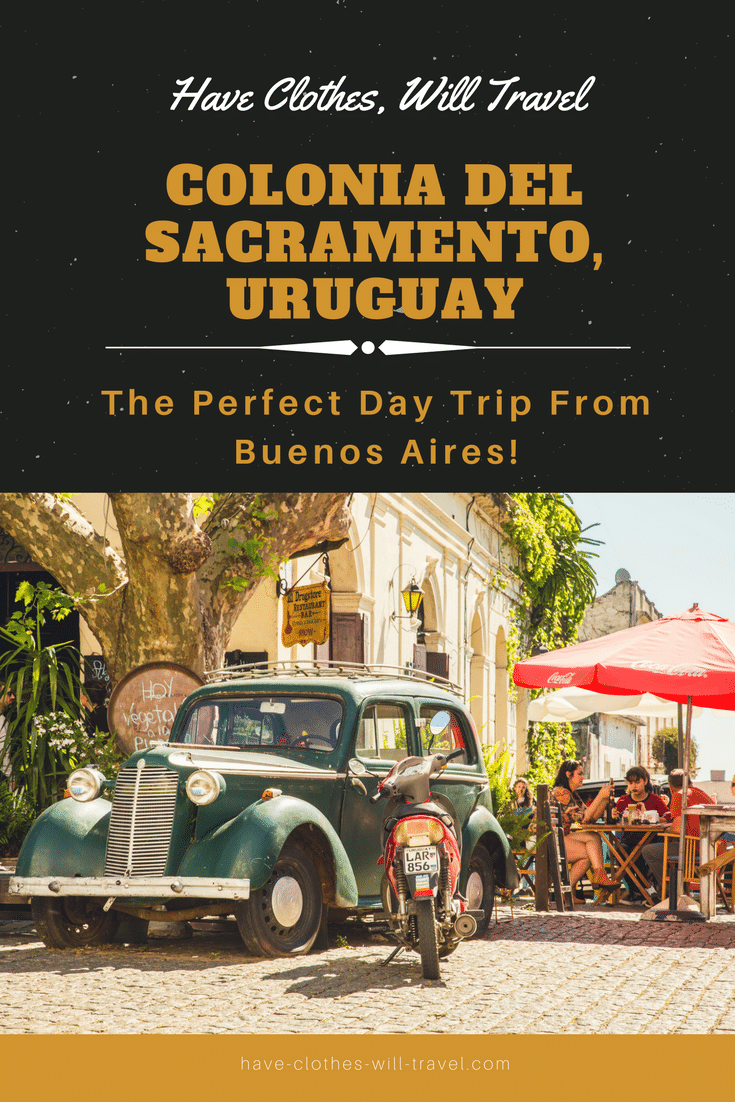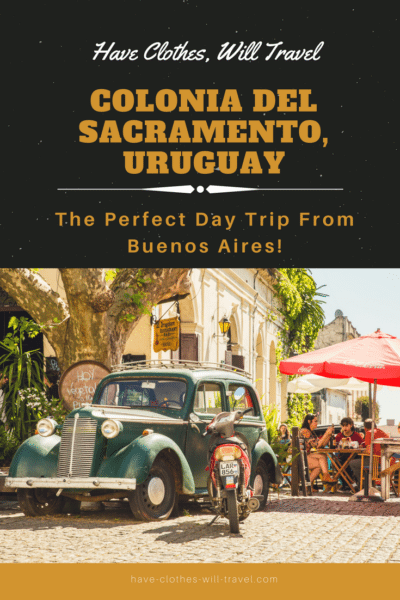 *Disclosure: some of these links are affiliate links. Meaning, if you click a link and make a purchase, Have Clothes, Will Travel gets a very small commission at no extra cost to you. Thank you for supporting the brands that make this blog possible! I am also a participant in the Amazon Services LLC Associates Program, an affiliate advertising program designed to provide a means for us to earn fees by linking to Amazon.com and affiliated sites.