4 Days in Ushuaia, Argentina – The Ultimate Itinerary
When I was planning my trip around Argentina, it worked out that we would be spending a total of 4 days in Ushuaia (a.k.a. The Southern Most City in the World). Now, spending 4 days in Ushuaia is not necessarily what most people do when they plan their adventures around Argentina or Patagonia. I could not find a single article on a 4-day itinerary when I was trying to figure out my time there!
I know it's much more popular to spend 2-3 days and many people only really have a day (before they embark on their ships to Antarctica). You don't necessarily need 4 days in Ushuaia itself, but if you find yourself there with this much time…hopefully this post will help you figure out what to do! I personally was happy we had this much time here. Ushuaia is such a cute little town with some great little places to eat and relax.
For this post, I'll explain when to visit Ushuaia, how to get around the city, what to do in Ushuaia as well as hotel and restaurants recommendations. Please let me know if you have any additional questions in the comments section at the end of the post!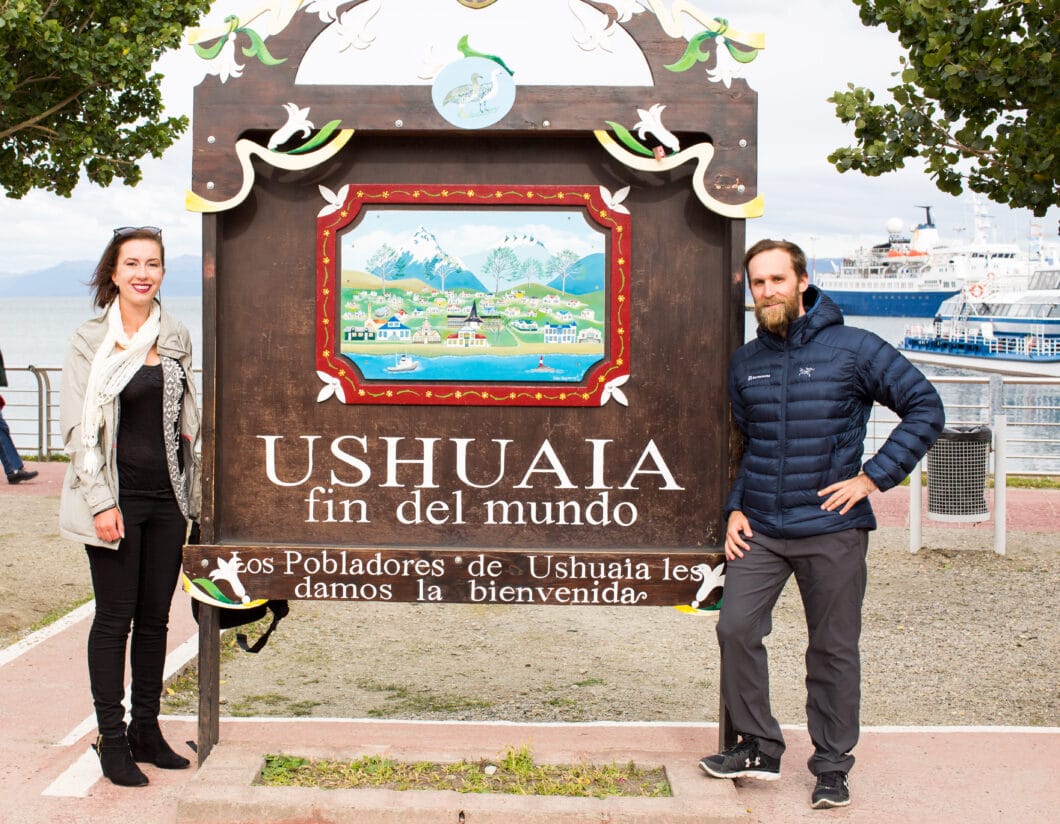 When to Visit Ushuaia
Don't forget, in the Southern Hemisphere the summer months are December, January and February and winter is June, July and August. The average high in summer is about 60 degrees Fahrenheit, while the average high in winter is about 40 degrees. You can visit Ushuaia at any time of year, however, it's going to be far more pleasant to do so during the summer months. (And many more attractions and businesses are open during that time as well.)
I, personally, was in Ushuaia in early March and the weather was in the 50s Fahrenheit during the day, and would dip down to the low 40s at night. There weren't many tourists here at that time of year either. I would recommend being here in late February/early March, as the weather is still pleasant, but the crowds aren't too bad!
How to Get Around Ushuaia
Getting from the airport to your hotel – From the airport to the city centre in Ushuaia is only about a 10-minute drive. I recommend taking a taxi to your hotel from the airport.
Another option is to rent a car from the airport. I, personally, wouldn't feel comfortable doing this, as traffic in Ushuaia is a bit tricky (the city is built on a steep incline, and traffic is rather aggressive). However, it's by no means impossible, as long as you are comfortable driving in these conditions.
Getting to Tierra del Fuego National Park from the city centre – If you didn't rent a car, then your best bet is to take a shuttle bus from the city centre to Tierra del Fuego. You can take also take a taxi. However, it's more cost-effective (and just as easy) to go to the shuttle terminal.
The shuttle terminal is near the tourist dock in Ushuaia (next to the gas station). If you're not sure where it is, you can ask any of the tourist information booths, and they'll point you in the right direction. There are tons of shuttle services operating out of here, but all of the tickets are the same price. So, don't worry! Walk up, buy your ticket, and get on the bus with the matching name to your ticket.
The tourist information center will have the most up-to-date times and stops for the shuttles.
Getting around Ushuaia itself – Most places within the city are easy enough to get to by walking. There is always the option to take a taxi as well.
How to Spend 4 Days in Ushuaia, Argentina
Day 1 – Scope out the town and local cuisine OR take a helicopter ride!
---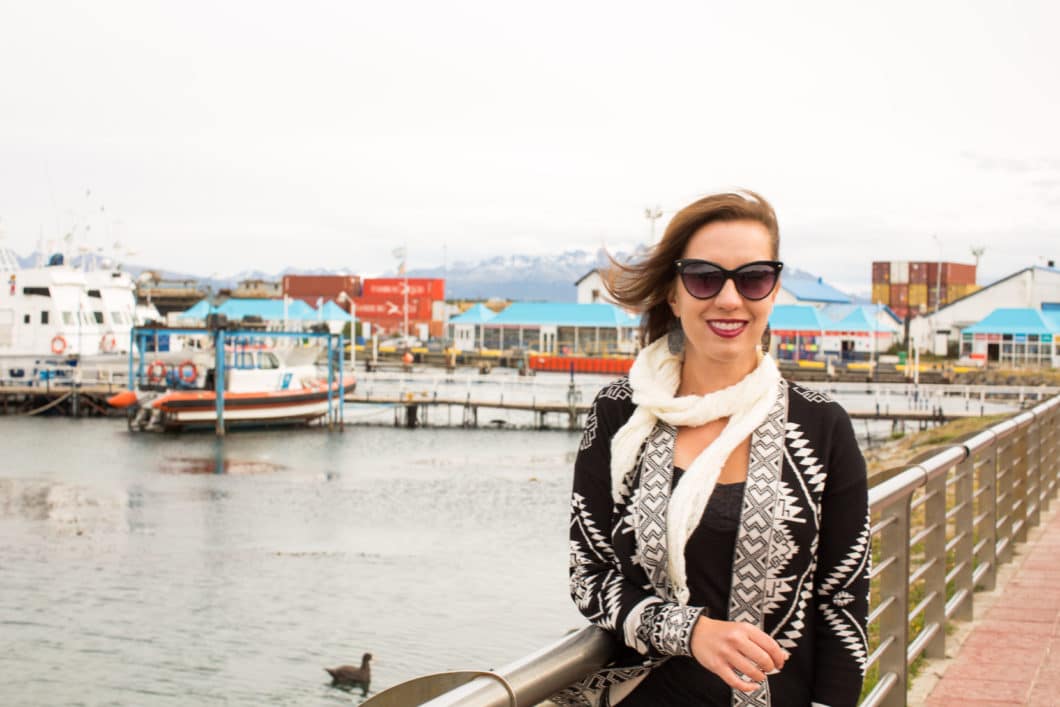 I'm going to be perfectly honest. After we got off our plane and found where we were staying, I was so sick and tired I needed a nap and some food.
So, we took it pretty easy the first day we were here and just meandered around Ushuaia for the day..eating and drinking hot beverages. Ushuaia is a lovely city. I loved just walking around to the different shops and cafes.
HOWEVER, if I had felt better, the plan was to take a helicopter ride around Ushuaia. It's one of the most highly rated things to do in Ushuaia and the photos I've seen from it look incredible!
Day 2 – Walk With the Penguins on Martillo Island
---
Hands down, this is the coolest thing to do in Ushuaia! You get SO close to the penguins. I also recommend putting this as early in your itinerary as possible because it's subject to weather conditions, which can be incredibly unpredictable. (If it gets canceled, this way you get a little more time to rearrange your itinerary if the weather gets nasty.)
There are several different tours that will show you the penguins from a boat (some are much more cost-effective than others). However, walking with the penguins on Isla Martillo is very up close and personal, and I recommend doing this over one of the boat tours. Plus, only 20 people are allowed on the island at a time, so it's very private.
*Please note, the penguins are not there year-long! Check with the tour company when planning your trip. (And yes, you have to use a tour company for this.) It's my understanding that they are not there in the fall/winter months and are only there in spring/summer to nest. And if you happen to be visiting at a time when there will not be penguins, try doing a catamaran tour to see the other wildlife in the area!
Day 3 – Hiking in Tierra del Fuego
---
You have to spend at least one day hiking in Tierra del Fuego National Park. It's SO beautiful, and there are several day hikes you can choose from. Everything is well marked and easy to navigate, so you won't need a guide.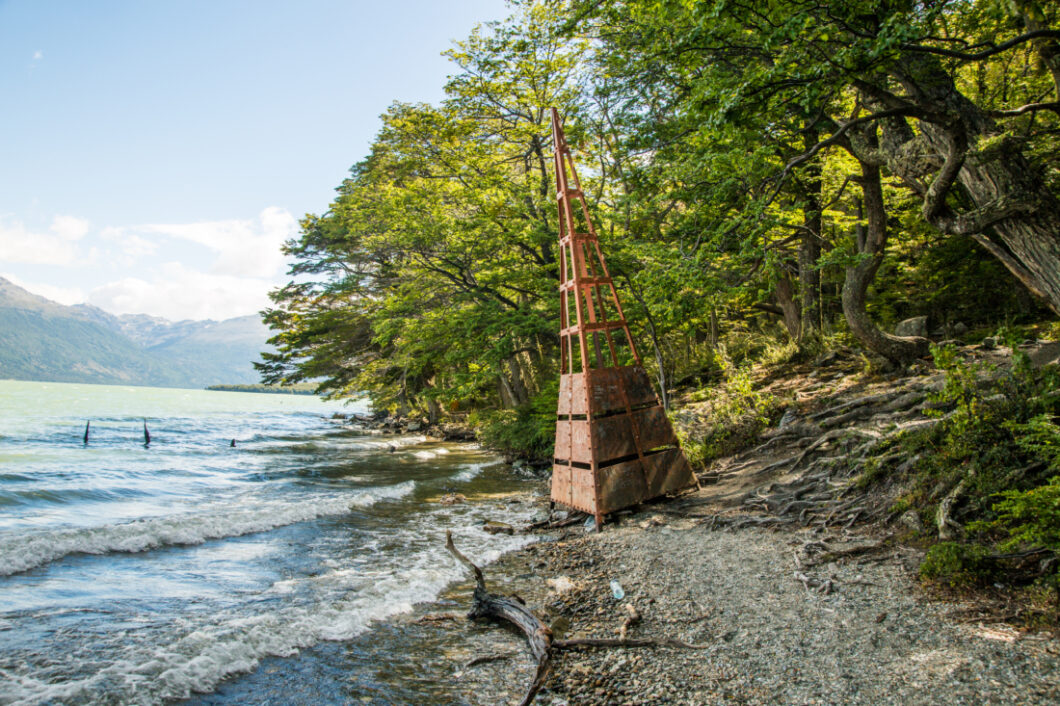 Day 4 – Sailing the Beagle Channel
---
You also have to spend at least a half day on the Beagle Channel! And one company does offer you the chance to sail it, instead of just taking a regular old boat tour!
Lodging
---
Now, I can't speak for every establishment in Ushuaia. But we had stayed at Hotel Mustapic, and for the price, we were quite pleased. It was by no means glamorous (and it was rather dingy), but again, for the price…there were no complaints! The owner and front desk staff were all very kind as well. The breakfast area has some wonderful views, and breakfast was some decent coffee and medialunas. So, if you require a larger breakfast, plan to eat out! (And see the next section.)
*For luxury accommodation, I advise staying at Arakur Ushuaia Resort & Spa. It's a gorgeous hotel with breathtaking views…& it's where Leonardo DiCaprio stayed while he was filming "The Revenant" here.
Views from Hotel Mustapic
Where to Eat in Ushuaia
---
Breakfast/Lunch
*Tante Sara – we came here for breakfast a couple times while we were in Ushuaia. (You can actually get scrambled eggs!) They have a great selection and everything was very tasty! We actually stopped back and had a really good burger for lunch one day too!
Lunch/Dinner
*Kalma Resto – one of the finer dining experiences you can find in Ushuaia, and heck, I'd say it was one of the finer dining experiences of my life! My husband and I opted for the chef's recommendation and did a tasting menu of a bunch of different dishes + a wine pairing. Everything was delicious and beautifully presented. The chef also came out to explain each dish. He actually grows a lot of the ingredients himself or forages in the nearby woods for them. (I thought that was neat!) This was top-notch dining and service!
*Paso Garibaldi – also a very fine dining experience! They have amazing seafood. Their crab ceviche is amazing. But come here for their Patagonian toothfish! It's a fish that lives in the ocean at temps between 34–39 °F and at depths of 148 feet. It's one of "the" things to eat in Ushuaia, and it is SO tasty. This restaurant also has a fantastic dessert menu…so, be sure to save room for that. (Service was top-notch here as well, and the decor was super cute.)
*Villaggio – This is where we came for our King Crab experience. Toothfish is one thing you have to try in Ushuaia, and King Crab is the other. It's like a Red Lobster…you pick your crab out of the tank and then the chef prepares it for you in back. It's pretty darn pricey. My husband and I split one crab and then ended up getting a bowl of soup to fill us up. But the crab was really good!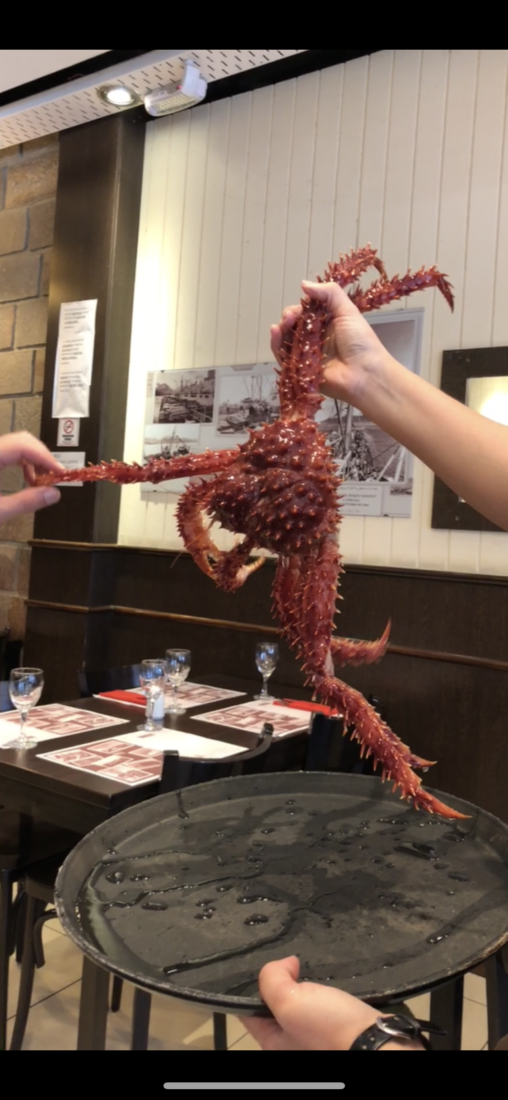 *Bar Ideal – It's the oldest bar in town and has a lot of fun memorabilia throughout the place. It has some great comfort food. I honestly can't remember what the name of the dish was, but it had a bunch of different seafood and ton of blue cheese…and my husband and I both loved it. However, I did feel this place was a bit overpriced for what you get + the service is just awful. But if you're looking for some hearty comfort food in a neat little bar, overlooking the sub-par service isn't a big deal.
G Adventures is hosting last-minute group tours deals to Argentina that are up to $1,000 off.
Travel Insurance
It's a good idea, no matter where your adventure takes you, to have travel insurance. You never know what might happen! Whether you get sick before your trip and can't go, or you become sick or injured while on your adventure – being covered with travel insurance is a must. Some credit card companies do provide this service (check with yours), or you can get a free quote from travel insurance companies such as RoamRight or Squaremouth to find the best plan for you and your adventure.
Visa Requirements
To check if your country requires a Visa for traveling to Argentina, click here.
Want to Learn Spanish Before Your Trip?
Knowing some basics in Spanish can be helpful for your time in Argentina. Try a free 3 day trial of Rosetta Stone (the best way to learn a foreign language) by clicking here.
Please let me know if you have any questions about Ushuaia in the comments! I'd be happy to help. And I'm curious, which day looks like the most fun to you? Let me know in the comments, too!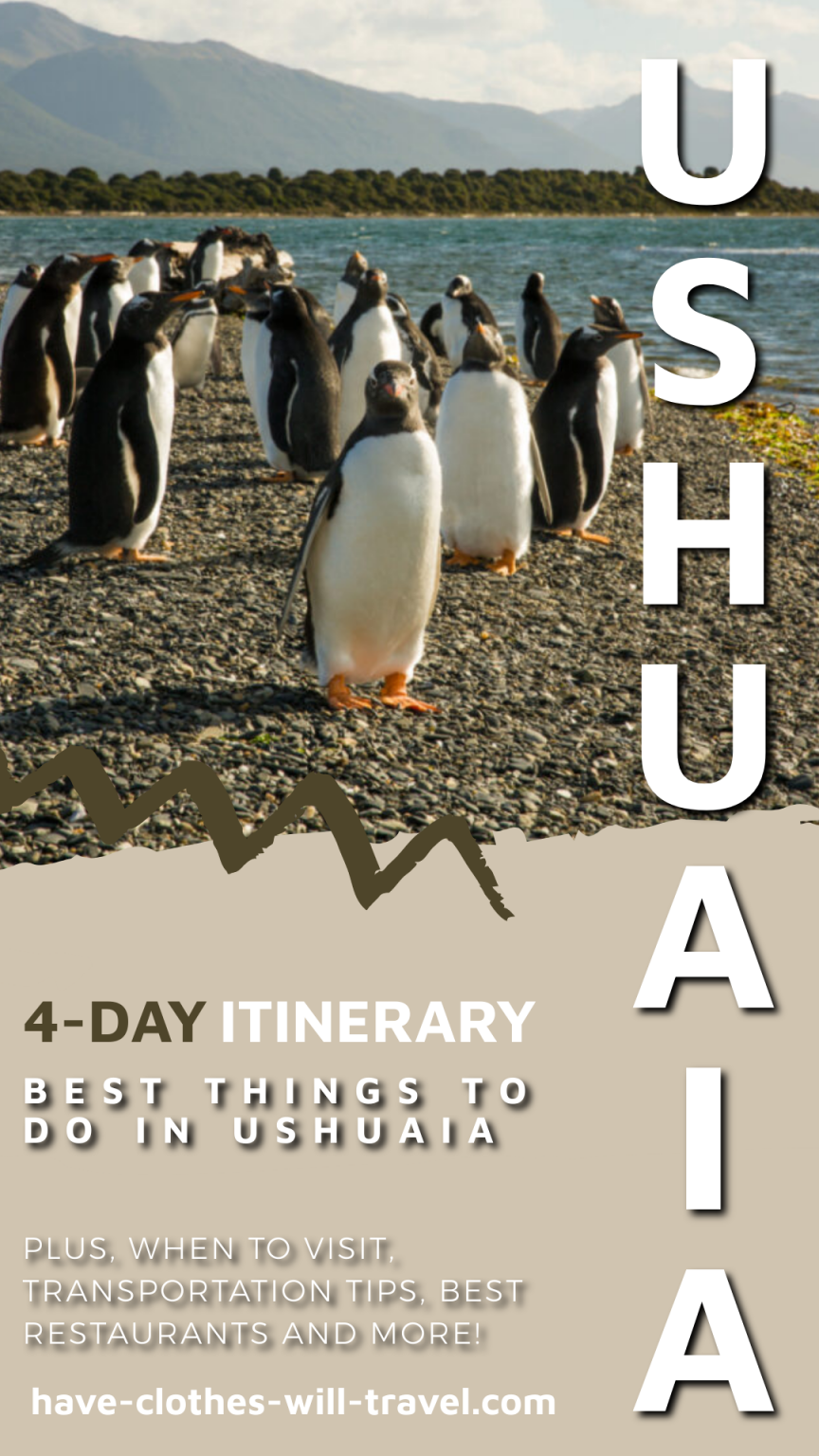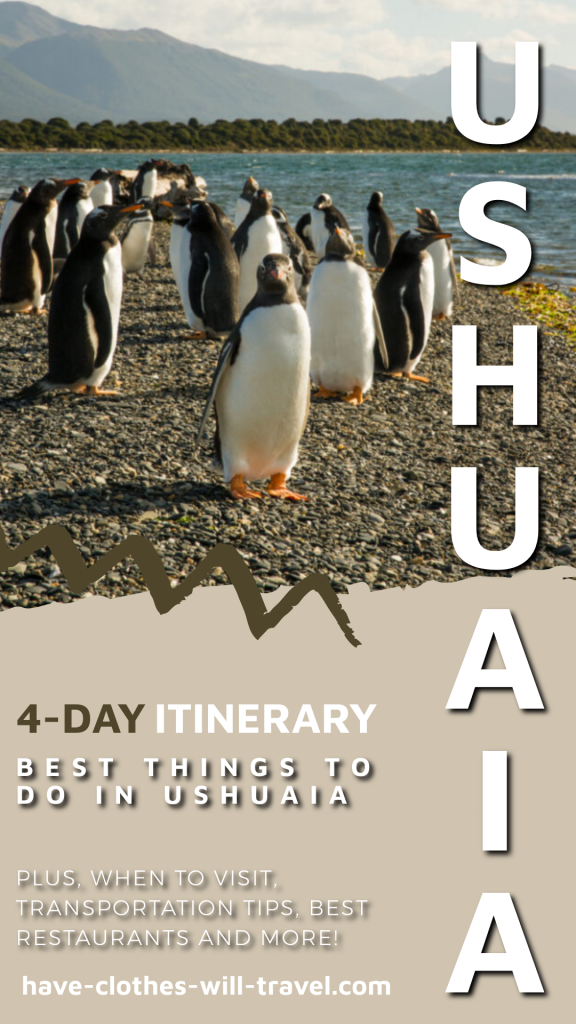 *Disclosure: some of these links are affiliate links. Meaning, if you click a link and make a purchase, Have Clothes, Will Travel gets a very small commission at no extra cost to you. Thank you for supporting the brands that make this blog possible! I am also a participant in the Amazon Services LLC Associates Program, an affiliate advertising program designed to provide a means for us to earn fees by linking to Amazon.com and affiliated sites.