20 Fun Things to Do in Wisconsin in Winter by a Local
While winter in Wisconsin tends to get a bad rap, it is truly a beautiful time of year with plenty of things to do. You just have to bundle up!
As someone who has lived in Wisconsin for over 20 years, I've rounded up some of the most fun winter sports and activities here! With more than 60 state parks waiting to be explored, ice caves (seriously!), winter light festivals, frozen lakes, and giant bonfires – there are plenty of cool outdoor activities (terrible pun intended).
But don't worry, if you're not up for freezing in the great outdoors – there are also plenty of things to do in Wisconsin during winter INDOORS as well! This post is here to help you decide how to make the most of your time in Wisconsin during our infamous winters. I'm also happy to answer any questions in the comments!
20 Fun Things to do in Wisconsin in Winter by a Local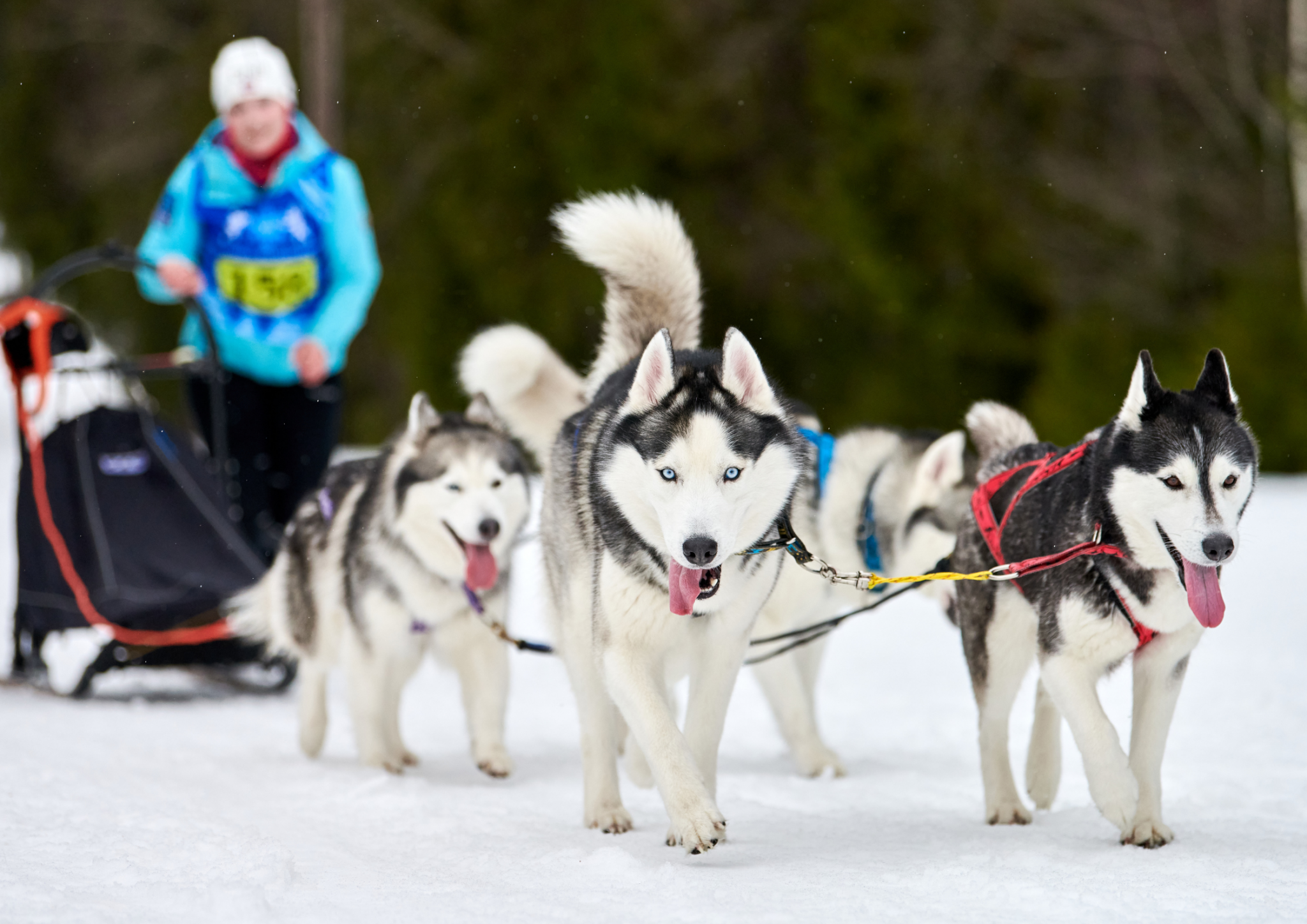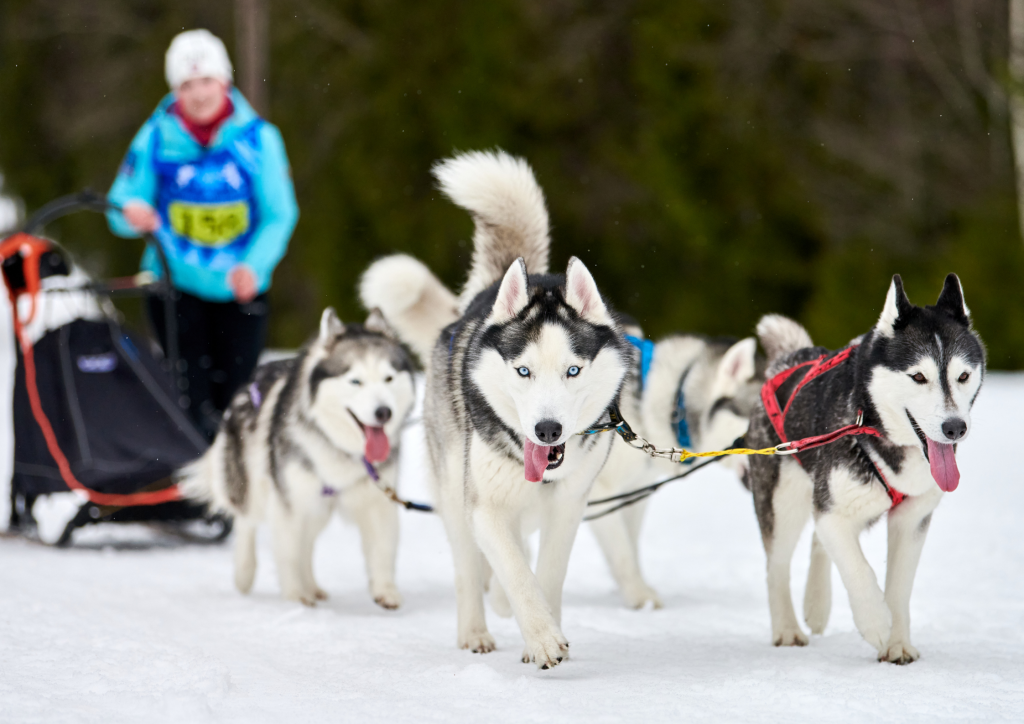 Witness the Annual Winterfest Sled Dog Race – Merrill
Humans and top-caliber canines pair up to race across the frozen tundra in what is known today as the Merrill Sled Dog Race by the Wisconsin Trailblazers Sled Dog Club. This annual competition drives in locals and tourists who are fans of the sport; some can even get to know the animals up close (with the owner's permission, of course) and be surprised by some unique breeds—apart from the trusted Siberian huskies—joining the roster.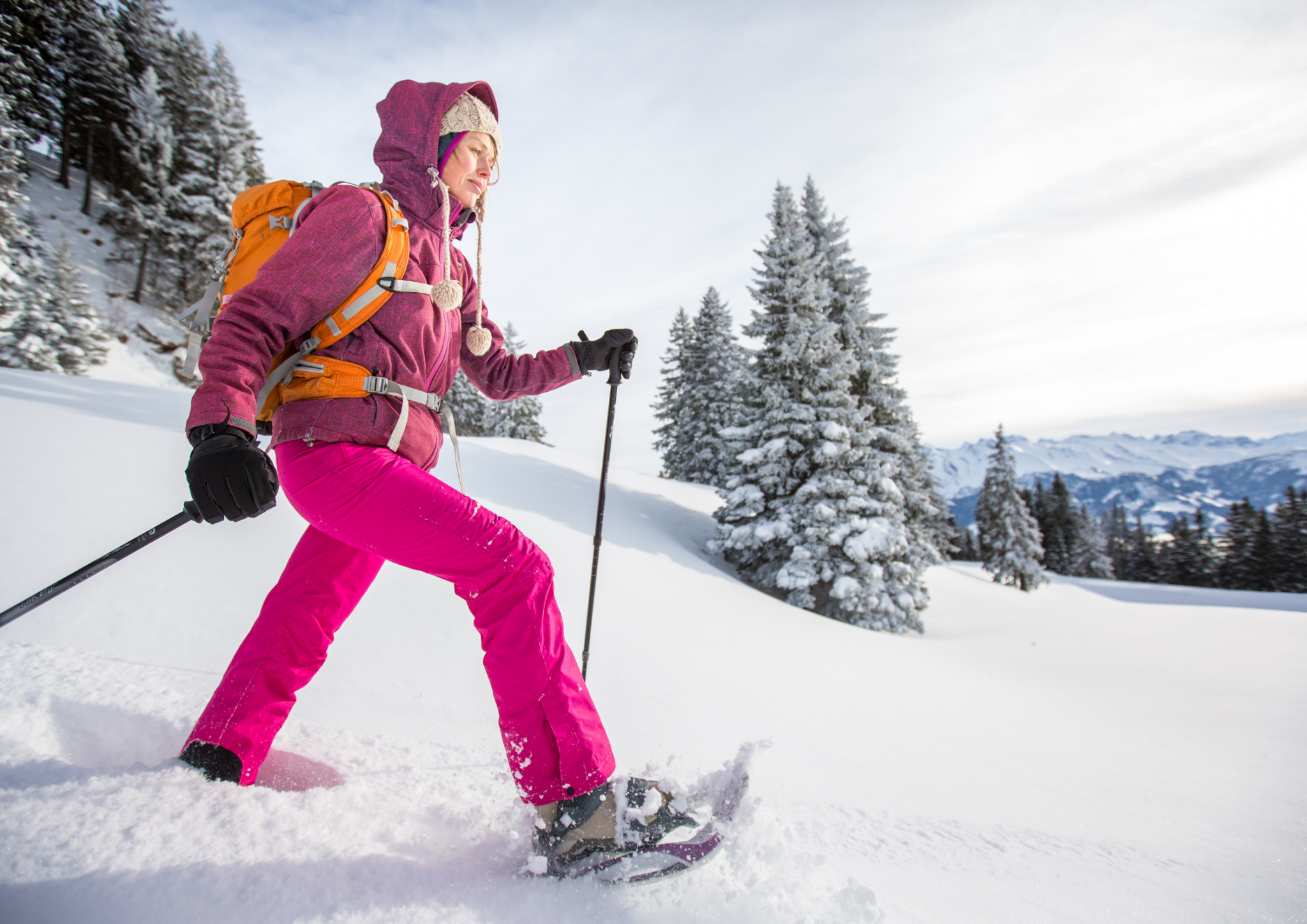 Try Cross-Country Skiing and Snowshoeing at Nine Mile Forest – Marathon County
At over 4,900 acres, Nine Mile Forest is Wisconsin's jewel hub of outdoor activities. Mainly comprised of marshes, lush uplands, and water impoundments—all of these are intensively managed so that locals and tourists can enjoy biking, trekking, and hiking during the summer as well as snowshoeing, cross-country skiing, and snowmobiling come winter.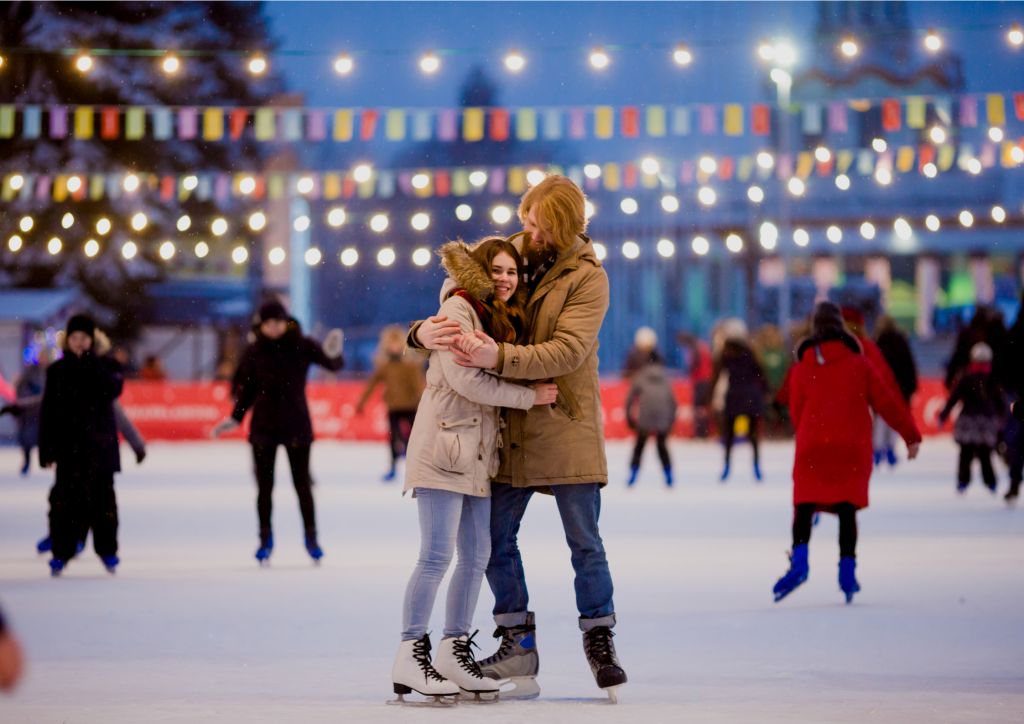 Ice-skating at The Edgewater Ice Rink in Madison
Ice-skating side-by-side with family and friends is non-negotiable during winter, and you can set your sights on The Edgewater Hotel's ice rink, a skating wonderland located in Madison. Skate to your heart's content while reveling in the views of Lake Mendota and the State Capitol, then warm up inside The Icehouse with a cup of hot cocoa paired with a tasty meal.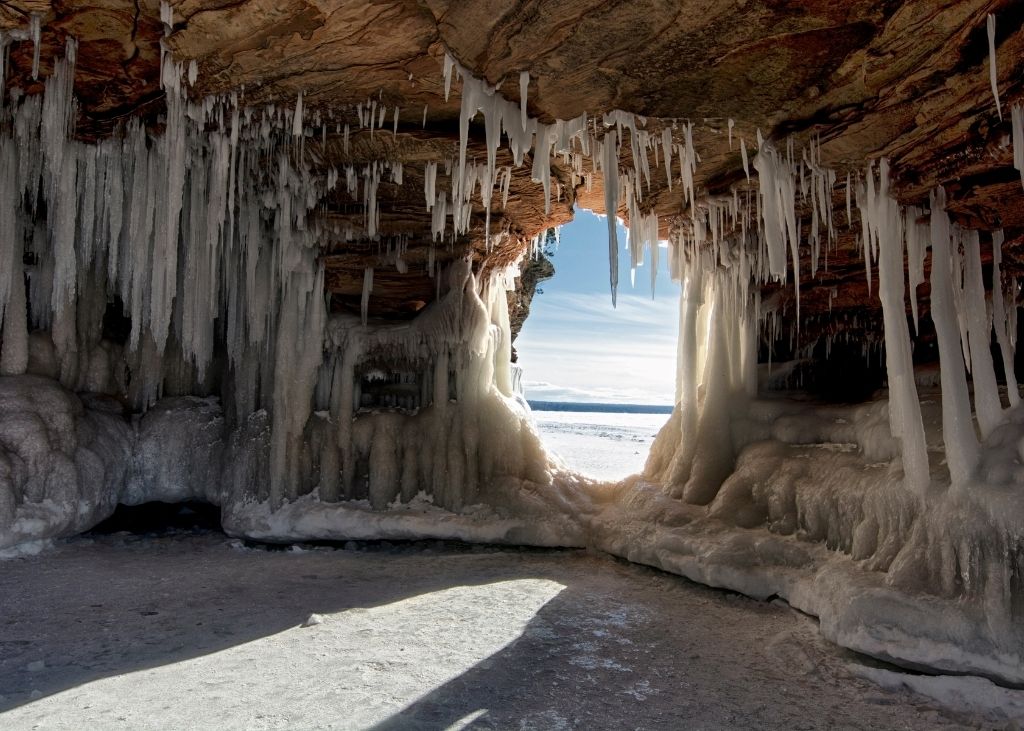 Visit the Ice Caves of Apostle Islands Near Bayfield
The Apostle Island National Lakeshore is tough to get into during winter; but if you're lucky, you might catch sight of the majestic ice caves adorned with glistening icicles, as well as an entire cliff sheathed in ice. Factors like a good and solid ice surface and wind direction play key roles in ensuring a safe journey to the ice caves. To keep up to date on the conditions, you can call "the ice line" at 715-779-3397 ext. 3 or by visiting the Park Service's website.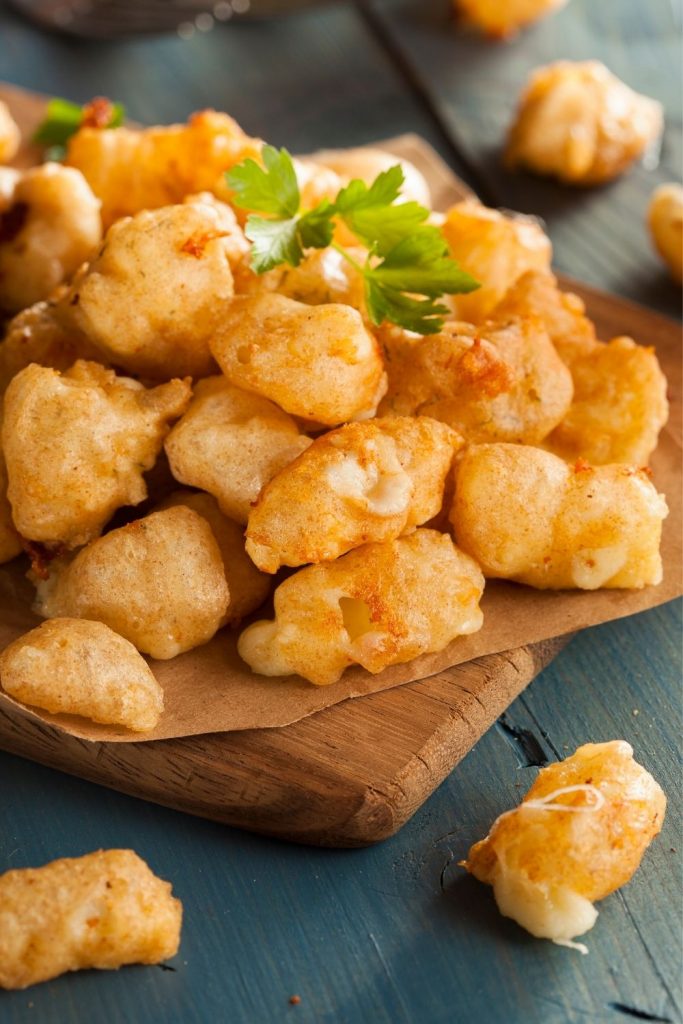 Warm Up with a Madison Food Tour
Winter is the best time to indulge in comfort foods. The chilly atmosphere will have people flocking to local cafes and pubs to warm up, and luckily, Madison offers some of the best eats and drinks fill you up! On the menu are artisanal chocolates, pastries, cheese, craft beers, ethnic foods, and more.
Enjoy a Holiday-themed Show in the Dells
Winter entertainment in Wisconsin is filled with sparkling lights and beautiful ornaments. Locals and tourists can expect festive holiday-themed shows and theatre performances—one of which is singing along and listening to Christmas songs at the Crystal Grand Music Theatre or watching a heartfelt musical in Dells' Palace Theatre.
Experience a Rejuvenating Winter Wellness Treatment
Winter is also the time to break the work cycle and treat yourself to a rejuvenating spa. Book a calming massage at The American Club at Kohler Water Spa or try luxury facial treatments at the Grand Geneva Resort & Spa. Another option is to relax in hot tubs and heated pools surrounded by nature and the wilderness to enhance the overall spa experience.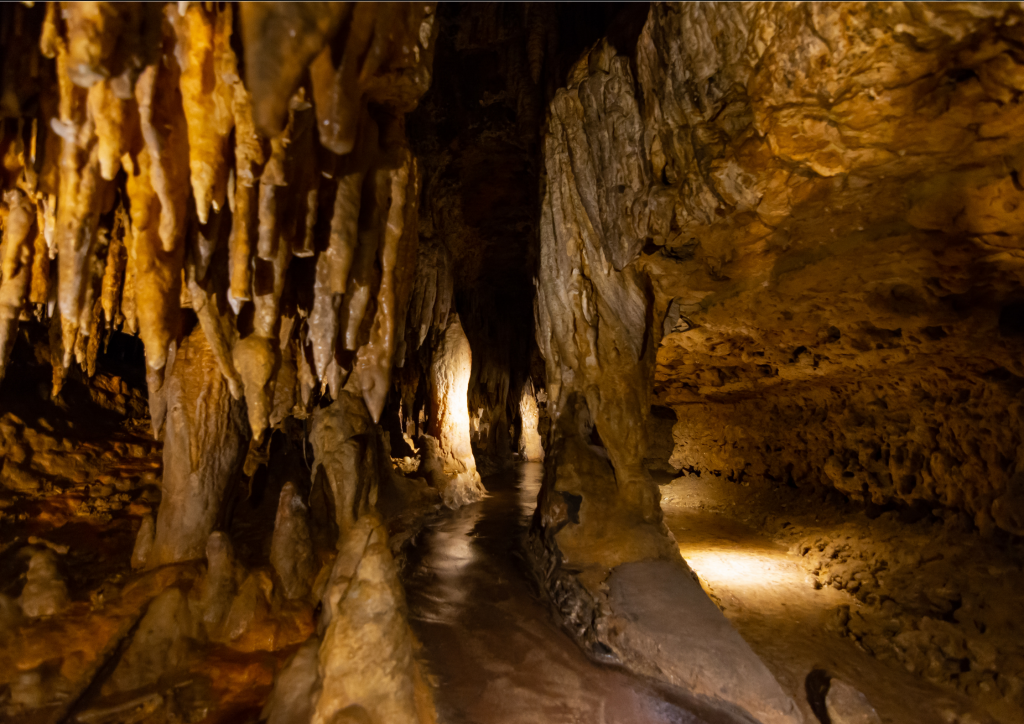 Try Spelunking at Cave of the Mounds – Blue Mounds
A natural wonder in its own right, Cave of the Mounds is home to some of the best limestone formations you'll see when you go spelunking through the cavern. The mineral formations called speleothems—some of which are glow-in-the-dark—take in a variety of forms built over time, thus rendering to the cave's beautiful and mystifying nature. The cave maintains a temperate 50-degree atmosphere year-round.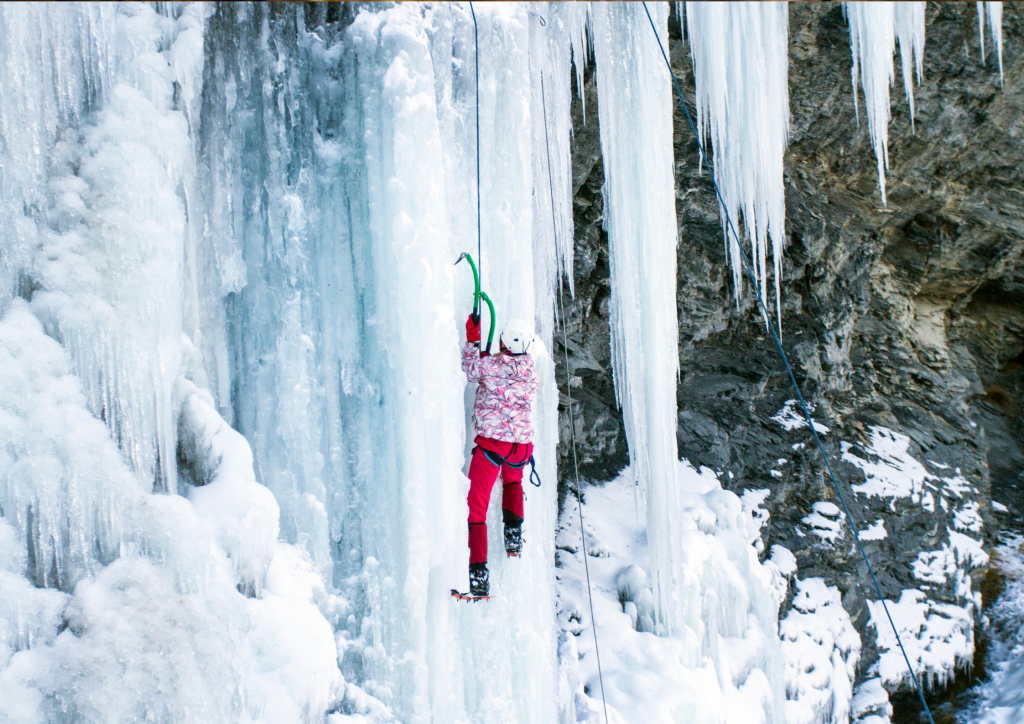 Climb the Ice Wall at Governor Dodge State Park
A gripping alternative to rock climbing is ice climbing, and you may do so in Governor Dodge State Park where a frozen Stephen Falls has over 20-foot of climbing surface—ideal for beginners and experts to practice on. Guided ice climbing tours are also available at Vertical Adventure, as well as advanced climbing for experts at Pictured Rocks National Lake Shore.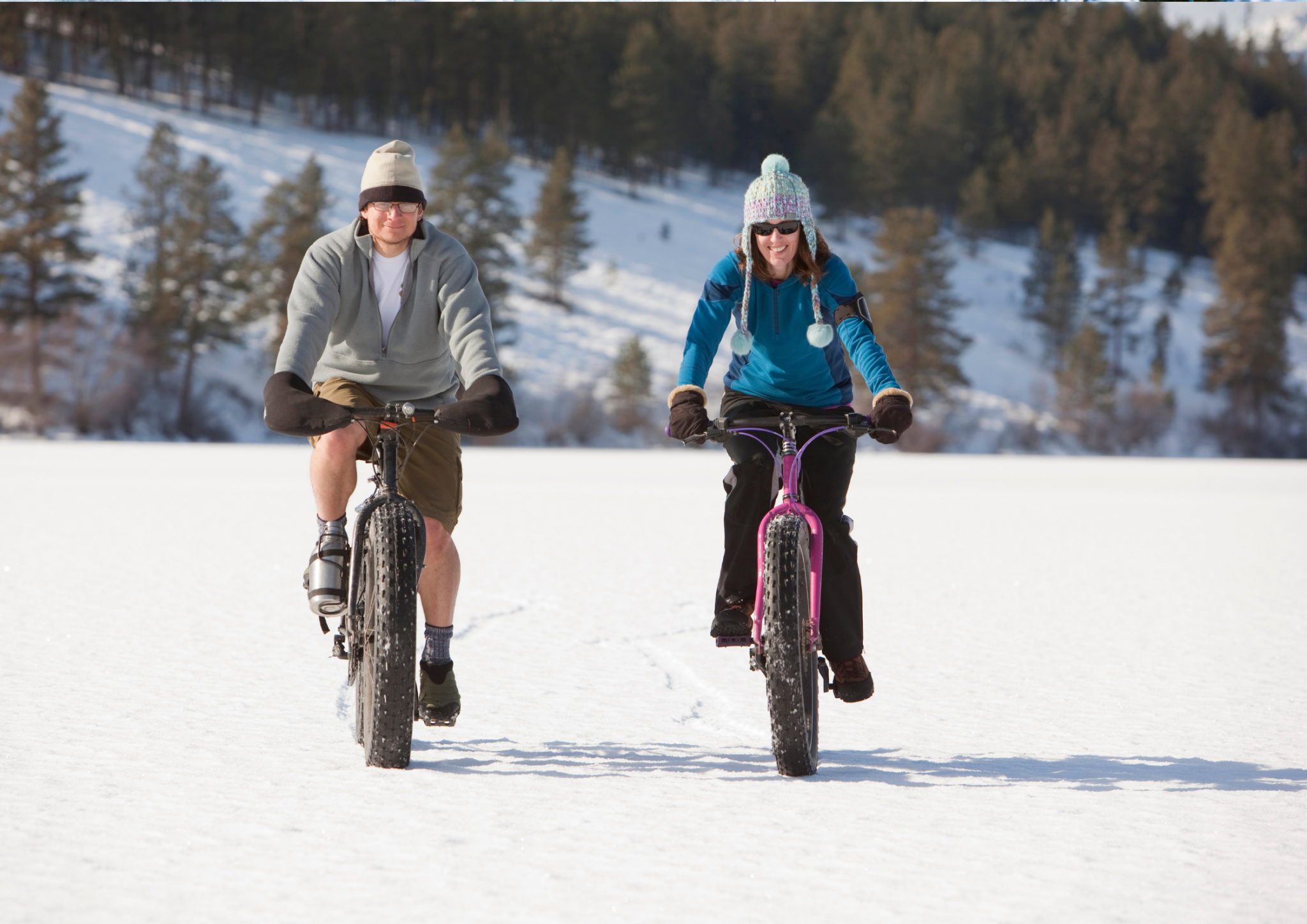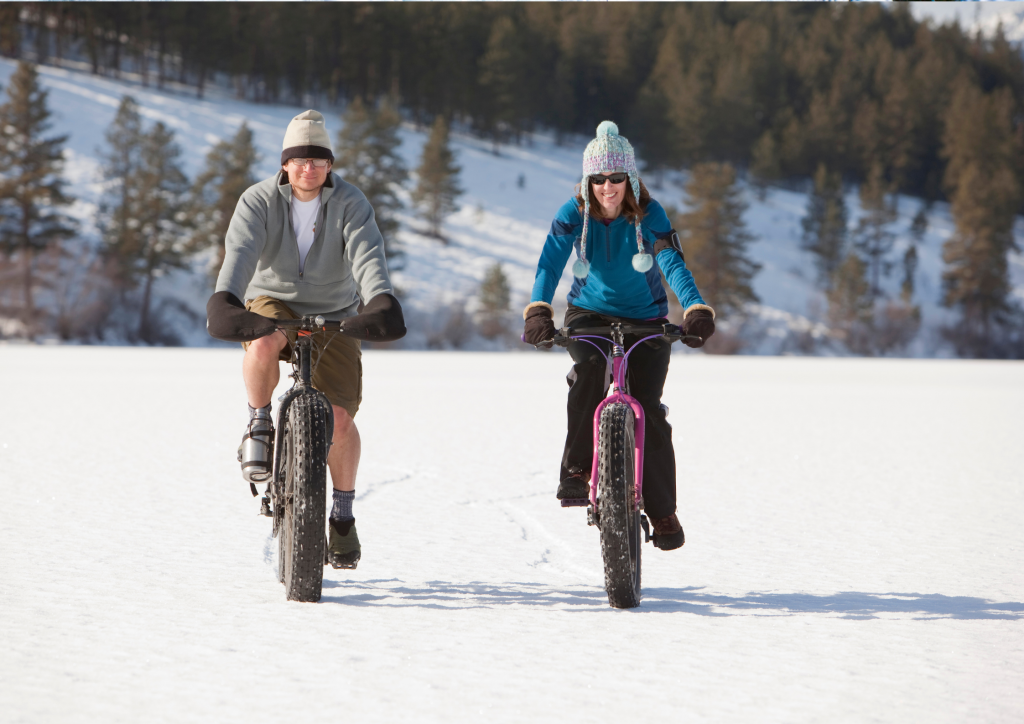 Drive or Bike on Frozen Lake Winnebago
Hardcore cyclists may love the hair-raising feat of cycling through Lake Winnebago. You'll need a bike fitted with studded tires to get through 18 miles of frozen tracks and the landscape view while cycling is definitely one for the books. Those with a car can drive between Oshkosh and Quinney as the frozen lake is maintained with bridges for the safety of visitors.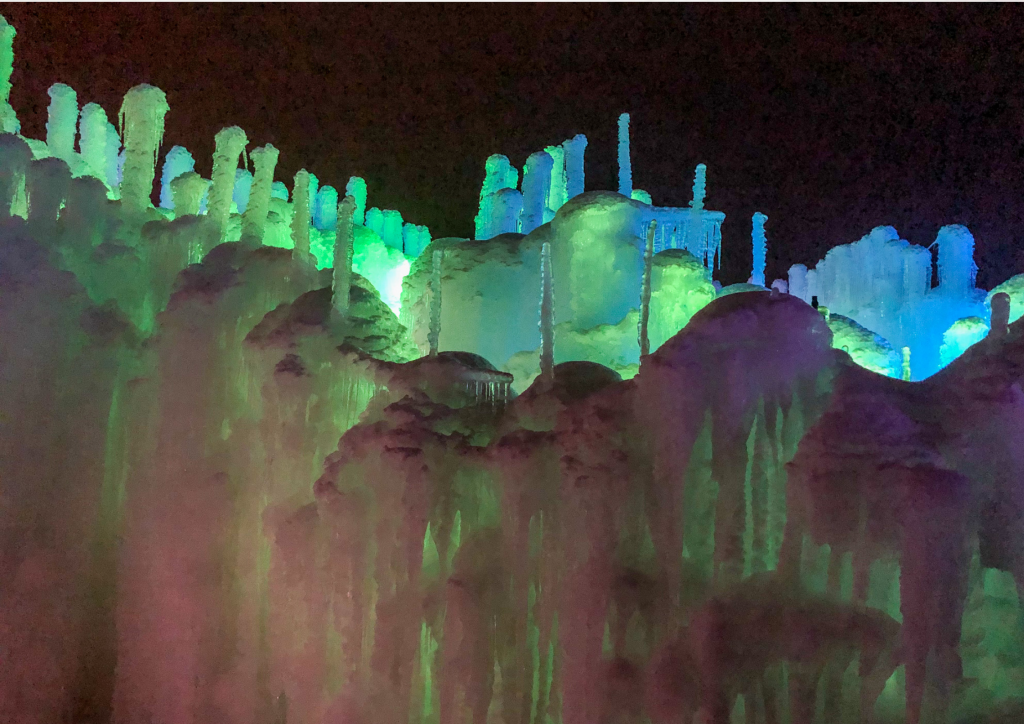 Visit a Colorful LED Ice Castle – Lake Geneva
Ice Castles in Wisconsin is an award-winning attraction that adults and kids will enjoy. Only five cities in North America run this, WI included. It's painstakingly built by professional ice artists by hand-placing hundreds of thousands of icicles to build a castle. LED light fixtures are used to enhance the beauty of the sculptures, and visitors can also enjoy the slides, frozen thrones, ice tunnels, and fountains that are available on sight.
Ski Granite Peak's 700-foot Drop – Wausau
You're in for an unforgettable thrill should you try skiing in one of Wisconsin's biggest vertical drops—the Granite Peak at Rib Mountain. It affords thrill-seekers a 700-foot drop of ski adventure, and there are 200 acres of terrain spread out across 60 trails to explore—all serviced by Wisconsin's fastest lifts. Granite Peak also offers lessons for groups, kids, and beginners from January to February.
Try the Toboggan Ride at Waukesha's Lowell Park
For some snow fun with the kids, tobogganing is the way to go. Waukesha's Lowell Park lets riders experience the thrill of sliding down snow-covered slopes and through a 350-foot lighted chute on a traditional sled. A toboggan rental and day pass cost $10, but riders can also bring their own equipment.
Attend the Snowflake Ski Jump Tournament – Westby
Interested in extreme sports? Viewing the annual Ski Jump Tournament in Westby is a start. It's one of the many winter festivities in Wisconsin that draws a ton of spectators and participants. Local and international jumpers battle it out to the extremes on a 118-meter Olympic-sized slope with participants traveling at speeds up to 50 miles per hour. The one who jumps the farthest wins the title.
Join the Snow Sculpting Championship and Winterfest – Lake Geneva
Larger-than-life snow sculptures crafted by some of the most talented and award-winning sculptors in the country convene in Lake Geneva for the annual Snow Sculpting Championship. Watch 15 state-champion teams create towering shapes of snow art, take a photo for keeps before they all melt, and then go for an ice sculpture tour downtown afterward.
See the Hudson Hot Air Affair – Hudson
The Hudson Hot Air Affair is a unique annual attraction in St. Croix Valley where spectators can watch colorful hot air balloons fill up the sky. No balloon rides are available during the event, but those interested can book rides off-site. Families can also enjoy pocket events like the craft fair, kite flying, torchlight parade, ice carving, and food fair.
Stay in Hayward for the American Birkebeinerrennet Fest
Birkebeinerrennet is a cross-country ski marathon that originated from Norway. One ski resort owner saw fit to have an American version of it in Hayward that it became a well-loved event since. Ski events include junior ski races, the Kortelopet (29K), skijoring, the 50K Freestyle, and 55K Classic Birkebeiner race.
Join Fellow Skiers and Snowshoers at Book Across the Bay – Ashland
When frozen, Lake Superior becomes one of Wisconsin's unique attractions at night—thanks to Ashland's Book Across the Bay event. Over 1,000 candles and bonfires light up the 10-kilometer route all the way to the other side of Washburn, and it truly is a sight to see made even more fun when treading with fellow skiers and snowshoers.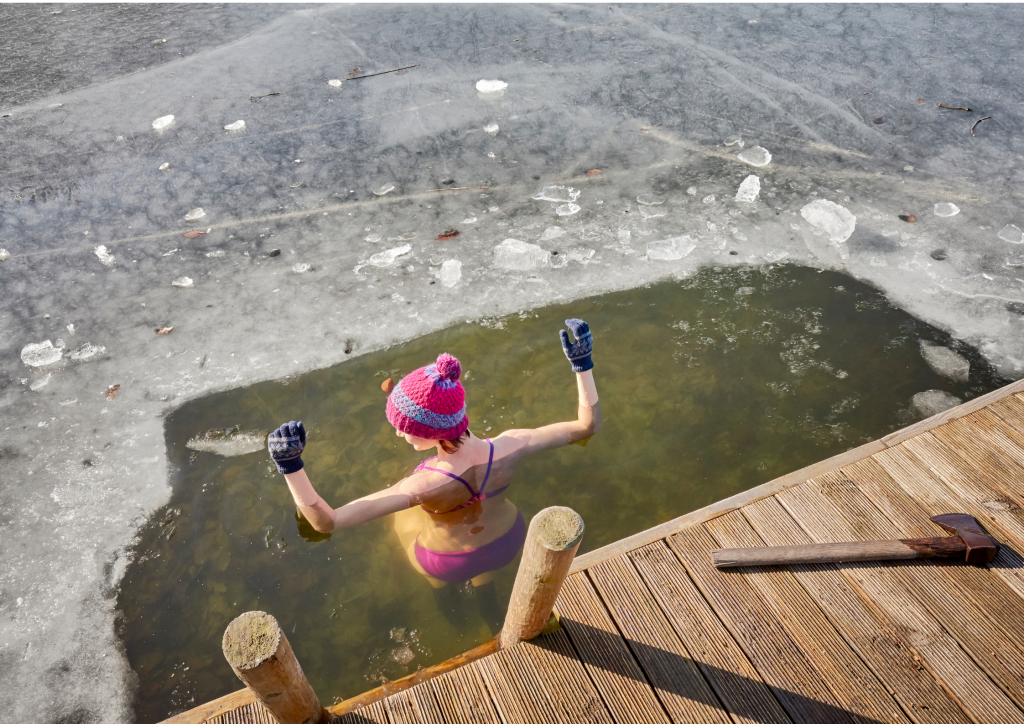 Take the Polar Plunge for a Cause
Plunging into freezing waters may not be everyone's cup of tea during winter, but the Polar Plunge for a cause might just change your mind. All raised money (minimum is $75) from the event is directed towards the Special Olympics, and there are 13 cities hosting the cause. Not to worry, as precautions are placed around the event for the safety of everyone.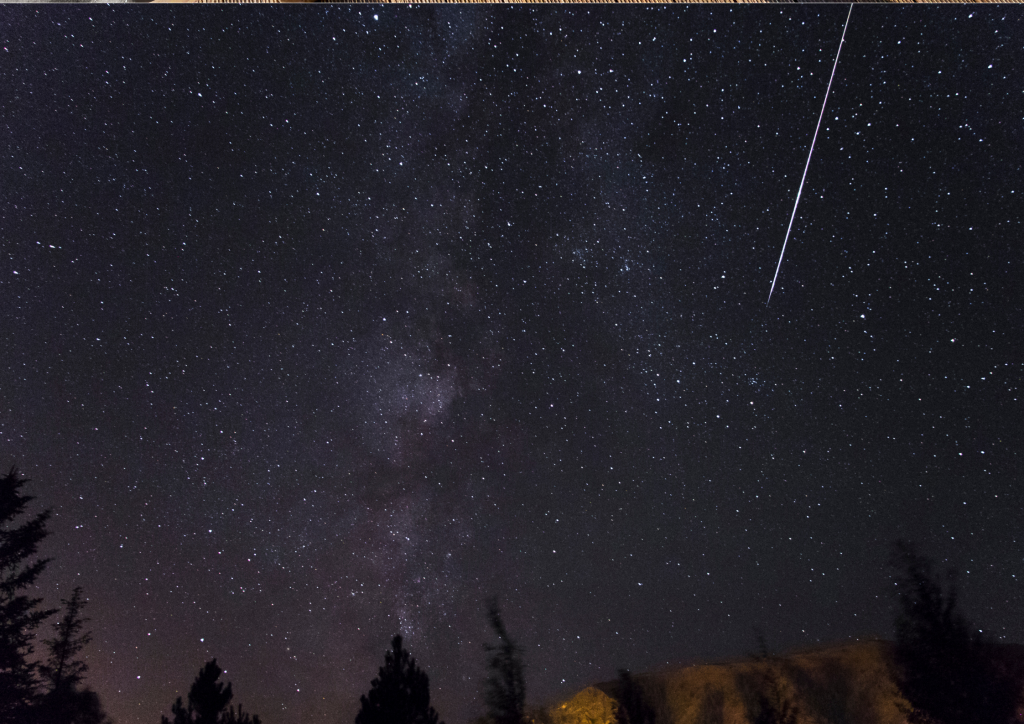 Witness the Geminid Meteor Shower at Newport State Park – Ellison Bay, Door County
See nature work its wonders through the Geminid meteor shower—one of the most reliable meteor events in Wisconsin. The peak starts on the evening of December 13 until the early mornings of December 14. The Newport State Park of Door Peninsula near Ellison Bay lends to spectacular views of the meteor shower and stars at night.
Now I'm curious, which of these things is your favorite thing to do in Wisconsin during winter? Let me know in the comments!