20+ Brands Like Farm Rio For Bold and Bright Fashion
Whether you are packing for a vacation, preparing for the summer ahead, or moving to a tropical island (we wish!) you can find all of the perfect warm weather essentials that you will need by shopping these fabulous brands like Farm Rio!
What is Farm Rio?
Farm Rio is a Brazilian-based brand out of Rio de Janeiro, and they believe in using all of the colors and shapes that nature gives us, as well as keeping their culture alive and thriving. Farm Rio got their start as a shopping stall selling clothing designed by founders Katia Barros, and Marcello Bastos.
Farm Rio strives to create beautiful feminine clothing with all of the big, bold, bright colors that are popular in Brazilian culture. From a shopping stall to a store, to now being sold around the world, in big-name stores like Anthropologie. Farm Rio is a brand that loves its customers and wants them to be comfortable, feminine, and BOLD.
Chances are you are already checking out the Farm Rio stores, but what about other brands that embrace that colorful, feminine, flirty feel? Here is a list of 24 brands that are a lot like Farm Rio that you are sure to love!
Have Clothes, Will Travel uses affiliate links. Meaning, if you click a link and make a purchase, Have Clothes, Will Travel gets a very small commission at no extra cost to you. Thank you for supporting the brands that make this blog possible!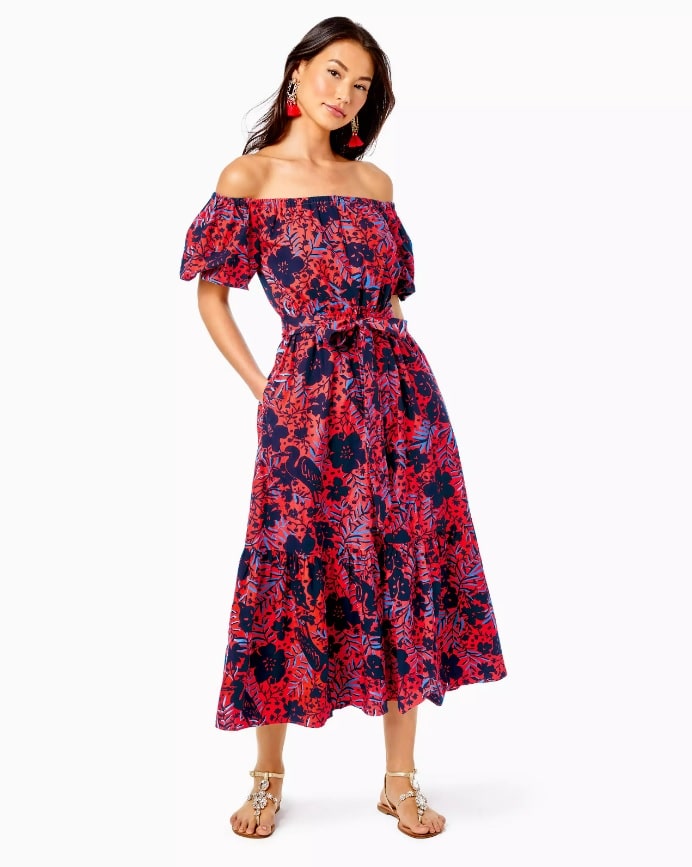 Lilly Pulitzer
If you are looking for bold, lightweight, resort wear then Lilly Pulitzer might be worth checking into. They have beautiful dresses, swimwear, activewear shoes, and accessories in bright colors and prints, in super comfortable fabrics. They also offer matching sets if you have a mini-me who wants to dress like her mom!
Read next: Honest Lilly Pulitzer Review of Their Dresses for Quality & Sizing
Free People
Free People is another clothing line that you might enjoy if you also like Farm Rio. Free People offers beautiful brightly colored dresses in fun fabrics and bohemian styles. You can also find a selection of activewear, lingeries, shoes, and accessories to go with all of their beautiful outfits.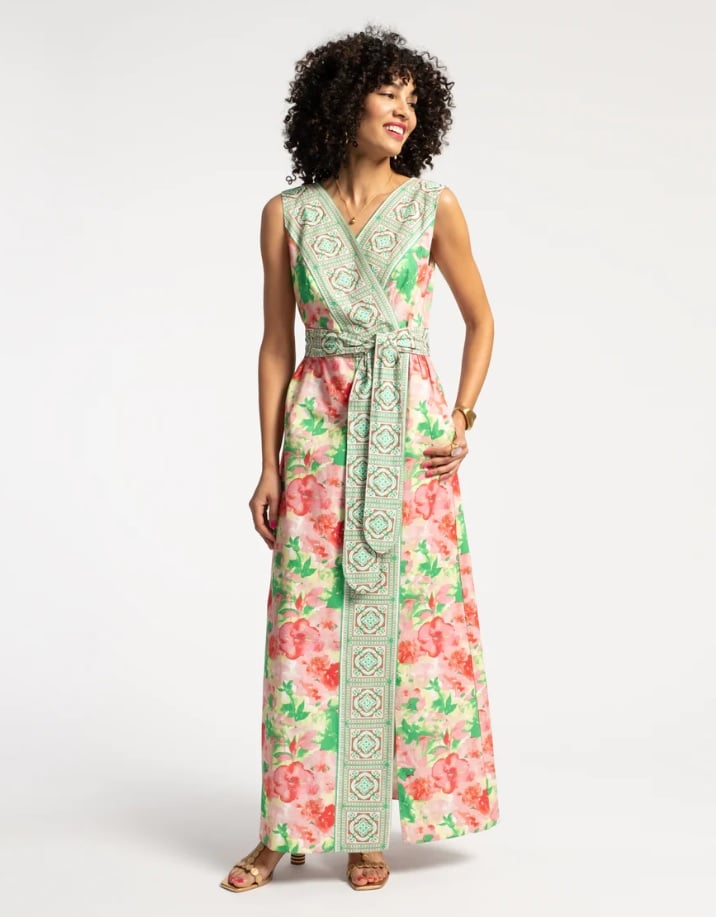 Frances Valentine
If you love the bright colors and bold patterns used in Farm Rio designs, you'll also love Frances Valentine. The brand also includes a wide range of colorful accessories including shoes, handbags, jewelry, and small leather goods. The designs of Frances Valentine products are known for their playful and whimsical aesthetic, often incorporating bold colors, patterns, and unique details. They do tend to be slightly more expensive than Farm Rio, but the quality of their products is fabulous.
Read next: My Honest Frances Valentine Review for Dresses, Shoes, & Handbags
Kachel
Kachel is an Australian-based clothing company that aims to fuse art and fashion. The designs are from founder Jana Kachel. You will find pastel and feminine paisley as well as some eye-popping tie-dye, and prints here. In addition to beautiful dresses, they also have blouses and bottoms. If your style is boho-chic or romantically feminine, you will find a cart full of clothing here.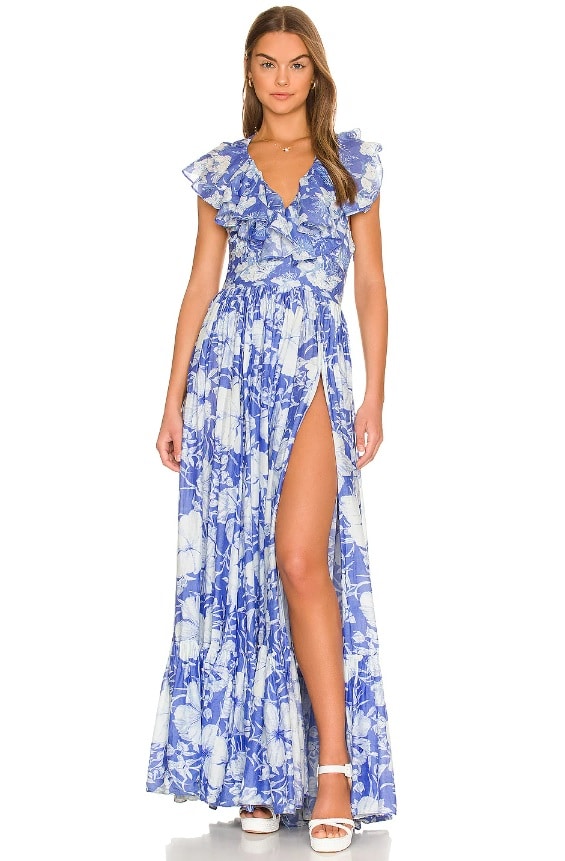 LoveShackFancy
If your closet is full of frills, ruffles, and feminine styles then you need to take a look at the collections at LoveShackFancy. This is the place to find floral prints for dresses, activewear, and home decor. If you're looking for the perfect matching outfits for a photo session they have you covered there too.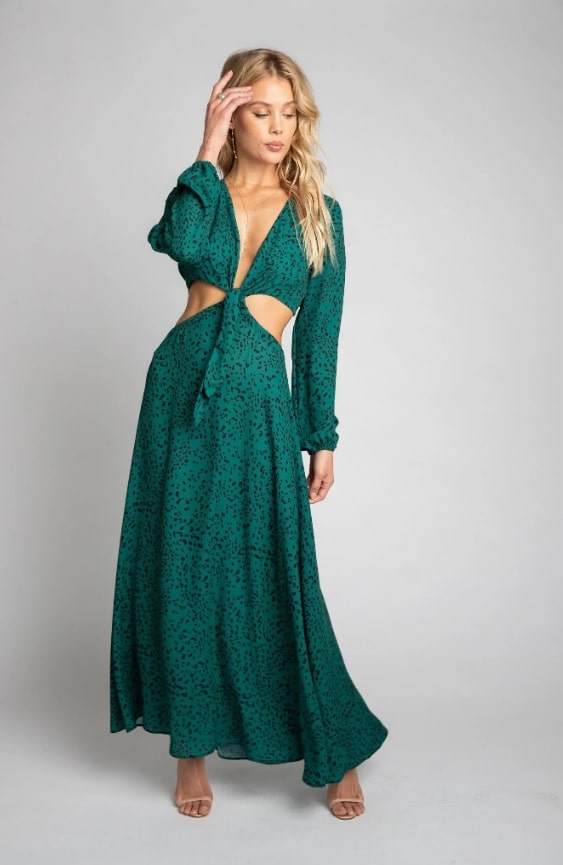 Resa
Resa is a clothing line founded by Suzanne Marchese, who began her fashion career at Glamour Magazine and US Weekly. Her love of vintage fashion and California styles is highlighted in her designs. You can find lightweight bohemian-style dresses for all body types as well as loungewear, and wedding apparel on the Resa site.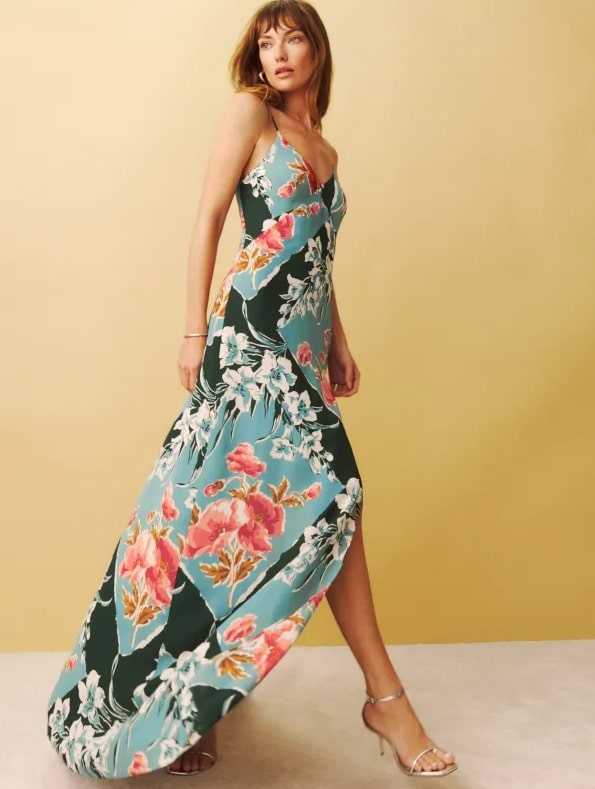 Reformation
Reformation carries a wide range of fashionable and feminine, sustainable clothing… and they even make sustainable wedding dresses and bridesmaid dresses! I love that they also include sustainability stats for each garment under its description. I think most Farm Rio shoppers will appreciate their selection of dresses.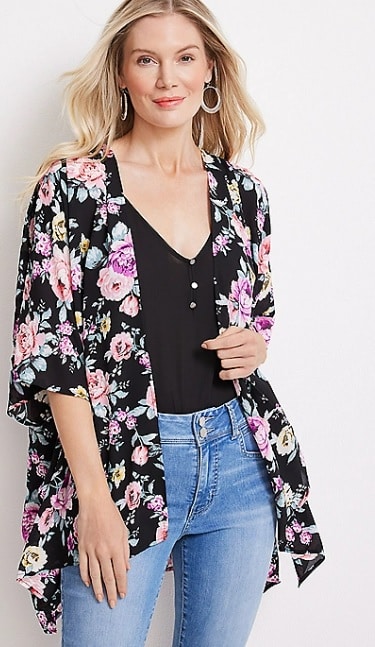 Maurices
If you like the Farm Rio style dresses, but you also need jeans, shoes, or maybe a plus size option then you should give Maurice's a look. They also offer shoes, accessories, and intimates for women of all sizes. They also offer a clothing line for girls, and the prices on all of their products are extremely affordable.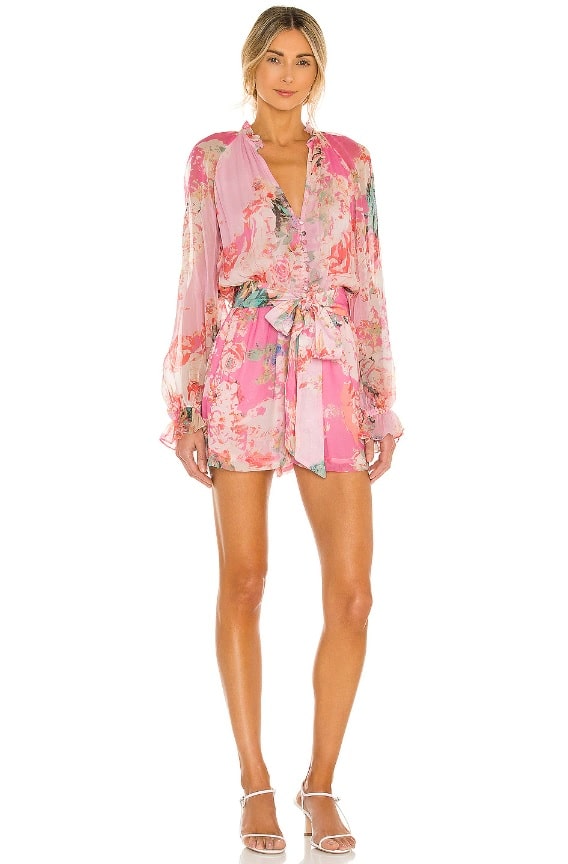 Hemant and Nandita
If you are looking for flowing, beautiful boho style warm weather dresses then you should check out the collections at Hemant and Nandita. Paisley's, bold colors, and fun prints are what you will find on their selection of dresses, and they also offer a large selection of gorgeous kaftans. The beautiful clothing that you will find here will be a part of your wardrobe for years to come.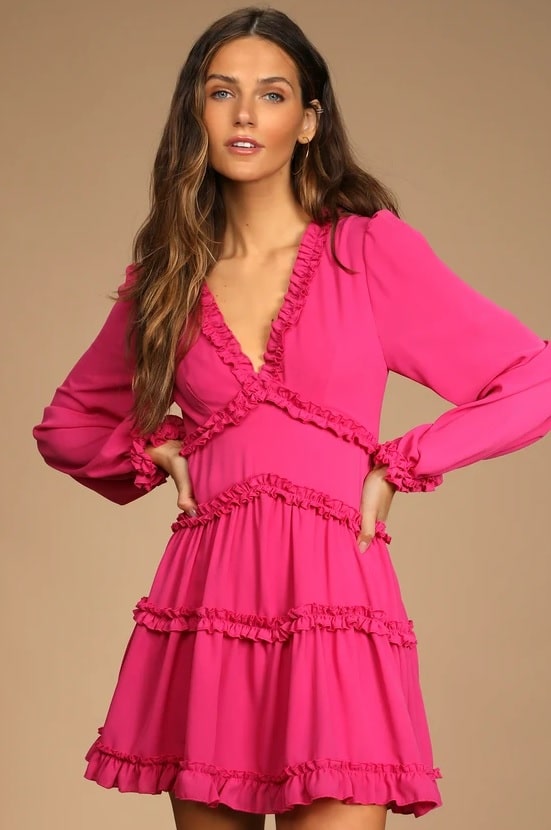 Lulus
Lulus is another online fashion retailer with a fabulous selection of print dresses like Farm Rio. They have bright bold floral prints as well as pastels, floral prints, and solid colors in a variety of lightweight, loose, and billowy fabrics. If you need a dress for a day at the beach, a formal occasion, or even a wedding dress you can find it at Lulus. You can also find shoes, accessories, and more for very affordable prices.
Faithfull
If you are looking for a one-stop shop to fill your wardrobe with summery romantic clothes then the Indonesian brand Faithfull might be the place for you. Swimsuits, shorts sets, cover-ups, bold and beautiful dresses, simple romantic dresses, pants suits, linen wear, and accessories all in one place with an eye on sustainability.
Zimmermann
If you are looking for designer printed dresses in a variety of styles such as strapless, midi, mini, or shirt dresses then check out Zimmermann. You can also find resort wear, accessories, and shoes, and they even have a clothing line for kids. There are some beautiful choices here, but they are on the higher end when it comes to price.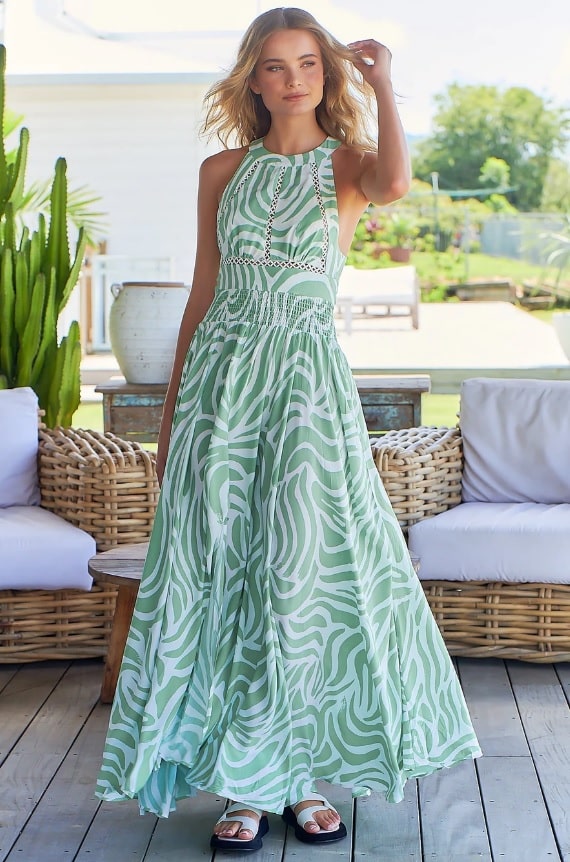 Salty Crush
Salty Crush is an Australian-based online clothing brand with lots of chic bohemian clothing and dresses to choose from and all at a great price too! Fill your cart with blousy pants, maxi skirts, and beautiful lightweight summer dresses. Salty Crush offers all of the latest trending styles and makes it a point to sell to women of all sizes because everyone should feel beautiful and fashionable. This is a great place to find all of your summer wardrobe needs.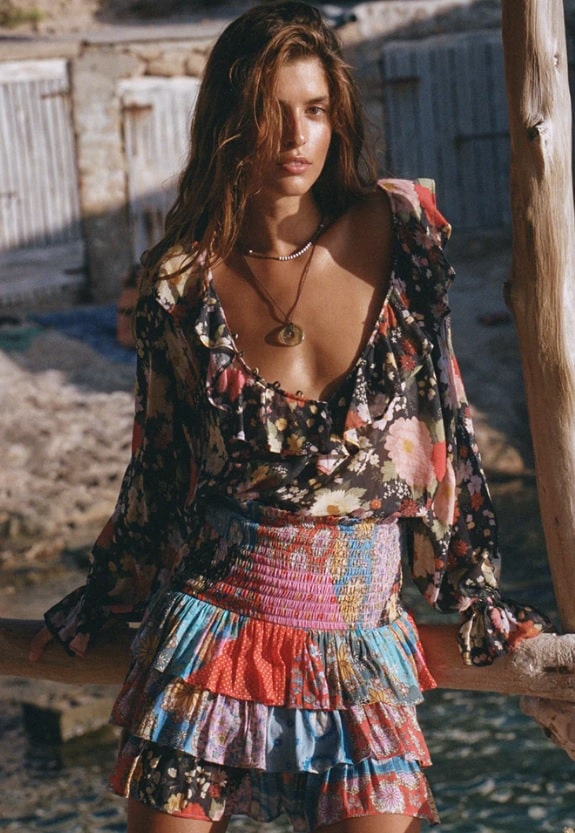 Spell
Spell is a sustainably minded clothing company that aims to provide easy-to-wear romantically inspired clothes. From beautiful dresses that are perfect for wearing everywhere from the farmer's market to the music festival, to wardrobe staples, Spell offers something for everyone. They also have a "little spell" line for girls and offer sustainably made outerwear, swimwear, lingerie, jewelry, and housewares too.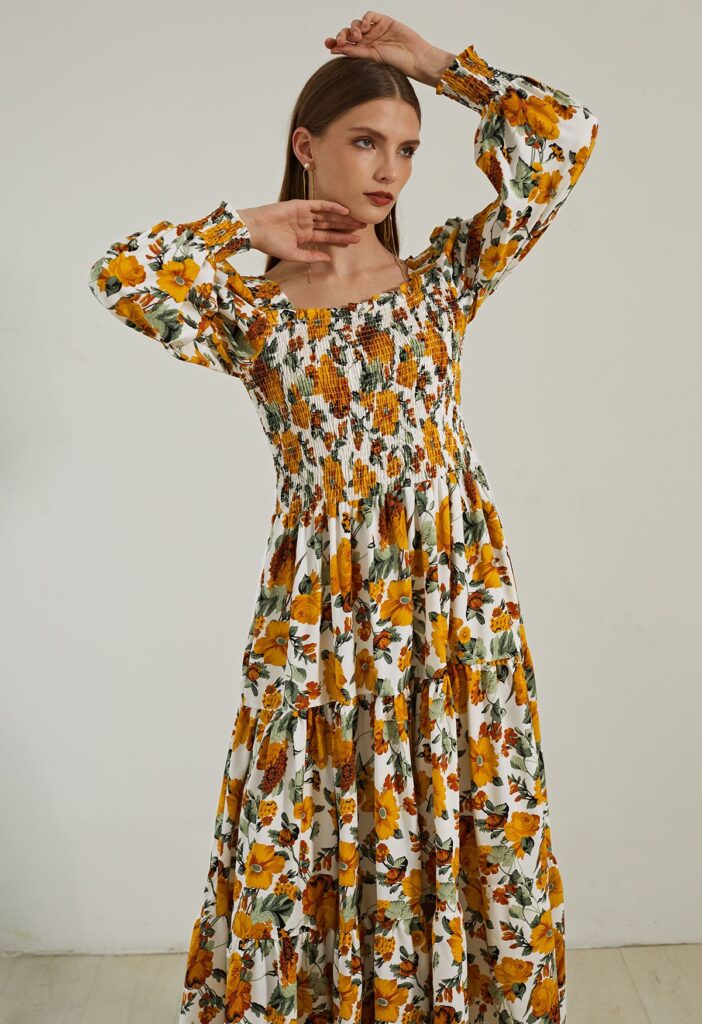 Chicwish
Chicwish is the place to go for vintage styles and handmade collections. They have a large, affordable selection of beautiful dresses, and colorful bohemian skirts and blouses. You can also find swimwear, lingerie, loungewear, jewelry, and even a kid's collection. In addition to their already great prices, Chicwish has near daily sales so you can fill your closet with the trendiest summer styles without breaking the bank.
Read next: Is Chicwish Legit? HONEST Chicwish Review After $600 in Orders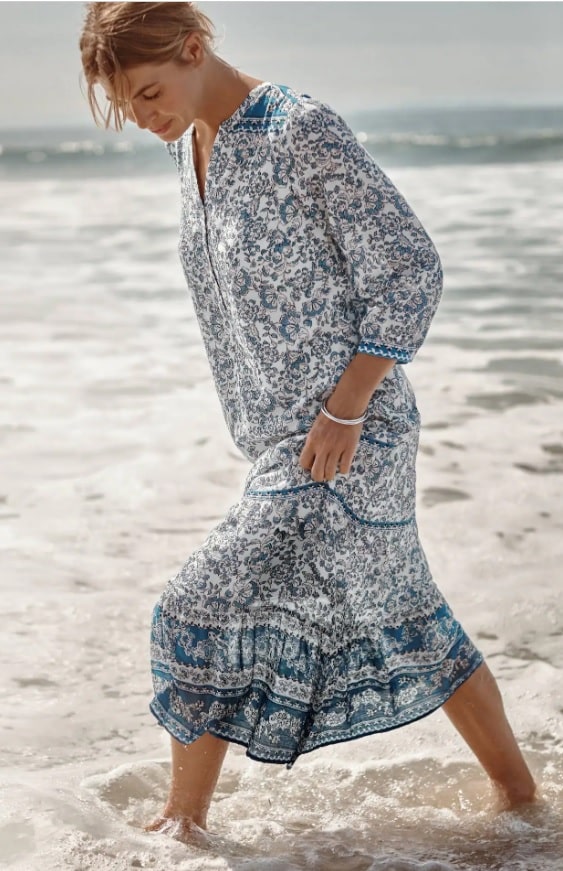 J. Jill
J. Jill is an American clothing company that focuses on beautiful affordable clothing for women of all sizes. They offer activewear, business wear, dresses, shoes, accessories, and more. Their dress selection ranges from boho chic to being perfectly appropriate for wearing to the office. They have sales regularly for an additional percentage off, so you can get some really nice outfits for a reasonable price.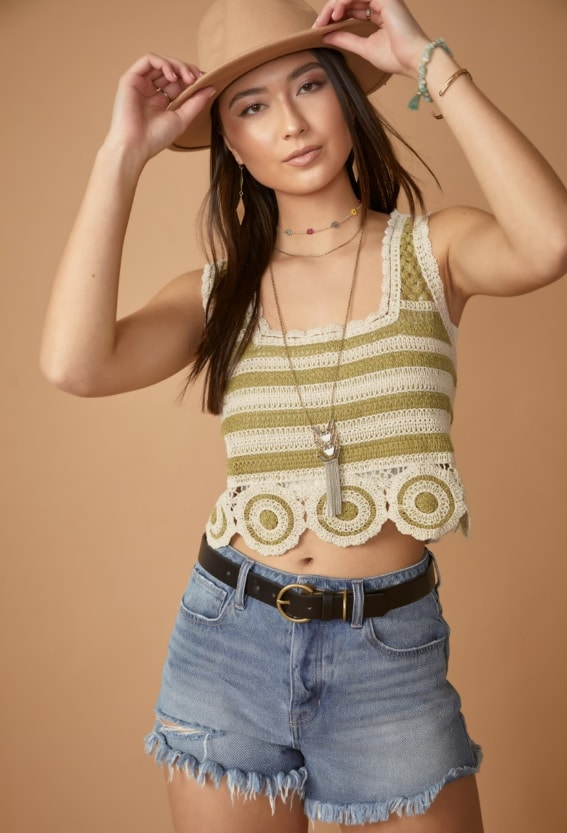 Francesca's
If you are looking for some fun and affordable floral dresses in both bohemian and feminine styles then you should check in at Francesca's. They have a large line of high-quality dresses for women and girls that are very budget-friendly. They also offer wedding dresses, shoes, accessories, jewelry, gifts, and more.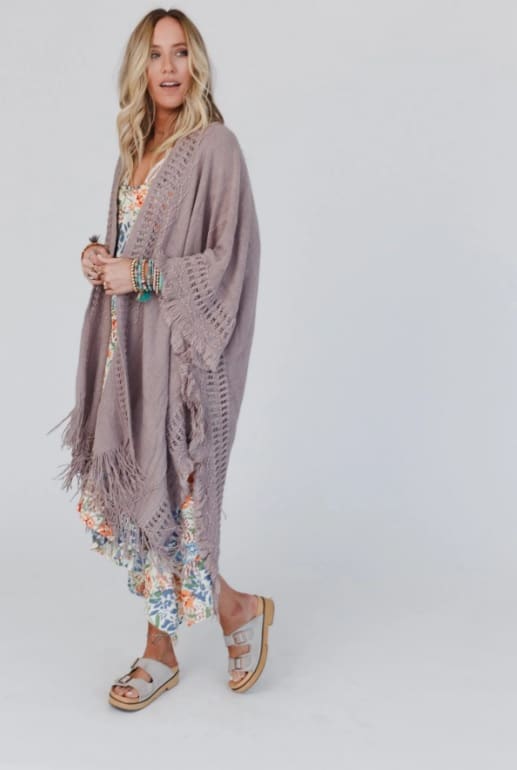 Three Bird Nest
Three Bird Nest is a boho brand you may have missed, but if you visit them you are sure to find a new outfit for your closet. Three Bird Nest has a lot of amazing flowing dresses and jumpsuits for you to choose from. They also offer sweaters, kimonos, intimates, t-shirts, accessories, and more all at affordable prices to keep you in style all year long!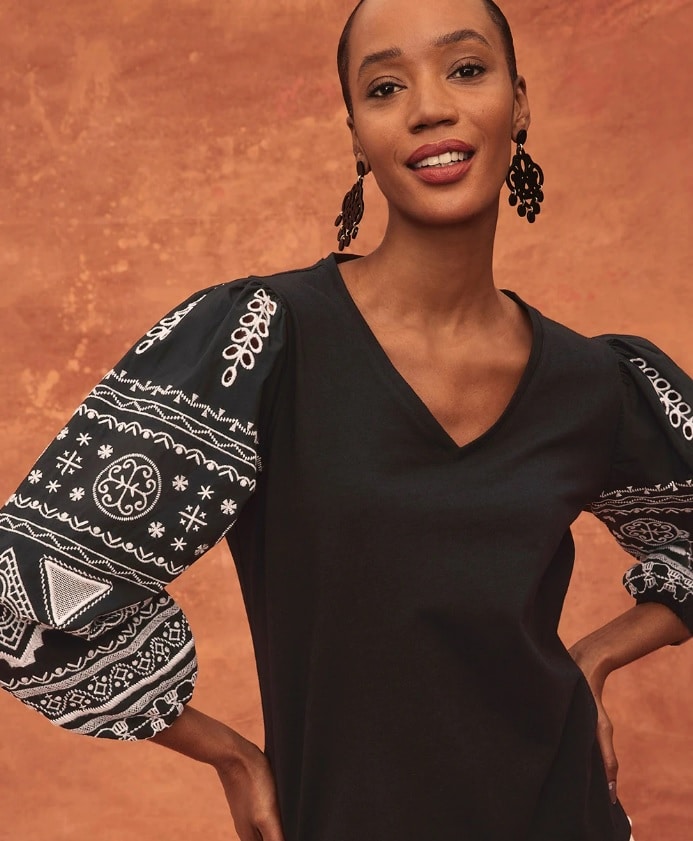 Chico's
Chico's is women-owned and women designed. You will find a wide variety of bohemian bold and beautiful summer dresses here for women of all sizes. Chico's also offers clothing for all occasions, jewelry, and accessories so that you can complete your look all in one place.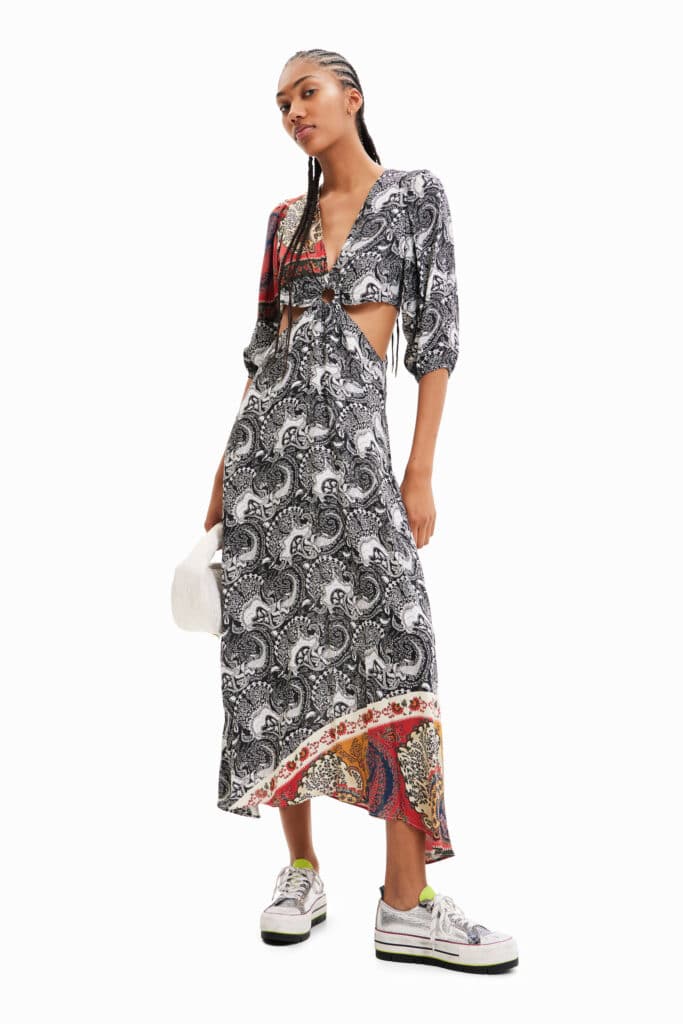 Desigual
If you love the bold bright colors found at Farm Rio, then you will also like the Spanish clothing company Desigual. Desigual has been producing amazingly unique and bohemian clothing since 1984. In addition to boho chic dresses, they also have a men's and children's line of clothing as well as shoes, accessories, and gifts.
Misa Los Angeles
If you are looking for fluid dresses with bohemian style and romantic femininity, then Los Angeles-based Misa might be the place for you. These handmade collections are beautiful and you will find lots of bright bold prints, as well as fun flirty florals. Misa's collections include jumpsuits, kaftans, skirts, and bags. Their goal is to provide the right wardrobe, no matter what you will be doing.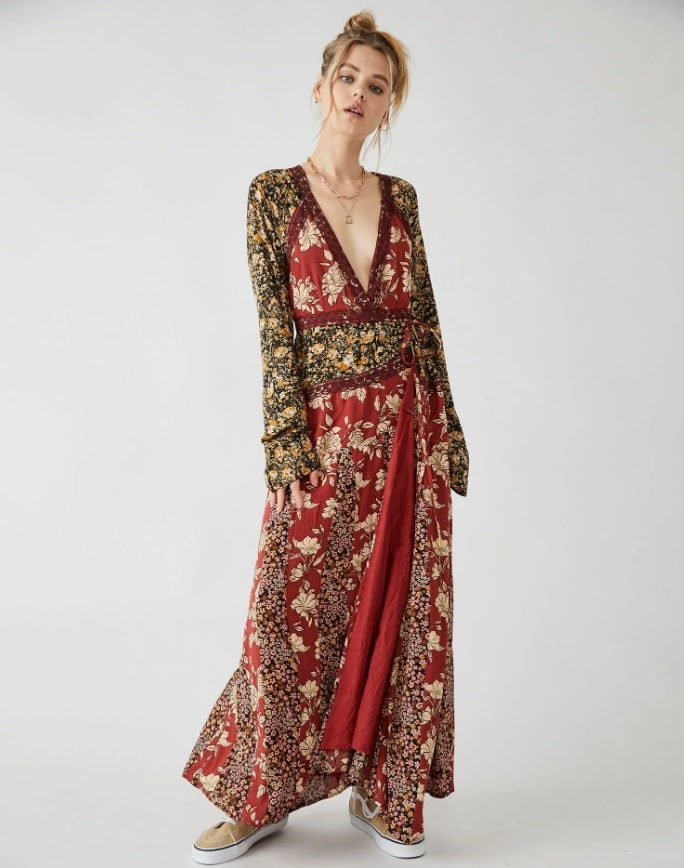 Bohemian Mama
If you are looking for a sustainably made bohemian clothing line then Bohemian Mama might be just what you are looking for. This women-owned company is committed to offering responsibly sourced, and sustainable clothing for women, babies, boys, and girls. They also offer toys, baby gear, and home and nursery essentials.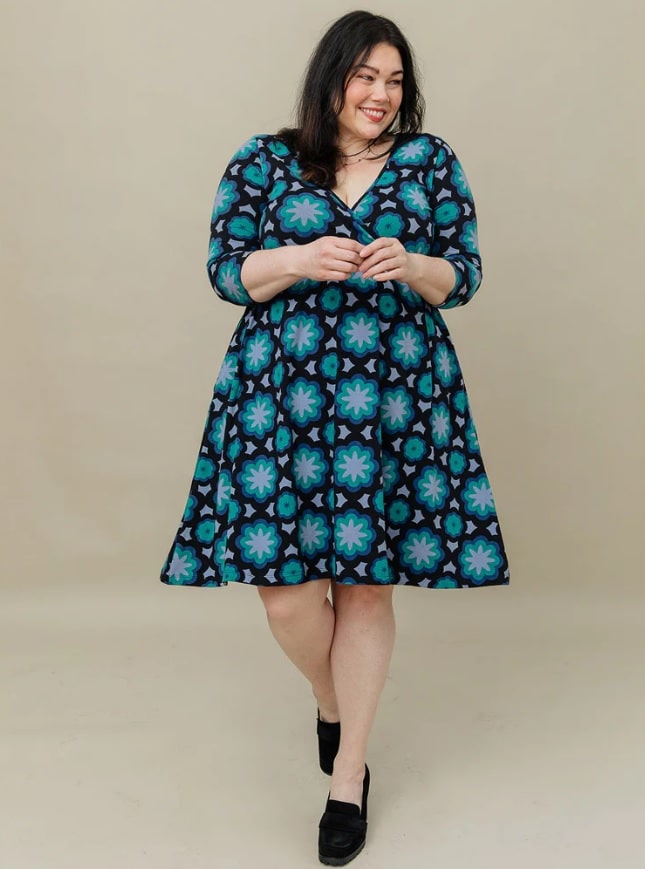 Mata Traders
Mata Traders offers sustainable, fair-trade fashion for women of all shapes and sizes. They offer a large selection of beautiful and comfortable lightweight dresses in addition to jumpsuits, tops, bottoms, jewelry, and accessories. Whatever you choose at Mata Traders you know that it was sustainably made and that the hands that made it were paid and treated fairly.
For Love & Lemons
Childhood friends Laura Hall and Gillian Rose Kern have been in business together since they were 11 years old in a small town in Wyoming selling homemade lemonade from a stand. Today they are creating bohemian clothing with feminine flair. For Love & Lemons is women-owned and run, and they offer a large selection of flirty summer dresses, lingerie, and bachelorette and wedding wear.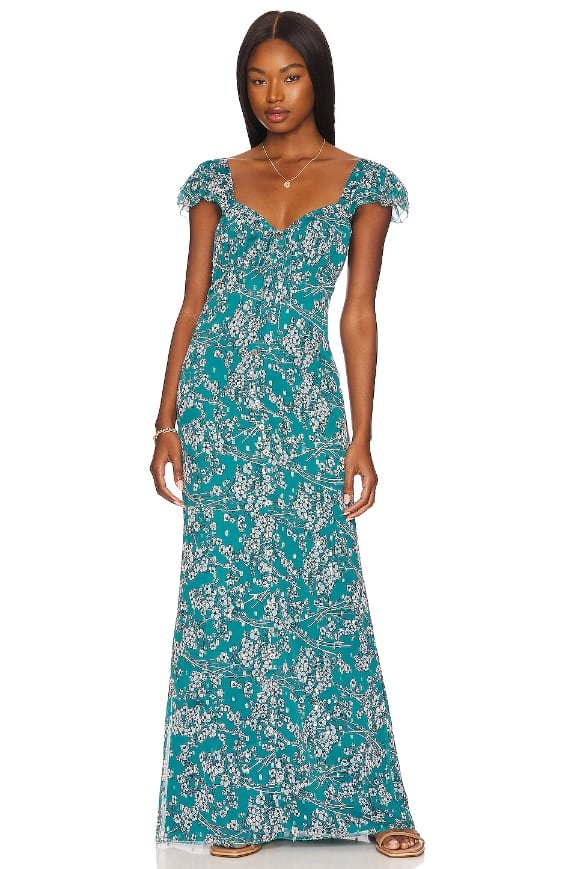 House of Harlow 1960
House of Harlow 1960, by Nicole Ritchie, was launched in 2008. While her current focus is mostly on jewelry and healing crystals, the line has offered clothing in the past. House of Harlow 1960 is a great place to find all the fashion jewelry you need to pull your outfits together no matter what season of the year it is or what your style may be.
Brands Like Farm Rio But Cheaper
Which of these brands like Farm Rio is your favorite? Are there any that I missed? Let me know in the comments!