The BEST Retro Swimsuits for Summer + Honest Reviews of Each Swimsuit
Looking for a cute retro swimsuit for summer or your next vacation? (We will be able to take vacations again one day!) I'm reviewing 7 of my favorite retro swimsuits that I have worn for a variety of vacations! From shark cage diving to parasailing and Russian banyas to good ole fashioned boating and beachside lounging – these swimsuits have been put to the test!
If anyone has any questions about these swimsuits too – feel free to ask in the comments section at the end of the post. And if there are any other retro swimwear brands you think I should try – feel free to let me know too! (I'm always on the hunt for more fun styles.)
A quick note regarding how I care for these swimsuits too – I wash them all in my washing machine on gentle cycle with cold water. I just use regular Tide detergent and then hang them to dry. Nothing too crazy!
7 Cute Retro Swimsuits + Honest Reviews of Each Swimsuit
1.) Esther Williams 50s polka dot, high-waisted bikini bottoms + halter top
Comfort and quality
This Esther Williams suit is by far my favorite retro swimsuit on this entire list! I have had it for 6 years now, and wear it every chance I get. It's so comfortable! I've worn it to a Russian banya, shark cage diving, for snorkeling the Great Barrier Reef and floating in the Dead Sea, parasailing, and most recently for my trip to Brazil. Needless to say, it's gotten A LOT of use over the years and it's held up wonderfully. The quality is amazing.
I especially love the bottoms because they don't ride up and don't give me a grundy. I really hate having to pick my swimsuit out of my butt cheeks when I'm at the beach!
And while the top is very comfortable, if you're someone who needs a lot of support on top, this may not be the swimsuit for you. While I'm fine wearing this for tons of activities, this wouldn't be a swimsuit top I would feel comfortable running laps in. Just be aware of this before ordering.
Sizing
As with (almost) all vintage-swimwear, though, the sizing is quite small. Be sure to read the size chart and size up if you're in between sizes. I'm typically a size 6 but ordered a 10 in this suit.
2.) Esther Williams flattering one-piece retro swimsuit
Comfort and quality
As with the previous Esther Williams swimsuit, I've also had this one for 5 years and have also worn it on tons of adventures! This is also a wonderfully comfortable swimsuit that is quite flattering for any body type, in my opinion. This suit also comes in SO many cute prints. (I REALLY want to get the octopus one next!)
The bottom of this swimsuit also stays in place and doesn't ride up at all! I love that so much…
As with the previous Esther Williams swimsuit, if you're someone who needs a lot of support on top, this is not the swimsuit for you. This one-piece provides even less support than the bikini does. It's super comfortable, in my opinion, but I wouldn't wear this swimsuit for anything that required me to be jumping around!
Sizing
The one-piece runs small as well. Be sure to size up if you're in between sizes. I'm typically a size 6 and bought a size 8 in this swimsuit.
3.) Unique Vintage Black Halter Shirred Derek One Piece Retro Swimsuit
This swimsuit is also available in plus sizes.
Comfort and Quality
Unique Vintage has absolutely amazing quality in everything they make. (I own loads of their tops and dresses!) And this swimsuit is also fantastic in the quality department. This one I've had for a little over a year now, so not as long as my Esther Williams swimwear. It has, however, shown no signs of wear despite wearing and washing it for several beach vacations now.
The shirred waist is super flattering and comfortable… so, if you're like me and like to indulge on pizza and beer while vacationing – this swimsuit will still be comfy!
The bottoms are comfy and also don't ride up too much. I have some swimsuits where I'm picking a grundy every few moments. But this swimsuit stayed right where it was supposed to. And the top is adjustable – so, if you want a looser more revealing fit you can have it! Or if you would prefer the gals to be covered, you can just tie the halter portion tighter.
However, while I love the way this suit looks, it's also not a suit that you can be terribly active in. This is because you WILL have a nip slip unless you tape this suit (and nobody wants to tape a swimsuit). It's fine for laying on the beach, hanging out at the swim-up bar and light swimming… but if you're planning on playing beach volleyball or going waterskiing, you'll want a different swimsuit.
There is NO support in the top half at all – the gals are free to do as they please. If I'm just laying on a beach this doesn't bother me. However, again, if you're looking to be more active… then this wouldn't be the suit for you.
Sizing
This swimsuit is pretty true-to-size. I ordered a size medium, and it fits very well. Given that the top is adjustable, I would focus on your hip and waist measurements when ordering. (Looking at the size chart, my top measurements didn't exactly match up for the medium… but it worked out fine!)
4.) Marlies Dekkers 50s Holi Vintage High Waist Bikini
This swimsuit is available up to size XXXL.
Comfort and Quality
The Holi Vintage swimwear line by Marlies Dekkers is freaking amazing. If you love retro swimwear, I can't recommend this line enough! The quality is the best on this list…it's the kind of swimsuit that just looks high-end, in my opinion. (This is the most expensive swimsuit on this list, though… You get what you pay for I guess?)
This swimsuit is not quite as comfortable as the previous swimsuits on this list, though. These bottoms do ride up my bum a bit when I wear them. They're not terrible, but they're just not quite as comfortable as the previous bottoms on this list.
However, the top on this swimsuit provides the best support on this list! So, if you need support on top when wearing a swimsuit – this IS the swimsuit for you! It's also such a unique top, in my opinion.
Sizing
Sizing is pretty spot-on for this swimsuit. It is more fitted than the Esther Williams and Unique Vintage swimwear, though. When I first tried it on, I was a bit worried that I had ordered too small of a swimsuit. It did stretch out, though, and I'm happy that I went with a 75C top (aka a 34C top) and medium bottoms.
5.) Marlies Dekkers 50s Holi Vintage Balcony Bathingsuit
Quality and Comfort
What can I say… when I find a swimwear line that I like, I order it in both the one-piece version and the bikini version! This Holi Vintage is, once again, amazing and high-end quality. (But also it's pricey.)
The top has pretty good support as well. The Holi Vintage bikini top has better support, but out of all the one-piece swimsuits I've reviewed here, this one is the best in the support department.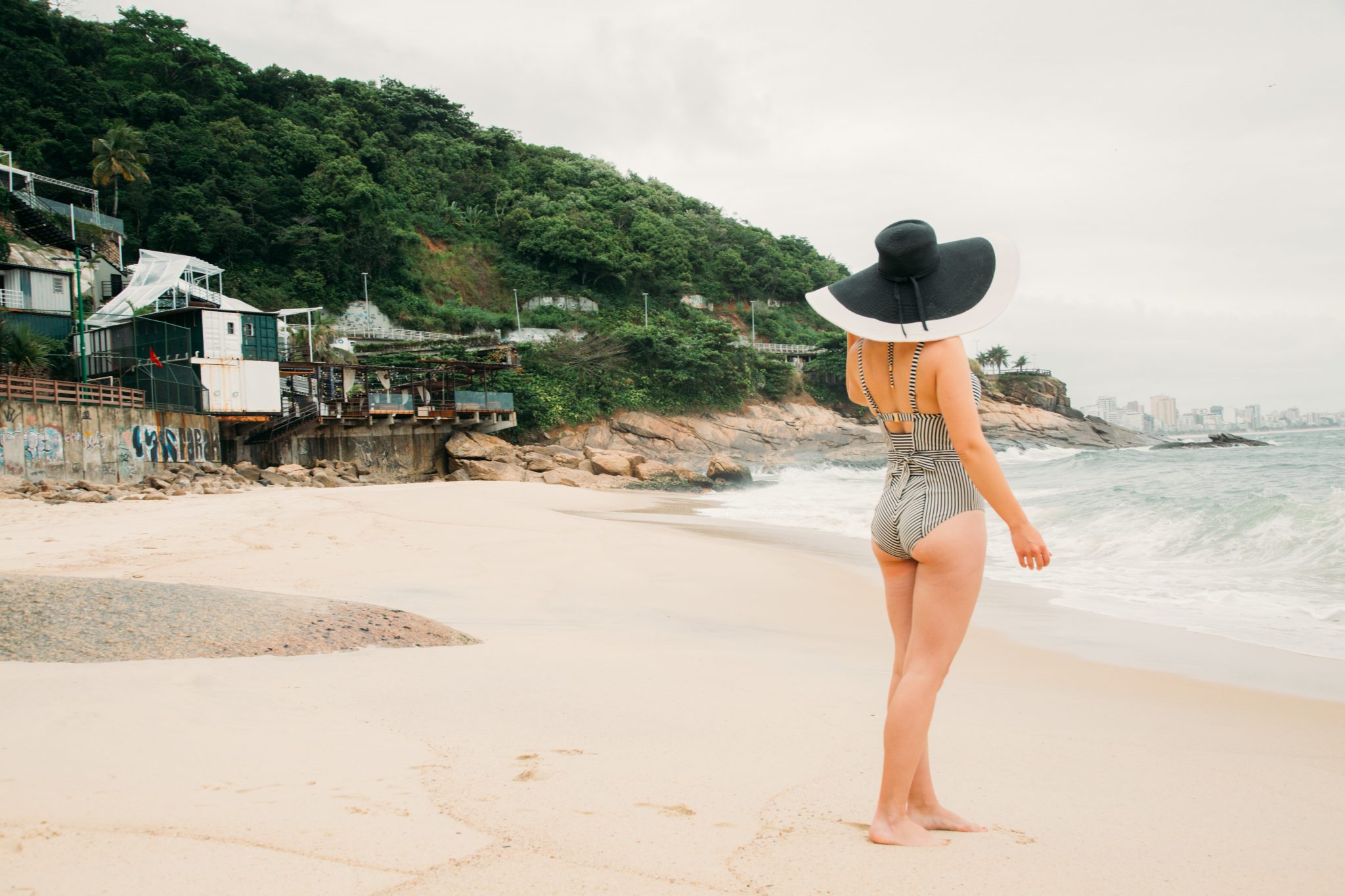 However, the bottom on this swimsuit gives me a massive grundy when I wear it! I mean, it's not a thong, but it's also not going to leave quite as much to the imagination as I'm used to with retro swimwear bottoms!
My husband is always commenting on how well he likes this swimsuit and how he thinks the back is a unique and cool cut compared to my other swimsuits. Which, I do agree with. The back of the swimsuit is really cool! It's just not as comfortable as my other retro swimsuits.
Sizing
I went with a 75C for size (which, again, is roughly a 34C cup). This swimsuit is also more fitted than I'm used to with other swimwear, but I think if I would have gone any smaller, the top would have fit me strangely.
That being said, if you are someone who has a long torso, this is NOT the swimsuit for you. I'm all-around average in torso length when it comes to buying swimwear and tops, but this one-piece almost didn't fit me! As you can see above, I have the adjustable straps almost down as far as they will go. If you are someone with a shorter torso, though… this would be the perfect one-piece bathing suit for you!
6.) I2CRAZY One Piece Backless Deep V Neck Halter Monokini Bathing Suit (via Amazon)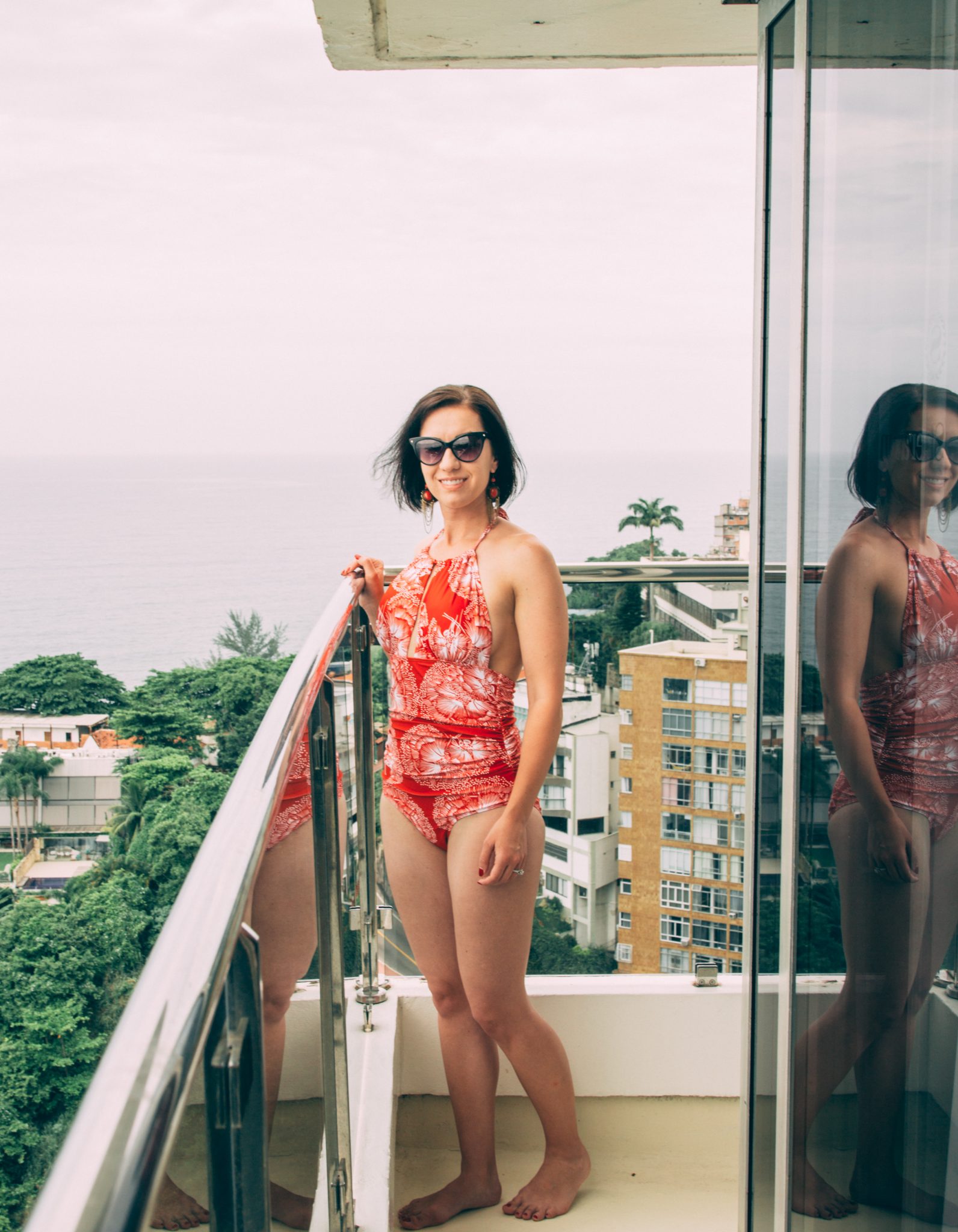 This swimsuit goes up to size XXL.
Comfort and Quality
This one-piece swimsuit is very comfortable, and overall, it's decent quality. It's the most affordable one-piece on this list by far, so it's quality isn't quite as high as the rest of the swimwear on this list. (But I'm still pleased with it.)
The bottoms are wonderfully comfortable and don't ride up too much. The top provides zero support, though. It also likes to move around, and I always feel as though I'm one sudden movement away from my whole boob being exposed! This is definitely a good "lay by the pool/beach" swimsuit… but I wouldn't advise wearing it for much else. This is a problem that could have been avoided, though… if I would have ordered the right size…
Sizing
This is a swimsuit that runs LARGE. I ordered my normal size medium, and after wearing it for my recent trip to Brazil, I can say that it is too big on me. I should have ordered a small… the size chart says the small fits a US size 4-6 (and I'm a size 6 typically). If I would have just exchanged it for the right size, I would like this swimsuit so much better! I'm thinking I'm going to try again with ordering this swimsuit and get it in the green and white color combo in a size small. (Stay tuned…)
7.) Kandy Kouture Polka Dot High-Waist Bikini via AMI Clubwear
AMI Clubwear does have high-waisted swimwear in plus sizes.
Quality and Comfort
Please note – this exact swimsuit is no longer available. AMI Clubwear does still carry other high-waisted bikinis that fit like this one, though.
AMI Clubwear is a cheap overseas clothing company that mainly carries scandalous clubwear attire. However, they do also have a section that caters to high-waisted swimwear. This particular brand of swimwear they carry is called "Kandy Kouture." While the swimsuits are not nearly as high of quality as the rest on this list, for their prices (on average $20 total for both the top and the bottoms), they're really not bad at all.
The swimsuit pictured above is one that I've had for about 4 years now. It's not my favorite as the material is rather shiny and cheap-looking. It is still holding up well, though, after years of use.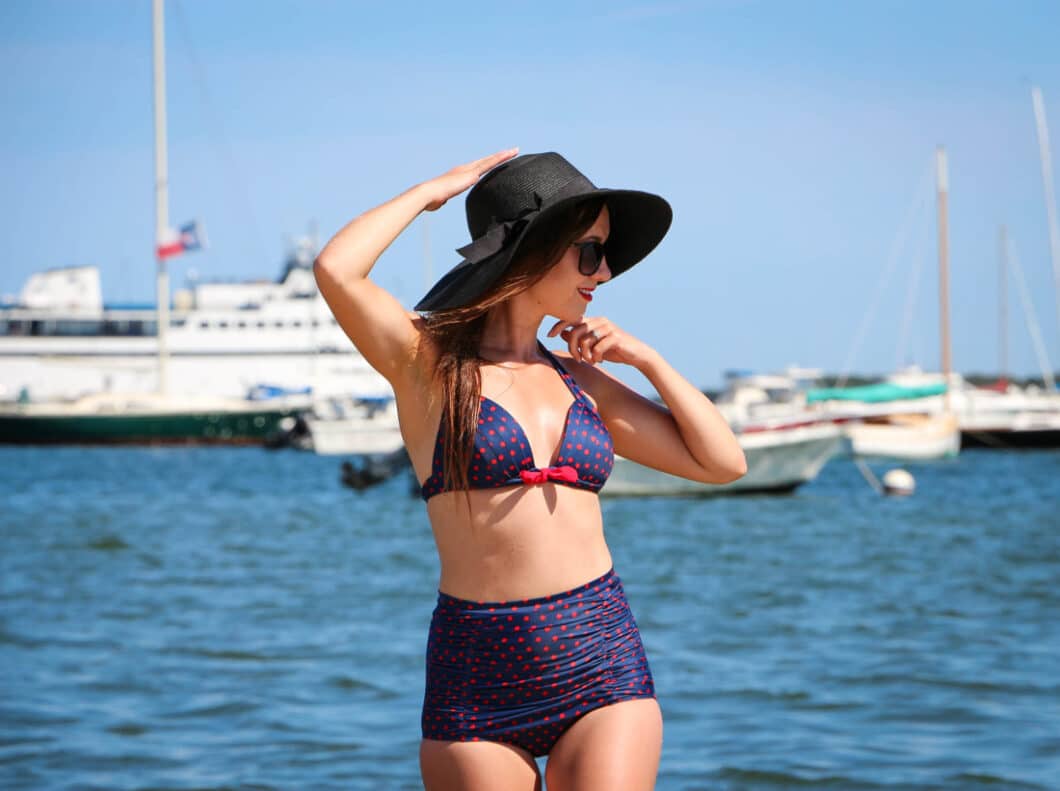 This top has what I would call "medium support." It has more support than the Esther Williams swimwear, but it's not as much support as the Holi Vintage bikini.
These bottoms are quite comfortable as well. They stay in place well, and I like that they hit above my belly button.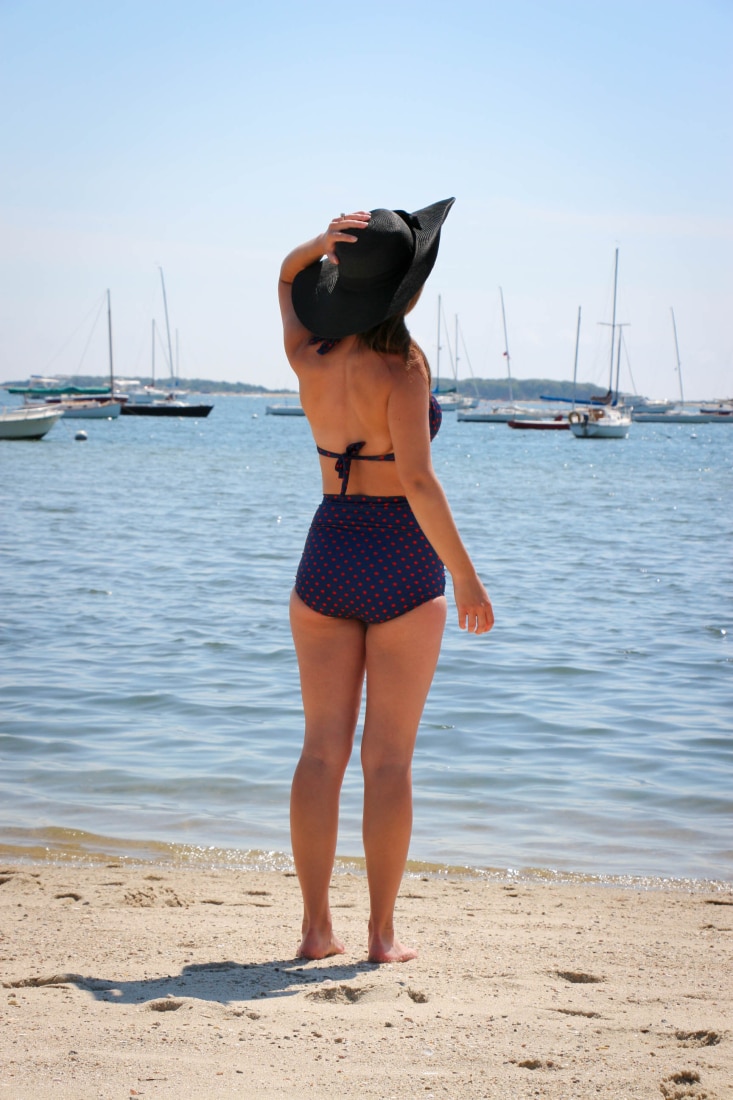 Sizing
Sizing is true to size with this company. I ordered a normal size medium and the size medium does fit very well!
What are some of your favorite retro swimsuits that you've found over the years? Are any of them the same as mine? Let me know in the comments!
Disclaimer: Thank you to TopVintage for gifting me the Holi Vintage swimsuits. AMI Clubwear also gifted me the Kandy Kouture high-waisted bikini years ago. However, all the other swimsuits I purchased myself. No company is compensating or sponsoring me for this post – I just thought it would be a useful one to put together for retro swimsuit lovers like myself!
If you liked it – Pin it!
*Disclosure: some of these links are affiliate links. Meaning, if you click a link and make a purchase, Have Clothes, Will Travel gets a very small commission at no extra cost to you. Thank you for supporting the brands that make this blog possible!
I am also a participant in the Amazon Services LLC Associates Program, an affiliate advertising program designed to provide a means for us to earn fees by linking to Amazon.com and affiliated sites.