10 Exceptionally Quirky and Unforgettable Places to Stay Worldwide
Care to scuba dive to your hotel room? How about zip-lining down the side of a cliff after you check out of your room? What about a hotel where a giraffe poking its head through a window is your wake-up call? Does it sound like I'm making these things up? I can assure you these are all real and very unique hotels! And it makes me so excited that they exist (except for the underwater hotel you have to scuba dive to…that's a big NOPE for me). I hope this list sparks a little wanderlust inside of you and inspires you to visit one of these incredible hotels. Enjoy!
1. Giraffe Manor in Nairobi, Kenya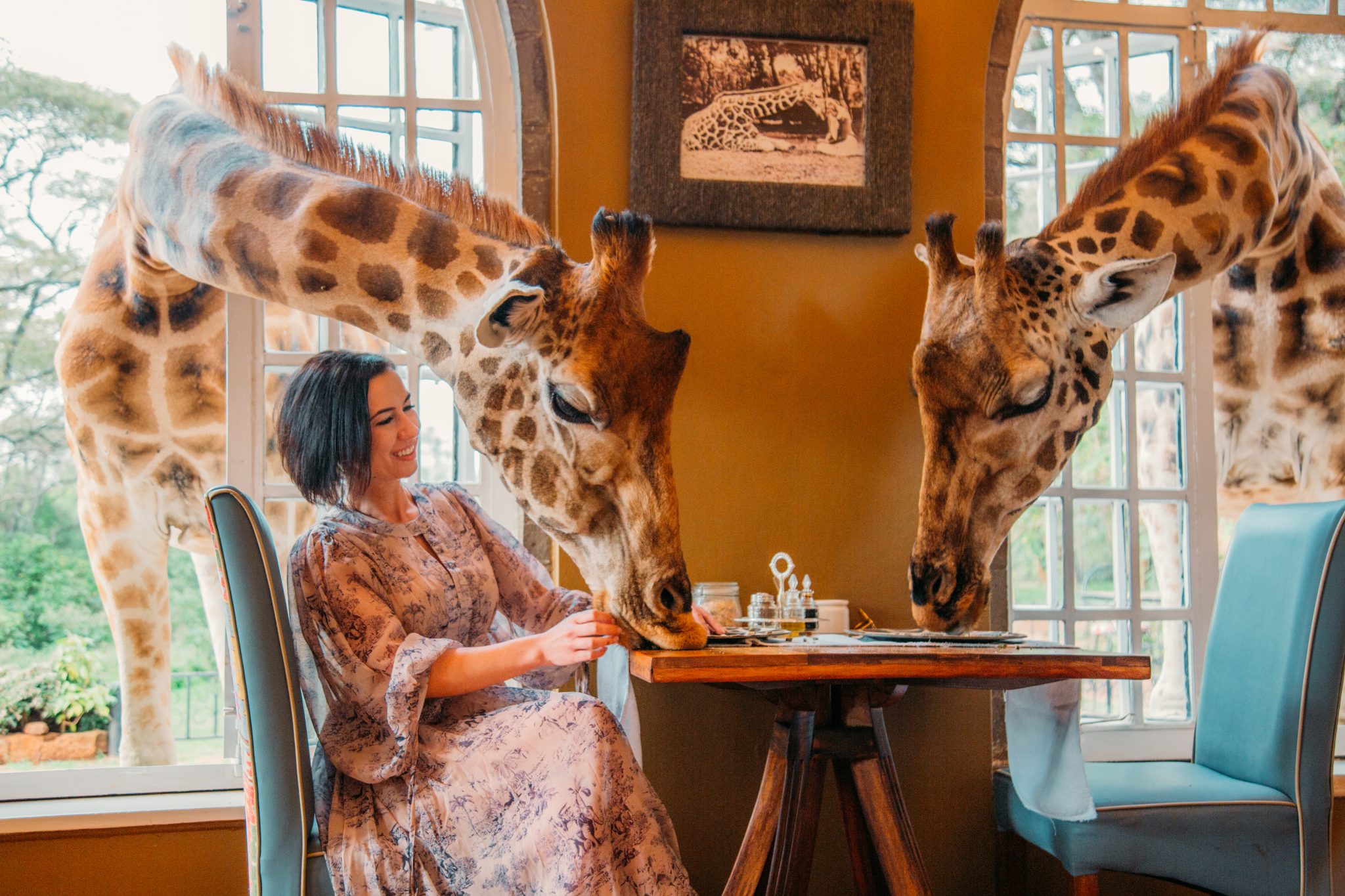 Giraffe Manor has a herd of endangered giraffes who wake you up in the morning by poking their long necks into the windows in the hope of a treat. They'll also join you for breakfast and tea time. I can't recommend this hotel enough.
2. The Treehouse Lodge in Iquitos, Peru
Take a 1 1/2 hour boat ride along the Amazon River and its tributaries to reach this unique lodge nestled in the Amazon Rainforest. I couldn't write this post and NOT mention the Treehouse Lodge in Iquitos, Peru. We stayed here a few years ago, and it is one of my favorite travel memories. Besides the obvious – you're sleeping in a treehouse in the middle of the Amazon Rainforest – this is also an all-inclusive "resort." You'll take some crazy excursions during the day, such as fishing for piranhas and wildlife spotting (see sloths and pink dolphins in the wild!), and get treated to some amazing meals throughout the day.
3. Mazayen Rum Camp in Wadi Rum, Jordan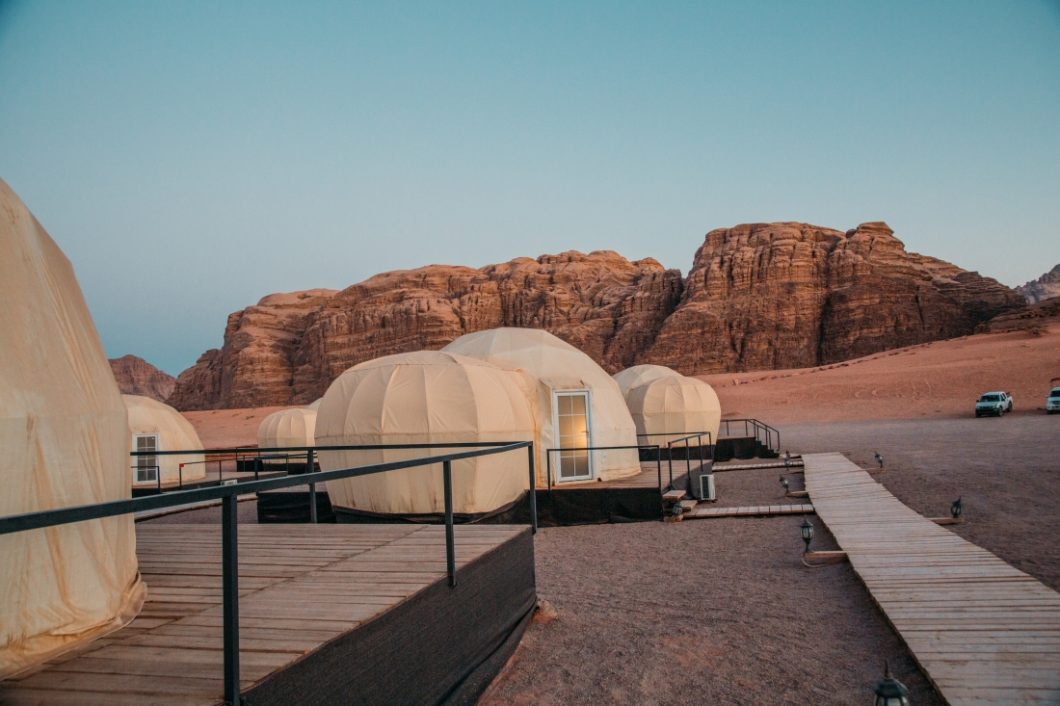 Glam it up in a Martian tent in the middle of the desert. Glamping is my jam. (Camping, but I still get to have a bathroom and running water, and a nice bed.) We stayed in these crazy Martian tents when we were in Wadi Rum, Jordan. It was an amazing experience! You could clearly watch the stars from your bed.
4. Skylodge Adventure Suites in Cusco, Peru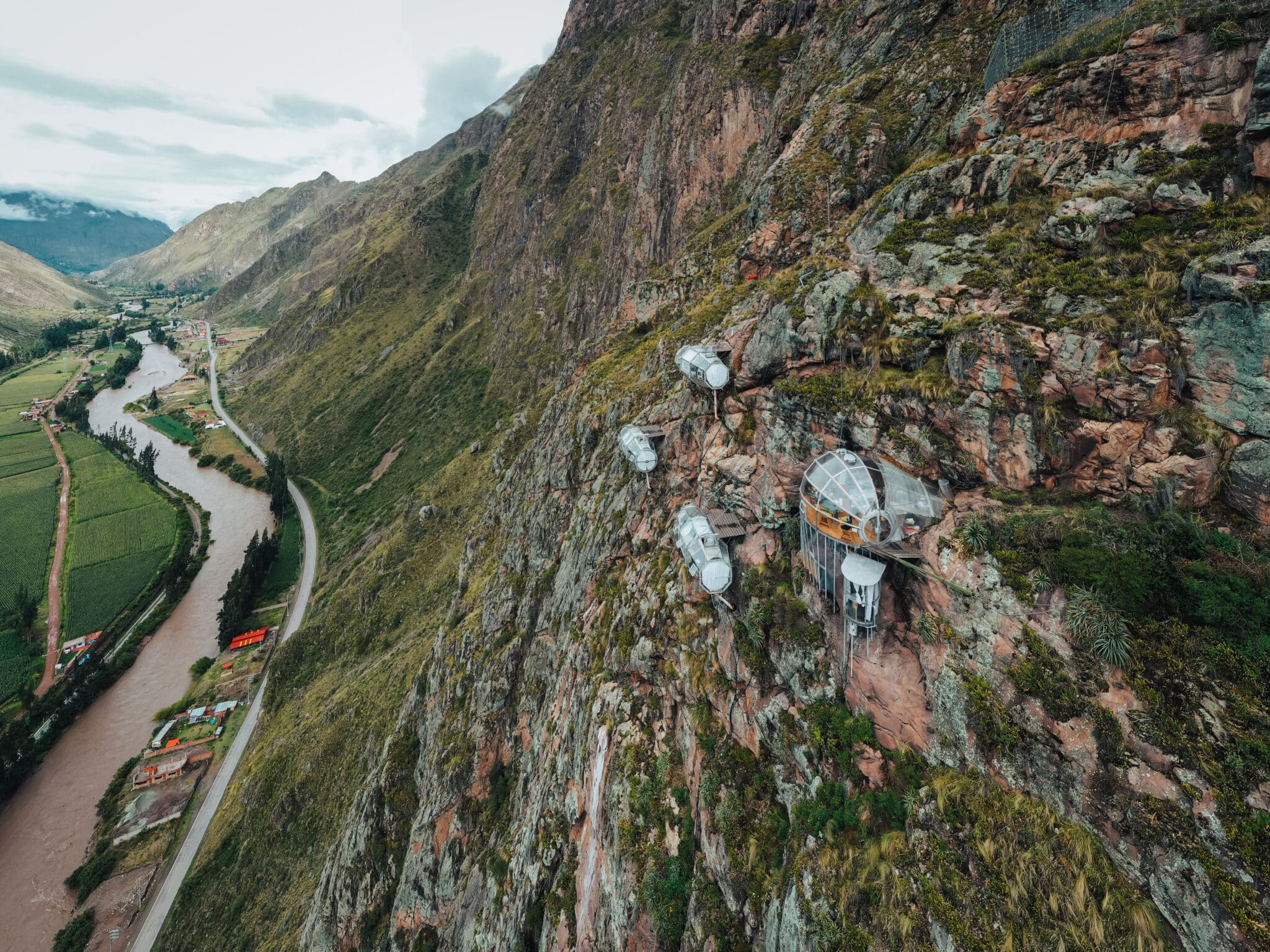 Just mosey on up the side of a cliff to get to your room here! Yeah, I actually saw this hotel on my way back to Cusco, Peru. It is CRAZY. You really do have to climb up the side of a cliff to get to your hotel room…and then you zip line down said cliff after you check out. Your hotel room is a glass cabin perched along the side of the cliff. It looks amazing, but also terrifying…
5. Scuba Jules' Undersea Lodge in Key Largo, Florida, USA
If climbing up the side of a cliff doesn't sound too thrilling…how about diving 20+ feet underwater to get to your hotel room? Hear me out…They. Will. Deliver. Pizza. If an underwater pizza delivery service doesn't get you excited about this hotel I don't know what will! (Full disclosure – this hotel room scares me more than any of them, just because I'm claustrophobic, though! Otherwise, it sounds awesome.)
6. Saruni Samburu in Kenya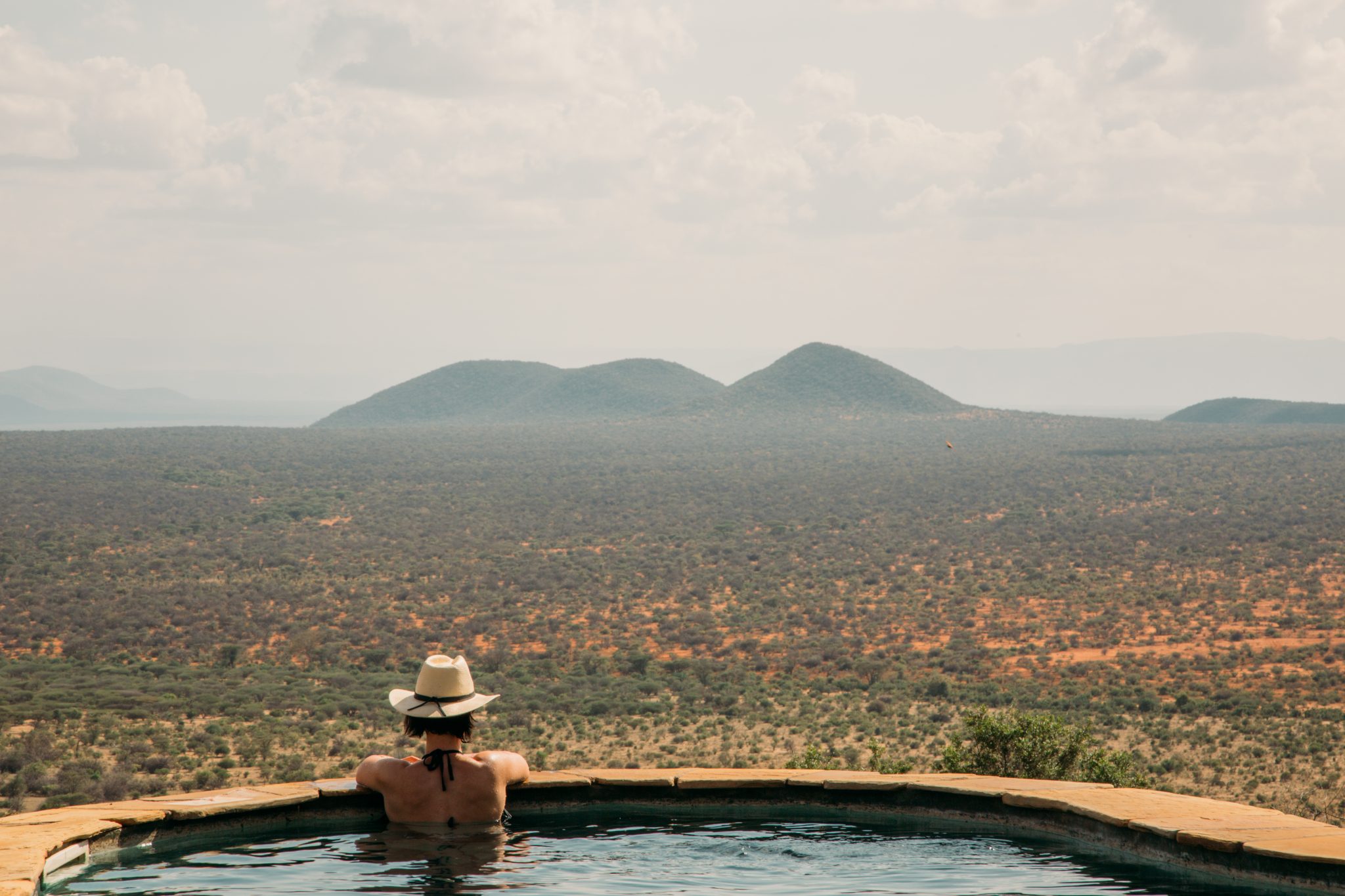 This hotel is a luxury retreat that has the Kalama Conservancy all to itself. There are only 6 villas at Saruni Samburu with breathtaking views, and there is wildlife roaming freely by the watering holes just below the villas. The safaris here are out of this world as well! (So. Many. Elephants.)
7. Saruni Rhino in Samburu, Kenya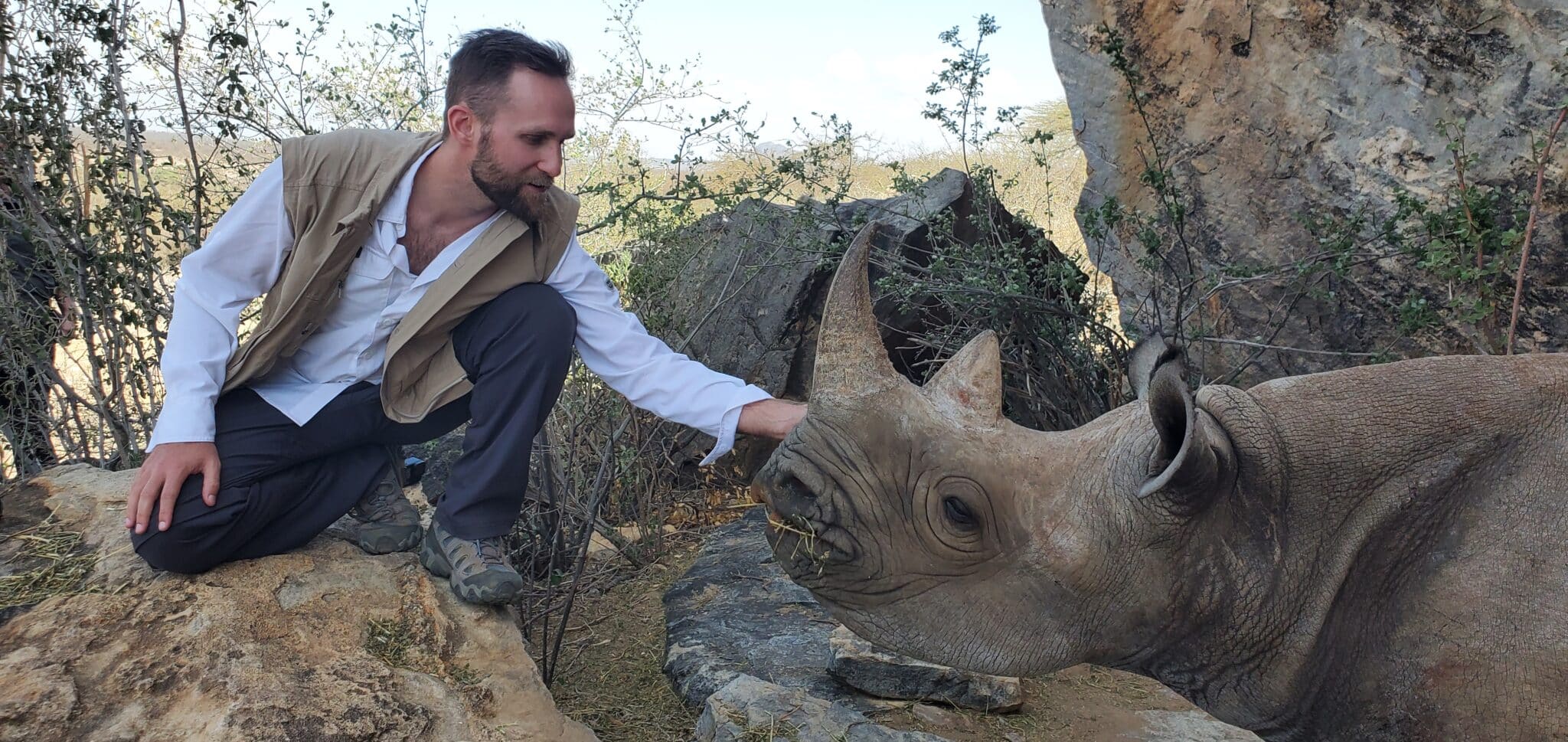 Saruni Rhino in Samburu, Kenya is an experience not for the faint of heart! There are only 3 villas located at this safari camp…so, it's incredibly remote. But the reason travelers stay here is to try tracking wild Black Rhinos on foot in the nearby Sera Conservancy. Spoiler – it's nuts! It's hands down my favorite travel experience and has by far been my favorite place to stay.
The rhino pictured above is Loijipu. He also lives in the conservancy under surveillance. He lives here because he was abandoned by his mother when he was just a few days old and was raised by humans, who are hoping to rehabilitate him back to the wild once he is old enough and big enough.
8. Sultan Cave Suites in Cappadocia, Turkey
This hotel is located in Goreme, Turkey – and you have the option of staying in an actual cave room. Then, if you're an early riser, get up before sunrise to watch the hot air balloons float over the city of Goreme. This hotel has its own private terrace for watching them! (The balloons go up every morning, weather permitting.)
9. Kakslauttanen Arctic Resort in Lapland, Finland
Head to Lapland, Finland to stay in a thermal, glass igloo and gaze at the Northern Lights as you fall asleep. That alone is reason enough to make me want to go here – but this area also has a ton of exciting excursions as well. You can go dog sledding and snowmobiling…but, most importantly, there are reindeer. You can visit a reindeer farm, feed the reindeer and take a sleigh ride (just like Santa!).
10. Guest House in Ittoqqortoormiit, Greenland
Not a big fan of people? This hotel is for you! It's so remote, Hotels.com was running a promotion where they were paying for your stay. If you missed that promotion, the room rates are still very reasonable, and the area looks AMAZING. Oh, but there are polar bears roaming around at night…and the most efficient form of transportation here happens to be dog sledding. Sign me up!
The post 10 Unique Hotels Around the World That Will Blow Your Mind appeared first on Have Clothes, Will Travel.
Honest Giraffe Manor Review – Everything You Need to Know
This post is going to explain everything you ever wanted to know about staying at Giraffe Manor, my tips for booking and staying here, as well as whether or not Giraffe Manor is ACTUALLY WORTH its expensive price tag.
Read more: Honest Giraffe Manor Review – Is It ACTUALLY Worth the Cost?
Kenya has an absolutely astounding amount of unique places to stay! From a rhino tracking camp (my personal favorite!) to luxury "star beds" and treehouses and even an "ark" and more… there's something for everyone's personal taste in Kenya!
Read more: 20 Unique Places to Stay in Kenya for an Unforgettable Trip
My Brutally Honest Sandals Curaçao Review: MUST-READ Before Staying Here
This post is sharing absolutely everything you need to know about the new Sandals Curaçao and whether we recommend staying here. I'll be covering everything in this post… the good the bad, and the downright ugly.
Read more: My Brutally Honest Sandals Curaçao Review: MUST-READ Before Staying Here
Top Voted 12 Biggest Tourist Trap Cities in the World
Spare yourself the embarrassment and shame that comes with self-funded misery. Heed the warnings of tourists who have waded into vacation traps and lived to tell the tale.
Read next: Top Voted 12 Biggest Tourist Trap Cities in the World
50+ Fun Things to Do in Curaçao in 2023 for an Epic Vacation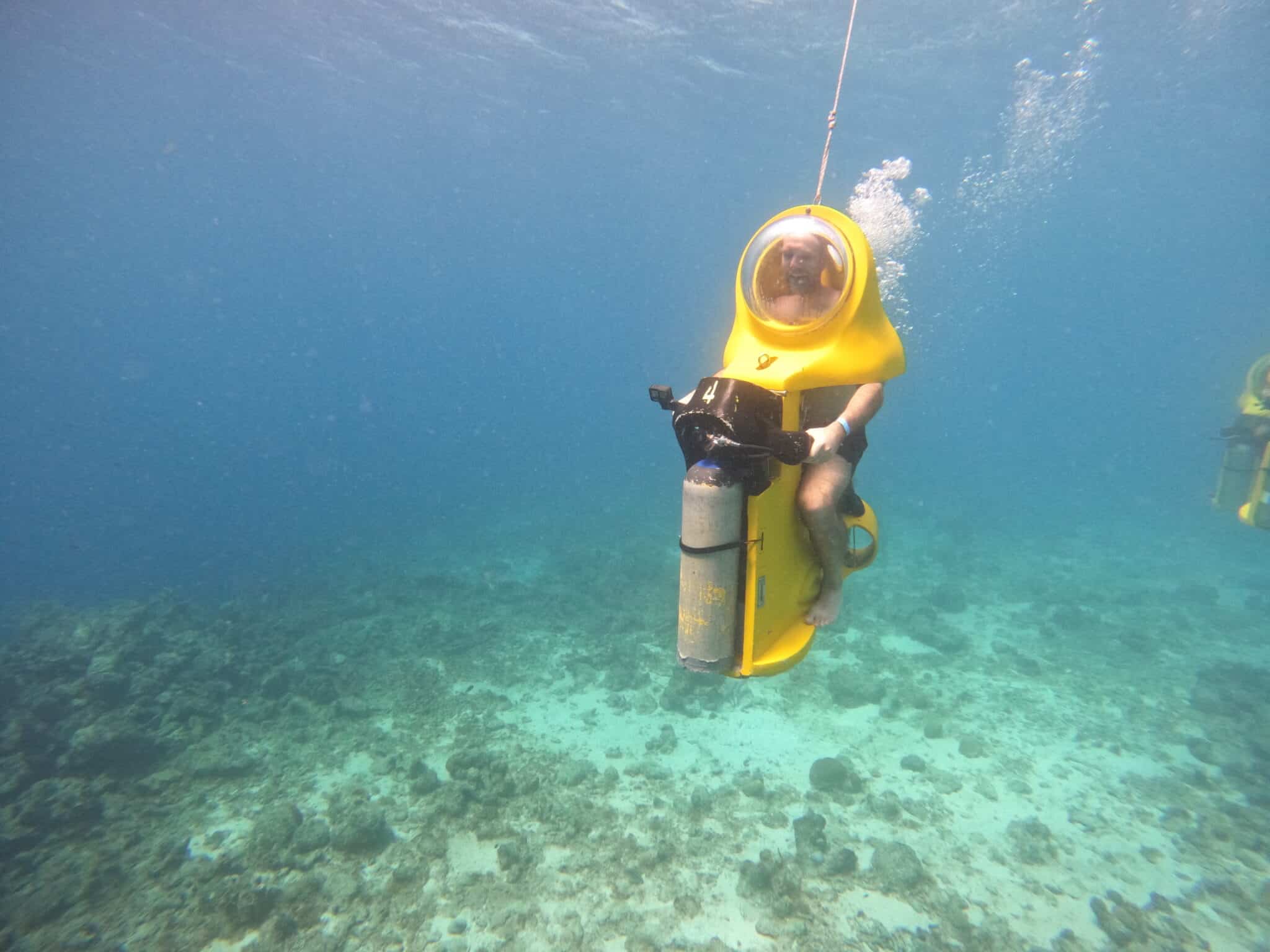 Whether you're looking for quick and easy cruise ship excursions, to getting off the beaten path, this post has a little something for everyone who is planning to visit the delightful island of Curaçao!
Read next: 50+ Fun Things to Do in Curaçao in 2023 for an Epic Vacation