Outfit Remix: 9 Different Looks Featuring High-Waisted Jean Shorts
It's been a while since I've done an outfit remix post! And typically when I do an outfit remix it's centered around a slightly more unusual clothing piece than a pair of shorts. However, the purpose of this post is to show that a single pair of high-waisted jean shorts can get a ton of use! They can also have a lot of different looks…even with using similar accessories. (I tend to wear the same shoes, use the same bags & use the same headband when I wear these shorts – whoops!)
Now, I've been living in the jeans version of these shorts lately. But given that it's almost summer for most of my readers, the shorts made more sense to feature at the moment. And these shorts are fantastic! The buttons are my favorite part! They are incredibly comfortable and stretchy as well. There is nothing better than a comfy pair of shorts during the summer. BUT, make sure you don't dry them. I accidentally put them in the dryer a few too many times and they're a bit tight on me now (and they used to fit perfectly). So, just a warning.
I'll be showing 9 different outfits I've used these shorts for on the blog (so far) and grouping the looks together that are a bit similar. I'll also link to the outfit post itself if you want to investigate a particular look even more! Enjoy!
Outfit Remix: 9 Different Looks Featuring High-Waisted Jean Shorts
V-Neck + Quirky Purse
My favorite way to style these shorts is by pairing them with a plain v-neck top. I like this way the best because it allows me to go a little crazy with my accessories. Also, I LOVE the way my Salt Water Sandals look with these shorts (as you'll notice, haha). These outfits are so comfy for a day of walking too.
Outfit post #1 with black top, click here.
Outfit post #2 with red top, click here.
Screen Printed T-Shirt
Coming in a close second is pairing these shorts with my ever growing collection of quirky screen printed t-shirts. It's a great way to wear them because tucking them into these shorts makes the whole look slightly more stylish and less sloppy looking (in my opinion).
I mean, there are only so many ways I can style my "Team Bucky" shirt! Haha.
Click here to see the Red Sox outfit post.
Click here to see the Sriracha outfit post.
Click here to see the Team Bucky outfit post.
Crop Top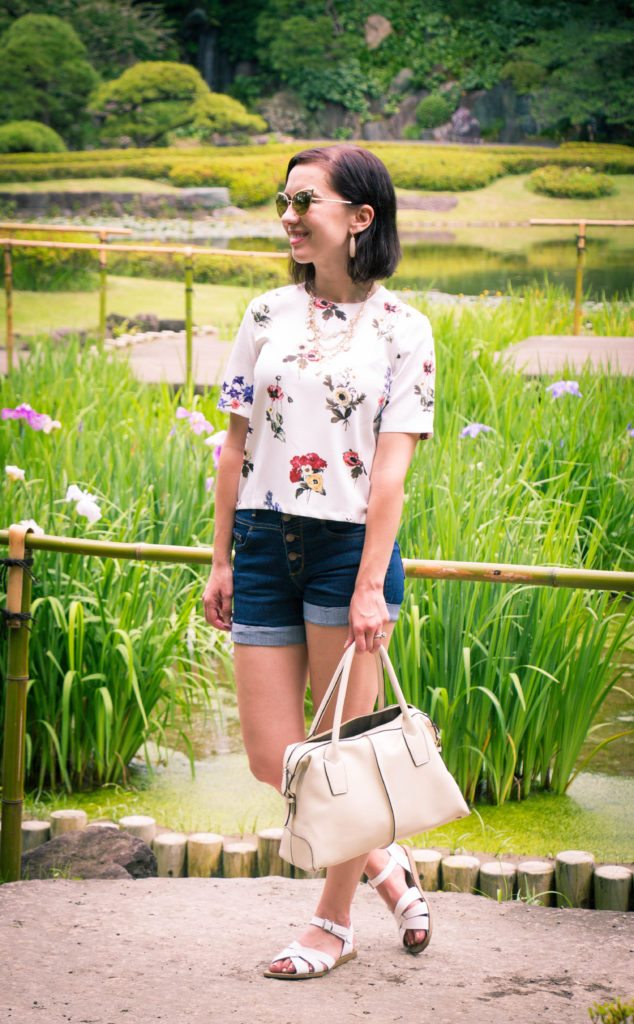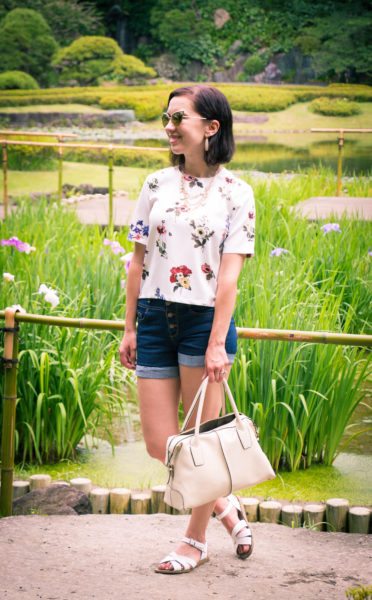 These shorts are perfect to pair with a crop top if you're hesitant to show a ton of skin. I never would've dreamed of wearing a crop top, but I am now the proud owner of 2 crop tops because I can pair them with these shorts!
Click here to see my crop top outfit post.
Swimsuit Coverup
I love this look for after the beach because it is so easy to just slip on a pair of shorts and run to grab some food once you're done swimming for the day. I lost my actual swimsuit cover-up when we moved, so this has been a good alternative until I get around to buying a new coverup.
Click here to see the swimsuit coverup post.
Untucked Top + Shawl
Having my shirt untucked doesn't really show off these shorts, but it does show they don't have to be one of the central points of the outfit to still work!
Click here to see this outfit post.
Baggy Sleeveless Top
This panda top is one of my favorite sleeveless tops because of the cute print, but the fit is too baggy for my taste. However, tucking it into these shorts gives it a whole new look!
Click here to see this outfit post.
Click here to shop these shorts!
Or click to shop below:

Do you think you would get as much use as I did out of a pair of high-waisted jean shorts? And which look was your favorite? I would love to hear your thoughts in the comments!
Disclosure: some of the links in this post are affiliate links. Meaning, if you click a link and make a purchase, Have Clothes, Will Travel gets a very small commission. Thank you for supporting the brands that make this blog possible!