I don't normally do these kinds of posts, but I thought this would be a fun one to take part in…especially because of my upcoming blog anniversary! It's always great to reflect at this time of the year. The lovely Lee of "Lee Thrifts" tagged me in the "Get to know me – 4 things" tag. (Thank you, Lee!) And I loved reading through her answers! (Click here to see Lee's answers.)
So, here are my answers! Enjoy!
Four Places I've Lived:
1.) I grew up in Wisconsin and have lived in a few different cities there. And I really do love the Packers and cheese! Haha.
2.) When my husband and I first started our nomadic journey (click here if you are new to my blog and don't know what I'm talking about), we landed in Foster City, California…which is close to San Francisco. It was a beautiful area!
3.) I also lived in Oklahoma City for a bit…it was really hot…but there was a lot of wonderful restaurants!
4.) We also lived in Princeton, New Jersey. I loved how close Princeton was to so many amazing things. But my goodness, I do not miss driving in New Jersey! 😉
*Updated in 2020 – we have also lived in Moscow, Russia, Rosario, Argentina, Sydney, Australia and Tokyo, Japan!
Four Places I've Visited:
1.) The first country I ever visited was St. Lucia for a Sandals vacation with my (now) husband.
2.) I also spent some time traveling throughout India a few years ago. It was incredible!
3.) Rome, Italy is one of my favorite cities I have visited. There is so much history everywhere you turn!
4.) My most recent vacation was a weekend trip over to Kyoto, Japan. It was absolutely magical. (I was able to hang out with a real Geisha!!)
Four TV Shows I Watch:
I watch entirely too much TV, so I'll narrow this down to my top 4 favorite TV shows, haha.
1.) "Game of Thrones." Best. Show. Ever.
2.) "Arrow." I only recently started watching this, even though it's been out for awhile. But I am absolutely obsessed, and I even dressed up as The Green Arrow for Halloween last year. Haha. (Click here for a blog post on it.)
3.) "Daredevil." I really like superhero shows…especially of the Marvel variety.
4.) "Jessica Jones." Also a Marvel superhero show…Jessica Jones is so badass. 😉 (I even visited Luke Cage's bar in the East Village!)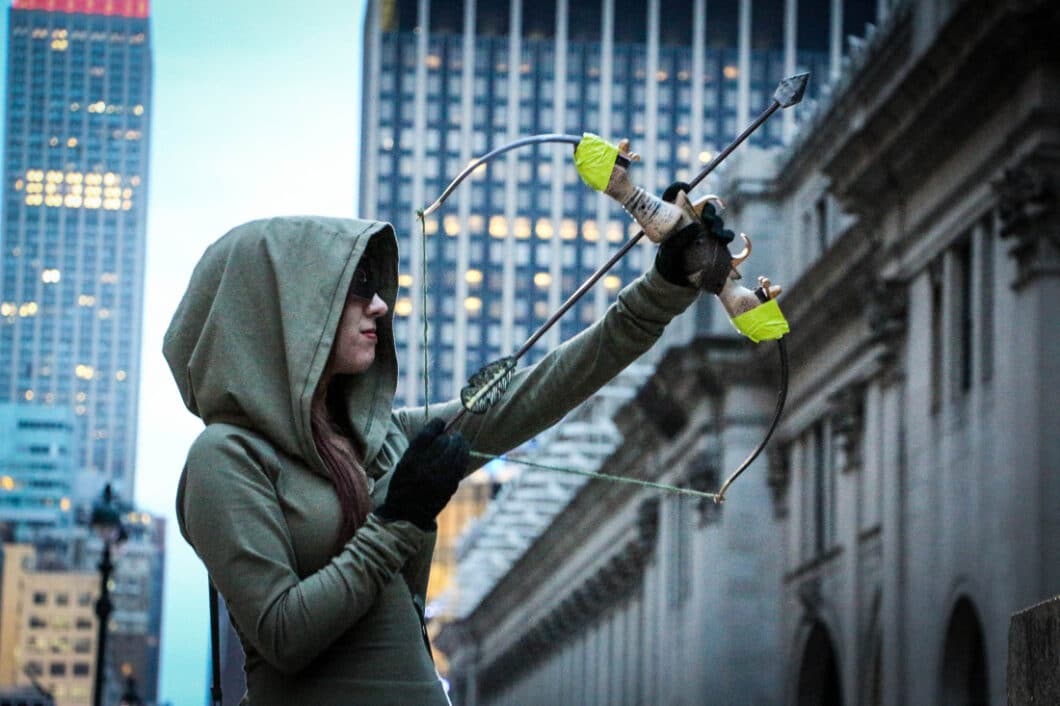 Four of my Favorite Foods:
1.) Pizza. I know, I know, not original…but I seriously could eat it every day.
2.) Anything that has balsamic vinegar in the recipe. (I really like making this here Braised Balsamic Chicken recipe. It's so easy and good!)
3.) Tamagoyaki. I'm currently eating this on a daily basis. It's Japanese rolled omelette, and it is so yummy.
4.) Bananas.
Four Things I Like to Drink:
1.) Coffee. I can easily drink an entire pot of black coffee…and not because I'm that sleep-deprived, I just really like coffee! (Except Starbucks, gosh, regular Starbucks coffee is icky.)
2.) Water. Lots of water…to balance out the coffee addiction. Haha.
3.) Green Tea. I'll drink this closer to bedtime instead of coffee…so, I can actually sleep.
4.) The hoppiest of hoppy IPAs. Which I haven't had in a long time…because craft beer is super duper expensive in Tokyo!
Four Pet Peeves:
1.) Not fact-checking and spreading false information on the Internet. I literally start twitching when I see someone who shares an article or meme on Facebook that is clearly fishy…and they have done zero research on the subject before sharing it. Do a little digging before spreading stuff on social media.
2.) Intolerance of other's views. Again, with the age of the Internet, it's very easy to be a bully behind a screen. Everyone is entitled to their own opinions… let's live and let live. Have productive debates over your differences in opinions, but the fear-mongering and bashing of other's views really makes me sick to my stomach.
3.) People who pass me while I'm driving to go 3 miles an hour faster than me.
4.) Getting told I need to have children. (Sorry, that's not in the cards with all the traveling we do.)
Four Wacky or Odd Things About Me:
1.) My summer job in college was working at the local landfill. So, I know a lot about trash, trash collection and recycling!
2.) My hometown has just 913 people living in it.
3.) I am terrified of E.T. especially when he turns white.
4.) I've never broken a bone in my body. The worst injury I think I had was falling off my pony, Dusty, and spraining my wrist when I was little.
I hope you enjoyed getting to know a little more about me! And don't forget to enter my blog anniversary giveaway with Makemechic by clicking here!

I'm tagging:
Laurie of "Happy as a Lark"
Richa of "Fanciers World"
Denise of "Denise's Planet"