11 Amazing Indie Stores for Clothing & Accessories That I LOVE
Are you looking for some cool indie stores to update your wardrobe with? You've come to the right place! Plus, all of these indie stores listed here are available online – many are also sustainable and fair trade.
I am a big fan of not dressing like everyone else and supporting small, independently owned brands. The shops listed here are ones that I personally am familiar with and love. So, the style is going to be mainly MY style – which is more classic, vintage, and boho. This list will also be including not only indie clothing stores, but also my favorite indie accessories and jewelry shops.
I'm always on the hunt too, for new places to shop! So, please list your favorite indie stores in the comments if I missed them in this list!
*Disclosure: some of these links are affiliate links. Meaning, if you click a link and make a purchase, Have Clothes, Will Travel gets a very small commission at no extra cost to you. Thank you for supporting the brands that make this blog possible!
11 Amazing Independently Owned Stores for Clothing & Accessories That I LOVE
Salty Crush
Co-founders Madely and Michelle from Sydney wanted to share their favorite mix of unique and exquisite boho pieces with soul sisters around the world, so Salty Crush was born in July 2016. It's been going strong ever since!
Salty Crush is one of my favorite indie brands. I now have 4 of their dresses and 2 of their cardigans.. They're based out of Sydney, Australia but have speedy international shipping. (My orders coming to the US have taken only about a week to reach me.) They feature a great selection of modern boho chic items in vibrant colors and at a reasonable price point.
Karina Dresses
Karina Cousineau launched Karina Dresses from her home in Upstate New York in 2008. Her vision was to create dresses for every woman. Karina felt there was a real need for a fashion line that celebrates women and promotes positivity. She truly believes in the innate beauty of women when they accept and love themselves as they are.
If you have been following my blog for a few years, you've already heard me proclaim my undying love for this independently owned dress shop in Kingston, New York – A LOT (sorry not sorry).
Karina Dresses is a US-based dress company that specializes in making dresses that are comfortable and can easily go from day to night. They are also very size-inclusive and their dresses range in size from XS-4X. The best part, though, is that their dresses do NOT wrinkle!
Passion Lilie
Katie Schmidt is the founder, owner, and lead designer of Passion Lilie, an ethical fashion shop. Started in 2013, the Passion Lilie is fair trade and has a social mission to empower artisans across the world by creating dignified employment opportunities.
Passion Lilie was my first introduction to eco-friendly clothing. All of Passion Lilie's clothes are designed in New Orleans and then are produced in India using ancient artisanal dyeing and weaving traditions. The women in India are paid fair wages and have decades of experience in their craft. The Passion Lilie dress, pictured above, is one that I've had for nearly 5 years now – I wear it and wash it constantly and it still looks great. The quality is fantastic, as is the mission of this store.
Carry Courage
Marissa began Carry Courage in the spring of 2018 after years of feeling burned out and uninspired in her office job. After she took this leap of courage into entrepreneurship she realized there were so many other women feeling the same way she was. And so she started out to inspire other women to pursue the courage to live their dreams along with her.
Marissa of Carry Courage creates sustainable travel bags & luggage tags made from vegan materials, such as cork fabric and linen (and now face masks). All of her products are hand-sewn in her Portland, Oregon studio too – so you know you aren't receiving a mass-produced item when you order from Carry Courage. I own a few products from Carry Courage, now, which I love. However, the Inventor Tablet Clutch, pictured above, is my FAVORITE. I get so many compliments on this handmade, cork clutch.
Kelley Hollis Jewelry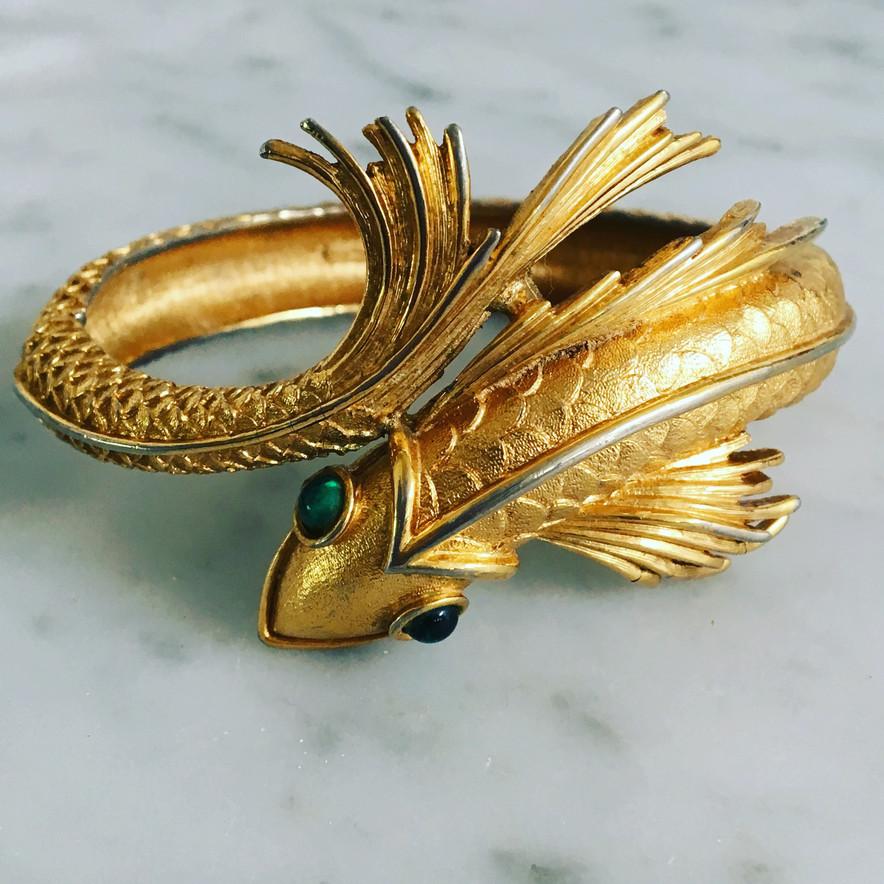 Kelley is a Berkeley artist inspired by a love of vintage jewelry. Kelley's jewelry fuses the style and sensibility of the modern wearer with the intricate detail and one-of-a-kind magic of vintage designs.
Kelley Hollis Jewelry breathes new life into vintage jewelry by expertly restoring pieces by hand and repurposing them with the modern wearer in mind. Kelley's talents don't end there, though. She also creates her own limited edition designs in 18 ct and 22 ct gold. I love my gorgeous Kelley Hollis 22ct gold plate flower earrings with pearls from India. They're unique, classy and go with everything – and the quality is incredible.
Tara Lynn Boutique
Tara Lynn takes pride in making custom clothing for women of all shapes and sizes. She now works with top designers across the country to bring you one of a kind pieces, without compromising comfort.
At Tara Lynn's, they offer extended sizes, along with petite and tall lengths. They also custom make a lot of their clothing and ship it from their Utah shop. I just started shopping on Tara Lynn's online boutique, but I can already say, that the quality is are fantastic as are her prices. I own a dress and a sweater that I love. (I'll be doing a full feature about them on the blog soon!)
Unique Vintage
Started in 2000, uniquevintage.com was founded by Katie Echeverry, a vintage fashion lover who would spend her weekdays working in pharmaceutical sales and her weekends on the hunt for vintage dresses to sell on the website she had started as a fun weekend hobby. Quickly recognizing that high-quality vintage items were very hard to find, Katie took a chance and began adding vintage-inspired dresses to her site, seeing sales skyrocket almost immediately. This was all it took for Katie to know that her weekend hobby was much more than just that, leading her to ditch the doctor's offices and take on UV full time.
Unique Vintage now has a shop in Burbank, California and ships their clothing all over the world. Katie has also launched a Unique Vintage brand label that is AMAZING. I have 4 dresses (like the one above), tops and swimwear that I've worn and washed for years that still look new. The quality of UV is fantastic, and they are beautiful.
Collectif
Ramiro Torres started Collectif in 2000, as a stall in one of the most exciting and unique retail destinations in the world; Camden Market. Over the past twenty years, Collectif has grown to open three stores in London and one in Brighton.
Collectif is a UK-based brand that I was introduced to through ModCloth. They pride themselves on designing and producing all of their own 1940s and 1950s inspired clothing in their Collectif Mainline collection. I am especially a fan of Collectif's outwear – like the cape pictured above or my swing coat from them.
Top Vintage
Top Vintage started in 2008 in the company founder – Angelique's – living room. It started first as an exclusive vintage webshop and gradually blossomed to one of the leading online retro boutiques in Europe.
Top Vintage carries many of the same brands found on ModCloth and Unique Vintage, such as Mak sweaters – my personal favorite maker of cardigans and also Banned Retro. And they carry many more gorgeous European-based brands such as Miss Candyfloss and King Louie. (My suit from them, above, is by Marlies Dekkers.) They also, now, have their own label – TopVintage Boutique Collection.
XCVI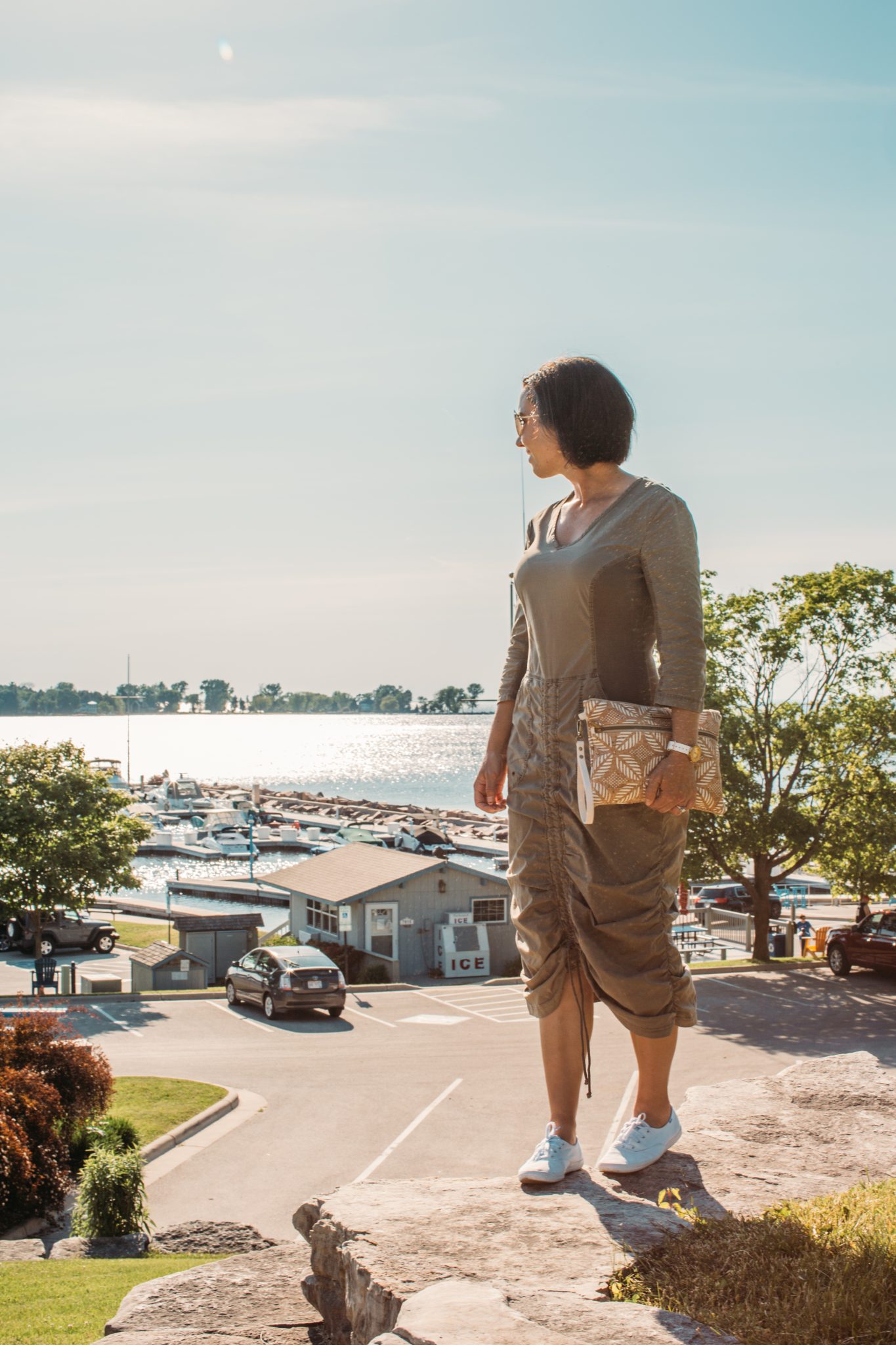 In 1996 (or XCVI, in roman numerals) Gita Zeltzer introduced the first season of XCVI from the back of their small storefront. The success of the line and its ability to resonate with so many types of people demanded that the team hire another designer to keep up with demand. Together with designer Lilia Gorodnitski, they manifested a shared vision: to develop wearable, breathable, moveable clothing for women who believe in style, but also believe in comfort.
For over 20 years, XCVI has stayed true to this vision, both with its design principles and in its business practice. Today, XCVI is run by Gita's daughter and son who continue their parents' legacy of thoughtfully designing casual clothing that enrich women's lives with joy and ease.
I can attest to the fact XCVI's clothing is indeed clothing you can live in! Their leggings have been staples of my wardrobe for 2020. I also love my dresses and cardigans by them. The clothing is high-quality, unique and very comfortable.
Maewenn Designs
Maewenn's unique and delicate contemporary pieces are each carefully handcrafted. Sometimes as collaborative works with different designers around the world, but usually straight from the talented hands of this French designer, living in Sydney. These pieces are effortlessly elegant, but stand out to make a bold statement of style and personality.
If you look closely at the first few outfits in this post, you'll also see these earrings from Maewenn Designs! I met Maewenn at a Christmas market near my apartment in Sydney 4 years ago and bought these earrings from her. They're easily my most worn pieces of jewelry I have right now! Now that I'm back in the US, I've been ordering creations from her Etsy shop and am continually blown away by the quality and attention to detail in her designs. Plus, her earrings are incredibly lightweight and comfortable to wear.
Honorable Mentions:
What are some of your favorite indie stores? Let me know in the comments!