ModCloth's Stylish Surprise Sale Event Explained + My Surprises Over The Years
You may have noticed me mentioning ModCloth's Stylish Surprise every 6 months or so on my social media accounts. This is because I absolutely LOVE participating in this sale. However, I realize it's been awhile since I've actually explained what this sale is, as it isn't your typical sale event. I also thought it would be fun to show off the items I've gotten via this sale over the years. There have been a lot of hits, but there have also been some misses!
ModCloth's Stylish Surprise Sale Event Explained
The "Stylish Surprise" sale event is ModCloth's end of the season "grab bag" that happens a couple times a year. You pay anywhere from $10-$20 and choose a mystery item. ModCloth has (thankfully) recently broken the categories up into specifics such as dresses, tops, bottoms, outerwear, shoes, swimwear, jewelry or decor. So, you select your size and your specific category of your mystery item now.
You have no idea exactly what item you are getting from the category you select, other than it's a pretty good chance it will be something from whatever season just ended. You also never know exactly when ModCloth is going to run a Stylish Surprise, so you have to monitor your email at the end of the season for the announcement. (Or monitor my Twitter or Facebook!)
Now, some people love this sale (like me), and others hate it. It really depends on how open-minded you are about your style. As I'll show below, I've received a wide range of clothing over the years! And there's really only been one thing that I straight up didn't like.
*Oh, and as of right now (07/23/2018) ModCloth does have a few categories left for its end of the summer Stylish Surprise event! Click here to shop it!
My Surprises Over The Years (Oldest to Newest)
1.) My Most Worn Dress Ever
This dress is what first got me hooked on ModCloth' Stylish Surprise. I bought it nearly 3 years ago and not a month goes by that I don't wear it. It has earned the title of most-worn thing in my closet + it's held up remarkably well for all the wearing/washing it has received over the years! If you're interested in the posts I've featured it in on the blog, I've linked to them below.
1.) Post featuring the dress + flower crown: click here
2.) Post featuring the dress + gladiator sandals & monkeys: click here
3.) Post featuring the dress + pink cardigan: click here
4.) Post featuring the dress in fall + mustard cardigan: click here
2.) Lace Detail Dress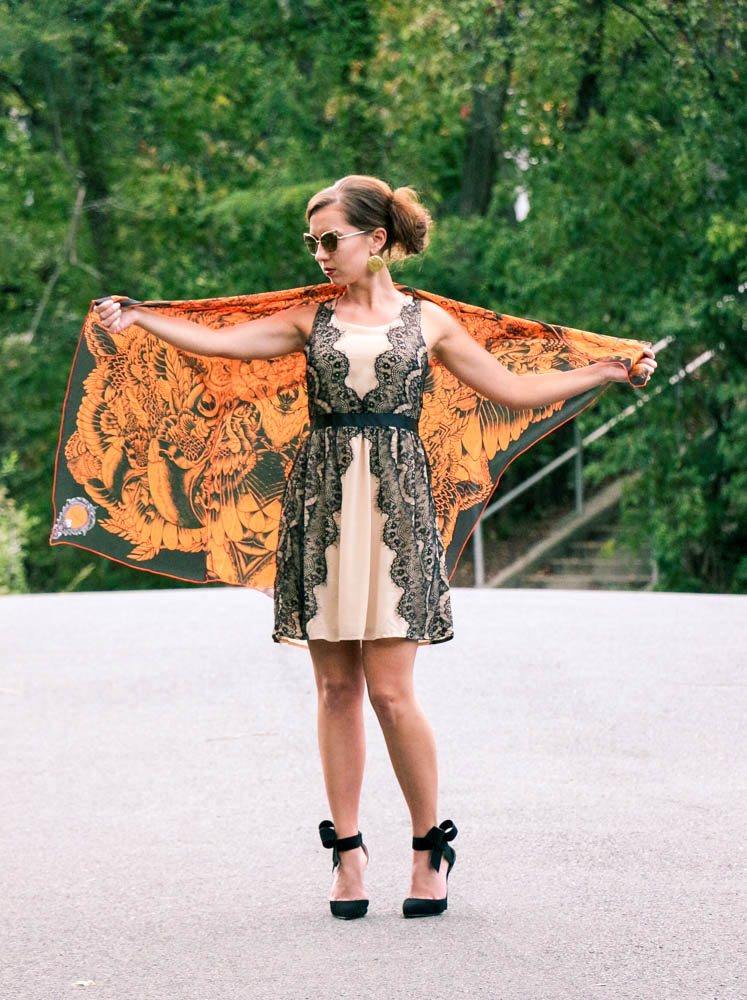 This dress is gorgeous and really versatile! I was also very happy with this "surprise." This one, though, is not quite as well-made as the previous dress. I've been very careful with washing it over the years.
Click here to see the outfit post featuring it. (I need to restyle this dress for the blog, again!)
3.) Asymmetrical Cardigan
This cardigan was another win in my book and was perfect for Wisconsin winters! It is so soft and well-made and got a ton of use when I lived in the "Frozen Tundra." I can't wait to break it out again when I head back there for Christmas.
Click here to see the outfit post featuring it.
4.) Rain Booties
Out of my years of ordering the Stylish Surprise, this was the first and last time I took a chance on the shoe department! I would also say this is the only real "miss" I've ever had ordering from it. This is because I have wide feet and am very picky about my shoes. And needless to say, these rain booties were just not my style…I ended up selling them on Poshmark for a few dollars less than what I spent on them, though. So, it turned out OK!
Click here to see this outfit post featuring the booties.
5.) My Exploring Jacket
I've been wearing this jacket on all my adventure this past year ever since it arrived in my mailbox! It's the perfect exploring jacket, except it isn't waterproof…so, it's not ideal for rainy days. But for $15, I really couldn't complain about it.
To see the koala post featuring it: click here
To see the mountain post featuring it: click here
To see the Hobbit hole post featuring it: click here
To see the rainy geothermal activity post: click here
6.) Marvelous Midi Skirt
This is my most recent ModCloth Stylish Surprise (from Spring), and honestly, I think this one might be the best! For $15, I am over-the-moon about the quality of this midi skirt! I can't wait to wear this once it cools down again.
Click here to see the outfit post featuring it.
Have you participated in ModCloth's Stylish Surprise? (If not click here to check it out!) And if so, how did you like it? Let me know in the comments!
**I'm also very excited to be featured on A World of Dresses as part of their "Women Around the World Series!" Click here to check out my interview.
*If you like this post, please Pin it! 🙂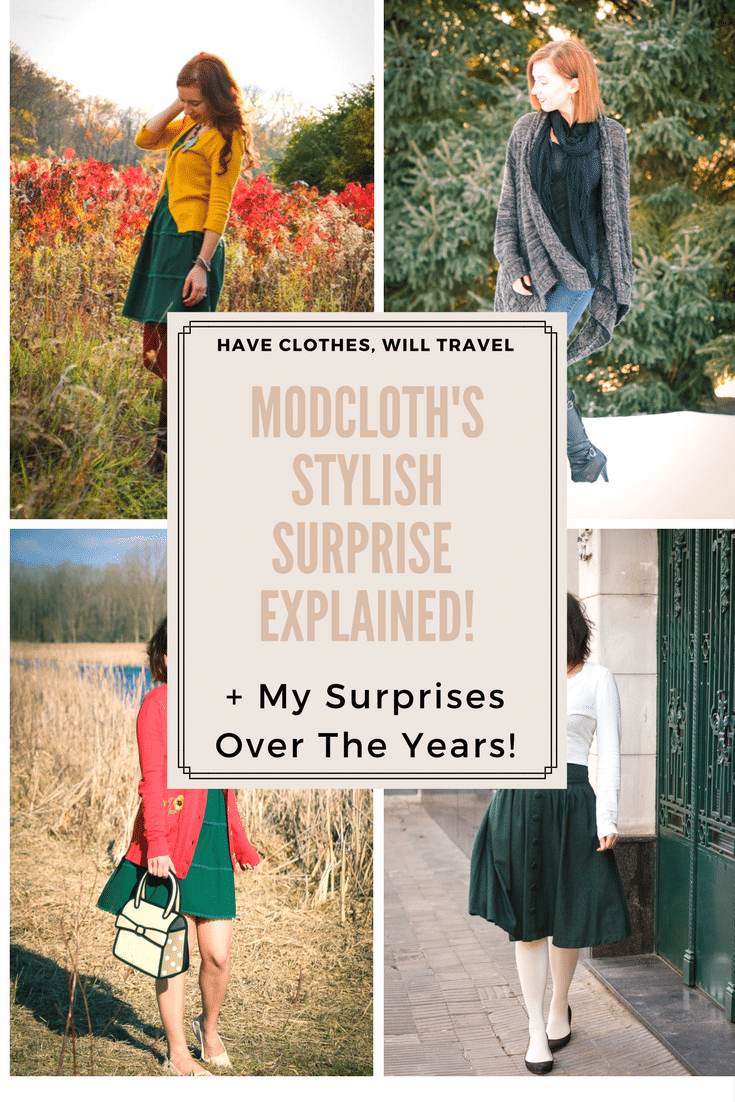 Disclosure: some of the links in this post are affiliate links. Meaning, if you click a link and make a purchase, Have Clothes, Will Travel gets a very small commission. Thank you for supporting the brands that make this blog possible!