The Best ModCloth Alternatives in Europe With Retro & Vintage-Style Clothing
If you're a lover of vintage-style and indie clothing like I am, then I'm sure you love Modcloth too! *Unfortunately, though, ModCloth is not available in Europe right now, as their website is not yet GDPR compliant. And from what I have come to understand – getting your website GDPR compliant can take several years. (It's a really complicated process!) So, European ModCloth fans may be waiting for a while before they can shop here again.
*UPDATE: as of September 2020, ModCloth is now available in the UK & Europe! Check out the new Fall fashion from Modcloth, here! Wahoo! Or keep scrolling to see some fun ModCloth alternatives.
For the last year and a half, while I was living in Russia, I was still able to browse the ModCloth website (because Russia is not part of the EU). However, living in Russia meant I did get to explore some fun European and UK-based brands that are like ModCloth!
So, this post is for all my European and UK friends who have been complaining to me about no longer being able to shop on ModCloth's website. Fret not, friends! You have plenty of fun vintage-style and indie clothing options too! I'll share these shops below – and how friendly they are for shipping to the UK and European addresses (as some are better for shipping if you're in the UK and some are better for the rest of Europe, etc.). I know there are loads more out there, so feel free to let me know some of your favorites in the comments! Enjoy!
Are you from the US and wondering what other stores are out there are like ModCloth? Then check out my ModCloth Alternatives post for the US, here.
*Disclosure: some of these links are affiliate links. Meaning, if you click a link and make a purchase, Have Clothes, Will Travel gets a very small commission at no extra cost to you. Thank you for supporting the brands that make this blog possible!
Stores With Clothing Like ModCloth That Are Available in Europe & the UK
Collectif
"Each of Collectif's vintage and retro clothing lines are created by combining the latest fashion trends with classic vintage styles, with that good sprinkle of the rock and roll spirit, that our vintage loving pals are known for!"
Collectif is a UK-based brand that I was introduced to through ModCloth. They pride themselves on designing and producing all of their own 1940s and 1950s inspired clothing in their Collectif Mainline collection.
I own a lot of vintage-inspired outerwear from Collectif that I absolutely love. (My favorites that I own are this red cape and this burnt orange swing coat.) I get so many compliments on them, and the quality is fantastic!
Shipping is reasonably priced for the UK (£5.50) but Europe is getting a bit pricey (£9.50 – 12.50). Click here for current rates.
Joanie Clothing
"Joanie was born out of a desire to create vintage-inspired style for the modern wardrobe, with fun, flirtation and femininity at its heart. Ofur brand is inspired by our Designer's Great Aunt, Joanie; a glamorous woman who tapped and twirled her way through the fifties and sixties. She was always well-turned out with perfectly coiffed red hair and to this day, Joanie enjoys nothing more than an afternoon of tea dancing, indulging in high tea with friends, and an ice cold glass of ginger beer."
If that startup story doesn't make you want to spend all your money on Joanie clothing… then maybe their affordable pricetags will! Most items on their website are less £50, and they even have a section dedicated to dresses that are all less than £30! Joanie Clothing's quality is fantastic for their prices too.
Delivery is free in the UK on orders over £50. And the rest of Europe is £6.95 for shipping. Not too bad at all! Click here for more info on their delivery fees.
Miss Patina
"Vintage-inspired fashion with a modern twist for women who enjoy the little things in life.
Miss Patina also launches a new cat theme every season. From angel cats to mermaid cats, musical cats to book kitties; even a variety of David Bowie and Beatles tribute cats. The inspiration for Miss Patina's designer, Holly, came after she found and fell in love with a poor pregnant street cat and gave it refuge in the Miss Patina studio. (And the 4 kitties who were born shortly after!)"
Miss Patina's entire website is brimming with gorgeous designs that make my heart go pitter-patter. And as a fellow stray cat lover… I can't get enough of their adorable kitty cat designs. If you can browse this website and not buy anything… you have far more self-control than I do!
Even celebrities such as Taylor Swift, Elle Fanning, Sienna Miller and Emilia Clarke, (just to name a few) are fans of Miss Patina's delightful designs.
UK delivery is free and the rest of Europe is free for orders over £100.

Ted Baker
"From the beginning, Ted has had a very clear, unswerving, focus on quality, attention to detail and a quirky sense of humour, so much so in fact that the first stores used to provide a laundry service for every shirt purchased – something that gained the quickly growing brand the title of 'No Ordinary Designer Label'. Everything produced under the Ted Baker name has his personality woven into its very heart."
Ted Baker is a London-based designer that is quickly filling my closet. His designs are unique, whimsical and classic. Ted Baker's bodycon dresses are also the only bodycon dresses I'll wear (click here to see my favorite by him)… I'm also the proud owner of several midi skirts from him (this one I even featured in my 5-year blogiversary post). And I absolutely love the feminine touches to Ted's heels… like these bow heels from him.
And while I would be no means say his designs are inexpensive… they are relatively affordable in comparison to other designer labels. Ted Baker also runs sales frequently (sometimes as much as 60-80% off!). That is how I have bought all of my designs from him… just by looking through the sale section.
Standard shipping is free to the UK and Europe.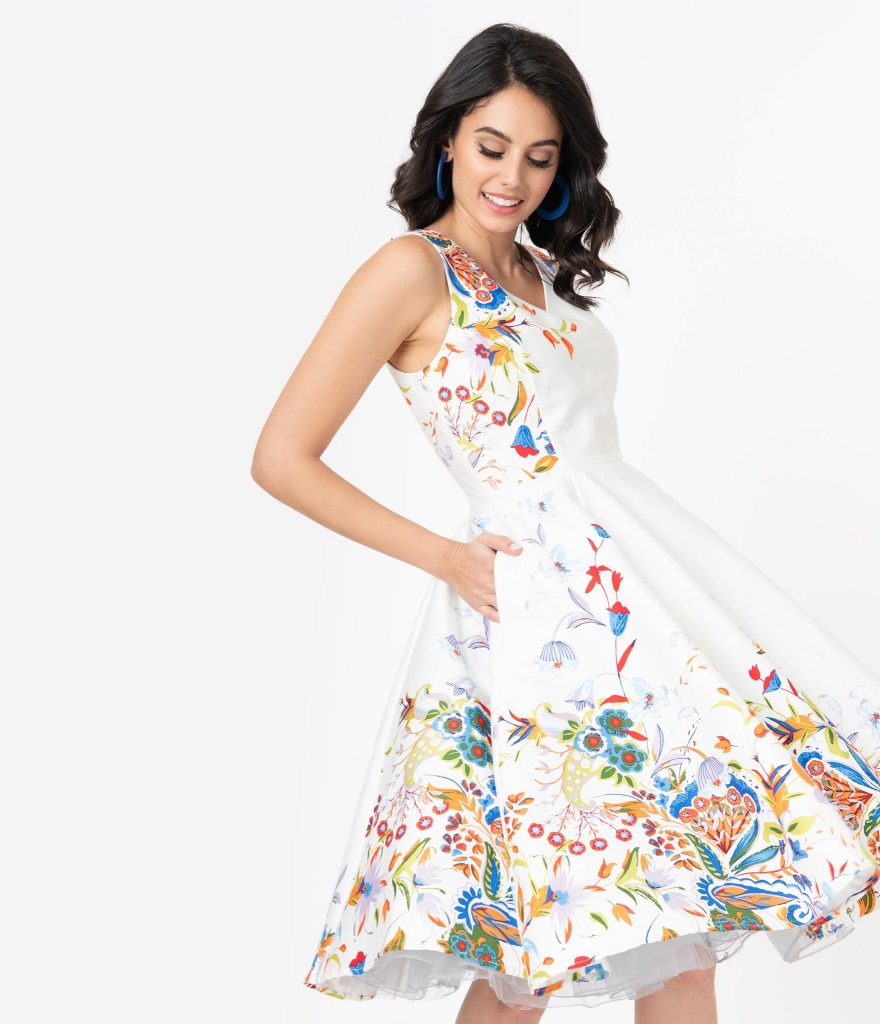 Unique Vintage
"Created by a woman for women, Unique Vintage celebrates the iconic, flirty fashion of the past with modern, ready-to-wear designs for today's woman."
Unique Vintage carries a great range of retro-inspired designers with everything from swimsuits to swing dresses, wiggle dresses and wedding attire and shoes. I love all their quirky prints and their wide variety of tops and swimwear.
The quality of their clothing is absolutely fantastic too. I own entirely too many Unique Vintage pieces to list, however, this post features my favorite dress from UV and this post features my favorite swimsuit by them!
For shipping to the UK it costs £8.00 for flat rate express shipping & you can get free standard shipping with purchases over £125 or $150 USD. The rest of Europe varies by country and shipping weight… beware it can get pricey!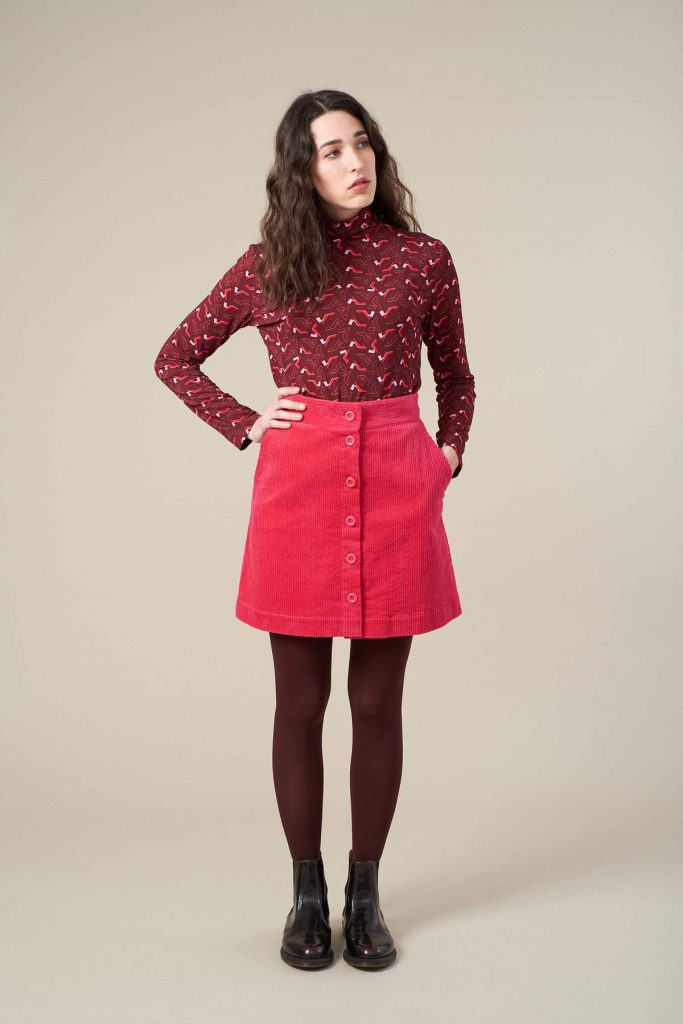 Emily & Fin
"Emily and Fin is an independent clothing brand for creative women that is rooted in friendship and complementary talents. Co-founders Emily Whittle and Fin Armour-Brown started on London's famous Portobello Market by creating clothes from beautiful fabrics sourced from far-away destinations. "
I have not personally tried Emily & Fin yet, but many of my friends and fellow bloggers swear by their clothing (especially their dresses). My blogging friend, Karen from Wanderlustingk and is based in the Netherlands, recommends them for comfy cotton dresses. Their knitwear looks right up my alley too!
ModCloth and Unique Vintage both sell Emily & Fin clothing on their websites as well.
Shipping for the UK is free when you spend over £100 and for the rest of Europe, it's free when you spend over £150.
Chi Chi London

"Chi Chi London is a leading retailer of ladies' fashion, specializing in cocktail, prom and evening dresses."
This is a brand I was introduced to via ModCloth. I actually tried some of their dresses on when I visited the Modcloth Fit Shop in Washington, D.C. They are so gorgeous in person and fit beautifully! However, I don't personally own any Chi Chi London dresses, yet. I do know girls who have been married in their wedding dresses, though (specifically their Flora Dress). They have had nothing but great things to say about them!
UK is free shipping for orders over £100 or otherwise, it's £3.99. The rest of Europe is also free if your order is over £100, otherwise, it's £9.99.

Hearts and Found
"Hearts and Found was created from an obsession with 40s and 50s photos, dresses and novelty prints. We have one goal in mind: We want to create the highest quality clothing, from the most unique textiles, at fair prices to our customers and partners."
Hearts and Found is a fabulous little shop known for their beautiful vintage-inspired clothing – and all of their items can be made to your exact measurements! Even better, they have a mission to support local businesses and tailors and source all of their fabrics from local Vietnam markets. (They're currently supporting an independent tailor in Vietnam named Co Thanh (Auntie Thanh). She has a small tailoring shop in an area called District 5 and currently employs 3 people.) How awesome is that?
Shipping on average – whether it's going to the UK, USA or anywhere in Europe is quoted at $25. This does vary slightly, though, from country to country.
Voodoo Vixen
"Voodoo Vixen is the gorgeous vintage-inspired fashion brand specializing in 20s to 60s style clothing. Taking inspiration from these eras of glamour, Voodoo Vixen infuses classic retro, pin-up and rockabilly designs with subtle contemporary styling to bring you garments that not only reflect the elegance of Marilyn Monroe but ooze the modern-day glamour of Dita Von Teese! "
Voodoo Vixen is another brand I haven't tried yet, but I am really missing out according to my fellow, vintage-reproduction loving friends! Their quality is fantastic and so are their prices.
Voodoo Vixen offers free shipping on all UK orders over £20. Standard shipping to Europe is £7.50.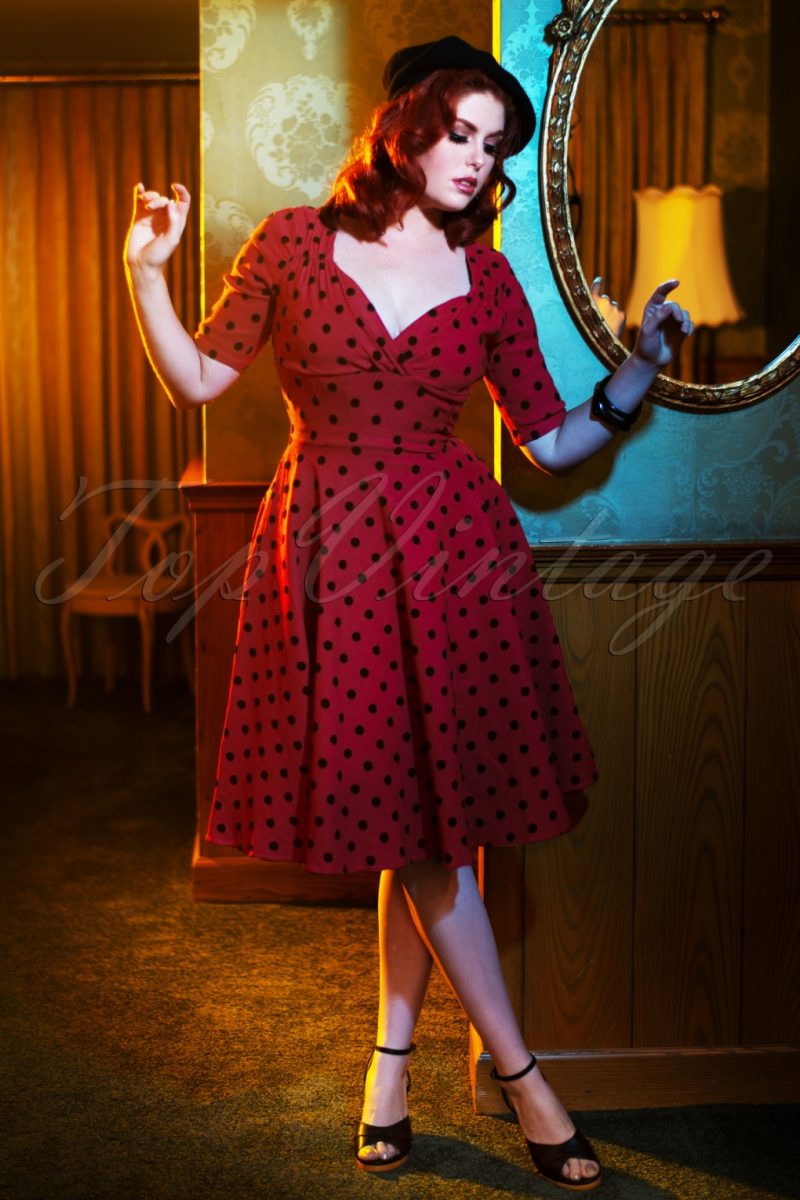 Top Vintage
"Online Shopping. No make-up, no pants, no problem! Every day, we expand our collection with new items and with restocks, in all available sizes from XS – 4XL. Our mission is to make you look beautiful and feel feminine."
Top Vintage started in 2008 in the company founder – Angelique's – living room. It started first as an exclusive vintage webshop and gradually blossomed to one of the leading online retro boutiques in Europe. They carry many of the same brands found on ModCloth and Unique Vintage (such as Mak sweaters – my personal favorite maker of cardigans and also Banner Retro.) And they carry many more gorgeous European-based brands such as Miss Candyfloss and King Louie.
Free Shipping to the United Kingdom, United States, The Netherlands, Germany, Belgium, Denmark, Luxembourg, Austria and France.

Boden
"Boden exists to create joy – joy for all our global customers, young and old. We believe in creating stylish, beautifully made clothes that make our customers feel uplifted, whilst we remain down to earth and grounded, never taking ourselves too seriously."
Boden's clothing can best be described as "timeless." Their clothes will last you a lifetime and never be out of style. Boden also has clothing for the entire family – not just women!
Standard delivery varies but on average is £3.95 or € 4.95.
Sister Jane
"No day is the same: we aim to refresh your wardrobe by bringing you a new capsule collection every 6 weeks – making every piece a limited-edition gem."
Sister Jane is a London-based fashion brand that creates unique, vintage-inspired designs. They combine whimsical eccentricity with a distinctive style signature. Pieces emphasize unique, unexpected details that are colorful, fresh, and trend-led while carrying a retro nod.
Standard delivery rates range from free to £5.99.
**NEW ADD: eShakti
"eShakti has disrupted women's fashion with personalized clothing made to the customer's size and height, and her preference in style. "
eShakti has a great range of cute dresses, skirts and pants in a wide variety of sizes. They also have started adding a lot of quirky prints! Oh, and if that's not enough, they also have the option to customize your sizing and the style of the clothes you order! It's pretty nifty, actually. I have really loved my dresses from eShakti (and they have pockets)!
Shipping to the UK is £10.50. Shipping for the rest of Europe, though, varies from $9-$24USD. Click here for current rates.

**NEW ADD: Chicwish
"Chicwish caters to the younger generation with a distinct sense of chic style, while keeping with our great quality and affordability. We appreciate vintage-inspired and handmade collections while establishing our online store as a mecca for those who with an eye for fun fashion. Our team works in the U.S., U.K. and Asia, where dynamic lifestyle and cosmopolitan outlook blending the best of East and West. It provides our indie designers with an abundant supply of new ideas on which to draw to express their talent and creativity."
Chicwish has such whimsical styles. And they have THE cutest skirts out there, in my opinion. Plus, they're affordable, with most skirts coming in at less than €40. (They also have plenty of pretty dresses and tops too!)
Free shipping for everyone! Although, shipping can take up to a few weeks to reach you then…
**NEW ADD: ZAPAKA
I was only recently introduced to ZAPAKA, and I can't believe I hadn't heard of them sooner! They've been around for a while and are similar to ModCloth in the sense that they carry many different retro designers on their website, but they also have their own ZAPAKA private label. Their retro dresses are absolutely stunning and, the prices are far lower than what you would pay on ModCloth! (The majority of dresses are less than $40! I also think this is a great alternative to everyone who is missing LindyBop, too.)
Standard Shipping($8.99) takes 7-14 business days for delivery to UK & Germany & EUROPE
***HONORABLE MENTIONS
Ok, so the stores listed below I am either not as personally familiar with (but I can see that their websites carry similar clothing items). And some are not exactly "similar" to ModCloth clothing in their entirety. However, you can find some similar products from time to time.
Which stores would you add to this list? Let me know in the comments!
I am a participant in the Amazon Services LLC Associates Program, an affiliate advertising program designed to provide a means for us to earn fees by linking to Amazon.com and affiliated sites.