My Top 10 Online Stores (Seriously, They Take All My Money!)
I avoid going to stores at all costs. I much prefer shopping at online stores from the comfort of my couch with a cup of coffee and my laptop. I like to take my time thinking about my purchase and read reviews on items. And I will even let items sit in my cart for days at a time, just to make sure I really want it, and it's not an impulse buy.
Like everyone, I have my favorite online stores. They're the ones I know where to look to find the good stuff. If I need something for a wedding, my house, a refill on an empty toiletry…I know just which store will have it. And I do most of my shopping at only a handful of online stores.
So, for today's post, I figured it would be fun to share which websites I spend the bulk of my money at…specifically for this past year. Most of these websites were made using free website builder software, so if you decide to do this yourself, there are plenty of useful tools to help you out. And thanks to my husband for getting me to use Mint.com & Quickbooks…I know exactly where I'm spending my money, haha. Enjoy!
*Disclosure: some of these links are affiliate links. Meaning, if you click a link and make a purchase, Have Clothes, Will Travel gets a very small commission at no extra cost to you. Thank you for supporting the brands that make this blog possible! I am also a participant in the Amazon Services LLC Associates Program, an affiliate advertising program designed to provide a means for us to earn fees by linking to Amazon.com and affiliated sites.
My 10 Top Ten Online Stores (Seriously, They Take All My Money!)
1.) Amazon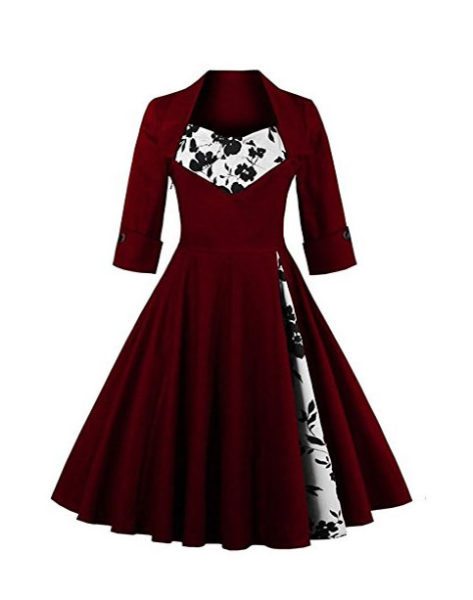 Ok, ok, ok…I know what you're thinking. Tell me something I don't know, Lindsey! Everyone spends all their money on Amazon! But seriously…They. Have. Everything. I buy books from Amazon, dresses, kitchen utensils, plants, picture frames, an office chair, towels, sheets, face scrub, memory cards, my camera and camera equipment, makeup, lotion…EVERYTHING. It's so dangerous, haha. And what everyone seems the most shocked about is you can find REALLY good clothing and shoes, especially shoes, on Amazon…I've found some amazing heels, flats, sneakers, boots, workout clothes, petticoats, and dresses. I'm a little behind on it right now because I went crazy getting stuff for our house, but I (eventually) upload all my Amazon purchases to my Amazon recommendation page complete with reviews. If you're ever interested in what I'm spending money on, click here!
Click here to shop Amazon.
2.) ModCloth

ModCloth is still one of my go-to online shopping stores when I'm looking for cute, vintage-inspired clothing. All of my favorite skirts have come from ModCloth, and the bulk of my favorite handbags and shoes are from here as well. (And I can't forget, my almost worn-to-death yellow cardigan) And now I'm starting to have some fun with their little home decor section – 1st purchase: a T. Rex planter. Haha. (Pssst! Get more dinosaur things ModCloth – I will buy them all! Haha.)
Click here to shop ModCloth.
3.) Target

Target is starting to give Amazon a little competition with my bank account recently! I always loved Target, but I never ordered anything online from them because their shipping was expensive and took forever. But NOW, if you spend over $35 (and let's face it, I usually spend over $35)… you get free 2-day shipping! I've actually gotten my last two purchases by the next day! (I had ordered dishes and a coffee pot…and then more dishes… they're pictured above. I really like them!)
Click here to shop Target.
4.) Unique Vintage
I'm fortunate enough to be sponsored by Unique Vintage, but I still spend a lot of money on their site! (I love them that much!) I've been going a little crazy buying tops and blouses from them lately. Their quality can't be beaten, and I love an outfit with a vintage flair!
Click here to shop Unique Vintage.
5.) Ulta

I love Ulta so much. Not only do they have all my favorite hair care products and most of my favorite makeups (including my favorite mascara, above…and now they have MAC!!)…they have the best rewards program! I just type in my phone number everytime I buy something, and that gets converted to points which then gets converted to dollars off my future purchases! I seriously have $70 banked right now. I love that I can use it any way I choose too on Ulta's website.
Click here to shop Ulta.
6.) Sephora

What I can't get at Ulta, I buy from Sephora. That's usually various makeup brands, my perfume and facewash…etc. I check out both Sephora and Ulta before making a purchase, as they both seem to run sales pretty frequently. (So, who's every running the sale that day is the winner!) I do tend to buy more of my products from Ulta (just because they carry slightly different brands + hair care) and Sephora's reward program is kind of useless for me. Their reward points get transformed into samples, basically…and I am really set in my ways when it comes to cosmetics I'll use. Therefore, samples go to waste. However, Sephora does carry a handful of brands I can't get at Ulta. So, they do get their fair share of my bank account too!
Click here to shop Sephora.
7.) Nordstrom

And until recently, neither Ulta nor Sephora carried MAC products…so, I bought all my MAC products from Nordstrom. Granted, I don't have to do this often, as these products last me a long time. However, they're pretty pricey (for me, at least)…so, Nordstrom made my top 10! Plus, I've been getting better about finding amazing deals during the Nordstrom's Anniversary Sale (it starts July 12th!). Just about everything I wore for our Peru trip was from that sale last year – it was awesome!
Click here to shop Nordstrom.
8.) Eddie Bauer

I've started a bit of an obsession with Eddie Bauer this last year…especially with their hiking pants. I wear them A LOT. They're great because they breath so well, and I really dislike wearing shorts in the summer or when I'm traveling. So, their roll-up pants are perfect! I'm going to get them in every color eventually, haha. My husband is obsessed with them too and has quite a few different pairs of pants, shorts and shirts. He actually bought his luggage from them as well. (I think Eddie Bauer made this list more so from his spending than mine, but oh well!)
Click here to shop Eddie Bauer.
9.) DSW

DSW has been my go-to for shoes for over 5 years. They always have such a great selection with everything from sneakers to sandals to heels and flats…I can actually find cute shoes for my wide feet there! My husband always gets his work shoes from DSW as well. We're both obessed!
Click here to shop DSW.
10.) Etsy

Etsy is another store I buy a ton of random stuff from. Whether it's gifts, custom-made dresses or bedspreads or brooches…Etsy gets me every time!
Click here to shop Etsy.
Let me know if you do most of your shopping at any of these stores in the comments! I'm curious as to where everyone else does their shopping.